|
Jordan is home to a number of incredible UNESCO World Heritage Sites, and cultural hotspots - not least of all the carved ancient Nabatean ruins of Petra and the very site where Jesus Christ is thought to have been baptized!
When going on a Jordan tour, you will find a deep and rich history that stretches back to thousands of years before the time of human ancestors - archeological evidence suggests that Neanderthal was present in these areas - which reveals its crumbling Roman cities and its beautiful Ottoman charm. It also reveals its Persian treasures, Egyptian relics, and Persian treasures from the long-gone dynasties.
Touring Jordan cities doesn't mean your itinerary will be all about sightseeing - you only need to see the vibrant streets of Aqaba, Red Sea, for the best diving and the central areas of Amman, the capital, for an enviable nightlife and modern art.
Here are the best Jordan cities to visit:
Amman
If Jordan is a country that still hasn't been added to your travel bucket list, the city of Amman, the capital, will change your mind. Here's why you should make a trip to this charming city.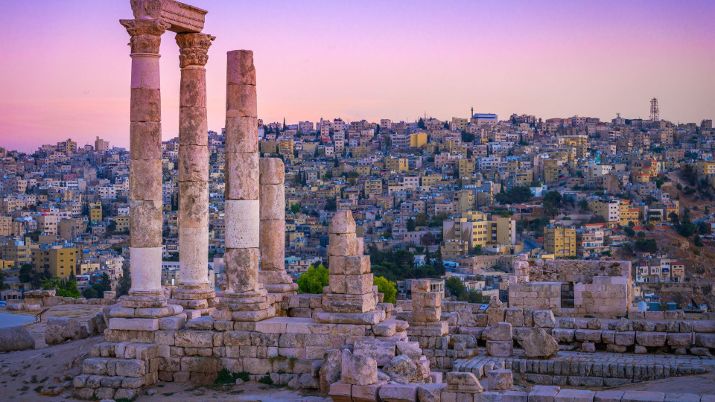 The history
Amman was a subject to many people throughout history. It also spent time under Persian, Roman and Ottoman rulers. It is home to important historical landmarks such as the Roman Theater and Amman Citadel.
Cultural scene
Amman has many museums that allow you to explore Jordan's rich past. However, some are also dedicated to art. The Jordan National Gallery of Fine Arts, which is located in the heart of Amman's cultural life, is the best place to begin exploring it.
Delicious food
You will feel at home here if you are a passionate foodie, as there is a wide variety of Middle Eastern dishes to choose from such as mansaf, falafel and hummus.
Spectacular scenery
Even if Amman doesn't blow your mind, the surrounding beauty will. Mount Nebo, which offers stunning views over the Jordan Valley and Dead Sea as well as the Jerusalem hills, is a great day trip destination.
Jerash
Jerash, also known as Gerasa, in Jordan is an ancient city located approximately 48km (or 30 miles) from Amman (map).
Jerash, which is known for being the most preserved Greco Roman city in the Middle East is a top attraction in Jordan. There are many places to visit in Jerash, including Hadrian's Arch and Temple of Artemis.
While in Jerash, you will also discovere the Oval Forum, Temple of Artemis and countless columns with intricate Corinthian capitals. Many people ask whether Jerash is worth the effort, as most touristic attractions in Jordan can be found south of Amman - we can vouch for this answer: YES!
Jerash is most well-known for its ruins, which lie just outside the city's modern centre. These ruins are thought to be some of the best-preserved Roman remains outside of Italy.
The ancient city is surrounded by rolling hills, pine forests and olive-tree-lined valleys. It was rich because of its abundant lands and constant supply of water.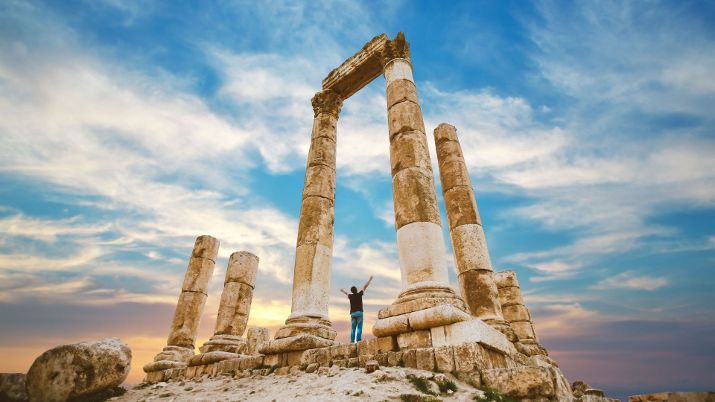 Wadi Musa
Wadi Musa is located near the old city of Petra, and is mostly known as the Valley of Moses. This valley was where Moses, the famous Biblical figure, used to walk.
The town is full of Jordanian charm and offers many exciting activities. Wadi Musa offers many attractions, including shopping and delicious cuisine.
The town is also a great base to visit the ancient city of Petra or other unexplored areas.
Here's what to do in Wadi Musa:
The Petra museum
The Petra Museum, located at the city's entrance is a must-see as it preserves the city's rich Nabataean heritage. The museum contains approximately 300 interesting and informative exhibits that will allow you to understand the Nabataeans' progress during this period.
The museum is filled with artifacts of the Department of Antiquities (Jordan) and measures approximately 900 ft.
Al-Khazneh and Wadi Rum
The amazing Al-Khazneh, also known as the treasury - or the treasure - is the highlight of Petra. It's called the Rose City due to the colors of its rocks. Your guide will take you through the Siz canyon, which is approximately 1 mi (1.6 km) long, upon your arrival.
The canyon is the city's entrance. While you are here, learn more about the Nabataeans who founded this city.
Also, visit the Royal Tombs which is a clifftop shrine that was used for various ceremonies. This is followed by a 2-hour Jeep ride through the desert, where you'll see a stunning sunset and beautiful rock formations at Wadi Rum.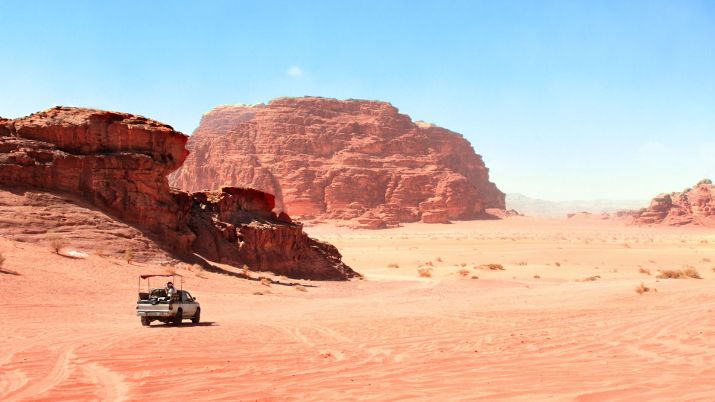 Shobak Castle
Shobak is a historic site that must be seen while in Wadi Musta. It was previously known as Mons Regalis - fortress of Mont Real or Royal Mount - Crak de Montreal, and Crak de Montreal.
Its exterior is stunning and shows off the glory of the crusader - the walls and gate are enormous. There are many interesting remains in the interior, including a wall shaft cut into the rock and 375 steps leading to the water source below.
Ajloun
Ajloun, known for its hilly location in Jordan, is bordered by mountains. It also has lush greenery surrounding it.
The city's castle is also located here. This area is popular with tourists who visit it for the peace and tranquility and the beautiful greenery surrounding the city.
There is also a nature reserve within the town where they can trek and discover many things. The local cuisine is delicious and mouth-watering. Here's what you can do in this underrated city.
Ajloun Castle
Rabadh Castle is another name for Ajloun Castle. This castle was built during the Crusades period. It is situated on top of Ajloun's mount and has a great view over the surrounding area. This castle is often visited by thousands Islamic followers.
Mar Elias
This church is a well-known one and the entire Ajloun community gathers there every Sunday to pray. This church is among the most ancient in town, and is where Prophet Elijah was born.
Ajloun Nature Reserve
The Royal Society for the Conservation of Nature maintains and protects this protected forest in Jordan. It is famous for its trekking, and visitors should encounter many difficulties. The 13-square-kilometer Ajloun Forest Reserve was created in 1987.