|
,
One of the main highlights of many of our Egypt tours is spending a night on the tranquil waters of the Nile River aboard a traditional felucca sailboat. It gives you a perfect opportunity to relax in-between time busy sightseeing, while you get to know your fellow travel mates better and see how the locals live along its river banks.
This autumn, we have overhauled how we arrange our felucca trips to ensure that we provide the best felucca experience of any operator on the Nile River.
This includes:
Providing proper sheets and pillows, which are washed between every trip, as well as mosquito nets and blankets
A unique barbecue experience led by a local Nubian chef
An excellent dinner service set on the Nile River bank, which includes furniture such as tables and chairs - much more comfortable than sitting and eating on a mattress
The services of our support boat with a proper toilet, shower and massage deck
An outstanding evening experience which includes a bonfire and local Nubian music - giving you the opportunity to dance with your new friends or relax by the fire
Sounds good? Continue reading below to find out more about our Nile felucca experience.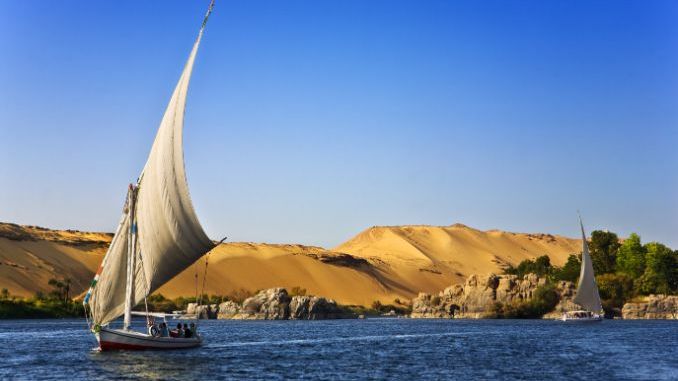 What is a felucca?
A felucca is a traditional sailboat constructed from wood and used in Egypt, Sudan and Iraq. The rig of the boat usually features one or two lateens (triangular) sails and the absence of a motor means a quieter and more peaceful journey. Depending completely on the wind for movement, the felucca's wooden mast is strategically positioned.
The felucca is believed to have been invented in ancient times by Egyptians who made major advances in the shipbuilding industry. Before the invention of feluccas, Egyptians used basic reed boats that were unreliable.
Felucca's are simple in design and do not have cabins or electricity, allowing you to switch off and unwind on your Egypt tour. Although ferries and motorboats are available in the country, feluccas are still used as a mode of transport by locals and tourists.
How long will you be on the felucca?
Most of our Egypt tours that feature a felucca trip spend one night on board. We generally set sail from Aswan at lunchtime and spend the afternoon sailing, stopping a few times as we sail down the river, before mooring up for the night.
You then leave the boat after breakfast to continue north by road to Luxor. Some tours extend the time on board with another day and night sailing further north.
Most evenings are spent engaging with the locals at a Nubian village across the Aswan bank of the Nile River, singing and dancing to the sounds of Nubian music around a bonfire and enjoying a unique Nubian barbecue experience.
What can you see from the felucca?
To this day, the Nile River remains a lifeline for Egyptians. Our felucca experience will give you an excellent insight into the lives of the locals who live near its banks, passing by farmers working their land as they would have done thousands of years ago.
You'll get a chance to see a Nubian Village, which gives you great insight into their culture and lifestyle. Nubian's are thought to be one of the earliest civilizations located anywhere on Earth.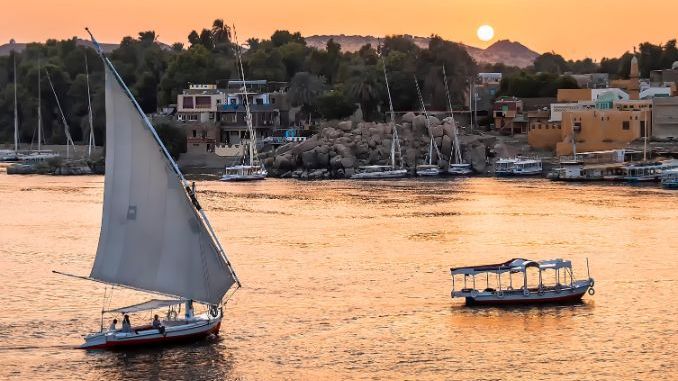 Where do you sleep on the felucca?
As night falls, the Nubian crew on your felucca will create a snug sleeping area on the deck. With canvas walls, mosquito netting and a removable roof, you can sleep easily and comfortably. If the (very) gentle rocking of the felucca does not send you to sleep, then the cosy arrangement of soft mattresses, fresh linen and pillows (washed between every trip), will do the trick.
During the cooler winter months (November to February), you can request additional blankets or alternatively bring your own sleeping bag.
We do recommend that you pack mosquito repellent, especially for the periods around dusk and dawn on the felucca. Wearing long sleeve tops and pants is also a good idea to help avoid getting bitten.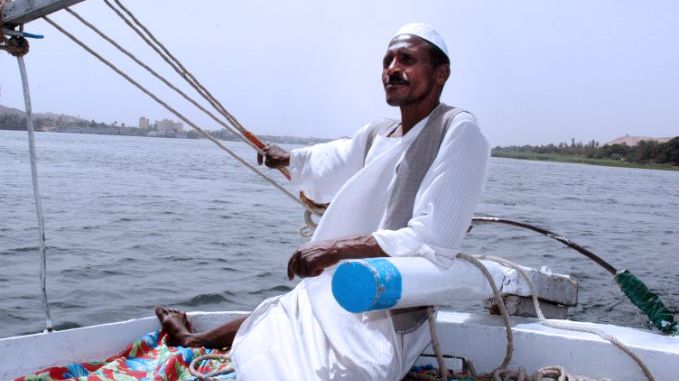 What facilities can you expect to find on the felucca?
Despite the felucca's modest setup, you will have access to everything that you need. Onboard the felucca, there are no toilet facilities, but you will be joined several times each day and at night by our support boat.
The support boat has a clean toilet, a shower with hot water, and a kitchen where the Nubian crew cooks and prepares meals. Each support boat also has a sundeck - perfect for soaking up some rays or enjoying a massage.
At dinner time, the Nubian crew will anchor the felucca at a unique spot on the Nile River bank, where tables and chairs are laid out for everyone to enjoy a dinner of traditional Egyptian cuisine.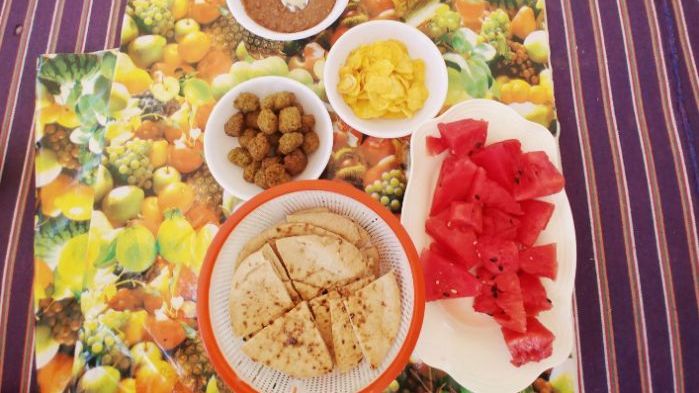 What food can I expect to eat on the felucca?
On our Egypt tours, we strive to tick all the boxes - particularly when it comes to dining. During your stay on a felucca, an expert Nubian chef will create tasty local dishes, with vegetarian options as well.
Between meals, you can help yourself to a cup of Egyptian tea and a slice of Nubian cake. Onboard the felucca, you can choose from a selection of bottled mineral water, soft drinks and beer. These drinks are not included in the total cost, but you can pay for them at the end of the trip.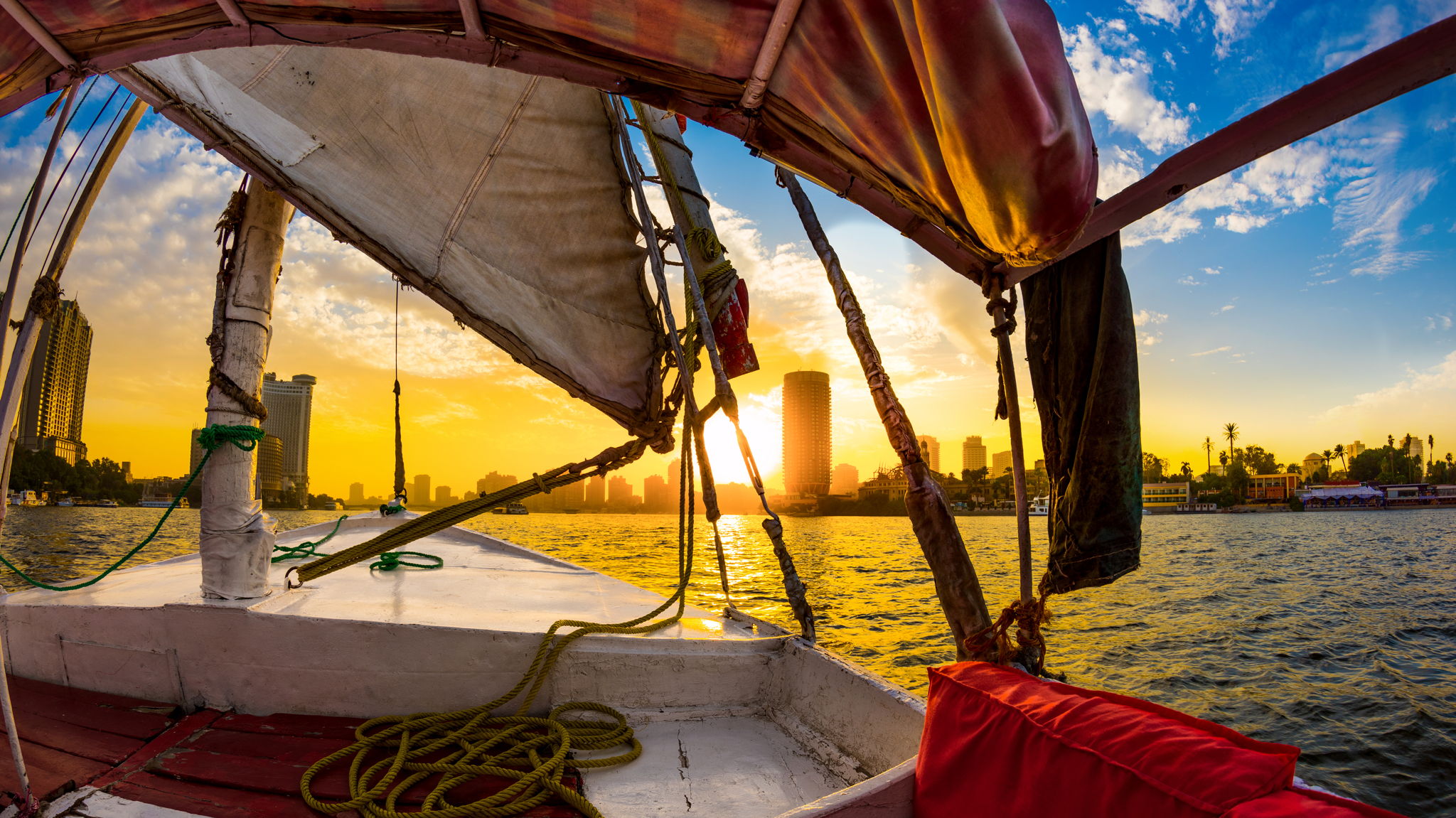 What are the temperatures like on the felucca?
Throughout the year, Egypt generally experiences high temperatures, particularly in the summer months (May to August). The weather in the shoulder months of September, October, March and April is pleasant and slightly milder. November to February can be cooler, especially in the evenings. Rain is rare throughout the year.
You will find that the temperatures in the day on a felucca are normally hot and the breeze experienced on the deck is most welcome. It is important to stay protected from the sun and to wear a hat and sunscreen, particularly when lying on the sundeck.
Very occasionally the winds are too strong for the feluccas to sail far, or there may be a sand storm blowing in from the desert. On these occasions we may need to shorten or even cancel the felucca itinerary. This tends not to happen more than once or twice a year though.
You should also drink plenty of liquids to stay hydrated. As night falls, the temperatures will drop (mainly in the winter months), and you will find yourself reaching for a jumper or a blanket. A benefit of the colder temperatures is that it keeps the mosquitos at bay.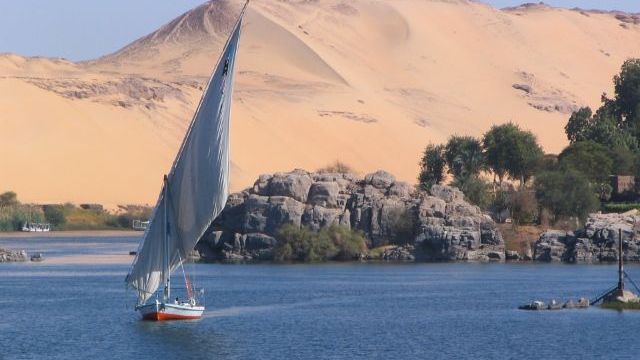 I don't think I want to spend the night on the felucca. Can I choose something different?
If you are hesitant about spending a night on a felucca during your Egypt tour, there is no need to worry. On all our Egypt tours, you can upgrade your felucca sailboat trip to an additional night in the hotel in Aswan. Prices for this upgrade are given in the options section of each tour page.
While it is sometimes possible to arrange this while you are in Egypt, if you would like to upgrade, we do recommend booking this in advance to guarantee there are no issues with availability in the hotel.
Even if you take this hotel upgrade, you won't miss out on the felucca experience! You will still spend the afternoon on the boat and have dinner with your travel group on the banks of the Nile River before we drive you back to your hotel for the evening. If you really don't want to do this either, then you can remain in Aswan.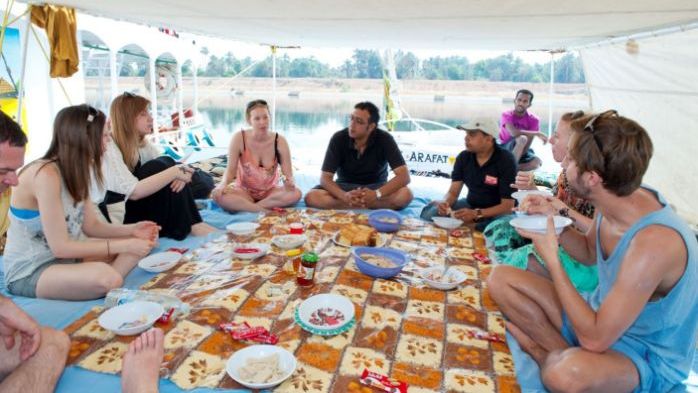 What makes your felucca cruise different to the others?
On our Egypt tours, we do not compromise on the quality of any of our experiences, especially the felucca cruise. From proper toilet facilities, fresh, comfortable bedding and a proper dining setup with a traditional barbecue and Nubian chef, you can expect only the best.
We also do our best to protect the Nile and its surroundings. The bathroom on board our support boat removes the need for going to the toilet on the banks of the river which is the only option with most boats, and one which has led over the years to a big problem with toilet paper and waste being left strewn about.
Our private mooring spot on the Nile ensures we don't need to deal with waste from other boats either. We are also working hard to reduce the amount of waste produced at mealtimes and always make sure the beach we moor at is left as clean, or cleaner than we found it.
After you have eaten dinner, the Nubian crew will light a bonfire on the riverbank, and you can sit around while they sing songs and entertain you with stories into the night.
The Nubian crew onboard your felucca will go out of their way to provide you with excellent service, delicious meals, and a wonderful environment for your stay. If you have any requests or need help, they will be available for assistance during your journey.