|
The Imperial City of Meknes is an enchanting destination for anyone looking to explore the rich culture and history of Morocco. With its beautiful architecture, vibrant markets, and friendly locals, this city offers a unique and memorable experience.
What is the history of Meknes?
This city located in the heart of Morocco has been around for centuries, and its story is one of grandeur, power, and culture.
According to historians and archeologists, Meknes was founded on the 10th century by a powerful Berber tribe called the Miknasa. These people were known for their fierce fighting spirit and their strategic abilities, which proved to be vital in establishing the city as a hub of trade, commerce, and diplomacy. As the years went by, Meknes grew in importance, attracting a variety of different settlers and traders from all around the region.
One of the most famous rulers of Meknes was Moulay Ismail, who took over the city in the late 17th century. Moulay Ismail was known for his military prowess and his ambitious projects, which included the creation of a massive complex called the Dar El Makhzen. This palace was designed to be a showcase of his power and wealth, with ornate decorations, expansive courtyards, and even a secret underground prison. Despite his controversial methods, Moulay Ismail is still celebrated today as an important figure in Meknes' history and culture.
Throughout the 18th and 19th centuries, Meknes continued to thrive, serving as a center of learning, art, and architecture. Some of the most notable landmarks from this time period include the Mausoleum of Moulay Ismail, the Bab Mansour gate, and the Heri es-Souani granaries. These buildings showcase the city's unique blend of Islamic, European, and traditional Moroccan styles, and they continue to attract tourists and visitors to this day.
However, as with many cities around the world, Meknes faced its fair share of challenges and conflicts. In the early 20th century, the city endured a series of droughts, famines, and economic crises that weakened its position as a regional powerhouse. It wasn't until Morocco gained independence in 1956 that Meknes began to recover, thanks in part to government investment in infrastructure, education, and tourism.
Today, Meknes is a vibrant and dynamic city that celebrates its rich history while looking towards the future. With a population of over 1 million people, it is a hub of commerce, industry, and culture. Visitors can explore its many museums, mosques, and markets, sample delicious Moroccan cuisine, and soak up the unique atmosphere of this fascinating place. Whether you're a history buff, an architecture lover, or simply in search of adventure and exploration, Meknes has something to offer for everyone.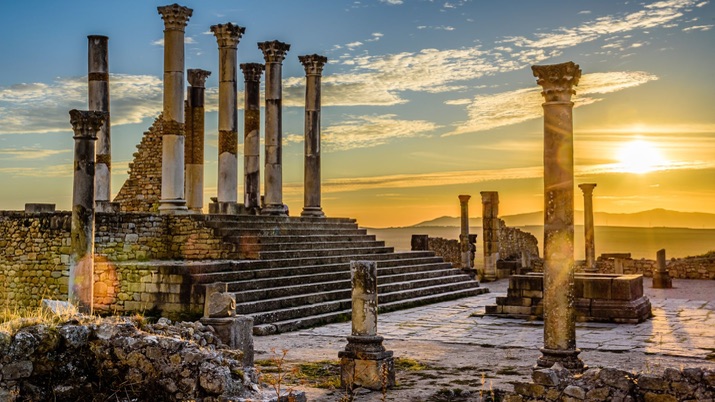 Why should travelers visit Meknes?
Visiting Meknes is a must because it offers travelers a glimpse of Morocco's rich cultural and historical heritage. The city's medina (old town) is a UNESCO World Heritage Site, which is home to numerous historical monuments and landmarks.
One of the city's most popular attractions is the Bab Mansour gate, which was built during the reign of Sultan Moulay Ismail. It is considered one of the most beautiful and well-preserved gates in North Africa.
When in Meknes, don't forget to visit the Moulay Ismail Mausoleum, which is the final resting place of the city's founder and namesake. The mausoleum is a stunning example of Moroccan architecture and features intricate tile work, calligraphy, and woodcarvings.
If you're a fan of history and architecture, Meknes is the perfect destination for you. The city's Royal Palace is another must-visit site, which showcases traditional Moroccan design and craftsmanship. The palace gardens are also a highlight, featuring lush greenery, fountains, and ponds.
Another popular attraction in Meknes is the Dar Jamai Museum, which showcases Moroccan arts and crafts. The museum houses a vast collection of textiles, ceramics, and jewelry, which dates back to the 19th century.
But that's not all! If you're a foodie, Meknes has plenty to offer too. The city is renowned for its cuisine, which features a unique blend of Berber, Arabic, and Andalusian influences. Don't miss out on trying the city's traditional dishes, such as tagine and couscous.
Meknes, Medina in Morocco
For those who don't know, the Medina in Meknes is a UNESCO World Heritage site, and it's easy to see why. It's a walled area packed with centuries-old architecture, narrow alleys, and bustling markets selling everything from spices and leather goods to traditional pottery and jewelry.
It really is a feast for the senses as you stroll through the winding streets of this vibrant district, taking in the sights, sounds, and scents that define the Moroccan experience. One minute you're nibbling on freshly grilled lamb skewers, the next you're admiring the intricate tile work of a 14th-century mosque.
Aside from the sensory overload, there's also a rich history to uncover in the Medina of Meknes. The city was founded in the 11th century as a military camp by the Almoravid dynasty, and then it flourished from the 17th to the 19th centuries under the rule of the Alaouite dynasty. Many of the buildings you'll see date from this era, including the magnificent Bab El Mansour gate, which is adorned with stunning tile mosaics and marble columns.
Another must-see in the Medina is the Mausoleum of Moulay Ismail, one of Morocco's most notorious leaders. He's said to have had more than 500 wives and concubines and carried out some rather brutal acts during his reign. However, his tomb is a beautiful example of Moroccan architecture, featuring intricate plasterwork and colorful tile patterns.
If you're looking for a more immersive experience in the Medina, consider staying at a traditional riad, which is a type of house or palace with an interior courtyard. Many of these historic buildings have been converted into charming guesthouses, where you can relax in a peaceful oasis away from the hustle and bustle outside.
Of course, you can't visit the Medina without indulging in some shopping. Whether you're looking for souvenirs or simply want to browse, the markets here offer an endless selection of goods. You can haggle over prices for everything from carpets and lanterns to spices and traditional clothing.
And don't forget to sample some of the local cuisine while you're here. No trip to Morocco is complete without trying some tagine, a slow-cooked stew with tender meat and fragrant spices. Wash it down with some mint tea or freshly squeezed orange juice.
When is the best time of year to visit Meknes?
Let's talk about the best time of year to visit Meknes. The city experiences a Mediterranean climate with hot summers and mild winters. The peak tourist season is during the summer months of June to August when the temperatures can soar up to 40°C (104°F). If you don't mind the scorching heat, this is a great time to visit as the city is bustling with activity and there are plenty of outdoor activities to indulge in.
However, if you prefer milder temperatures and fewer crowds, the best time to visit Meknes is during the spring months of March to May or autumn months of September to November. During these months, the temperatures range from a comfortable 20°C (68°F) to 30°C (86°F) and you can enjoy exploring the city without feeling too hot or too cold. Plus, you can witness the blooming of the beautiful spring flowers or the changing of the leaves in the fall, making for a picturesque trip.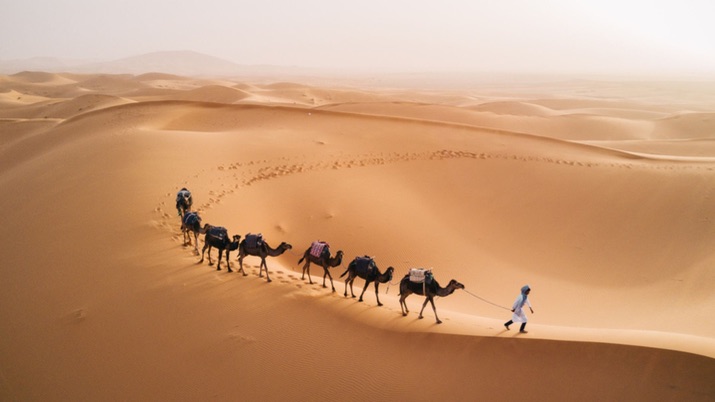 What type of travelers will enjoy visiting Meknes?
If you're a history buff, Meknes is the perfect destination for you. The city is steeped in rich history and culture, with plenty of historical landmarks and monuments to explore. The most famous of these is the UNESCO-listed Meknes Medina, a walled city with over 25 kilometers of walls and gates. Here, you'll find stunning architecture, including the Bab Mansour gate, which is considered one of the finest examples of Moroccan architecture.
For art lovers, Meknes is also a great destination. The city boasts numerous art galleries, museums, and exhibitions that showcase the best of the Moroccan art scene. You can visit the Museum of Moroccan Art, which has a collection of over 6,000 pieces from various regions of Morocco, or the Dar Jamai Museum, which is housed in a 19th-century palace and features traditional crafts and artifacts.
For foodies, Meknes is a paradise. The city is known for its delicious Moroccan cuisine, which is a unique blend of Arabic, Berber, and Mediterranean influences. You can indulge in mouth-watering dishes such as couscous, pastilla, tagine, and harira while sipping on a refreshing cup of mint tea. Be sure to visit the Meknes medina, where you'll find numerous food stalls and restaurants serving up the best of Moroccan cuisine.
Lastly, Meknes is also a great destination for outdoor enthusiasts. The city is surrounded by beautiful countryside and offers plenty of outdoor activities such as hiking, horse riding, and cycling. You can take a scenic hike to the nearby Middle Atlas Mountains or explore the lush Zerhoune forest. For a unique experience, you can even go on a camel trek and explore the desert landscapes surrounding the city.
How much does it cost to visit Meknes?
Let's start with getting there. If you're flying into Morocco, you'll likely fly into Casablanca's Mohammed V International Airport or Marrakesh's Menara Airport. From there, you can take a train or bus to Meknes. A train will cost you around 80-100 Moroccan dirhams (which is about 8-10 USD) for a one-way ticket, depending on the class you choose. A bus will be a bit cheaper, costing around 50-60 Moroccan dirhams (or 5-6 USD) for a one-way ticket.
As for where to stay, that will depend on your budget and preferences. Meknes has a range of accommodation options, from budget hostels to high-end hotels. A budget hostel will cost you around 80-100 Moroccan dirhams (or 8-10 USD) per night, while a mid-range hotel will be closer to 300-400 Moroccan dirhams (or 30-40 USD) per night. If you're looking for luxury, you can expect to pay upwards of 800 Moroccan dirhams (or 80 USD) per night for a five-star hotel.
Of course, the cost of your visit will also depend on what you want to do while you're in Meknes. There are plenty of free things to see and do in the city, such as exploring the medina (old town) and visiting the beautiful Bou Inania Madrasa. However, if you want to take guided tours or visit some of the paid attractions (like the Dar Jamai Museum or the Mausoleum of Moulay Isma'il), you'll need to budget for those expenses.
So, all in all, a visit to Meknes can be quite affordable if you plan wisely and are mindful of your expenses. Of course, everyone's budget is different, so it's important to consider your own financial situation and travel preferences when planning your trip. But in general, you can expect to spend anywhere from 50-100 USD per day (including accommodation, transportation, and food) if you're traveling on a budget in Meknes.
What time does Meknes open? Which days is it open?
Meknes, like many Moroccan cities, is a bustling and vibrant place that is open for business most days of the week. However, there are some things to keep in mind when planning your visit.
First of all, the medina (old town) of Meknes is open every day of the week, from early in the morning until late at night. This is great news for visitors who want to explore the historic heart of the city, shop in the souks (markets), or simply soak up the local atmosphere.
However, if you're planning to visit some of the paid attractions in Meknes (like the Dar Jamai Museum or the Mausoleum of Moulay Ismail), you'll need to pay attention to their opening hours. In general, these attractions are open every day of the week except for Tuesday (which is a public holiday in Morocco). The opening hours can vary by season and attraction, but you can generally expect them to be open from around 9am-5pm.
It's worth noting that during the holy month of Ramadan (which varies each year), many businesses and attractions in Meknes may have limited hours or be closed entirely. If you're planning to visit during this time, it's a good idea to double-check the opening hours of any attractions or businesses you plan to visit.
What type of architecture and historic monuments is Meknes renowned for?
The city boasts a wealth of historic monuments, each one telling its own story.
One of the most famous monuments in Meknes is the Bab Mansour gate. This magnificent structure, with its intricate mosaics and stunning archway, is one of the finest examples of Moroccan architecture in the country. The gate was built in the 18th century and was named after Mansour al-Aissi, the Moroccan ruler at the time.
Another famous monument in Meknes is the Mausoleum of Moulay Ismail. This grand structure was built in the late 17th century as a final resting place for the Moroccan king, Moulay Ismail. The mausoleum features beautiful tilework and intricate carvings that are a testament to the skill and craftsmanship of Moroccan artisans.
If you're interested in history and architecture, Meknes is the perfect place to visit. The city is renowned for its unique blend of Islamic and European architectural styles, which can be seen in many of its buildings and monuments.
One example of this fusion of architectural styles is the Dar El Makhzen palace. This palace, which was built in the 17th century by Moulay Ismail, features both Islamic and European design elements. The palace is surrounded by beautiful gardens and features stunning views of the surrounding countryside.
In addition to its impressive monuments and architecture, Meknes is also known for its bustling markets and vibrant culture. The city is home to many traditional artisans, who still practice ancient crafts such as pottery, metalwork, and leatherworking. These artisans sell their wares in the city's lively souks, which are a must-see attraction for anyone visiting Meknes.
How safe to travel around Meknes?
Like many places in the world, Meknes is a safe city with a low crime rate. That being said, like any other tourist destination, visitors should exercise some caution and be mindful of their surroundings. This means paying attention to your belongings, avoiding unlit or isolated areas at night, and being careful around traffic. Visitors should also be wary of overly friendly locals who may act as tour guides but are actually looking to scam tourists. Lastly, it is recommended to avoid political demonstrations and public gatherings as these can sometimes turn violent. Overall, as long as you exercise basic safety precautions, you will find Meknes to be a safe and friendly city.
What is the recommended dress code for visiting Meknes?
As a conservative Muslim country, you should be respectful of the locals' dress code and customs. This means dressing modestly, covering your arms and legs, and avoiding revealing clothing. For women, it is best to wear long skirts or pants and to have your shoulders covered with a shawl or cardigan. Additionally, you should also consider wearing comfortable shoes as the streets in Meknes can be uneven and rocky. It is also recommended to dress in layers as the temperature can fluctuate throughout the day. Lastly, if you are planning on visiting any mosques, it is important to dress appropriately and remove your shoes before entering.
What is the recommended level of fitness to visit Meknes?
Meknes, like many historic cities, has uneven streets and steep hills. While some parts of the city can be challenging for those with mobility issues, most of the city is relatively accessible for visitors of all levels of fitness. However, for those who are interested in exploring the city on foot, it is important to wear comfortable shoes and bring a water bottle. Additionally, it is important to note that Meknes is located at an elevation of about 500 meters above sea level, so visitors who are not used to high altitudes may experience some breathlessness or fatigue.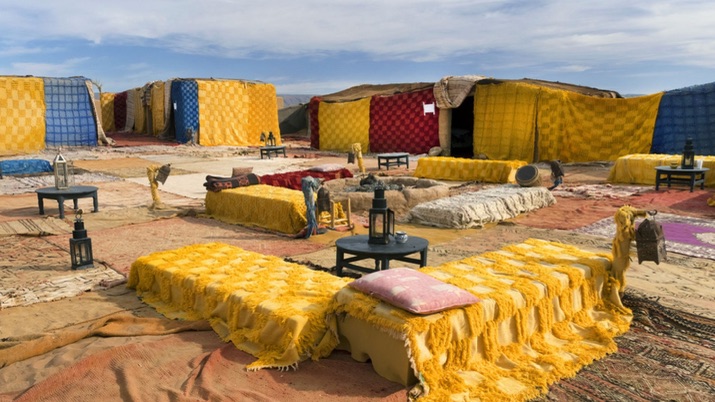 What is the easiest way to get to Meknes from well-known landmarks in the surrounding area?
Firstly, let's take a look at how to get to Meknes from Fes. If you're in Fes, the quickest and most convenient way to get to Meknes is by taking the train. The train station in Fes offers several departures throughout the day, so you should have no problem finding a train that fits your schedule. The journey itself only takes around 45 minutes, so it's a really speedy way to get to Meknes. Also, the train is air-conditioned, so it's a great way to stay cool on those hot summer days.
If you're coming from Rabat, the capital of Morocco, you have a few different options. The easiest way to get to Meknes from Rabat is by taking the train, which again is a quick and convenient option. You can catch a direct train from Rabat Ville station, and the journey should take around an hour and a half. Alternatively, you can take a shared taxi from Rabat to Meknes, which will drop you off right in the center of Meknes. This option is a bit more expensive than the train, but it's still a viable option if you prefer to travel by car.
Now, let's say you're in Casablanca and you want to get to Meknes. Again, the train is the easiest way to get there. You can catch a direct train from Casa Voyageurs station, and the journey should take around three hours. One thing to note, though, is that the train can get pretty crowded during peak hours, so make sure you book your ticket in advance if you're traveling during a busy time.
Finally, let's talk about how to get to Meknes from Marrakech. If you're in Marrakech, the easiest way to get to Meknes is by taking a bus. There are several bus companies that operate on this route, and the journey should take around six hours. It's not the quickest option, but it's certainly a scenic one! You'll pass through the Atlas Mountains and see some stunning views along the way.
Frequently Asked Questions about Meknes
Do I need a visa to visit Meknes?
The answer is that it depends on your country of origin. If you are a citizen of a country that has a visa exemption agreement with Morocco, such as the United States, Canada, and many European countries, then you will not need a visa for a stay of up to 90 days. However, if you are from a country that requires a visa, such as India or China, you will need to apply for a visa before your trip. It's important to research the visa requirements for your specific country before booking your trip to Meknes.
Where to eat in Meknes?
The city is known for its delicious traditional Moroccan cuisine, including tagines, couscous, and pastilla. One popular restaurant for traditional Moroccan fare is La Maison Bleue, located in the heart of the medina. The restaurant offers a cozy and charming atmosphere, with colorful tiles and intricate woodwork. Their menu features a variety of tagines and couscous dishes, as well as a vegetarian option. Another popular spot is Restaurant Palais Terrab, which offers a more upscale dining experience with a view of the city. Their menu features both Moroccan and international dishes, such as grilled meats and seafood.
If you're looking for a more casual dining experience, head to the street food stalls in the medina. You can find vendors selling everything from grilled kebabs to freshly squeezed orange juice. A popular spot is Place el-Hedim, where vendors set up stalls in the evening selling a variety of snacks and sweets.
Is Meknes hot?
Yes, especially during the summer months. Temperatures can reach up to 100 degrees Fahrenheit (38 degrees Celsius) in July and August. However, the city also experiences a pleasant winter, with temperatures rarely dropping below 40 degrees Fahrenheit (4 degrees Celsius). If you're planning a trip during the summer months, be sure to stay hydrated and wear light, loose clothing to stay cool. It's also a good idea to plan your activities for the early morning or late afternoon when temperatures are slightly cooler.