|
If you're planning a trip to Casablanca, visiting the Hassan II Mosque should definitely be on your list of things to do. It's a stunning landmark that represents the rich history and traditions of Morocco, and it's definitely worth a visit. Just be sure to follow the guidelines and rules, and you'll have a great experience!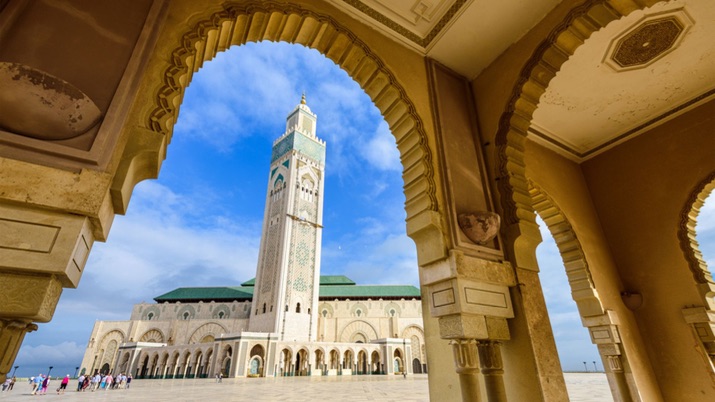 Whatis the history of the Hassan II Mosque in Casablanca?
Its history dates back to the late 1980s when King Hassan II decided to build a mosque that would be a source of pride for Morocco.
Construction began on July 12, 1986, and took over six years to complete. The mosque was designed by Michel Pinseau, a French architect, who worked tirelessly to ensure that it was both beautiful and functional. The mosque covers an area of over 9 hectares and can hold up to 25,000 worshippers, making it one of the largest mosques in the world.
The construction of the mosque was not without its challenges. It was built on reclaimed land, which meant that the ground had to be stabilized before construction could even begin. Additionally, the mosque had to be built to withstand earthquakes, which are common in the region. The construction process was also hampered by the fact that many of the materials needed to build the mosque had to be imported, leading to long delays.
Despite these challenges, the Hassan II Mosque was completed in 1993 and quickly became a source of pride for Morocco. It is now one of the most visited sites in the country, with thousands of tourists and worshippers flocking to see its breathtaking beauty every year.
In addition to its religious significance, the Hassan II Mosque also has cultural significance. It is a symbol of Morocco's commitment to preserving its traditional architecture and design. It also serves as a reminder of the country's rich history and cultural heritage.
The Hassan II Mosque has played an important role in the development of Casablanca as a city. It has helped to put the city on the map as a major tourist destination and has brought economic benefits to the region. It has also helped to promote religious tolerance and understanding, as people from all faiths are welcome to visit the mosque and witness its beauty.
Are non-Muslims allowed to visit the Casablanca Mosque?
The short answer is yes, they are. However, there are some guidelines and rules that visitors need to follow when visiting a mosque.
Now, you may be wondering why non-Muslims are allowed to visit mosques in the first place. Well, one reason is that mosques are often seen as important cultural landmarks. They represent the history and traditions of a particular region, and they are often incredibly beautiful and awe-inspiring.
Additionally, many people simply want to learn more about different religions and cultures. Visiting a mosque can be a great way to do this, as it allows you to see the religious practices and customs of others.
It's important to remember, though, that visiting a mosque is a privilege, and visitors should act accordingly. Respecting the culture and traditions of others is essential, and dressing modestly and listening to the guidelines and rules is a good way to show this respect.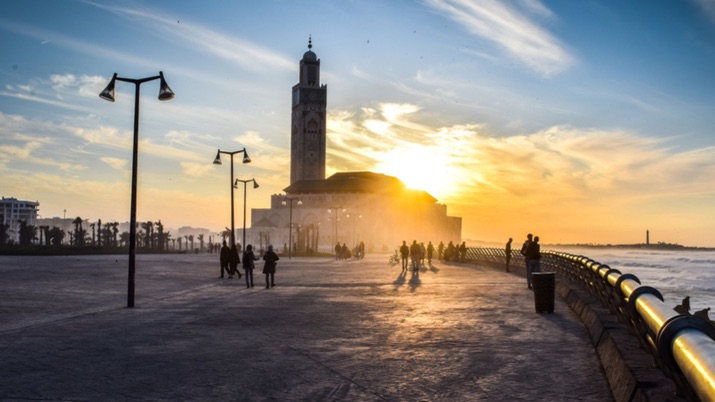 Why should travelers visit the Hassan II Mosque in Morocco?
Travelers looking for an unforgettable cultural experience should definitely add the Hassan II Mosque in Morocco to their must-see list. This beautiful mosque, which is located in Casablanca, is one of the largest and most impressive mosques in the entire world. Its breathtaking design and rich history make it an amazing destination that travelers won't want to miss.
Are there any activities available while visiting Hassan II Mosque, and if so, what are they?
At the heart of the mosque is its stunning minaret, which stands at a height of over 200 meters. This towering structure is the tallest in the world, and visitors can climb to the top for an incredible panoramic view of the city and the sea beyond. The climb up the minaret is not for the faint of heart, but those who make it to the top are rewarded with breathtaking views and a sense of achievement.
In addition to the minaret, there are many other features of the Hassan II Mosque that visitors will want to explore. The mosque itself is decorated with beautiful mosaics and intricate carvings, and the interior is filled with light thanks to its many stained glass windows. Visitors can take a guided tour of the mosque to learn more about its history and significance.
Another activity that travelers can enjoy at the Hassan II Mosque is a visit to the hammam. This traditional Moroccan bathhouse offers visitors a chance to relax and unwind in the soothing steam and warm waters. The hammam at the Hassan II Mosque is one of the most luxurious in the city, with a range of treatments and massages on offer.
For those looking for a more active experience, there are also plenty of opportunities to explore the surrounding area. The mosque is located right on the coast, and visitors can take a stroll along the beach to enjoy the sea breeze and stunning views. There are also plenty of restaurants and cafes nearby, where travelers can sample the delicious local cuisine and try some traditional Moroccan tea.
When is the best time of year to visit the Hassan II Mosque?
The ideal time to visit depends on a variety of factors, including the weather, the number of tourists, and the various events happening at the mosque throughout the year. Generally speaking, the best time to visit is between March and June or between September and December when the temperatures are mild, the crowds are smaller, and there's less rainfall.
However, if you're really looking to make the most of your visit, consider scheduling it during Ramadan, the holy month of fasting and prayer for Muslims. During this time, the Hassan II Mosque comes alive with a palpable sense of spirituality and devotion. The mosque offers extended tour hours during Ramadan, and visitors are often invited to break their fasts with the locals, providing a unique opportunity to immerse oneself in the local culture.
What type of travelers will enjoy visiting the Hassan II Mosque?
Anyone who appreciates history, architecture, and culture will enjoy visiting the Hassan II Mosque. Whether you're a solo adventurer, a family with young children, or a group of friends, the Hassan II Mosque is an awe-inspiring wonder that will take your breath away. History buffs will appreciate the mosque's rich cultural heritage, from its intricate marble and mosaic details to its stunning interior design and impressive engineering feats. Architecture enthusiasts will be in heaven while admiring the mosque's impressive size, intricate designs, and unique blend of traditional and modern architectural styles.
If you're traveling with family, the Hassan II Mosque offers tours designed specifically for children, complete with age-appropriate information and activities to keep them engaged and inspired. Kids will love learning about the mosque's history and cultural significance while exploring its many hidden corners and secret passageways.
But what about those who may not be as familiar with Islamic culture or religion? Don't worry. The mosque offers comprehensive tours that cater to a wide variety of visitors, providing a detailed description of the mosque's history, significance, and cultural relevance. You'll learn about the meaning behind the various architectural details and symbolism, as well as the mosque's importance to the local community and the wider Muslim world.
How much does it cost to visit the Hassan II Mosque?
The cost of visiting the Hassan II Mosque can vary depending on the type of visit you opt for. If you want to have a guided tour, the cost can range from $15 to $35 per person, depending on the tour operator and the duration of the tour. Guided tours are a great way to get an in-depth understanding of the mosque's history and architecture, making your visit much more meaningful.
If you want to explore the mosque on your own, you can purchase an entry ticket for around $12 per person. This ticket will allow you to access the mosque's main prayer hall and courtyard, giving you the chance to admire the mosque's beautiful architecture and design at your own pace.
How much does a guided tour to the Hassan II Mosque cost?
To start, it's important to note that there are a few different types of tours that you can choose from when exploring the Hassan II Mosque. Some tour options may include access to different areas of the mosque, such as the prayer hall or the minaret, while others may focus more on the history and cultural significance of the mosque.
Generally speaking, however, you can expect to pay between 120 MAD and 200 MAD (approximately $12-$20 USD) for a guided tour of the Hassan II Mosque. Of course, prices may vary depending on the specific tour you choose, the season in which you visit, and other related factors.
It's worth noting that while a guided tour can certainly enhance your experience of the Hassan II Mosque, it's also possible to visit the mosque on your own without the need for a guide. If you choose to explore independently, you'll likely pay a much lower admission fee of around 60 MAD (approximately $6 USD) per person.
Of course, there are benefits and drawbacks to both guided and self-guided tours. With a guided tour, you can benefit from the knowledge and expertise of a local guide who can provide you with valuable insights and information about the mosque's history and cultural significance. However, a self-guided tour may offer you a greater sense of freedom and flexibility in your exploration, allowing you to take your time and focus on the aspects of the mosque that interest you the most.
What are the opening hours of the Hassan II Mosque? Which days is it open?
It operates on different timings for visitors and worshippers. As for visitors, the mosque is open for tours from 9 am to 3 pm every day, except on Fridays. On Fridays, the mosque is open only for prayers, and not for tours, until 2 pm. So, if you are planning to visit this magnificent structure, make sure to keep these timings in mind to avoid any disappointment.
What type of architecture is the Hassan II Mosque renowned for?
This mosque is famous for its exquisite and intricate Islamic architecture, which is a blend of traditional Moroccan and modern styles. The mosque is one of the largest in the world and can accommodate up to 25,000 worshippers at a time. It sits on a prime spot overlooking the Atlantic Ocean and is a stunning example of contemporary Islamic architecture.
The mosque's most striking feature is its 200-meter-tall minaret, which is the tallest religious structure in the world. The minaret is topped off with a laser beam that shines towards Mecca, and it is visible for miles around, making it an iconic landmark of the Casablanca skyline. Another feature that sets the Hassan II Mosque apart from other Islamic mosques is its location on a platform that juts out over the Atlantic Ocean. This platform is designed to represent a bridge that connects the physical and spiritual worlds.
But that's not all. The interior of the mosque is equally impressive, with its intricate tilework, carved cedar wood panels, stunning chandeliers, and soaring ceilings. The prayer hall is particularly breathtaking, with its massive retractable roof that allows natural light to pour in, creating a peaceful and serene atmosphere. The mosque also contains a variety of prayer rooms, a library, a museum, and a madrasa, making it a hub of Islamic education and culture.

How safe is it to visit the Hassan II Mosque?
Safety is paramount when visiting the Hassan II Mosque. The Mosque's entrance has metal detectors, and security officers will ask visitors to empty their pockets before proceeding. It is essential to follow the security procedures to guarantee the safety of visitors and everyone within the Mosque's premises. With these measures in place, the level of safety can be considered adequate.
What is the recommended dress code for visiting the Hassan II Mosque?
When preparing to visit the Hassan II Mosque, it is vital to dress appropriately and respectfully. The Mosque has a strict dress code, and visitors should follow it to avoid any misunderstandings or offense. Men are required to wear long pants and cover their shoulders. Women must also wear long pants or skirts, long sleeves, and a headscarf. While it may be challenging to know what to wear, visitors must understand that dressing appropriately shows respect not only to the Mosque but also to Moroccan culture.
What is the recommended level of fitness to visit the Hassan II Mosque?
Additionally, it is crucial to be physically fit to visit the Mosque. Visitors must climb multiple stairs while touring the Mosque, and the tour can take a few hours. It is essential to prepare oneself by being physically fit and attending the tour with comfortable shoes. Visitors with disabilities may engage with the Mosque's staff beforehand to make arrangements for their visit.
What is the easiest way to get to the Hassan II Mosque from well-known landmarks in the surrounding area?
The Hassan II Mosque is located in Casablanca, Morocco, right on the coast of the Atlantic Ocean. If you're coming from the center of Casablanca, it's a stone's throw away at about 3 kilometers.
But, what if you're coming from other famous landmarks in the area? Don't you worry, I've got you covered like gravy on fries. Let's break it down.
First on the list, let's talk about the Casablanca Cathedral, also known as the Church of the Sacred Heart of Jesus. This architectural beauty was constructed by French colonists in the early 1900s and is located just over 2 kilometers away from the Hassan II Mosque.
If you're feeling up for it and want to put some pep in your step, you can walk to the mosque in about 25 minutes from the cathedral. But, if you want to save your dogs and take it easy, there are some other options. Hop on over to the nearest tram station, the Casa-Port station, and jump on the T1 tram line heading southbound. Get off at the Place des Nations Unies, and from there it's about a 10-minute walk to the mosque.
Next up, let's say you're coming from the Ain Diab Beach. Ah, the sun, the sand, the salty air - it's a great way to soak up some rays. But, don't forget to put on some sunscreen! To get to the Hassan II Mosque from the beach, you're looking at a distance of just over 4 kilometers.
Unless you're a marathon runner, walking may not be the most appealing option. Instead, jump in a taxi for a quick ride - it'll take about 10 minutes and cost you around 20 Moroccan dirhams. If you're feeling adventurous, you can also take the T1 tram line heading northbound from the Ain Diab station and get off at the Place des Nations Unies, just like the last option!
Now, let's say you're a history buff and want to check out the Museum of Moroccan Judaism, located about 4.5 kilometers from the Hassan II Mosque. This museum displays the distinct history and culture of the Jewish population in Morocco, showcasing rare documents, art, and historical artifacts.
To get to the mosque from the museum, you have a couple of options. You can jump in a taxi for a quick ride - it'll take about 15 minutes and cost you around 30 Moroccan dirhams. Or, if you're more interested in the scenery, hop on the T1 tram line heading southbound from the Sidi Moumen station, get off at the Place des Nations Unies, and take a small stroll to the mosque.
Finally, if you're coming from Casablanca's Mohammed V International Airport, the Hassan II Mosque is just a hop, skip, and a jump away. The airport is located about 30 kilometers away, but you can easily take a taxi or a private transfer straight to the mosque. It'll take you around 45 minutes and cost you around 250 Moroccan dirhams.
Frequently Asked Questions about Hassan II Mosque Casablanca
How long did it take to build Hassan II Mosque?
To be precise, this marvel of engineering and design took from 1986 to 1993 to complete.
Can you take photos inside Hassan II Mosque?
It is possible to take photos inside the mosque. However, there are some guidelines that visitors need to follow. Visitors are not allowed to take photos during prayer times, and they cannot take photos of worshippers without their permission. Additionally, visitors are required to dress modestly, covering their entire body, and wearing a headscarf, and also removing their shoes before entering the mosque.
What restaurants are near Hassan II Mosque?
Casablanca is known for its delectable cuisine, and there are plenty of delicious options near the mosque.
If you're in the mood for some traditional Moroccan fare, you can't go wrong with Restaurant la Sqala. This charming restaurant is housed in a beautiful old building and serves up classic Moroccan dishes such as tagine and couscous. Plus, the outdoor seating area is the perfect spot to relax and soak up the Casablanca sun.
For something a little more upscale, try Rick's Cafe. This iconic restaurant was inspired by the classic movie Casablanca and serves up a mix of Moroccan and international cuisine. The restaurant's elegant decor and romantic ambiance make it the perfect spot for a special night out.
If you're looking for a more casual, laidback dining experience, head over to La Bavaroise. This cozy bakery and cafe serves up a variety of delicious pastries, sandwiches, and coffee drinks. It's the perfect spot to grab a quick bite before heading out to explore the city.
What hotels are near Hassan II Mosque?
There are plenty of options to choose from! Whether you're looking for a luxurious stay or something more budget-friendly, there's something for everyone in the vicinity of the Hassan II Mosque.
If you're looking to splurge a bit, why not check out Hotel Sofitel Casablanca Tour Blanche? Located a mere 1.2 kilometers from the mosque, this 5-star hotel boasts breathtaking ocean views and offers guests top-notch amenities such as an on-site spa, fitness center, and rooftop bar. Plus, the hotel's modern decor and comfortable beds make for a truly luxurious experience.
On the other hand, if you're on a tighter budget, consider Hotel Central, which is only 700 meters away from the mosque. This hotel may not have all the bells and whistles of a 5-star establishment, but it offers clean, comfortable rooms at a fraction of the cost. Plus, the hotel's central location makes it easy to access all the nearby attractions, including the Hassan II Mosque.