|
The vibrant restaurant scene of Nepal's capital city Kathmandu offers a vast choice of dining options - Nepalese food has a unique taste and history.
Nepalese cuisine might not be as popular as it should be on an international stage, it is often overpowered by its more headstrong neighbours - India and Tibet. However, don't mistake this as complacency.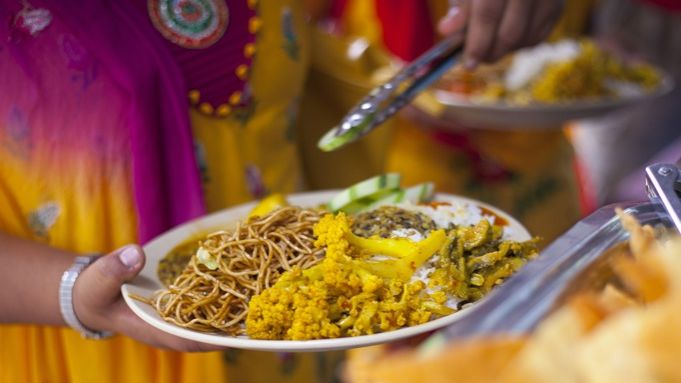 If you're looking to try some authentic Nepali cuisine as well as a number of comfort foods during your stint in Nepal, then Kathmandu Valley definitely doesn't disappoint when it comes to having a variety of restaurants that offer a collection of native and speciality dishes.
You will quickly find your favourites on our Nepal tours.
Café Mitra, Thamel
Hidden away, this beautiful little restaurant serves fresh, handmade food and although a little tricky to find it is one of the most affordable restaurants in Kathmandu.
Its top dishes include the best briyani, beef kebab, avocado nuts salad, grilled chicken breast in lemon sauce, and chicken curry.
Besides the terrific coffee, customers also love the asparagus soup, and the tasty asparagus with pesto sauce and mashed potatoes, as well as asparagus and mushroom.
Apart from the friendly staff, Cafe Mitra has a relaxed ambience, as their dining area is set amidst an open courtyard with trees.
OR2K
OR2K is the perfect alternative to Nepalese food - it is extremely popular due to its consistently good Middle Eastern cuisine - must-try dishes here include Hummus, Dal Bhat and Shakshouka.
In addition to their bread and pastries like fluffy pancakes and their superb Falafel platter, they also serve fresh vegetables and refreshing cocktails.
The ambience is about just as good as its food - when you enter the establishment, you need to take off your shoes, and instead of chairs, you sit on soft cushions while the food is served on low wooden tables.
Moreover, the service is great, courtesy of the attentive staff. And most importantly, the Wi-Fi is fast and stable.
Roadhouse Cafe
If you ask locals and tourists where you can buy the best pizza in Kathmandu, they will definitely point you towards Roadhouse Café.
This restaurant is known for its mouth-watering wood-fired pizza. The pasta is also tasty, the salads are great and the speciality coffee is robust.
Apart from the friendly staff, Roadhouse Café has a clean and tranquil atmosphere - you can eat al fresco at the café's garden. You can also watch your pizza while it's being cooked at the wood-fired oven, or just listen to soothing Jazz music while waiting for your meal.
If you want to eat at the rooftop, you'll be treated to a wonderful view of the Boudhanath Stupa.
Cafe Soma
Cafe Soma offers a wide selection of freshly made gourmet food such as cakes, sandwiches, snacks and heavy meals made from ingredients sourced from organic certified farms.
Bestsellers include their burger, chicken wings, stuffed grilled eggplant and feta beetroot salad.
For refreshments, they have watermelon juice, beetroot juice and apple cucumber mint juice. They also serve latte, a zesty lemon cake, banana chocolate chip muffin, strong Caffè Americano and a double espresso ice cream shake.
It's one of the best. Places in the city to catch up on some work on your laptop or surf the web while eating or waiting for your orders.
Bhojan Griha
If you wish to partake of authentic Nepali food as well as experience the country's rich culture, then you should head out to Bhojan Griha.
This place specialises in traditional cuisine like Kukhura Ko Ledo and Khasi Ko Pakku - the former is a chicken dish swimming in rich gravy commonly cooked by Nepali households, while the latter is a mutton dish famed for its tenderness and spicy herbal aroma.
Another popular food is the Aloo Tama ko Surwa or fermented bamboo shoots with potato. They also offer seasonal fruits marinated in yoghurt and spices.
Housed within a 150-year old mansion, Bhojan Griha does not only sate the stomach but also provides cultural enrichment. Throughout your meal, you will be entertained with live traditional Nepali music and dancers.
Mikes Breakfast
They don't exactly serve anything Nepali in origin, however, if you're craving for comfort food after a day of trekking or roaming around the capital, Mike's Breakfast gives you a charming outdoor ambience overlooking a little garden.
They also have a gallery called Indigo Gallery, with a number of paintings that are Newar in origin. The gallery also hosts a number of art events, which hopefully you can chance upon during your visit.
Every person has a different take on comfort food. At Mike's Breakfast, you can find American favourites like waffles, Mexican burritos, and Italian pasta and spaghetti.
Salon de Kathmandu Cafe & Bistro
While this restaurant is not conveniently located, it is hailed as a hidden gem not only because of its amazing food but also its serene garden setting tucked away from the hustle and bustle of Kathmandu.
Popular dishes include the spicy chicken burger, spicy chicken bowl, fried chicken salad, and chicken teriyaki burger. The gluten-free brownies are such a treat, likewise for the tomato spaghetti and the homemade ginger tea.
It's also nostalgic as you'll be seated on vintage furniture, and the restaurant has a souvenir shop where you can purchase handmade items to bring back home.
Wunjala Moskva
More than the food itself, locals go to Wunjala Moskva because of the ambience - it's known as one of the best, if not the best, garden restaurant in Kathmandu.
It has a number of small bungalows with an open courtyard in the middle. It's also a welcome change if you're looking for something other than Nepali cuisine.
The Wunjala Moskva (as you may guess from its name) specializes in Russian cuisine including their specialities Chatanmari, Piroshki, Woh, and Chhwela.
The restaurant also offers entertainment in the form of dance, the Manjushree dance, in particular, that highlights the Newar culture, the indigenous tribe of Kathmandu Valley.
If you're keen to venture to Nepal and try their tasty cuisine, visit our Nepal page to see what tours we have to offer.