|
Nepal - a trekkers' paradise - combines Himalayan views, golden temples, charming villages, and jungle wildlife. It truly is one of the world's great travel destinations.
March is the start of one of Nepal's two annual peak tourist seasons and it's also when the temperatures have truly warmed up after winter - with the thawing of many high-altitude trekking trails, river levels primed for whitewater rafting, and some exciting cultural festivals.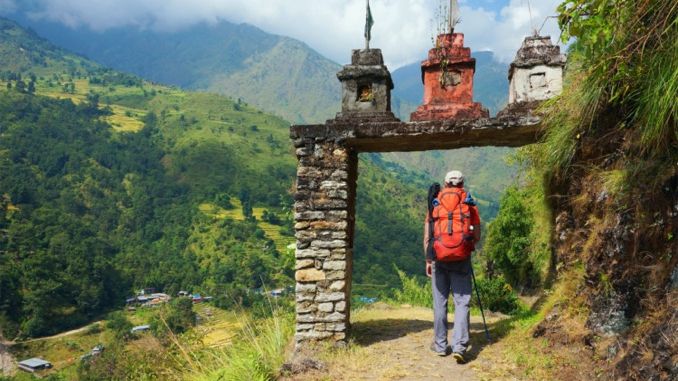 Kathmandu quickly gets warm and sunny with longer days filled with roughly nine hours of sunshine - it's possible to plan hiking and trekking trips.
The barely any rain and the foggy weather is gone - the days are generally pleasant enough to stay outside for hours. Nights are still rather cold though, so you'll need a warm jacket.
In the Himalaya region, spring is the best time to see wildflowers on lower altitudes. It's much more pleasant to explore the mountains as days are longer, warmer, and sunnier.
The weather
Nepal sees enormous climatic variation between the plains of the Terai, the mid-hills of Kathmandu and Pokhara, and the high Himalaya.
Nepal's winter is short in most places, and there's a little transition between the cold of early February and the heat of March. Temperatures on the Terai can be scorching by March.
The mountain areas at high altitude will still be cold, however, especially at night.
You'd do well to pack a rain jacket, but the monsoon doesn't hit for a couple more months so the rain if it comes, is light and short-lived. At higher altitudes, March has a reputation amongst the Sherpas for being colder than December at night.
With temperatures dropping to -10°C, there's usually quite a lot of snow still lying around. Elsewhere, daytime temperatures are beginning to climb to 20°C and more.
The crowd
March is less busy than April, but accommodation on the most popular trekking trails (such as in the Everest and Annapurna regions) can still fill up quickly.
Similarly, domestic flights to popular destinations and tourist buses between Kathmandu and Pokhara can fill up quickly. If you're travelling in a group, booking far in advance is wise, although solo travellers will have less of a problem getting tickets.
Trekking
Both lower and higher altitude treks will be enjoyable and comfortable by March. Accommodation in the Mustang region opens up again, although the temperatures there remain cold for several more weeks.
It's a good idea to prepare for the cold when travelling there in March, as the winds that whip up by mid-morning are still bitterly cold. Most camping treks that go to high altitude will still be off-limits in March, so teahouse treks are a better option.
Places to go
Late January through March is an ideal time to go on a jungle safari in the Chitwan National Park. The tall elephant grass that grows thick in the jungle is cut back, making it easier to see the animals.
Unfortunately, Kathmandu is particularly dusty in March, so it's best to head straight out of the city to the hills, mountains, and rivers instead.
What to do
White-water rafting and kayaking trips start up again in March, with water and air temperatures rising. Canyoning is also possible in a few places, as well as kayaking lessons.
March is when most trekking trails come back to life, including the route to Everest Base Camp - accommodation on trails that may have been shut during winter opens up again, and teahouses on the busiest trails fill up quickly.
Trekking peaks--which combine the best of both a long-distance trek and a mountain climb--are accessible from March. Travellers can also enjoy cultural activities, mountain biking, paragliding, and jungle safaris this month.
Events in Nepal
Traditional Nepali festivals (whether Hindu or Buddhist) usually follow a lunar calendar. This means that some festivals that fall in March one year may be in February or April the next.
Some festivals that often fall in March are:
Ghode Jatra is a festival in Kathmandu when the Nepal Army performs horse races to ward off the demon Gurumapa.
Maha Shivaratri is celebrated throughout the country but particularly lively at Kathmandu's Pashupatinath Temple where thousands of sadhus (Hindu holy men) gather to worship Lord Shiva.
Holi, a festival of colour celebrated around the country (on one day in the Terai, and the next in the hill areas) to welcome spring. Water and brightly coloured powder are thrown in the air.
Travelling to in March? Here are our top Nepal tour suggestions.
Getting up close to the world's largest mountain is not for the faint-hearted - plenty of preparation is required. However, the feeling of achievement is incredibly rewarding and worth it at the end though, not to mention the fantastic scenery and wondrous sights you will experience along the way.
This comprehensive 8-day budget tour gives travellers a great introduction to Nepal - from a walking tour of Kathmandu, several iconic Hindu & Buddhist temples and stupas, public coach travel between cities for added local flavour and lower cost, wildlife safaris in Chitwan National Park, jungle walk, boat trip, and so much more.
This adventurous tour of Nepal takes you on a journey across breathtaking mountain scenery mixed with lush, wildlife-rich jungles, ancient hilltop villages and the hustle and bustle of Kathmandu.
This tour has been specifically designed for the whole family - young and old - combined with some adventurous activities and a few visits to exotic temples and cultural sites.