|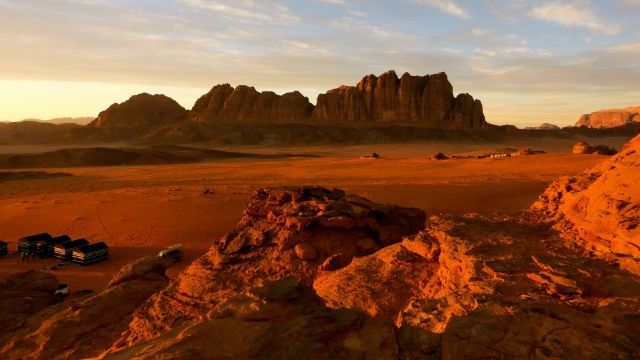 Wadi Rum is one of the most spectacular natural destinations in Jordan, and indeed the world. This vast desert landscape is mysterious and enchanting, haunting and evocative. In fact, the otherworldly atmosphere of Wadi Rum is so palpable, that the region has been used as a location for several major films. Famous examples include Lawrence of Arabia, the famous 1962 film; The Martian; two Star Wars movies (Rogue One: A Star Wars Story and Star Wars: The Rise of Skywalker); and Disney's live-action adaption of Aladdin.
Wadi Rum is also known as Wadi al Qamr in Arabic, which translates to "Valley of the Moon". Its official size is stated to be 720 square kilometres. It is situated in the south of Jordan, approximately a 2-hour drive from the world-famous site of Petra. It is the biggest valley in Jordan.
The terrain of Wadi Rum can be described as mountainous desert. Hundreds of rock formations and other natural structures are found in the region. These include dunes, canyons, cliffs, arches, and caves. The red colour of the sand in Wadi Rum comes from the presence of iron oxide, and is one of its most noteworthy and striking characteristics. It is also a major contributing factor to its unearthly ambiance.
Wadi Rum is also home to more than 25 000 ancient rock engravings. These have great historical significance, and have been studied by historians and other experts to help tell the story of human civilisation. The region of Wadi Rum has been inhabited by a number of different tribes and peoples since ancient times. Today, itd is inhabited by several thousand Bedouins.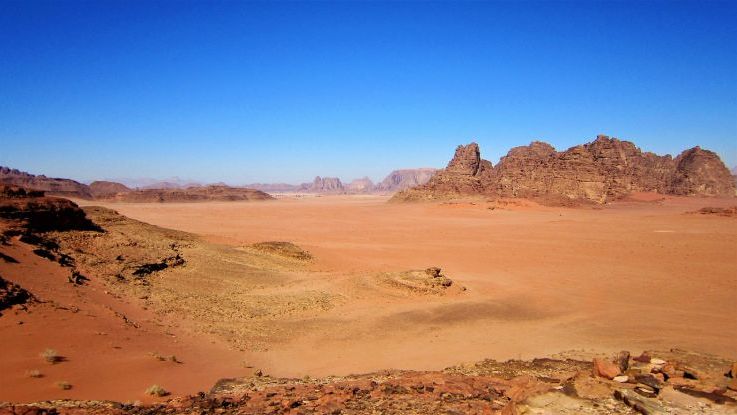 Besides being one of Jordan's most important tourist attractions, Wadi Rum is a very significant area in terms of history, culture, and biodiversity. It is listed as a UNESCO World Heritage Site and is also a protected area.
Despite being a desert, Wadi Rum is actually home to an array of wildlife and animal species that exist in a complex ecosystem. Grasses, wildflowers, and small herbal plants can be found dotted across the valley. You will also find signs of life near the springs that are found in Wadi Rum. Desert animals are found in their numbers too, many of which can be seen at night, due to the high temperatures during the day. These include hyrax, wolf, jackal, hare, and hedgehog. Birds can be spotted as well, including falcons and owls, and you will also see plenty of geckos and lizards. Snakes, spiders, and scorpions are also known to be found in Wadi Rum, but are not very commonly seen. Camels are also found in Wadi Rum, many of which are kept by the Bedouin people.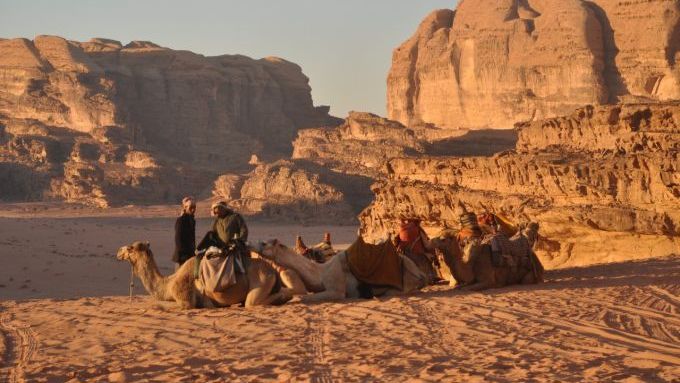 Jeep safaris are one of the most popular and widely-used methods of exploring Wadi Rum. A significant advantage of a jeep safari is that it allows you to cover large distances in shorter amounts of time. This is very helpful in a place such as Wadi Rum, which is vast and wide, with many different landmarks and sights to see.
Jeep safaris in Wadi Rum are usually conducted using pickup trucks with seats added in the back, or traditional 4x4 safari vehicles. Remember that the terrain here can be hilly, rocky, and uneven, and so the ride will sometimes get quite bumpy.
A jeep safari will usually start in the early to late morning. The tour will take you to the most interesting landmarks and the most breathtaking viewpoints in Wadi Rum. At many of these sites, you'll stop and get off the jeep, and the guide will explain the history and significance of the site. You'll have the chance to explore the sites and discover them for yourself- and take lots of pictures, of course! You will also be able to hike and climb up and on some of the rock formations.
Jeep safaris can be booked directly on site at the visitor centre in Wadi Rum. You can also book ahead of your visit by searching for and contacting one of the many tour companies that offer jeep safari tours in Wadi Rum.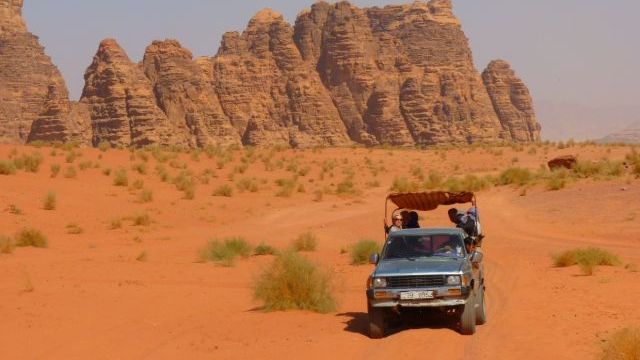 Depending on the packages offered, some jeep safari tours in Wadi Rum will include meal stops, such as lunch. Many of these are served in the style of a traditional Bedouin meal.
Many jeep safari tours also include overnight stays as part of a package. This will usually involve camping out in the desert in a Bedouin-style camp, with traditional food and entertainment provided. Many of our Jordan tours include an overnight stay in a Bedouin camp in Wadi Rum. The accommodation provided is in the form of traditional goat-hair tents; but not to worry- the tents have proper mattresses and bedding materials inside! Sleeping out in the desert, with the vast stillness around you and the galaxy spread out above, is truly a once-in-a-lifetime experience.
Many of our Wadi Rum experiences also include a sunset camel ride.