|
A lot of travellers are currently concerned about the Coronavirus at this moment and rightly so - there are a growing number of cases in Egypt and travel there is not possible at the moment. We will provide updates here as the situation changes and we are able to restart our tours to the country. You can also follow the official site of the WHO and government travel advice for more information.
This article concentrates on general safety in Egypt.
The question here though isn't whether or not you should visit this prominent country but rather is it safe to visit? The short answer: Yes, Egypt is safe! However, for the long answer, carry on reading.
The coronavirus in Egypt
A lot of travellers are currently concerned about the Coronavirus at this moment and rightly so – there are a few cases and its advised that travelling isn't the best idea at the moment. The best advice we can give you is to consult the official site of the WHO for further information or contact your embassy.
General safety
After many years of turmoil and especially the November revolution in 2011 tourist numbers dropped but years went on, the political situation died down.
2018 was the first year that saw a significant increase in tourism and a renewed interest in Egypt and its safety for travellers.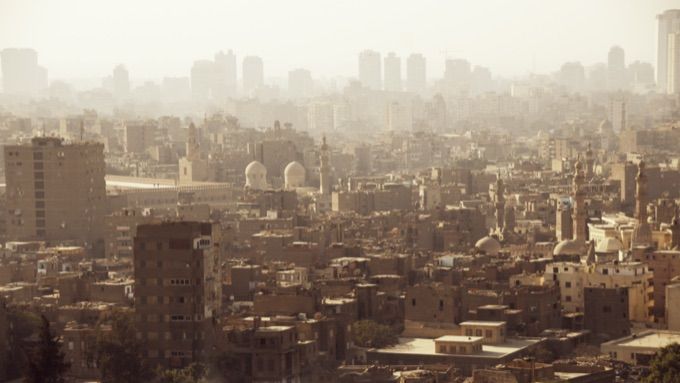 Is Cairo safe?
Cairo is an incredible city, but pretty much one big maze – here's where we would recommend a tour guide. It's quite easy to get lost on the big markets and as a fair-skinned traveller, you might get quite some attention.
But is it safe to go to the markets in Cairo at night? Yes, pretty much.
Some locals might be staring at you and apart from local vendors and café owners trying to sell you something, its pretty much as safe as it can get.
A good tip to remember is that there is safety in numbers – if you are a small group, your biggest fear is getting lost. If you do, just call one of the ever-present taxis and ask them to get you to your hotel.
If you are not brave enough to take on Cairo, Luxor or Aswan on your own, we recommend hiring a local guide. He will be your safety shield, know what to do in each situation and keep you from falling for scams.
Safety for female travellers
Generally speaking, Egypt is safe for solo female travellers as well but, keep in mind that as a woman, you should stick to dressing conservatively.
There are a few reports of harassment, but that the reality is that this is neither uncommon nor unheard of no matter where you go.
Beware of common scams
Egypt is full of hawkers and shop owners. So, is it safe to visit the Pyramids in Egypt? Again, yes, but stick to one very important golden rule: Don't talk to the locals and don't tell them where you're from – just say "no thank / la shukran" in a friendly way and move on.
Here are some examples
Vendors will start a conversation by asking your name and where you are from. From there, they will invite you to check out their offers and then they will make you a present. "Take it. Is present.". Don't. Walk away. The "present" will be free, but incidentally, the vendor's sister will be marrying tomorrow, and she'll somehow be offended if you don't chip in some money for her dowry.
In Cairo, locals will offer you to show you a shortcut – this is quite a tempting offer, but just another scam. In the best case, they will expect a tip.
Handing your camera to a local, especially around the Pyramids, might not be a good idea either. They will appear to be helpful and then ask a big tip for taking the pictures.
Money changing tricks are also abundant. Mostly, you are asked to change coins into bills. And always change money at a local bank or withdraw it directly from the ATM. Nothing good will come from changing money from a local for a "good rate".
Driving with local taxis can be a problem – the older taxis don't have meters, and if they don't – prearrange a price beforehand, but always leave a small tip. Sometimes they will try to add a fee for extra persons or extra baggage, etc.
Don't get the wrong impression – Egypt is by far not the only country where tourists are being scammed, you'll pretty much have scamming issues everywhere you go.
To summerise…
Always do thorough research on Egypt travel safety tips
Ignore anyone who says he knows you – don't even respond to them. What follows is a scam and you don't need those on your Egypt trip
Don't take pictures of military installations or behave weirdly in front of the military
Don't drink alcohol on the streets. It's illegal. Don't do drugs either – both get you into prison
Stay away from any large crowds, especially from demonstrations.
Don't go on cheap scuba diving tours. Any deep-water diver should know how important well-maintained equipment is on a dive.
Always dress appropriately – consider local customs and way of life
Order your taxis through your hotel – uber can be okay as well, though a lot of inexperienced drivers
Learn a bit of Arabic. Know how to say hello – not essential though
Keep copies of your passports with you
Stay away from religious gatherings and celebrations
Have change to tip people – it's expected
Don't hand any of your belongings to a stranger, especially not a camera
Don't drive yourself or rent a car. Traffic is often quite chaotic, especially in the cities
Always take enough water with you. Egypt is hot – stay hydrated
Try to avoid tap water
Have travel insurance – Egypt is one of these countries were you need it
As a traveller its always best to do your research on the place you visit and Egypt like any other country isn't perfect – there will be scammers here and there or whatever the case may be but if you're wary about your surroundings it will be the best vacation ever.
Click here to have a look at our Egypt tours.