|
If you're planning a trip to Marrakech, there are a few things you should know before you go. Marrakech is a vibrant and colorful city located in Morocco that is famous for its bustling souks, stunning architecture, and delicious food. Here are some top tips to help you make the most out of your Marrakech experience.
Marrakech Travel Tips
Firstly, make sure to pack appropriately for the weather. Marrakech can get incredibly hot, especially during the summer months, so it's important to dress in light and airy clothing that will keep you cool and comfortable. However, keep in mind that Marrakech is also known for its cool evenings, so it's a good idea to pack a light jacket or sweater for the evenings.
Secondly, be mindful of your belongings. Although Marrakech is a generally safe and friendly city, it's always best to keep an eye on your belongings to avoid pickpocketing or theft. This is especially important when wandering around the souks, which can be quite crowded and overwhelming. Make sure to keep your valuables close to your body and be aware of your surroundings at all times.
Finally, be respectful of the local customs and traditions. Marrakech is a Muslim city, and it's important to dress conservatively when visiting religious sites and public places. It's also a good idea to learn a few basic phrases in Arabic, such as hello (assalamu alaikum) and thank you (shukran), to show your respect for the local culture.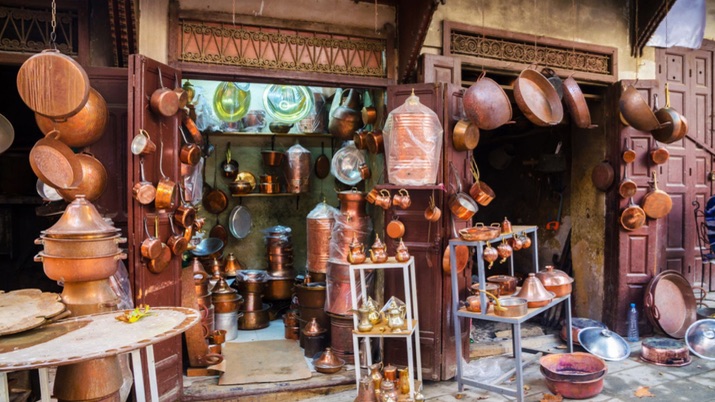 Things to do in Marrakech, Morocco
A trip to Marrakech is incomplete without visiting the Majorelle Garden. This enchanting garden, created by the French painter Jacques Majorelle in the 1920s, is a botanical wonderland with a vast array of exotic plant species, refreshing streams, and tranquil fountains. The garden's iconic cobalt blue buildings, which house a museum dedicated to the Berber culture, make it a perfect spot for Instagram-worthy pictures. A hidden gem within the garden is the Yves Saint Laurent Memorial, a small but striking memorial dedicated to the famous French designer who owned the garden from the 1980s until his death in 2008.
If you're a history buff, a visit to Bahia Palace is a must. This magnificent 19th-century palace is a fine example of Moroccan Islamic architecture, with enchanting courtyards, intricately designed mosaics, and impressive fountains. The palace, which showcases the opulence of the Moroccan aristocracy of the time, is open to the public and is a treat for lovers of art, architecture, and history.
If you're a foodie looking to spice up your culinary skills, Marrakech has a lot to offer. Moroccan cuisine is famous for its rich flavors, influenced by Berber, Andalusian, and French cooking styles. Take a cooking class in the heart of the Medina and learn to prepare traditional Moroccan dishes like tagine, couscous, and pastilla. You can also indulge in a food tour of the city's famous food markets, tasting juicy oranges, aromatic spices, and sweet pastries.
After a long day of exploring the city's wonders, it's time to relax and unwind. And what better way to do that than with a visit to one of Marrakech's famous hammams? A hammam, or a Moroccan bathhouse, is a traditional spa that involves steam rooms, exfoliation, and massages. Hammams are known for their rejuvenating properties and are a must-have experience for any traveler looking to indulge in some pampering. Some famous hammams to try in Marrakech are La Sultana, Les Bains de Marrakech, and Hammam de la Rose.
For those seeking adventure, Marrakech has plenty to offer. One such experience is a hot air balloon ride over the city's breathtaking landscape. Flying over the snow-capped Atlas Mountains, the lush green palm groves, and the red desert sands is a once-in-a-lifetime experience that you won't forget. Another adventure to try is quad biking in the desert, where you'll get an adrenaline rush as you speed around the sand dunes and take in the stunning views.
Lastly, no trip to Marrakech would be complete without a visit to Jemaa el-Fnaa, the city's vibrant and chaotic main square. By day, the square is a bustling market filled with snake charmers, street performers, and spice sellers. By night, it transforms into a lively food bazaar, where you can indulge in freshly squeezed orange juice, grilled meats, and various Moroccan snacks. It's a sensory overload that will give you a taste of the city's culture and way of life.
Where are the best places to stay in Marrakech?
There are plenty of amazing options for your accommodations in this Moroccan city. From luxurious hotels to charming riads, Marrakech has it all.
First and foremost, let's talk about the riads. These are traditional Moroccan houses or palaces that have been converted into small hotels or guesthouses. One of the best things about staying in a riad is the chance to experience traditional Moroccan architecture and design. And Marrakech has some of the most gorgeous riads around.
One of our top picks for a riad stay is Riad Laaroussa. Situated in the heart of the old city, this riad is a true oasis. With its beautiful courtyard and tiled pool, you'll feel like you've been transported to another world. The rooms are spacious and beautifully decorated with traditional Moroccan touches. Plus, the staff is incredibly friendly and helpful.
Another great riad option is Dar Les Cigognes. This riad is located in the peaceful Kasbah district and offers stunning views of the Atlas Mountains. The rooms are spacious and luxurious, with beautiful Moroccan decor. And the rooftop terrace is the perfect spot for a morning coffee or an evening cocktail.
If you're looking for more traditional hotel accommodations, Marrakech has plenty of those as well. One of the most renowned hotels in the city is the Royal Mansour. This hotel is a true oasis of luxury and refinement. From the stunning architecture to the impeccable service, every detail has been carefully crafted to provide the ultimate in comfort and style.
For a more modern take on a Moroccan stay, consider checking out the 68-room hotel, El Fenn. This chic hotel is located in the heart of the city and offers modern amenities combined with traditional decor. The rooftop terrace is a must-visit for its stunning views of the medina and Atlas Mountains.
If you're on a budget, don't worry - Marrakech has plenty of affordable options as well. One such option is the Hostel Riad Marrakech Rouge. This colorful hostel is located in the heart of the medina and offers both dormitory-style and private rooms. The staff is incredibly friendly and helpful, and the rooftop terrace is a great spot to relax and take in the views.
Another budget-friendly option is Hotel Ali. This hotel is located in the Gueliz district, away from the hustle and bustle of the medina. The rooms are simple but clean and comfortable, and the hotel has a great rooftop terrace with views of the city.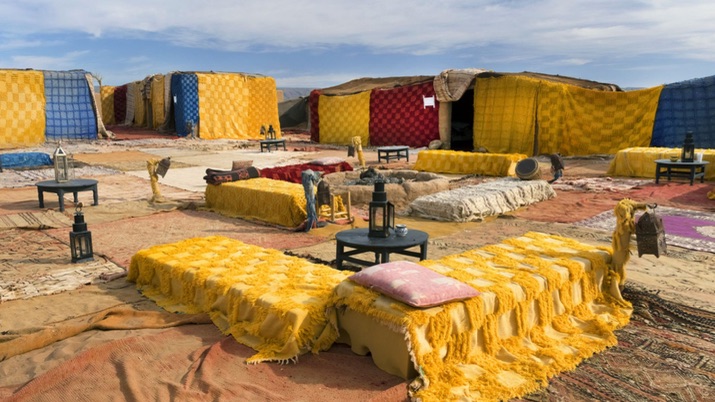 Where are the best restaurants in Marrakech?
The exotic city boasts a plethora of mouth-watering cuisine options that will tantalize your taste buds and leave you feeling completely satisfied. But with so many restaurants to choose from, it's understandable if you're feeling a little overwhelmed. Fear not, for I am here to guide you through the labyrinthine streets and introduce you to the best restaurants that Marrakech has to offer.
First up, we have Al Fassia. This restaurant is located in the Gueliz district and is considered to be one of the best traditional Moroccan restaurants in the city. Their menu offers a wide range of dishes, from traditional tagines to grilled meats and fish. One of their most popular dishes is the lamb tagine with prunes and almonds, a delectable blend of sweet and savory that will transport you to culinary heaven. The restaurant itself is beautifully decorated with traditional Moroccan pottery and ornaments, providing a truly authentic dining experience.
Next on the list is Nomad, a modern rooftop restaurant located in the heart of the Medina. This restaurant offers a contemporary twist on traditional Moroccan cuisine, with dishes such as harissa roasted carrots and chermoula octopus. Their rooftop terrace provides stunning views of the city and is the perfect place to enjoy a sunset cocktail before dinner. The restaurant also boasts excellent service and a trendy atmosphere, making it a must-visit for any foodie visiting Marrakech.
For a more casual dining experience, head to Cafe Arabe, located in the Bab Doukkala district. This cafe offers a range of dishes from Moroccan tagines to Italian pastas, making it the perfect spot for a relaxed lunch or dinner. Their courtyard is filled with fragrant orange trees and the decor is a blend of traditional Moroccan and European styles. You can also enjoy a shisha pipe while you dine, adding to the cafe's laid-back vibe.
If you're a fan of seafood, make sure to check out Le Jardin. This restaurant is located in an enchanting courtyard in the heart of the Medina and offers an extensive seafood menu. Their catch of the day is always fresh and their calamari is a must-try. The restaurant also has a beautiful indoor garden, complete with a giant birdcage and cascading water feature, making it a truly unique dining experience.
Last but not least, we have La Maison Arabe, a luxurious restaurant that has been serving up Moroccan cuisine for over 60 years. Their menu is a fusion of traditional and modern dishes, with everything from lamb tagine to duck foie gras on offer. The restaurant also hosts cooking workshops where you can learn how to make traditional Moroccan dishes for yourself. The decor is opulent, with intricate tile work and ornate chandeliers, making it the perfect spot for a special occasion dinner.
What are the best rooftop bars in Marrakech?
First on the list is the 4 Seasons Rooftop Lounge. This place offers a breathtaking view of the city and the Atlas Mountains. The ambiance is luxurious and the cocktails are out of this world. This bar offers a wide selection of drinks, from classic cocktails, to local specialties. They also offer a delicious range of small bites, perfect to nibble on while enjoying the view.
Next up is the Sky Lounge at Barcelo. This bar is located at the top of the Barcelo hotel and has a stunning 360-degree panoramic view of the city. The décor is modern and chic, with plenty of comfortable seating areas. The cocktail menu is extensive, with a great range of both classic and unique drinks. If you're feeling peckish, they also have a great selection of snacks and small plates.
The Pearl Rooftop at the Pearl Hotel is another must-visit rooftop bar in Marrakech. This bar offers a stunning view of the city's skyline and a cozy and intimate atmosphere. The drinks are deliciously concocted and the service is top-notch. The bar has a great selection of cocktails, wines, and spirits from all over the world.
If you're looking for a more traditional Moroccan experience, La Terrasse des Epices is the perfect rooftop bar for you. This bar is located in the heart of the spice market and offers a stunning view of the medina. This place has a very relaxed and laid-back vibe; perfect for enjoying the sunset with a mint tea or a refreshing cocktail. The bar also serves light Moroccan snacks such as falafel, baba ghanoush, and hummus.
Finally, we have Bab Hotel Rooftop Lounge. This bar is located in the trendy Gueliz neighborhood and offers a stunning view of the city's skyline. The ambiance is chic and trendy, with plenty of comfortable seating areas. The drinks are a mix of classic and innovative cocktails, with some great local specialties. The bar also serves a range of delicious light bites and tapas.
When is the best time to visit Marrakech?
If you're wondering when the best time to visit Marrakech is, the answer depends on what you're looking for. For those who are looking for sunny weather and a bustling atmosphere, the months of March, April and May are the best time to visit. This is the period when spring is in full swing, and temperatures are mild and pleasant. However, the city can become crowded with tourists during this time, so it's best to plan your trip well in advance.
If you're willing to brave the intense heat, then the summer months of June, July and August can offer a unique experience. You'll be able to experience the city when it's at its most authentic and locals are out and about. However, temperatures can reach up to 100 degrees Fahrenheit, so it's important to take precautions and stay hydrated.
For those looking for a cooler climate, the winter months of December, January and February can be a good time to visit. While temperatures can still reach up to 70 degrees Fahrenheit during the day, the nights can be chilly. However, this is also the peak tourist season, so be prepared for crowds and higher prices.
Are there any tours in Marrakech that are a must?
You can't miss the opportunity to explore the famous Medina of Marrakech. This ancient walled city is a maze of narrow alleys and bustling marketplaces, where vendors hawk everything from spices and textiles to pottery and jewelry. It's a sensory overload, with the sounds of haggling and bartering mixing with the smells of cooking food and fresh leather.
There are a couple of different ways to explore the Medina, but one of the most popular is by taking a walking tour with a local guide. They'll be able to show you the best hidden corners and share stories about the history and culture of the area. Just be prepared for a bit of a workout - the alleyways can be crowded and uneven, and the Moroccan sun can be quite intense.
Another must-see destination in Marrakech is the Bahia Palace. This stunning example of Islamic architecture was built in the late 19th century for the wealthy Si Moussa family, and is now open to the public. It's a peaceful oasis of intricate tilework, lush gardens, and quiet courtyards, and provides a glimpse into a bygone era of Moroccan history.
Guided tours of the Bahia Palace are available, or you can explore on your own. It's worth taking your time to soak in all the exquisite details - from the carved plasterwork to the ornate ceilings. And don't forget your camera - this palace is a photographer's dream.
If you're looking for a tour that's a bit more active, consider a trip to the nearby Atlas Mountains. This beautiful range is just a short drive from Marrakech, and offers stunning views, mountain landscapes, and opportunities to meet Berber villagers and learn about traditional life in Morocco.
There are a variety of companies that offer guided hikes in the Atlas Mountains, ranging from short walks to multi-day treks. Make sure you choose a reputable operator and wear appropriate footwear and clothing, as the terrain can be challenging in places.
Finally, no trip to Marrakech would be complete without experiencing the famous Jemaa el-Fnaa square. This bustling public square is the heart of the city, and comes alive at night with street performers, food stalls, musicians, and more.
While you can certainly explore Jemaa el-Fnaa on your own, it can be overwhelming - especially at night. One option is to take a guided tour of the area, which will give you an insider's perspective on the various stalls and performances. Alternatively, you could simply dive in and wander around, sampling street food, watching snake charmers, and soaking up the lively atmosphere.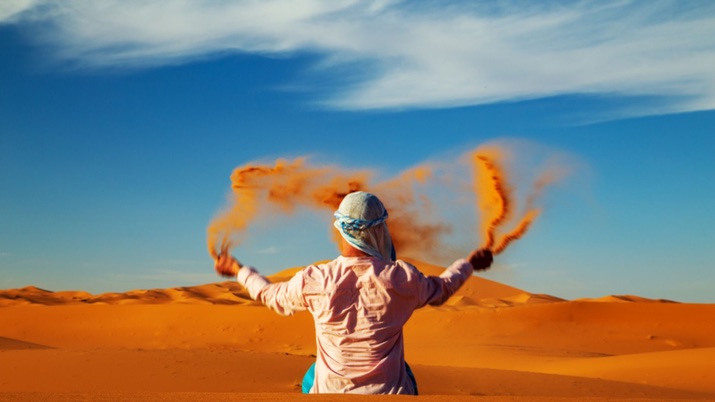 How much does it cost for day trips from Marrakech?
The cost of a day trip from Marrakech can vary greatly depending on a number of factors such as the type of trip, the distance traveled, and the number of people in your group. Generally, you can expect to pay anywhere from $20-$150 per person for a day trip.
If you're looking for a budget-friendly option, a shared group tour is your best bet. These tours usually cost around $20-$30 and include transportation, a guide, and entrance fees to attractions. You'll be traveling with a larger group, but it can be a great way to meet new people and save a few bucks.
If you prefer a more personalized experience, a private day trip will be more expensive but can be tailored to your specific interests. Expect to pay around $100-$150 for a private tour, but you'll have more flexibility in your itinerary and can travel at your own pace.
Another factor to consider is the distance of the day trip. A trip to the nearby Atlas Mountains will be much cheaper than a journey to the seaside town of Essaouira. Expect to pay more for trips that are farther away.
It's also important to note that prices can vary depending on the season and demand. Popular destinations like the Ouzoud Waterfalls or the Ourika Valley can be more expensive during peak tourist season.
To get the best deal, it's always a good idea to shop around and compare prices from different tour operators. Don't be afraid to negotiate a price, especially if you're traveling with a larger group.
In addition to the cost of the tour, it's also important to factor in additional expenses such as meals and souvenirs. Most tours will include lunch, but if not, expect to pay around $5-$15 for a meal depending on where you dine.
What is the best way to get around Marrakech?
There are plenty of options available, from walking and public transportation to taxis and private tours. But before we delve into that, let's start with getting to Marrakech in the first place.
If you're flying into the city, chances are you'll be arriving at the Marrakech Menara Airport. This airport sits just a few miles outside the city center and handles millions of passengers each year. Despite its size and popularity, it's relatively easy to navigate, with clear signage and plenty of helpful staff on hand to assist you.
As you exit the airport, your first option for transportation will likely be a taxi. Taxis are readily available outside the terminal and can take you directly to your accommodation. However, it's important to note that Marrakech is known for its crowds and chaos, and the airport taxi situation is no exception. It's not uncommon for drivers to try to overcharge tourists, so be sure to negotiate a fair price before getting in the car.
Another option is to arrange for a private transfer in advance. This can often be done through your hotel or a tour company, and can save you the hassle of negotiating with taxi drivers. Private transfers typically cost more than taxis, but they offer more comfort and convenience, especially if you have a lot of luggage.
If you prefer to save money and don't mind navigating public transportation, there are a couple of options as well. Bus 19 runs from the airport to the city center and costs just a few cents. This is a great option if you're traveling light and don't mind a bit of a walk at the end of the journey.
Alternatively, you can take a grand taxi from the airport to the city center. These shared taxis are usually old Mercedes-Benzes that can fit up to six passengers. They're a bit more expensive than the bus (around $10), but they'll drop you off closer to your destination.
Once you're in Marrakech, walking is a great way to explore the city. The medina, or old town, is a maze of narrow streets and alleys that are best explored on foot. There are plenty of sights to see, from the bustling Jemaa el-Fnaa square to the intricate details of the Bahia Palace. Just be prepared for the crowds and the occasional aggressive vendor.
Of course, if you're not up for walking, there are plenty of other options. Buses and trams run throughout the city, and tickets are cheap and easy to purchase. There are also plenty of taxis available, both traditional and "petit" (smaller cars that are cheaper). Just be sure to negotiate the price before getting in.
Another popular option for getting around Marrakech is a horse-drawn carriage, or calèche. These charming, old-fashioned carriages offer a unique perspective on the city and are a romantic way to see the sights. However, they can be a bit pricey, so be sure to negotiate a fair rate before hopping in.
Frequently Asked Questions about Marrakech
Why is Marrakech called the red city?
The nickname "red city" is immediately obvious when one arrives in Marrakech. The vibrant red walls and buildings create a unique landscape that sets Marrakech apart from other cities. But why is it called the red city? The answer lies in the origin of the city's name. Marrakech was founded in the 11th century by the Almoravid dynasty. The Berber leader, Yusuf ibn Tashfin, established the city and named it "Marrakech," which translates to "Land of God." The red color of the buildings comes from the widespread use of red sandstone in construction. This material was abundant in the surrounding Atlas Mountains and is what gives the city its distinctive red hue.
How Does Tipping in Morocco Work?
Tipping in Morocco, as with many other countries, is customary. However, it is not required, and the amount is at the discretion of the individual. Tipping in Morocco is called "baksheesh," and it is expected in some situations. For example, it is common to tip people who provide you with a service, such as a tour guide or a taxi driver. In restaurants, a tip of 10% is appropriate. Tipping in hotels is also standard, with porters and housekeeping staff often receiving a small gratuity. Something to keep in mind is that many people in Morocco rely on tips to supplement their income, so if you receive excellent service, it is a kind gesture to show your appreciation.
Should you exchange money at Marrakech Menara airport?
Marrakech Menara airport does have currency exchange services available, but the exchange rates may not be the best. It is also important to note that some businesses in Marrakech only accept cash, so it is a good idea to have some Moroccan dirhams on hand. However, it is also essential to be cautious when exchanging money in a foreign country. It is advisable to exchange money at a reputable bank or exchange office to ensure that you receive a fair rate.