|
Nestled in the majestic Sinai Peninsula, Mount Sinai, also known as Jebel Musa, holds great significance for multiple religions. It's believed to be the sacred site where Moses received the Ten Commandments from God. Can you imagine standing in the very place where this momentous event occurred? It's truly awe-inspiring!
But let's not forget the jaw-dropping views that await you atop this legendary mountain. Brace yourself for a challenging yet rewarding trek to the summit, as you navigate rugged trails and steep ascents. The effort is absolutely worth it! Picture yourself witnessing a glorious sunrise or sunset painting the desert landscape in vibrant hues. It's a breathtaking spectacle that will leave you speechless.
What is the history of Mount Sinai (Jabal Musa)?
In Jewish tradition, Mount Sinai was where Moses received the Ten Commandments from God and established the covenant between God and the Israelites. This event is commemorated during the holiday of Shavuot, which falls seven weeks after Passover. Some believe that the mountain itself represents the presence of God, and that standing on its summit brings one closer to the divine.
From a Christian perspective, Mount Sinai is also an important site. According to the Book of Exodus, it was here that God instructed Moses to build the Ark of the Covenant and offered guidance to the Israelites as they journeyed through the wilderness. Later, Mount Sinai became associated with the hermit Saint Catherine, who according to legend, received a vision of the Virgin Mary at the site. Today, the Monastery of Saint Catherine, which dates back to the 6th century AD, stands at the foot of the mountain and is recognized as one of the oldest working monasteries in the world.
Islamic tradition holds that Mount Sinai, or Jabal Musa in Arabic, was where Moses spoke with God and that it is an important pilgrimage site for Muslims. There is also a reference to the site in the Quran, which mentions that Moses climbed the mountain in order to receive guidance from God.
In addition to its religious significance, Mount Sinai has been the subject of much historical and archaeological study. It is believed that the mountain was first inhabited during the Neolithic period, around 10,000 to 4,000 BC. Archaeological evidence suggests that the site was used for various purposes over the centuries, including as a mining center, a quarry, and a sacred site for various polytheistic cults.
It was not until the time of Moses, however, that Mount Sinai became an important religious site for the Jewish people. According to the Bible, it was here that God revealed himself to Moses in the form of a burning bush and instructed him to lead the Israelites out of Egypt and into the Promised Land.
Over the centuries, the site has been the subject of much fascination and study by scholars, theologians, and pilgrims alike. Today, it is popular among tourists who come to the region to hike up the mountain and visit the Monastery of Saint Catherine.
Of course, like any site with a long and storied history, many legends and myths are associated with Mount Sinai. Some believe the mountain is home to secret chambers and hidden treasures, while others claim it is a site of profound spiritual power and healing.
Regardless of one's personal beliefs about the mountain, there is no denying its significance in the history and culture of Egypt and the wider world. Whether one is a pilgrim seeking spiritual renewal or simply a curious traveler interested in the site's rich history, Mount Sinai remains one of the most fascinating and awe-inspiring places in all of Egypt and is today, open to the public. Where travelers are able to discover the exposed rocks in Mount Sinai made from alkaline granite.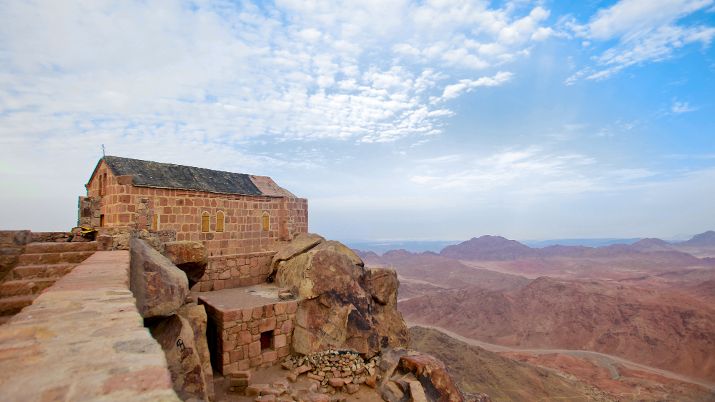 Where is Mount Sinai based?
Mount Sinai, also known as Mount Horeb, is a majestic mountain located in the Sinai Peninsula in Egypt. It is situated in the southern part of the Peninsula, rising to an incredible height of 2,285 meters above sea level. This iconic mountain is known for its biblical significance as it is believed to be the place where Prophet Moses received the Ten Commandments from God.
Despite its religious significance, the exact location of Mount Sinai has been a topic of debate for centuries. Many theories and claims have been made regarding the true location of the mountain, but none have been able to provide a definitive answer. However, there are a few popular theories that are worth exploring.
According to the most popular theory, the Biblical Mount Sinai is located in the southern part of the Sinai Peninsula, near the modern-day town of Saint Catherine. This location is believed to be the site where the Israelites camped before Moses climbed the mountain to receive the Ten Commandments. This theory is supported by the fact that the town of Saint Catherine is home to the oldest continuously inhabited monastery in the world, the Saint Catherine's Monastery, which is believed to have been built at the foot of Mount Sinai.
Another theory suggests that Mount Sinai is located in Saudi Arabia, in the northwest region of the country. This theory is based on a historic document from the 4th century AD, known as the "Bordeaux Pilgrim," which describes a mountain range in the region that is believed to be the location of Mount Sinai. Additionally, several archaeological discoveries have been made in the region, including the discovery of a rock inscription that mentions the name of Moses and the crossing of the Red Sea.
Finally, there is a theory that suggests that Mount Sinai is located in the Sinai Desert between Egypt and Israel. This theory is based on biblical references that describe the mountain as being located in the wilderness. This location is also believed to be the site where the Israelites crossed the Red Sea and where Moses struck the rock to obtain water for the thirsty Israelites.
In conclusion, the answer to the question, "where is Mount Sinai based?" is not a straightforward one. Though there are several theories and claims regarding the true location of Mount Sinai, none have been able to provide a definitive answer. Whether you believe it is located in Egypt, Saudi Arabia, or the Sinai Desert, one thing is for sure - visiting this sacred mountain is an experience that will stay with you for a lifetime. So pack your bags, and set off on a journey to uncover the mystery of the biblical Mount Sinai.
Why you should visit the Sinai in Egypt?
First things first, let's talk about the scenery. The Sinai boasts some of the most breathtaking natural landscapes you'll ever lay eyes on. The ever-shifting sand dunes give the landscape a hypnotic quality, and the rugged mountains rise up in dramatic splendour. And of course, there are the beaches. Golden sands meet crystal-clear waters in a way that will leave you speechless. It's no wonder that many celebrities choose to vacation here.
But it's not just the scenery that's worth visiting for. The Sinai has a rich cultural history that is just waiting to be discovered. The region has been inhabited for thousands of years and has played a significant role in many historical events, from the exodus of the Israelites to the Islamic conquests.
One place that perfectly encapsulates the Sinai's unique cultural heritage is the St Catherine Monastery. This UNESCO World Heritage site located at the base of Mount Sinai is one of the oldest Christian monasteries in the world. The monastery houses an invaluable collection of ancient manuscripts and icons, and the stunning Byzantine architecture is a sight to behold.
But you don't have to be a history buff to appreciate the Sinai's cultural offerings. The region is also home to several Bedouin communities, who have a deep connection to the land and a fascinating way of life. You can spend a night in a traditional Bedouin camp, sampling local food and learning about the customs and traditions of these hospitable people. It's an experience that you'll carry with you for a lifetime.
And let's not forget about the adrenaline-fueled activities that are available in the Sinai. From sandboarding down the dunes to hiking up Mount Sinai to catch the sunrise, there is something for every thrill-seeker. One experience that I highly recommend is taking a quad bike tour through the desert. It's an exhilarating way to explore the landscape, and you'll get to see parts of the Sinai that are inaccessible by foot.
Of course, we can't talk about the Sinai without mentioning the world-famous diving and snorkeling opportunities. The Red Sea is home to some of the most diverse and vibrant marine life in the world, and the Sinai has several world-class diving spots. From the coral garden in Dahab to the shipwrecks of the Straits of Tiran, you'll be blown away by the underwater wonders that await you.
But, I know what you're thinking. "But isn't Egypt dangerous?" It's true that Egypt has had its fair share of political instability in recent years, but when it comes to tourism, the Sinai is a safe and welcoming destination. In fact, the Egyptian government and tourism industry have gone to great lengths to ensure the safety of visitors.
So, there you have it. The Sinai Peninsula is a region that truly has it all. From stunning natural landscapes to rich cultural heritage and adrenaline-fueled activities, there is something for every traveler. So why not consider adding the Sinai to your travel itinerary? Trust me, you won't regret it.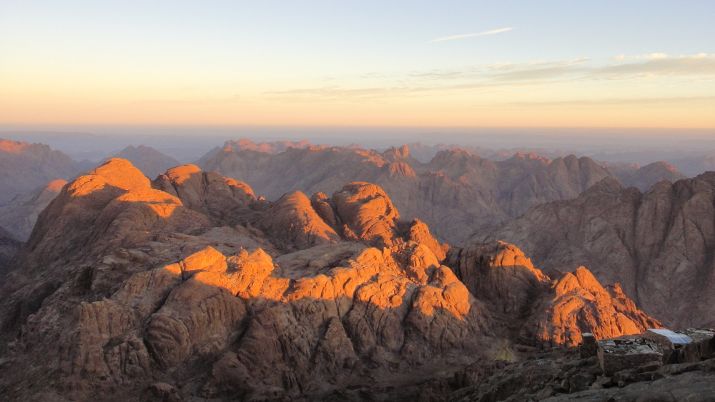 What is the best time of year to climb Mount Sinai's summit?
The ideal time to climb Mount Sinai's summit is during the cooler months, from November to February. The temperatures at the top can drop sharply, so you'll want to avoid the peak summer months when temperatures can exceed 100 degrees Fahrenheit.
During the winter months, the temperature at the summit is generally around 30 to 40 degrees Fahrenheit, which is much more manageable. Additionally, the cooler temperatures make the climb more comfortable, allowing you to focus on the breathtaking views instead of worrying about the heat.
Besides the temperature, another factor to consider when planning your Mount Sinai climb is the number of tourists. Since Mount Sinai is such a popular destination, it can get crowded at times. To avoid the crowd, aim to visit during the weekdays, especially if you plan to climb during the high tourist season. Moreover, reaching the summit at sunrise is a popular activity, so expect crowds if you plan to do it.
The best time to climb Mount Sinai's summit is between November to February. The cooler temperatures make the climb more pleasant, and you'll avoid the peak tourist season, making the journey less crowded. Remember to also consider other factors such as weekdays vs weekends and sunrise vs daytime to enhance your experience. Whether you're a seasoned adventurer or a first-time hiker, climbing Mount Sinai's summit is an unforgettable experience that should definitely be added to your travel bucket list.
How much does it cost to visit Mount Sinai?
the cost of visiting Mount Sinai varies depending on a number of factors such as where you're coming from, what kind of accommodation you want, what kind of food you're looking to eat and what activities you'd like to engage in. It's important to keep in mind that Mount Sinai is located in Egypt and therefore prices will be based on the Egyptian currency known as the Egyptian Pound (EGP).
Alright now, let's dive in starting from the basics. To even get to Mount Sinai, you'll need to take transportation which of course, comes at a cost. If you're coming from Cairo, the capital city of Egypt, expect to pay around 1200 EGP (that's equivalent to approximately $75 USD) for a bus ticket to get to the Mount Sinai region. If you'd prefer to fly, airlines like EgyptAir have flights from Cairo to Sharm el-Sheikh which costs around 2000 EGP (that's approximately $125 USD). However, keep in mind that Sharm el Sheikh is about 3 hours away from Mount Sinai, so you'll have to factor in additional transportation costs.
Now that we've sorted transportation, let's talk about accommodations. If you're on a budget and don't mind sharing a room then you'll most likely be looking at hostels or guesthouses which cost between 120-200 EGP per night (approximately $7.50-$12.50 USD). But if you're looking for more luxurious accommodations then there are plenty of 5-star hotels in the region. These hotels come with a heftier price tag and can cost between 2000-4000 EGP per night (approximately $125-$250 USD).
Next up, let's talk about food. There are plenty of local restaurants and cafes in the region serving up traditional Egyptian cuisine such as kebabs, falafels, and couscous. The prices of these meals can range from 30-100 EGP (approximately $2-$6.25 USD) depending on the location and the quality of the restaurant. However, if you're looking for something more Westernized, then expect to pay higher prices at the more touristy establishments.
Now, let's get to the real reason you're visiting Mount Sinai - the activities. The most popular activity in the region is, of course, climbing the mountain to see the sunrise. The climb can take between 2-3 hours depending on your fitness level, and costs around 50-100 EGP (approximately $3-$6.25 USD) for the entry fee. However, if you'd like a guide to accompany you up the mountain, that will cost extra. Other popular activities include visiting the St. Catherine's Monastery which costs around 100 EGP (approximately $6.25 USD) for the entry fee, or camel rides which can cost between 150-250 EGP (approximately $9.38-$15.63 USD).
What is the recommended dress code for climbing Mount Sinai?
First, keep in mind that climbing Mount Sinai is not an easy task. The trek can take up to four hours, and the terrain can be challenging, especially during the night when the temperatures drop. Therefore, you'll need to wear comfortable and practical clothing that will allow you to move freely and protect you from the elements.
Avoid wearing jeans, dresses, or any clothing that is too tight, restrictive, or heavy. Instead, opt for breathable and lightweight fabrics such as cotton, polyester, or nylon. You can wear loose-fitting trousers, cargo pants or shorts, and a comfortable T-shirt or tank top.
Furthermore, it's highly recommended to dress in layers. During the day, the temperatures can be scorching, but at night, the cold can be bone-chilling. By layering, you can easily adjust your clothing according to the weather conditions. Start with a base layer of moisture-wicking fabric that will keep you dry and prevent chafing. Then add a mid-layer for insulation, such as a fleece or a sweater. Finally, top it all off with a waterproof and windproof jacket or a coat.
Keep in mind that you'll be walking in the dark for most of the trek, so it's essential to bring a headlamp or a flashlight with you. Not only will it help you navigate the trail, but it will also ensure your safety.
Footwear is also a crucial aspect of your attire while climbing Mount Sinai. Make sure to wear sturdy, comfortable, and supportive shoes or hiking boots. The terrain can be rocky and uneven, and you don't want to risk blisters, twisted ankles, or other injuries. Also, avoid wearing sandals, flip flops, or any open-toed shoes as they offer no protection.
Another aspect to consider while dressing for Mount Sinai is modesty. Egypt is a conservative country, and it's important to respect their culture and traditions. Therefore, avoid wearing revealing or provocative clothing, such as tank tops, shorts, or mini-skirts.
For women, it's recommended to wear a long-sleeved shirt or a blouse and a maxi skirt or pants that cover your ankles. Also, bring a scarf or a shawl that you can use to cover your hair or shoulders as a sign of respect.
For men, it's best to wear a t-shirt and long pants, preferably cargo or hiking pants.
Climbing Mount Sinai is an unforgettable experience that requires appropriate clothing to ensure your comfort, safety, and respect for the local culture. Wear comfortable and practical clothing, dress in layers, wear sturdy shoes, and be modest. With the right attire, you'll be able to enjoy the beauty and uniqueness of this ancient mountain.
What is the recommended level of fitness to reach the peak of Mount Sinai?
The hike to the peak of Mount Sinai is not a walk in the park, so to speak. It's a strenuous, uphill climb that requires physical exertion and endurance. The hike itself is roughly 2.5 hours to 3 hours in length, depending on your pace and the number of breaks you take. It's important to note that the path to the peak is not paved and can be quite rocky and uneven in certain areas. Additionally, the air at the peak of Mount Sinai is thinner due to the high altitude, which can make breathing more challenging for some individuals.
With all of that said, the recommended level of fitness to reach the peak of Mount Sinai is moderate to high. It's recommended that individuals who wish to attempt the hike are able to walk for at least 30 minutes to an hour without experiencing discomfort or fatigue. Additionally, it's recommended that individuals have a level of cardiovascular fitness that allows them to engage in moderate to high-intensity exercise without feeling out of breath or excessively fatigued.
One way to assess your current level of fitness is to perform a cardiorespiratory fitness test. This test measures your body's ability to transport oxygen to your muscles during exercise, which is an important factor in determining your ability to engage in high-intensity physical activity. The test involves measuring your heart rate and respiratory rate while you perform a set of exercises, such as running on a treadmill or cycling on a stationary bike. If you're able to sustain moderate to high-intensity exercise for a reasonable amount of time without feeling excessively fatigued, then you likely have a good level of cardiovascular fitness.
In addition to cardiorespiratory fitness, it's also important to have a good level of muscular endurance. The hike to the peak of Mount Sinai requires the use of several different muscle groups, including your legs, core, and upper body. Therefore, it's recommended that individuals engage in regular strength training exercises that target these muscle groups. Squats, lunges, push-ups, planks, and pull-ups are all great exercises to incorporate into your fitness routine.
Of course, it's important to remember that everyone's level of fitness is different. Some individuals may be able to conquer the peak of Mount Sinai with ease, while others may struggle. It's important to listen to your body and know your limitations. If you experience discomfort or fatigue during the hike, it's important to take breaks and allow your body to rest. Additionally, it's important to stay hydrated and fuel your body with nutritious foods before and after the hike.
What type of travelers will enjoy climbing Mount Sinai in Egypt?
Here are some types of travelers who may find the experience particularly enjoyable.
Adventurous Travelers

If you're someone who loves to push themselves to their limits and always wants to try something new, then climbing Mount Sinai is definitely the adventure for you. The climb itself is challenging, with steep inclines and uneven ground, but the stunning views and sense of accomplishment at the end of it all make it well worth the effort. So, if you're an adventurous spirit looking for a challenge, then climbing Mount Sinai is an excellent choice.
Religious and Spiritual Travelers

Mount Sinai holds significant religious and spiritual importance for many cultures, including Jews, Muslims, and Christians. According to the Bible and the Quran, it is the place where God gave Moses the Ten Commandments, making it an incredibly significant location for those who follow these religions. Ascending Mount Sinai is believed to be a way to connect with God and gain spiritual insight. For religious or spiritual travelers, climbing Mount Sinai can be an incredibly moving and transformative experience, offering the chance to connect with history and spirituality in a unique and powerful way. The summit still has a mosque that Muslims use today and a Greek Orthodox Chapel constructed in 1934, on top of a 16th-century church - which is unfortunately not open to the public.
History Buffs

Mount Sinai has a lot of historical significance, dating back thousands of years. According to historians, this is the mountain where Moses received the Ten Commandments from God, making it an incredibly important site for both Christians and Jews. In addition to religious significance, Mount Sinai has played a pivotal role in the region's history, serving as a strategic location for armies and travelers throughout the ages. If you love history, then climbing Mount Sinai can be an incredible opportunity to learn about the past while enjoying an incredible adventure.
Nature Lovers

Even if you don't have any interest in the religious or historical significance of Mount Sinai, the natural beauty of the region itself is worth the climb. The surroundings are breathtaking, with impressive rock formations, stunning views of the surrounding wilderness, and beautiful mountainside flora and fauna. The climb takes you through varied and diverse terrains and offers a chance to experience nature in a new way. So if you're a nature lover, this is a must-do adventure.
The steep ascent to the summit of Mount Sinai: Do you need Egypt travel guides for the journey?
If you're planning to climb Mount Sinai in Egypt, having a travel guide can be helpful, but it is not necessarily required. Whether or not you choose to use a travel guide depends on your personal preferences, experience, and comfort level with navigating unfamiliar terrain.
Here are a few factors to consider:
Safety: Mount Sinai is a challenging climb, particularly the final ascent to the summit. The trail can be steep and rocky, and it's important to take necessary precautions for your safety. A travel guide who is familiar with the route and experienced in leading groups can provide valuable guidance and ensure you stay on the right path.

Navigation: While the trail to the summit is marked, having a guide can help you navigate through the terrain more easily. They can point out landmarks, provide information about the route, and help you avoid any potential pitfalls.

Historical and Cultural Context: Mount Sinai is a significant religious and historical site, believed to be the place where Moses received the Ten Commandments. A travel guide can offer insights into the history, significance, and stories associated with the mountain, enhancing your overall experience.

Convenience: Hiring a travel guide can make your journey more convenient as they can take care of logistics such as transportation, permits, and accommodation arrangements. They can also provide advice on the best time to climb and help you plan your trip efficiently.
However, if you are an experienced hiker or feel confident in your ability to navigate and prepare for the climb independently, you may choose to go without a travel guide. In such cases, make sure you thoroughly research the trail, carry necessary equipment, and adhere to safety guidelines.
Ultimately, the decision to use an Egypt travel guide for climbing Mount Sinai depends on your personal preferences, level of experience, and comfort with undertaking challenging hikes in unfamiliar locations.