|
Amritsar, nestled in the northwestern region of India, holds a special place as a prominent center of Sikhism and is a magnet for pilgrims worldwide. At the heart of this city in Punjab lies the iconic Golden Temple, also known as Harmandir Sahib.
This holy shrine is not only a spiritual cornerstone for Sikhs but also an architectural marvel and a symbol of profound faith. Situated just about 15 miles from the border with Pakistan, Amritsar not only serves as a pilgrimage hub but also beckons travelers to explore its rich cultural heritage, making it a significant destination in northwestern India.
In this article, we delve into the historical, religious, and cultural aspects that make Amritsar, with its Golden Temple, a must-visit on India tours.
What is the history of Amritsar, and how did it become the center of Sikhism?
The history of Amritsar is deeply intertwined with the evolution of Sikhism, making it the spiritual epicenter of the Sikh faith. Amritsar's historical significance can be traced back to the 16th century when Guru Nanak, the founder of Sikhism, visited the area. However, it was the fifth Sikh Guru, Guru Arjan Dev, who played a pivotal role in shaping Amritsar's destiny.
In the early 17th century, Guru Arjan Dev initiated the construction of the Harmandir Sahib, famously known as the Golden Temple. This iconic shrine was envisioned as a place of worship and reflection, open to people of all castes and creeds--a symbol of equality and unity.
Amritsar's name itself holds significance; it translates to "Pool of Nectar," alluding to the sacred Amrit Sarovar (pool) within the temple complex. Legend has it that the pool's waters were imbued with divine blessings by Guru Ram Das, the fourth Sikh Guru.
Amritsar's history is also marked by significant events, including the Jallianwala Bagh massacre in 1919, when British troops opened fire on peaceful protesters, leaving a lasting impact on India's struggle for independence.
Throughout the years, Amritsar continued to be a focal point for Sikhism's growth and development. It became a center for religious teachings, scholarly pursuits, and a sanctuary for Sikhs during turbulent times. Today, Amritsar stands as a living testament to Sikh heritage, culture, and spirituality, drawing millions of pilgrims and visitors from around the world to its hallowed precincts, making it the enduring center of Sikhism.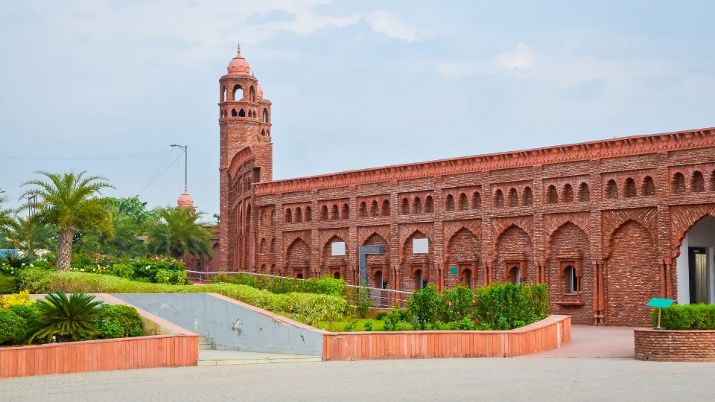 Who are the Sikh, and what role do they play in the cultural and religious fabric of Amritsar and the Golden Temple?
The Sikhs are followers of Sikhism, a monotheistic religion founded in the Indian subcontinent in the late 15th century by Guru Nanak Dev Ji. Sikhism emphasizes the belief in one God, equality of all humans, and living a truthful and virtuous life. Sikhs hold a strong sense of community and are known for their distinct identity, including the uncut hair (covered by a turban for men), the kirpan (a ceremonial sword), and other religious symbols.
The Sikhs have played a central role in the cultural and religious fabric of Amritsar and the Golden Temple. Here's how:
Spiritual Pilgrimage: The Golden Temple, or Harmandir Sahib, is the holiest place for Sikhs. Sikhs from all around the world consider it a spiritual duty to visit the Golden Temple at least once in their lifetime. It serves as a place of worship and reflection for Sikhs and welcomes people of all backgrounds, promoting the Sikh values of equality and harmony.

Service and Volunteerism: Sikhs are known for their tradition of selfless service, or "seva." At the Golden Temple, volunteers, both Sikh and non-Sikh, engage in various seva activities, such as preparing and serving free meals (langar) to thousands of visitors daily. This practice embodies the Sikh principle of service to humanity.

Religious Significance: The city of Amritsar itself derives its name from "Amrit Sarovar" (Pool of Nectar), a sacred pool within the Golden Temple complex. It is where Sikhs perform "Amrit Sanchar," a baptism ceremony that initiates individuals into the Sikh faith.
Regarding the Sikh Gurus, there are ten historical Sikh Gurus who played a pivotal role in shaping Sikhism:
Guru Nanak Dev Ji: The founder of Sikhism and the first Guru. He emphasized the oneness of God and equality among all.

Guru Angad Dev Ji: He formalized the Gurmukhi script, making it easier for Sikhs to read and understand the teachings of Guru Nanak.

Guru Amar Das Ji: He established the concept of "langar," the free community kitchen, and emphasized equality among all, regardless of caste or creed.

Guru Ram Das Ji: He founded the city of Amritsar and initiated the construction of the Golden Temple.

Guru Arjan Dev Ji: He completed the construction of the Golden Temple and compiled the Sikh scripture, the Guru Granth Sahib.

Guru Hargobind Ji: He introduced the concept of the Sikh martial tradition and constructed the Akal Takht (Throne of the Timeless One) next to the Golden Temple.

Guru Har Rai Ji: He promoted compassion and care for nature and animals.

Guru Harkrishan Ji: He became Guru at a young age and emphasized the importance of spiritual guidance.

Guru Tegh Bahadur Ji: He sacrificed his life to protect the religious freedom of non-Sikhs during the Mughal era.

Guru Gobind Singh Ji: He established the Khalsa, a community of initiated Sikhs, and the Guru Granth Sahib as the eternal Guru.
These Gurus' teachings and contributions continue to be central to Sikhism and are celebrated within the cultural and religious fabric of Amritsar and the Golden Temple.
Where is Amritsar located in northwestern India, near the border with Pakistan?
Amritsar is located in the northwestern part of India, near the international border with Pakistan. It is situated in the state of Punjab, which is known for its fertile plains and rich cultural heritage. The city of Amritsar is specifically positioned in the northwestern region of the Punjab state, making it geographically close to the border with Pakistan, approximately 15 miles (24 kilometers) away from the border.
This proximity to Pakistan has historical, cultural, and geopolitical significance, as it is the site of the Wagah Border Crossing, where the famous Wagah Border Ceremony takes place, symbolizing the closing of the India-Pakistan border each evening with a patriotic display of flag-lowering and military pageantry.
How can one get to the city of Amritsar, and what are the transportation options for travelers?
Travelers have several transportation options to get to the city of Amritsar, thanks to its well-connected transportation infrastructure. Here are the primary means of reaching Amritsar:
By Air: The fastest and most convenient way to reach Amritsar is by air. Sri Guru Ram Dass Jee International Airport, located in Amritsar, connects the city to major domestic and international destinations. Several domestic airlines operate regular flights to Amritsar from major Indian cities like Delhi, Mumbai, and Bangalore. Additionally, there are international flights to Amritsar from cities like Birmingham, London, Doha, and Dubai.

By Train: Amritsar Junction Railway Station is a major railway station in the region and is well-connected to various cities across India. The Shatabdi Express and other important trains serve Amritsar, making it accessible from cities like Delhi, Mumbai, Kolkata, and Jaipur.

By Road: Amritsar is well-connected by road and can be reached via National Highways. It is approximately 450 kilometers (280 miles) from the national capital, New Delhi, making it accessible by road. Several bus services, including both government-run and private operators, ply between Amritsar and neighboring cities and states.

By Bus: Amritsar has a well-maintained bus terminal, Amritsar Inter-State Bus Terminus (ISBT), which operates both local and long-distance bus services. You can take a bus to Amritsar from nearby cities like Jalandhar, Ludhiana, and Chandigarh.

By Car: Travelers who prefer flexibility in their journey can opt for a private car or rental vehicle to reach Amritsar. The city is well-connected to major cities via highways, and the drive offers picturesque views of the Punjab countryside.

By Cycle Rickshaw and Auto-rickshaw: Within the city, cycle rickshaws and auto-rickshaws are popular modes of transportation for short distances and local sightseeing.

By Taxi and Ride-sharing services: Taxis, as well as app-based ride-sharing services, are available for convenient and comfortable transportation within the city and for intercity travel.
Travelers can choose the mode of transportation that best suits their preferences, budget, and travel plans to access the vibrant and culturally rich city of Amritsar and explore its many attractions, including the Golden Temple.
When is the best time to visit Amritsar and experience its cultural and religious significance?
The best time to visit Amritsar and experience its cultural and religious significance largely depends on your preferences regarding weather and festivals. Amritsar has distinct seasons, each offering a unique experience:
Winter (October to March):

Best Time for Sightseeing: The winter months are considered the best time to visit Amritsar. The weather is pleasantly cool and comfortable for outdoor exploration.
Festivals: Celebrations of major Sikh festivals, such as Guru Nanak Jayanti and Guru Gobind Singh Jayanti, often occur during the winter season. These celebrations add to the city's religious and cultural vibrancy.
Golden Temple: The Golden Temple looks even more mesmerizing in the crisp winter air, especially during early morning and evening visits.

Spring (March to April):

Moderate Weather: Spring in Amritsar sees moderate temperatures, making it another good time for sightseeing.
Baisakhi Festival: The Baisakhi festival, celebrating the Sikh New Year and the harvest season, falls in April. This is a significant festival in Amritsar, and the city comes alive with colorful processions and cultural performances.

Summer (May to June):

Warm to Hot Weather: Summers in Amritsar can be quite hot, with temperatures often exceeding 40°C (104°F). It's advisable to avoid visiting during the peak of summer unless you can tolerate high temperatures.
Early Morning or Late Evening Visits: If you do visit during the summer, plan your visits to religious sites like the Golden Temple during the cooler parts of the day.

Monsoon (July to September):

Rainy Season: Amritsar experiences monsoon rains during this period. While the landscape becomes lush and green, the heavy rains can disrupt travel plans and outdoor activities.
Rain Gear: If you visit during the monsoon, bring appropriate rain gear and be prepared for occasional disruptions.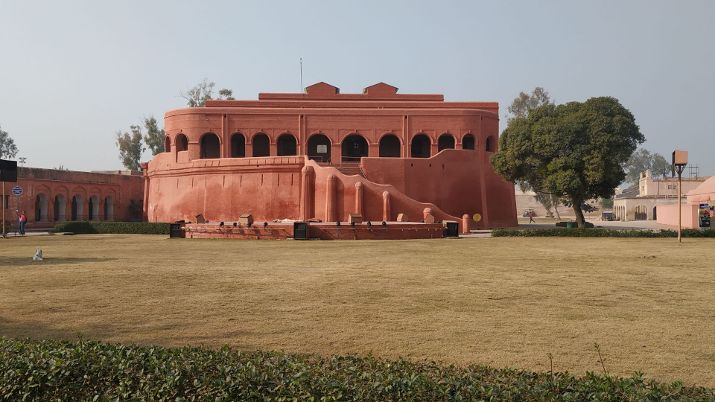 Who should consider visiting Amritsar, and what are the attractions beyond the Golden Temple?
Amritsar is a city that appeals to a wide range of travelers due to its rich cultural and historical heritage. Here's who should consider visiting Amritsar, along with attractions beyond the Golden Temple:
Sikh Pilgrims: Amritsar is the spiritual heart of Sikhism, and Sikh pilgrims from around the world consider it a must-visit destination. The Golden Temple, the holiest site for Sikhs, is the primary attraction, but there are also many other significant gurdwaras (Sikh temples) in and around the city.

History Enthusiasts: History buffs will find Amritsar fascinating due to its role in India's struggle for independence. The Jallianwala Bagh, a memorial to a tragic massacre during British rule, is a poignant reminder of this history.

Cultural Explorers: Amritsar offers a vibrant cultural experience. Visitors can witness traditional Punjabi music and dance performances, sample delicious Punjabi cuisine, and explore local markets.

Food Lovers: Amritsar is renowned for its culinary delights. The city is famous for its street food, particularly the Amritsari kulcha, chole bhature, and the delectable langar (free community meal) at the Golden Temple.

Photography Enthusiasts: The Golden Temple and its surroundings provide excellent photography opportunities. The stunning architecture, reflections in the Amrit Sarovar, and the play of light and shadow make for captivating shots.

Families: Amritsar is family-friendly, and children can learn about Sikh culture, history, and spirituality while enjoying the serene environment of the Golden Temple.

Wagah Border Enthusiasts: Travelers interested in the patriotic fervor and unique cultural spectacle of the Wagah Border Ceremony should visit Amritsar. The border is a short drive from the city and hosts a daily ceremony in the evenings.

Architecture Aficionados: Amritsar is not just about the Golden Temple; it boasts impressive architectural gems like the Akal Takht, Durgiana Temple (often called the Silver Temple), and Ram Bagh Palace.

Shopping Enthusiasts: The local markets in Amritsar offer a variety of handicrafts, textiles, and souvenirs, making it a great place for shopping.

Spiritual Seekers: Beyond Sikhs, individuals of various faiths and spiritual inclinations can find inspiration and solace in the serene atmosphere of the Golden Temple.
Why should you attend the ceremony at the Wagah Border?
Attending the ceremony at the Wagah Border, near Amritsar, is a unique and exhilarating experience for several compelling reasons:
Patriotic Spectacle: The Wagah Border Ceremony is a daily military ritual that takes place at the border between India and Pakistan. It is a symbol of the two countries' patriotic fervor and rivalry. Witnessing the elaborate ceremony allows you to feel the energy and pride of both nations.

Cultural Exchange: The ceremony is not just about military display; it also includes cultural elements such as music, dance, and coordinated maneuvers by border guards from both sides. It showcases the rich heritage of the region.

Unique Atmosphere: The atmosphere at the Wagah Border is electric. Thousands of spectators gather on both sides to watch the ceremony. The enthusiastic crowd chanting slogans and waving flags adds to the excitement and creates a sense of unity among onlookers.

Symbol of Peace: Despite the display of military drill and posturing, the ceremony also symbolizes the hope for peace between India and Pakistan. The lowering of the flags at sunset signifies the end of hostilities for the day and a commitment to peaceful coexistence.

Historical Significance: The Wagah Border was the only road link between India and Pakistan after the partition in 1947. Its historical relevance as a partition relic adds depth to the experience.

Photo Opportunities: The colorful and dramatic nature of the ceremony provides excellent photo opportunities. Capturing the precise and synchronized movements of the border guards and the enthusiasm of the crowd makes for memorable snapshots.

Local Flavor: The border area is lined with food stalls and souvenir shops, allowing visitors to savor local snacks and shop for souvenirs, adding to the overall cultural experience.

International Border Visit: It's not every day that you get to visit an international border and witness the interactions between two nations up close. The Wagah Border provides a unique opportunity for this.

Inclusive Experience: The ceremony is open to the public, and visitors of all nationalities are welcome. It's a chance to interact with people from various backgrounds who come together to witness this remarkable event.

Thrilling Conclusion: The ceremony concludes with the dramatic lowering of the flags and the slamming of the border gates. The climax of the event is both thrilling and emotionally charged.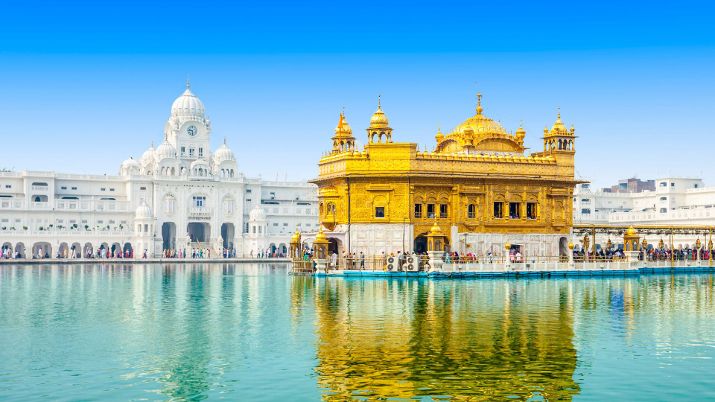 What is the dress code for visiting the Golden Temple and attending religious ceremonies?
Visiting the Golden Temple in Amritsar and attending religious ceremonies there requires adhering to a specific dress code out of respect for the Sikh religious traditions and the sanctity of the temple. Here are the guidelines for the dress code:
Head Covering (Must for All):

Men: All male visitors, regardless of their age, are required to cover their heads at all times while inside the Golden Temple complex. You can use a handkerchief, scarf, or a headcovering provided by the temple authorities.
Women: Women must also cover their heads with a scarf, shawl, or dupatta (traditional Indian scarf). This practice signifies humility and respect.



Clothing Guidelines:

Modesty: Dress modestly and avoid clothing that is revealing or overly casual. Sleeveless tops, short skirts, and shorts are generally discouraged.
Cleanliness: Ensure your clothes are clean and well-maintained. Avoid clothing with offensive or inappropriate messages or images.



Footwear:

Visitors are required to remove their shoes before entering the Golden Temple complex. Shoe storage facilities are available near the entrance.



Foot Care:

It's advisable to wash your feet before entering the temple premises, as a sign of cleanliness and respect.



Avoid Leather Items:

Sikhism encourages respect for all life forms, and leather is avoided within the temple complex. This includes leather shoes, belts, or any other items made from animal hide.



Head Covering for Shoe Storage:

If you need to store your shoes in the designated area, it's a good practice to cover your head even when temporarily removing your shoes.



Jewelry and Accessories:

Avoid wearing excessive jewelry and accessories that may make noise or distract others during prayer and meditation.



Silence and Respect:

Maintain a respectful and reverent demeanor while inside the temple. Keep conversations to a minimum and speak in hushed tones.



Personal Hygiene:

Visitors are expected to be clean and maintain personal hygiene before entering the temple.



Mobile Phones and Cameras:

While photography is allowed in most areas of the Golden Temple complex, be mindful not to disrupt religious activities or cause inconvenience to others with flash or loud phone conversations.



Be Mindful of Traditions:

Pay attention to any specific instructions or traditions observed by the temple authorities or Sikh devotees during your visit.
Adhering to the dress code and guidelines when visiting the Golden Temple shows respect for Sikh customs and ensures a harmonious experience for all visitors. It's important to remember that the Golden Temple is a place of worship and spiritual significance for Sikhs, and visitors are expected to conduct themselves with reverence and humility.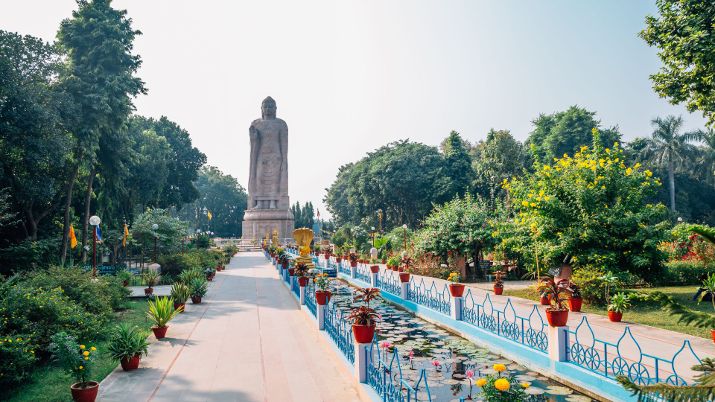 How much does it cost to visit Amritsar and its key attractions, including the Golden Temple?
Visiting Amritsar and its key attractions, including the Golden Temple, can be quite affordable, as many of the attractions are open to the public free of charge. However, there are some expenses to consider:
Golden Temple: Entry to the Golden Temple is free for all visitors. The temple also provides free meals (langar) to all, regardless of their background. Donations are welcome but not mandatory.

Jallianwala Bagh: Entry to Jallianwala Bagh is typically free, and it serves as a memorial to the tragic massacre in 1919.

Wagah Border Ceremony: Attendance at the Wagah Border Ceremony is also free of charge. However, if you choose to sit in the VIP section, there may be a nominal fee.

Local Transportation: Local transportation costs, such as auto-rickshaw or cycle-rickshaw rides, are relatively affordable and can vary based on the distance traveled within the city.

Accommodation: Accommodation costs can vary widely depending on your preferences and budget. Amritsar offers a range of options, from budget guesthouses to luxury hotels. Prices can fluctuate based on the season and location.

Food: Amritsar is known for its delicious and affordable Punjabi cuisine. Dining in local restaurants and enjoying street food can be budget-friendly. The langar at the Golden Temple provides free meals to visitors, but you may choose to make a voluntary donation.

Shopping: If you plan to shop for souvenirs, clothing, or handicrafts, prices will depend on your bargaining skills and the items you purchase. Local markets in Amritsar offer a wide range of products at varying price points.

Guided Tours: If you opt for guided tours of the city or specific attractions, there may be a fee associated with the tour.
What are the opening hours of the Golden Temple, and when can visitors experience its tranquility?
The Golden Temple, also known as Harmandir Sahib, is a place of worship and spiritual significance for Sikhs and is open to visitors for most of the day. It offers a tranquil and serene atmosphere at various times. Here are the typical opening hours of the Golden Temple and when visitors can experience its tranquility:
Golden Temple Opening Hours:

The Golden Temple is open to visitors 24 hours a day, seven days a week. It does not close its doors to anyone at any time.



Early Morning (Before Sunrise):

Many visitors choose to arrive at the Golden Temple before sunrise. During this time, the temple complex is relatively quiet, and you can witness the peaceful ambiance as the first light of day illuminates the golden structure.
The early morning hours are an ideal time for meditation and reflection. The recitation of hymns and prayers by the Granthis (temple priests) adds to the spiritual experience.



Nighttime (After Sunset):

The Golden Temple is beautifully illuminated after sunset, creating a magical and serene atmosphere. The reflections on the Amrit Sarovar (pool) add to the visual spectacle.
The evening prayers, called Rehras Sahib, are held at the temple, accompanied by melodious Kirtan (Sikh devotional music). This is another time to experience the tranquility and spirituality of the place.



During Non-Peak Hours:

While the Golden Temple is open 24/7, you can often find moments of tranquility during non-peak hours, such as mid-morning or mid-afternoon, when there are fewer visitors.
The atmosphere inside the temple complex is typically more peaceful when it's not crowded.



Weekdays (Monday to Thursday):

Weekdays tend to be less crowded compared to weekends and religious festivals. If you prefer a quieter experience, consider visiting on weekdays.



Avoid Major Holidays and Festivals:

Major Sikh festivals and holidays, such as Guru Nanak Jayanti and Baisakhi, can draw large crowds. While these events are culturally rich and vibrant, they may not provide the same level of tranquility.
It's important to note that while the Golden Temple is open around the clock, it remains a place of religious reverence. Visitors are expected to maintain a respectful and quiet demeanor, especially during prayer and meditation times. Whether you choose to visit in the early morning, at night, or during non-peak hours, you can experience the spiritual and tranquil atmosphere that makes the Golden Temple a cherished destination for seekers of peace and solace.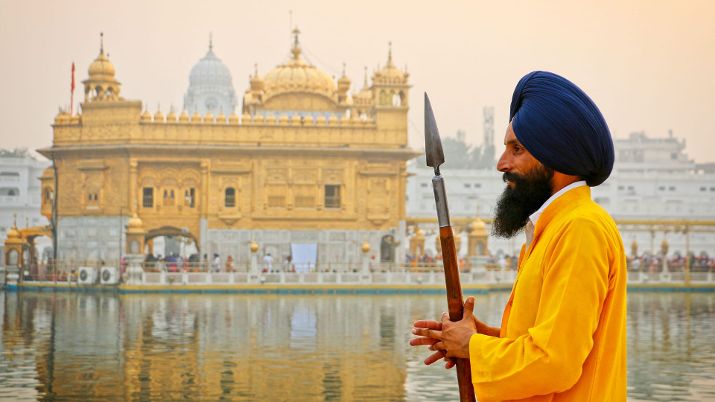 How has Amritsar evolved as a city over the years, beyond its religious and historical importance?
Amritsar, beyond its religious and historical importance, has evolved as a dynamic and culturally rich city with a multifaceted identity. Here's how Amritsar has evolved over the years:
Economic Growth: Amritsar has experienced significant economic growth, driven by trade and commerce. Its strategic location near the international border with Pakistan and proximity to major cities like Lahore and Delhi has made it a commercial hub for the region. The city has a thriving trade in textiles, handicrafts, agricultural produce, and more.

Agriculture: Agriculture remains a vital part of Amritsar's economy. The fertile lands of Punjab have led to the cultivation of wheat, rice, cotton, and other crops. The city is known as the "Granary of India" due to its substantial agricultural production.

Tourism: Tourism has become a major industry in Amritsar, attracting visitors from across India and the world. The Golden Temple is the primary draw, but the city also offers historical sites like Jallianwala Bagh, cultural experiences, and the Wagah Border Ceremony.

Education and Healthcare: Amritsar has seen the growth of educational institutions, including universities and colleges. It has also become a healthcare center with modern hospitals and medical facilities.

Infrastructure Development: The city has witnessed infrastructural development, including improved road networks, transportation facilities, and urban planning. The construction of flyovers, shopping complexes, and modern amenities has transformed the urban landscape.

Cultural Vibrancy: Amritsar's cultural heritage has thrived with a blend of traditional and contemporary influences. The city hosts cultural festivals, music and dance performances, and art exhibitions, celebrating its rich Punjabi heritage.

Cuisine: Amritsari cuisine, known for its flavorful and hearty dishes, has gained worldwide recognition. The city's culinary specialties, including Amritsari kulcha, chole bhature, and various forms of lassi, have become beloved staples.

Industrial Development: Over the years, Amritsar has seen industrial growth, including manufacturing and production facilities. Industries such as textiles, carpets, and electronics have contributed to the city's economic development.

Connectivity: Amritsar is well-connected by road, rail, and air, making it an accessible destination for travelers and businesses alike. The Sri Guru Ram Dass Jee International Airport provides connectivity to domestic and international destinations.

Religious and Cultural Diversity: While Sikhism remains central to Amritsar's identity, the city is home to people of various religious and cultural backgrounds. This diversity enriches its social fabric and adds to its cultural dynamism.

Modernization: Amritsar has embraced modernization while preserving its historical and religious heritage. It strikes a balance between tradition and progress, making it a city that respects its roots while adapting to contemporary demands.
Amritsar's evolution as a city encompasses economic growth, cultural diversity, modernization, and infrastructure development. While its religious and historical significance remains paramount, it has successfully diversified its identity to become a multifaceted city with much to offer to residents and visitors alike.