|
Sarnath, located in the ancient city of Varanasi in the northern Indian state of Uttar Pradesh, is an unparalleled destination for those embarking on India tours seeking to delve into the rich tapestry of Buddhist history and spirituality.
This sacred site holds profound significance as the place where Lord Buddha, also known as Siddhartha Gautama, delivered his first sermon to a small gathering of disciples, marking the inception of the Buddhist Sangha and the dissemination of his teachings.
Amidst the serene environs of Sarnath lies an archaeological treasure trove, adorned with magnificent pillars and stupas, all harkening back to a pivotal moment in the journey towards enlightenment.
In this article, we shall embark on a journey through the hallowed grounds of Sarnath, exploring its historical and spiritual importance and its architectural marvels that continue to draw pilgrims and history enthusiasts from around the world.
What is the history of Sarnath, and why is it considered an archaeological and pilgrimage site of great significance?
The history of Sarnath is deeply intertwined with the life of Lord Buddha (Siddhartha Gautama or Gautama Buddha) and is a testament to the origins of Buddhism. Sarnath, situated just a few kilometers away from Varanasi in Uttar Pradesh, India, holds immense historical and spiritual importance.
Sarnath's significance stems from the fact that it is where Lord Buddha delivered his first sermon, known as the Dhammacakkappavattana Sutta or the "Turning of the Wheel of Dharma." This event occurred shortly after Buddha attained enlightenment under the Bodhi Tree in Bodh Gaya. In Sarnath, he shared his profound insights into the Four Noble Truths and the Eightfold Path with five of his former ascetic companions. This momentous occasion marked the formal establishment of the Buddhist Sangha or monastic community.
Archaeologically, Sarnath boasts a rich heritage. Emperor Ashoka of the Maurya Dynasty, a fervent Buddhist, visited Sarnath in the 3rd century BCE and erected a series of stupas and monasteries to commemorate Buddha's teachings. Among the most famous structures is the Dhamekha Stupa, which is believed to mark the very spot where Buddha gave his first sermon. The Ashoka Pillar, crowned with four lions, was also erected here and is now a symbol of India.
Over the centuries, Sarnath's significance as a Buddhist pilgrimage site grew. Monasteries flourished, attracting monks from various parts of India and abroad. However, with the decline of Buddhism in India, Sarnath fell into a state of neglect.
In the 19th and 20th centuries, archaeological excavations unearthed the ancient ruins, stupas, and pillars, shedding light on its historical importance. Today, Sarnath stands as a living testimony to Buddhism's birth and evolution, attracting pilgrims, scholars, and history enthusiasts from across the globe. It remains a site of immense archaeological and spiritual significance, allowing visitors to connect with the teachings of Lord Buddha and the rich history of Buddhism in India.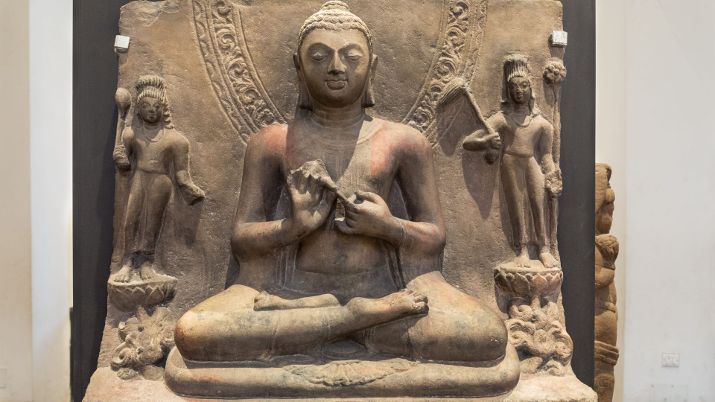 Where is Sarnath located within Varanasi, Uttar Pradesh, and how can travelers access this sacred site on their India tours?
Sarnath is located in the northern Indian state of Uttar Pradesh, within the city limits of Varanasi. Varanasi, also known as Benares, is one of the oldest continuously inhabited cities in the world and is renowned for its spiritual and cultural significance.
To access Sarnath during their India tours, travelers typically start from the city of Varanasi, which is well-connected by various means of transportation:
By Air: The nearest major airport is Lal Bahadur Shastri International Airport, also known as Varanasi Airport (VNS). This airport serves both domestic and international flights. From the airport, Sarnath is easily accessible by taxi or hired car.

By Train: Varanasi Junction (Varanasi Cantt) is a major railway station in the region and is well-connected to major cities across India. Travelers arriving by train can take a taxi or an auto-rickshaw to reach Sarnath, which is approximately 12 kilometers away from the station.

By Road: Varanasi is well-connected by roadways, and travelers can hire taxis, auto-rickshaws, or use public buses to reach Sarnath. It is about a 30-minute drive from the city center of Varanasi to Sarnath.
Once in Sarnath, visitors can explore the sacred site on foot. The key attractions, including the Dhamekha Stupa, the Ashoka Pillar, and various monasteries and museums, are situated within a compact area, making it convenient for tourists to navigate and fully experience the historical and spiritual ambiance of this revered Buddhist pilgrimage site.
How can visitors reach the iconic Dhamekha Stupa and the renowned Ashoka Pillar in Sarnath?
Visitors to Sarnath can easily reach the iconic Dhamekha Stupa and the renowned Ashoka Pillar, both of which are prominent landmarks within this historical Buddhist site. Here's how to access them:
On Foot: The Dhamekha Stupa and Ashoka Pillar are within walking distance of each other within the Sarnath complex. Most visitors choose to explore these attractions on foot, as it allows them to take in the serene atmosphere and absorb the historical significance of the area. The walking path is well-marked, and there are informative signboards along the way.

Auto-rickshaw or Taxi: For those who prefer a quicker mode of transportation, auto-rickshaws and taxis are readily available in Sarnath. Visitors can hire an auto-rickshaw or taxi from the main entrance or nearby areas in Varanasi. The drivers are familiar with the Sarnath circuit and can drop you off directly at the Dhamekha Stupa or Ashoka Pillar.

Guided Tours: Many tourists opt for guided tours when visiting Sarnath. Local guides are knowledgeable about the history and significance of the site and can provide a comprehensive tour that includes both the Dhamekha Stupa and the Ashoka Pillar. These tours often offer valuable insights into the Buddhist history and the archaeological findings at Sarnath.

Bicycles: Some travelers choose to rent bicycles to explore Sarnath, including its key attractions. This option allows for a leisurely exploration of the area at your own pace.
Once you arrive at either the Dhamekha Stupa or the Ashoka Pillar, take the time to appreciate their historical and cultural significance. The Dhamekha Stupa, in particular, is believed to mark the spot where Lord Buddha delivered his first sermon, making it a focal point for pilgrims and visitors seeking a deeper connection to Buddhism's roots. The Ashoka Pillar, crowned with four lions, is an emblem of India and a symbol of Emperor Ashoka's commitment to the Buddhist faith. Both of these landmarks offer a unique glimpse into the ancient history of Sarnath and its importance in Buddhist heritage.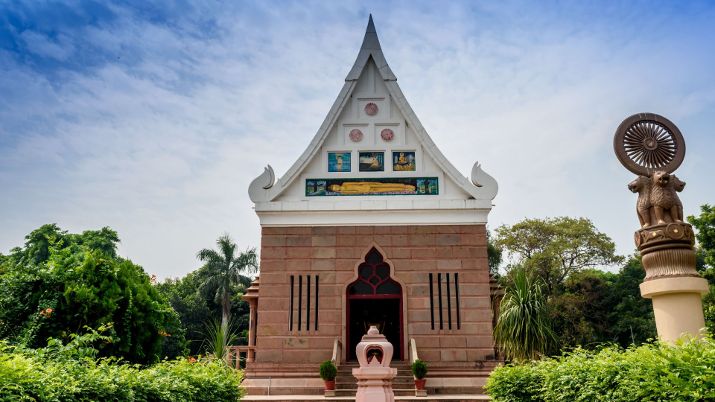 When is the best time to plan a visit to Sarnath to fully experience its historical and spiritual atmosphere?
The best time to plan a visit to Sarnath to fully experience its historical and spiritual atmosphere largely depends on weather conditions and personal preferences. Here are some considerations for different seasons:
Winter (October to March): Many travelers find the winter months to be the best time to visit Sarnath. During this period, the weather is cool and pleasant, making it ideal for exploring the historical and spiritual sites without the discomfort of extreme heat. Clear skies and comfortable temperatures make it an excellent time for sightseeing and photography. However, it's advisable to carry some warm clothing, especially during the evenings and early mornings, as temperatures can drop.

Spring (March to April): Spring is another favorable time to visit Sarnath. The weather remains pleasant, and the landscape often comes alive with blooming flowers and lush greenery. It's an excellent season for outdoor exploration, and you can enjoy the serenity of the site without the crowds that are common during peak tourist season.

Early Autumn (September): September marks the beginning of the post-monsoon season in India, and it can be a good time to visit Sarnath. The weather is generally mild, and the lush vegetation from the monsoon adds to the scenic beauty. However, there may be occasional rainfall, so it's a good idea to check the weather forecast before planning your trip.

Monsoon (July to August): Monsoon season can be challenging for visitors to Sarnath due to heavy rainfall and high humidity. The site may become slippery, and outdoor activities might be limited. However, some travelers enjoy the lush green surroundings and the relative lack of crowds during this time.

Summer (April to June): Summer in Varanasi and Sarnath can be scorching, with temperatures often exceeding 40°C (104°F). It's not the most comfortable time to visit, as the heat can be exhausting. If you choose to visit during this season, it's advisable to plan your activities early in the morning or late in the evening to avoid the hottest part of the day.
Who should consider visiting Sarnath, and what cultural and spiritual insights can they gain from the trip?
Sarnath is a destination that holds immense appeal for a wide range of travelers, and it offers valuable cultural and spiritual insights to those who visit. Here's a breakdown of who should consider visiting Sarnath and what they can gain from the experience:
Buddhist Pilgrims: Sarnath is one of the most important pilgrimage sites for Buddhists around the world. Pilgrims seeking a deeper connection to the life and teachings of Lord Buddha should definitely include Sarnath on their itinerary. It is here that Buddha delivered his first sermon and set in motion the wheel of Dharma. Visitors can meditate and reflect upon the Four Noble Truths and the Eightfold Path in the very place where these teachings were first expounded.

History Enthusiasts: Sarnath is an archaeological treasure trove with a rich history dating back thousands of years. History enthusiasts and archaeology buffs will find the site fascinating. The ancient stupas, monasteries, and the iconic Ashoka Pillar are tangible remnants of India's past, and exploring these structures can provide valuable insights into the region's cultural and historical evolution.

Spiritual Seekers: Sarnath offers a serene and contemplative atmosphere that appeals to spiritual seekers, regardless of their religious affiliation. The peaceful ambiance, combined with the historical significance of the site, creates an environment conducive to meditation, reflection, and spiritual growth. Even those on a spiritual quest outside of Buddhism can find inspiration here.

Cultural Explorers: Travelers interested in India's diverse culture and heritage will find Sarnath to be a captivating destination. It provides an opportunity to immerse oneself in the country's spiritual traditions and witness the coexistence of multiple faiths and cultural influences.

Photographers and Artists: The picturesque landscapes, intricate carvings, and the play of light and shadow on ancient structures make Sarnath a paradise for photographers and artists. The site offers endless opportunities for capturing the beauty and spirituality of India's heritage.

Students and Scholars: Sarnath is also a hub of academic interest, drawing students and scholars from various fields such as history, religion, archaeology, and art. It provides a living classroom for studying the evolution of Buddhism and the influence of Emperor Ashoka's patronage.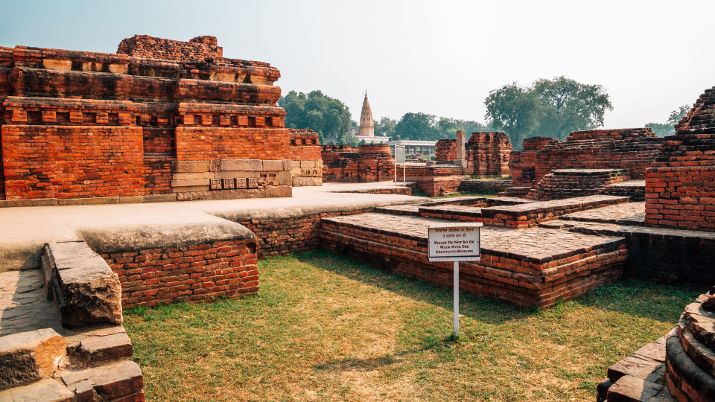 Why should travelers include Sarnath on their itinerary, and what makes it a must-visit destination for history enthusiasts and pilgrims?
Travelers should include Sarnath on their itinerary for several compelling reasons, making it a must-visit destination, especially for history enthusiasts and pilgrims. Here's why Sarnath is such a significant and rewarding place to explore:
Historical Significance: Sarnath is steeped in history and is considered one of the most historically significant sites in India. It is where Lord Buddha delivered his first sermon, known as the "Turning of the Wheel of Dharma." This event marked the beginning of the spread of Buddhism, a pivotal moment in the history of this ancient religion.

Archaeological Marvels: Sarnath boasts a wealth of archaeological treasures, including ancient stupas, monasteries, and the iconic Ashoka Pillar. These structures provide valuable insights into India's rich heritage and the architectural achievements of different time periods.

Ashoka's Legacy: Emperor Ashoka, one of India's most famous rulers, visited Sarnath in the 3rd century BCE and erected the Ashoka Pillar here. This pillar, crowned with four lions, has become a symbol of India and Ashoka's conversion to Buddhism. Pilgrims and history enthusiasts can see this iconic monument in its original location.

Spiritual Significance: Sarnath is a place of deep spiritual significance for Buddhists. Pilgrims visit to pay homage to the spot where Buddha first taught the path to enlightenment. The serene ambiance and the presence of monasteries create an atmosphere conducive to meditation and reflection.

Diverse Cultural Experience: Travelers to Sarnath can experience the confluence of different cultures and religions. In addition to Buddhist sites, Sarnath is home to Jain temples and a medieval mosque, showcasing the coexistence of various faiths over the centuries.

Educational Opportunities: Sarnath serves as an educational hub for those interested in Buddhism, history, and archaeology. Scholars and students often visit to conduct research and study the ancient artifacts and inscriptions.

Beautiful Landscapes: Sarnath's serene gardens and lush greenery offer a peaceful escape from the hustle and bustle of urban life. It's a place where travelers can relax, unwind, and connect with nature while exploring its historical treasures.

Cultural Exchange: Sarnath attracts visitors from all over the world, creating a multicultural and diverse atmosphere. Interacting with fellow travelers and locals can provide unique cultural insights and experiences.

Photographic Opportunities: The intricate carvings, grand stupas, and tranquil settings make Sarnath a paradise for photographers. The play of light and shadow on ancient structures offers numerous opportunities for capturing stunning images.

Pilgrimage Experience: For Buddhists, visiting Sarnath is a pilgrimage experience that allows them to follow in the footsteps of Lord Buddha and deepen their connection to their faith and its history.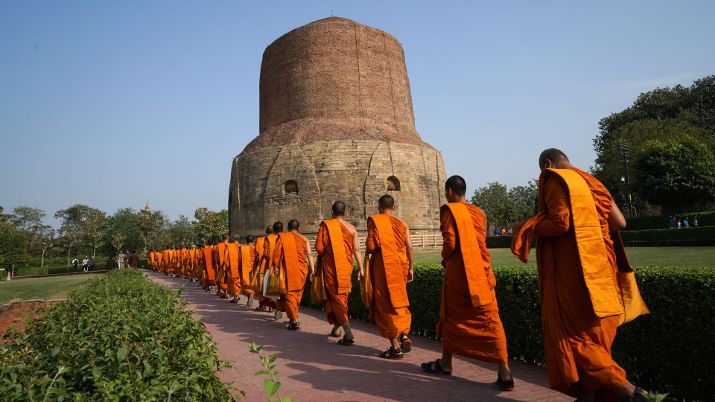 How much does it cost to explore the various attractions in Sarnath, including entry fees and guided tours?
Exploring the various attractions in Sarnath involves a combination of entry fees for specific sites and the optional cost of guided tours. Here's a breakdown of the typical expenses you can expect when visiting Sarnath:
Entry Fees: Many of the key attractions in Sarnath have nominal entry fees. Here are some common entry fees:

Dhamekha Stupa: Indian nationals: ₹15, Foreign nationals: ₹200
Sarnath Museum: Indian nationals: ₹5, Foreign nationals: ₹100
Mulagandha Kuti Vihara: Entrance fee may apply.
Ashoka Pillar: Entrance fee may apply.
Chaukhandi Stupa: Entrance fee may apply.

Please note that entry fees are subject to change, and it's advisable to check the most up-to-date rates before your visit.

Guided Tours: While not mandatory, many visitors opt for guided tours to enhance their understanding of Sarnath's history and significance. The cost of guided tours can vary widely depending on the duration and level of expertise of the guide. It's a good idea to negotiate the price with your guide or book a tour through a reputable agency in Varanasi.

Transportation: The cost of transportation to and from Sarnath will depend on your starting point in Varanasi. Auto-rickshaws and taxis are common modes of transport, and prices may vary based on distance and negotiation.

Optional Expenses: Visitors may choose to make additional donations at monasteries, temples, or religious sites as a sign of respect or support for the local community. Additionally, if you plan to participate in meditation sessions or rituals, there may be associated costs or suggested donations.

Food and Refreshments: Sarnath has a few restaurants and stalls where you can enjoy local cuisine. The cost of meals and refreshments will depend on your preferences and dietary choices.

Shopping: Sarnath offers opportunities for purchasing souvenirs, religious items, and handicrafts. The cost of shopping will depend on what you choose to buy and your bargaining skills.
Overall, the cost of exploring Sarnath can be relatively affordable, especially when compared to many other tourist destinations. It's a good practice to budget for entrance fees, transportation, and any guided tours or additional activities you plan to participate in. Additionally, keeping some extra funds for unexpected expenses or personal purchases is advisable for a more enjoyable visit.
What is the recommended dress code for visitors to Sarnath, respecting its spiritual significance and local customs?
Visitors to Sarnath are encouraged to dress modestly and respectfully, keeping in mind the spiritual significance of the site and local customs. Here are some recommendations for the dress code when visiting Sarnath:
Covered Shoulders and Knees: Both men and women should wear clothing that covers their shoulders and knees. Sleeveless tops, short skirts, and shorts are generally not considered appropriate attire for visiting religious and sacred sites in India.

Loose-Fitting Clothing: Opt for loose-fitting clothing that is comfortable for walking and sitting, as Sarnath may involve a fair amount of walking and meditation. Loose clothing also helps in maintaining modesty.

Avoid Revealing Attire: Avoid clothing that is too revealing or low-cut. It's important to show respect for the religious and spiritual environment by dressing modestly.

Remove Shoes: At certain sites within Sarnath, such as temples and monasteries, visitors are required to remove their shoes before entering. Wearing slip-on shoes or sandals that are easy to remove can be convenient.

Head Covering (Optional): While it's not mandatory, some visitors choose to cover their heads as a sign of respect when entering temples or participating in religious ceremonies. Carrying a scarf or shawl that can be used for this purpose is a good idea.

Light Colors: Light-colored clothing is not only practical in the Indian climate but is also considered respectful and traditional in many Indian cultures.

Comfortable Footwear: Sarnath involves a fair amount of walking, so comfortable and sturdy footwear is recommended. Sandals or flip-flops may not provide the necessary support for exploring the site.

Weather Considerations: Depending on the time of year you visit, consider the weather conditions. In the summer, lightweight and breathable fabrics are preferable, while in the winter, you may need warmer clothing, especially for early morning and evening visits.

Carry a Shawl or Scarf: It's a good idea to carry a shawl or scarf that you can drape over your shoulders if needed for added modesty or to protect yourself from the sun.

Respect Local Customs: Observe and respect any specific dress code rules or customs that may be in place at individual temples or monasteries within Sarnath. Some may have stricter requirements.
By dressing modestly and respectfully, visitors not only show consideration for the spiritual and cultural values of the site but also help create a harmonious atmosphere for all those who come to Sarnath to seek enlightenment, reflection, and inner peace.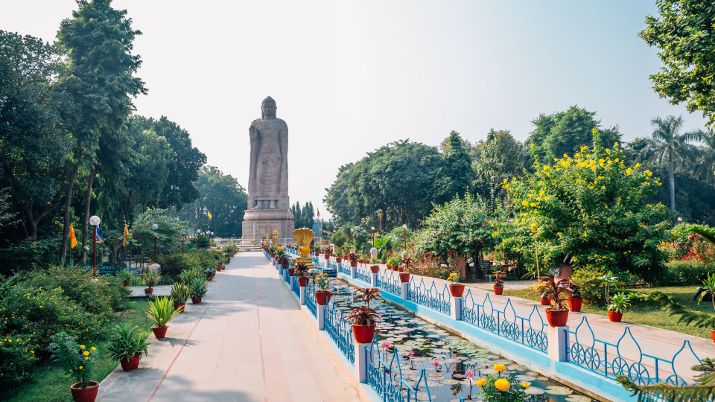 What are the opening hours of the key sites in Sarnath, such as the Chaukhandi Stupa and Ashoka Pillar?
The opening hours of key sites in Sarnath, including the Chaukhandi Stupa and Ashoka Pillar, can vary, and it's advisable to confirm the timings locally or through reliable sources as they may change over time. Here are the general opening hours for these sites:
Chaukhandi Stupa: The Chaukhandi Stupa is usually open to visitors during daylight hours. It typically opens in the morning and closes in the evening. A common guideline for many historical and archaeological sites in India is to open around sunrise (approximately 6:00 AM) and close around sunset (approximately 6:00 PM). However, specific hours may vary seasonally.

Ashoka Pillar: The Ashoka Pillar in Sarnath is often open during daylight hours as well. The opening and closing times are typically aligned with those of the Chaukhandi Stupa, opening in the morning and closing in the evening.

Dhamekha Stupa: The Dhamekha Stupa is typically open to visitors during daylight hours. It generally opens in the morning and closes in the evening, aligning with sunrise and sunset times.

Sarnath Museum: The Sarnath Museum typically operates on a schedule similar to other museums in India. It may open around 9:00 AM and close in the late afternoon, around 5:30 PM. It is closed on Fridays and on national holidays.

Mulagandha Kuti Vihara: The opening hours for the Mulagandha Kuti Vihara can vary, but it is usually open to visitors in the morning and afternoon. It is advisable to inquire locally or check at the entrance for the specific timings on the day of your visit.
Please note that these opening hours are subject to change due to factors such as weather conditions, maintenance, or local regulations. Additionally, it's a good idea to arrive at the sites well in advance of their closing times to ensure you have enough time to explore and fully appreciate the historical and spiritual significance of these landmarks.
For the most up-to-date information on opening hours and any special considerations for visiting these sites, you can inquire with local authorities, tourism offices, or the staff at the entrance to Sarnath when you arrive.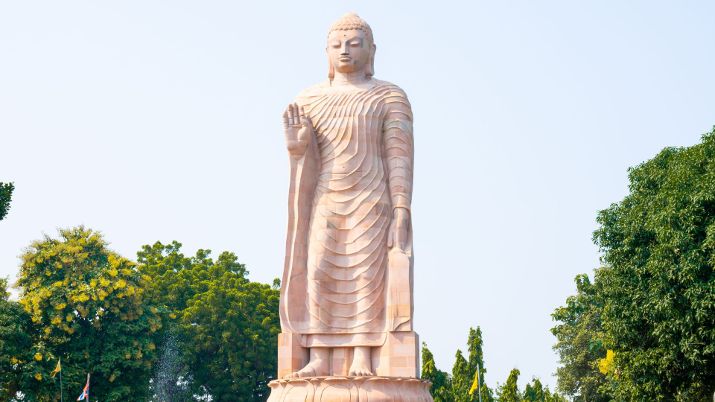 How can travelers immerse themselves in the serene ambiance of Sarnath and connect with the teachings of Lord Buddha during their visit?
Travelers seeking to immerse themselves in the serene ambiance of Sarnath and connect with the teachings of Lord Buddha during their visit can follow these steps to make the most of their experience:
Meditation and Contemplation: Sarnath is an ideal place for meditation and contemplation. Find a quiet spot within the grounds, such as near the stupas or under the shade of a tree, and take some time to meditate or simply sit quietly. Reflect on the teachings of Lord Buddha and the significance of the site.

Attend a Prayer or Meditation Session: Many monasteries and meditation centers in Sarnath offer prayer and meditation sessions. Check in advance if there are any scheduled sessions during your visit and consider participating to immerse yourself in the spiritual atmosphere.

Visit the Stupas: Explore the various stupas in Sarnath, including the Dhamekha Stupa and Chaukhandi Stupa. These ancient structures hold historical and spiritual significance. Circumambulate (walk around) them clockwise, which is a traditional practice, while contemplating the Buddhist teachings.

Explore the Museums: Sarnath has museums that display ancient artifacts, sculptures, and relics related to Buddhism. Visit the Sarnath Museum to gain a deeper understanding of the history and art associated with the site.

Observe Monastic Life: Sarnath is home to several monasteries, and you can often observe the daily activities of monks and nuns. Be respectful and considerate when observing their way of life, and if appropriate, engage in respectful conversations to learn more about their practices and beliefs.

Offer Prayers and Offerings: If you follow a Buddhist tradition or simply wish to show respect, you can offer prayers or light incense at the shrines and altars within the monasteries or temples.

Read and Study: Bring along books or materials related to Buddhism and Lord Buddha's teachings. Reading passages from Buddhist scriptures or writings on Buddhist philosophy can enhance your connection to the teachings.

Connect with Locals: Engage in conversations with locals, including pilgrims and residents, to gain insights into the spiritual and cultural aspects of Sarnath. Their perspectives and stories can provide a richer context for your visit.

Participate in Ceremonies: If there are any religious ceremonies or rituals taking place during your visit, consider participating respectfully. These events can offer a profound experience of the local traditions and spirituality.

Practice Mindfulness: Embrace the practice of mindfulness as you explore Sarnath. Be fully present in the moment, observe the details of the architecture and surroundings, and appreciate the sense of peace and tranquility that pervades the area.
By combining these practices and approaches, travelers can create a meaningful and spiritually enriching experience in Sarnath, connecting with the teachings of Lord Buddha and the profound historical and cultural heritage of this sacred site.