|
Exploring the wonders of Egypt doesn't have to be limited to visiting its historical sites during the day. The overnight sleeper train from Cairo to Aswan offers a unique way to experience the country's beauty and culture.
In this post, we'll take a closer look at what you need to know about this one-of-a-kind journey, from the amenities and accommodations on board to the stunning scenery you'll see along the way. So sit back, relax, and get ready for an unforgettable adventure on the Egyptian sleeping train.
If you're looking for a 10 Day Egypt Tour, have a look at our tours above - we might have the right one for you.
The history of the Egyptian overnight sleeper train: from Cairo to Aswan, Luxor, Alexandria & more
The Egyptian overnight sleeper train has a long and fascinating history. The first railway in Egypt was built in the mid-19th century, connecting Cairo to Alexandria. However, it wasn't until 1902 that the first sleeping car was introduced, allowing travelers to rest comfortably during the long journey.
Over the years, the sleeping train has expanded its routes to include other popular destinations in Egypt, such as Luxor, Aswan, and even Port Said. During its peak in the 1940s and 1950s, the train was known for its luxurious amenities, including a dining car and a bar car with live music.
In the 1970s, however, the sleeping train fell into disrepair and was eventually discontinued. It wasn't until the 1980s that the Egyptian government decided to revive the train, investing in new carriages and modern amenities while still preserving its historic charm.
Today, the overnight sleeper train from Cairo to Aswan, Luxor, Alexandria, and other destinations remains a popular way for travelers to experience the beauty and culture of Egypt, while also enjoying the convenience and comfort of train travel.
Booking the overnight train: where can I buy tickets for the sleeping train from Cairo to Luxor?
If you're planning to take the overnight sleeper train from Cairo to Luxor, one of the first things you'll need to do is book your tickets. There are several ways to purchase tickets for the train, depending on your preferences and travel plans.
The easiest way to book tickets for the sleeping train is through the Egyptian National Railways website or mobile app. You can choose your travel date, departure station, and destination, and select the class of accommodation you prefer. Payment can be made using a credit or debit card, and you'll receive a confirmation email with your ticket details.
Alternatively, you can purchase tickets in person at the train station ticket office. This can be a bit more time-consuming, as you'll need to visit the station during opening hours and wait in line to purchase your tickets. However, it can be a good option if you prefer to pay in cash or have any questions or concerns that you'd like to discuss with a ticket agent.
Finally, some travel agencies and tour operators also offer ticket booking services for the overnight sleeper train. This can be a good option if you're booking a larger travel package that includes transportation, accommodations, and activities, as they can help you coordinate all of the details.
Whichever method you choose, it's important to book your tickets in advance, especially during peak travel seasons. The sleeping train is a popular way to travel between Cairo and Luxor, and tickets can sell out quickly, so be sure to plan ahead to secure your spot on board.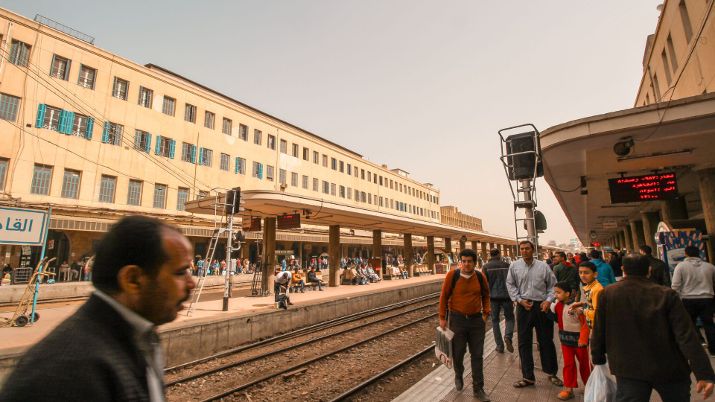 How much it costs to book the Egypt sleeper train: Cairo, Luxor, Aswan
The cost of the sleeper train is normally $180.00 per cabin each way, or $90.00 per person if 2 are sharing (for single occupancy you do still need to cover the full cabin cost).
What are the train times of the Egypt sleeper train?
The Egypt sleeper train, also known as the Watania Sleeping Train, operates on a regular schedule between Cairo and Aswan. The train departs Cairo in the evening, usually around 8 or 9 PM, and arrives in Aswan early the following morning, around 8 or 9 AM.
The return journey from Aswan to Cairo also operates on the same schedule, with departure in the evening and arrival early the next morning. It's important to note that the train schedule may be subject to change, so it's always a good idea to double-check the departure and arrival times before booking your tickets.
Additionally, it's recommended to arrive at the station at least 30 minutes before departure to ensure a smooth boarding process.
What are the amenities like onboard the Egypt sleeper train?
The Egypt sleeper train offers a variety of amenities to make your journey as comfortable as possible. The cabins are air-conditioned and come with comfortable beds, pillows, and blankets. You'll also have access to a private sink and a shared bathroom.
To keep you entertained during the journey, there's a lounge car with comfortable seating and large windows for enjoying the views.
The train also has a staff of friendly attendants who are available to assist with any needs or questions you may have.
Overnight sleeper train experience: Bunk beds, croissants, cosy carriages and compartments that tell a story
The overnight sleeper train experience in Egypt is truly one-of-a-kind, offering travelers a unique way to see the country's beauty and culture while enjoying all the amenities of a comfortable train ride. The train journey from Cairo to Aswan covers over 800 km and takes around 12 hours. Along the way, passengers can enjoy the stunning scenery of the Nile River and the surrounding desert landscape.
In the morning, passengers are treated to a delicious breakfast, including freshly baked croissants and other pastries. The train staff provides exceptional service, attending to each passenger's needs and making sure they have a comfortable and enjoyable journey.
Overall, the overnight sleeper train experience in Egypt is a must-do for any traveler looking to see the country in a unique way.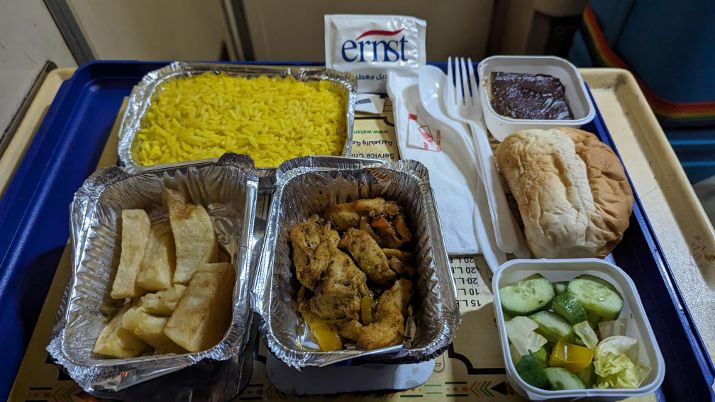 A travel guide to Ramses Station: A historic railway station
Ramses Station is a historic railway station located in the heart of Cairo, Egypt. Built in the early 20th century, this magnificent station is an architectural masterpiece and an essential transportation hub for locals and tourists alike. If you're planning a trip to Cairo and are curious about Ramses Station, this travel guide will provide you with everything you need to know.
Getting There
Ramses Station is located in central Cairo and is easily accessible by metro, taxi, or bus. If you're traveling from the airport, the most convenient way to get to the station is by taxi, which should take around 30-45 minutes depending on traffic.
History
Ramses Station was built in 1892 and is one of the oldest and most historic railway stations in Egypt. It was named after Ramses II, the pharaoh who built the famous temples at Abu Simbel. The station has undergone several renovations over the years, but it has managed to retain its unique blend of Islamic and European architectural styles.
Facilities
As one of the busiest railway stations in Egypt, Ramses Station offers a range of facilities for travelers. The station has several ticket counters, ATMs, currency exchange booths, and food and beverage outlets. There are also luggage storage facilities available for a fee.
Trains
Ramses Station serves both local and long-distance trains. Local trains run frequently and are an affordable way to explore Cairo and the surrounding areas. Long-distance trains connect Cairo to other cities in Egypt, including Alexandria, Aswan, and Luxor. Most trains offer different classes of service, including first class, second class, and sleeper cars.
Tips
If you're planning to take a train from Ramses Station, it's recommended that you arrive at least 30 minutes before departure to allow time for security checks and boarding. It's also a good idea to keep your valuables close and be aware of your surroundings, especially when traveling at night.
Ramses Station is a fascinating historic railway station that is not to be missed if you're visiting Cairo. With its stunning architecture, convenient facilities, and extensive network of trains, this station offers a unique glimpse into Egypt's rich history and culture. Whether you're traveling locally or venturing further afield, Ramses Station is the perfect starting point for your Egyptian adventure.