|
If you're planning your first Turkey holiday then packing might seem daunting - wondering what to wear, are you overpacking or are you packing enough.
Although, certain items are obvious, like clean socks, it's always a good idea to make a checklist to ensure that you're fully prepared for your trip.
Now, Turkey is a country that is full of contrasting sensations. It has a greater land mass than any European nation and because of its size, Turkey impresses visitors with its climate, region, and culture.
If you're going on a Turkey holiday for the first time, it's normal to ask yourself what the climate will be like, what activities will you be doing, and which sites are culturally sensitive.
Don't fret, we're here to help - here are a few things to consider for your Turkey holiday packing list.
Plan around the season
Packing for summer will be considerably different than packing for winter, so when you say you visiting Turkey, you will often hear the terms high season, shoulder season, and low season.
The high season runs from May through September - this is the time when the temperatures are hotter and dryer.
For high season weather, it's best to wear cool cotton or linen, a hat, and sandals during the day. More specifically, you will need to pack a sun hat, loose clothing, and sun creams and lotions in order to protect yourself from the sun's rays.
There are two shoulder seasons, on one side there is the month of April and on the other side is October through mid-November.
The shoulder seasons are perhaps an ideal time to visit with moderate and comfortable temperatures during the day - it does cool down at night, so be sure to pack a jacket or a warmer sweater.
The low season runs from mid-November until March and is when temperatures drop, bringing the possibility of rain or snow.
Dressing respectfully
If you're planning on visiting religious places such as mosques, it is important to adhere to the strict dress codes - both men and women will need to cover their shoulders and knees.
For women, it is mandatory to cover your head with a scarf however, if you find yourself not having one, most mosques, including the Blue Mosque, do have scarves for visitors to borrow.
Activities
You will need to ask yourself what kind of activities you're interested in and there are plenty to take advantage of, such as sailing in the Mediterranean, swimming in the pools of Pamukkale, hiking the valleys of Cappadocia or skiing the mountains of Kartalkaya.
If you're planning on spending time near the sea, the obvious item to bring would be a bathing suit - there's no need to worry about showing too much skin or dressing conservatively in these areas as typical beach attire is a fair game.
Turkey has its fair share of hiking trails and is a sought-out destination for avid hikers. So if you're planning on taking on the outdoors, having the proper hiking gear including proper boots, breathable clothing, and mosquito repellent would be a must.
It's best to research your hike ahead of time so you can be the best prepared with the proper gear.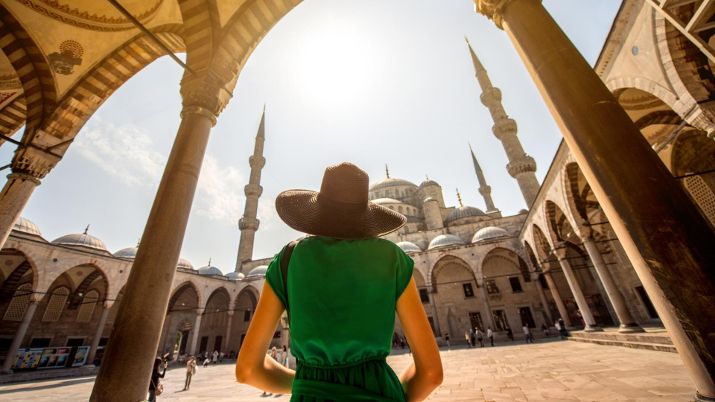 Suggested packing list for her
2x shorts: If you are in certain areas of big cities or in coastal towns wearing shorts is definitely acceptable.
2x lightweight trousers: More specifically, pants that go past your knee. This allows you to be dressed appropriately for any area.
A flowy skirt: A skirt is a perfect item to have with you when you are traveling around a conservative country. As long as it hangs below your knees nobody will look twice at you.
4-5 basic T-shirts: Make sure that the T-shirts are simple so that you can mix and match with various bottoms and most importantly that they cover your shoulders.
1-2 long-sleeve shirts that you can throw over your T-shirt or tank top: We suggest a lightweight cardigan or a denim button-up shirt.
2x tank tops: You are welcome to wear tank tops near beach resorts as well as some neighborhoods in big centers like Istanbul. Just make sure you have something with you to cover up if need be.
A pashmina or scarf to cover your head in religious sites.
1-2 bathing suits: When you are on the beach or at pools it doesn't matter if you wear a one-piece or a bikini.
A hat: Bringing a hat is a must when traveling around Turkey. Not only is it the perfect way to stay cool while lounging on the beach, but it is a necessity when visiting any of the historical sites. The historical sites are usually not shaded so a hat is an easy way to protect yourself from getting overheated.
A pair of flip flops: These, of course, are a must for any beachgoer.
Comfortable walking shoes: Perhaps a pair of trainers.
7 pairs of underwear: I usually bring one week's worth and then some washing liquid so I can do a quick wash in the sink during my travels.
2 bras: No explanation needed here - every girl has her favourite!
3-4 pairs of socks: The number depends on how often you think you will be wearing your trainers.
A small day bag: Either a purse with extra room for a water bottle and necessities or a smaller backpack will suffice.
Suggested packing list for him
2 pairs of knee-length shorts: These are great to wear for either exploring around a city or any coastal town.
2 pairs of lightweight trousers: Having a pair that is versatile so you can either dress them up if need be is always handy.
4-5 basic T-shirts
2 smarter shirts: Either a polo or a button-down shirt is suggested so that you can make any outfit look a little dressier for a night out.
A light jacket for possible cooler nights.
1-2 pairs of swim trunks
A hat: Covering your head is a great way to stay cool on hot summer days at the beach, but also a necessity when exploring the open-aired ruins of historical sitee where there's no shade.
A pair of flip flops: These are a must-have for the beach and a great item to have to slip on while staying in a hotel or guest house.
A comfortable pair of walking shoes: Depending on your preference you might prefer a pair of trainers.
3-4 pairs of socks: The number you bring will depend on how often you think you will be wearing your trainers.
7 pairs of underwear: Accompany this with some washing soap.
A small day bag: Fanny packs are back in style or carrying a small backpack is handy when you need to lug around a water bottle and other necessities like your camera.