|
Surrounded by two mountains over 8000m in height (Annapurna and Manaslu) and set beside the idyllic Phewa Tal Lake, Pokhara is a whole world away from Kathmandu, as the pace of life is much slower and the town is small enough to explore on foot.
As with Thamel in Kathmandu, there is no shortage of hotels, restaurants, and email cafés catering for the tourist crowd. All along the main drag in the Lakeside area of town there are plenty of shops and appetising places to eat, either to stock up and prepare for your trek, or as a reward for completing a trek in the highest mountain range on earth.
There are also many shops in the town selling all the trekking gear needed for short or long treks, but you can expect to pay a little more here than in Kathmandu.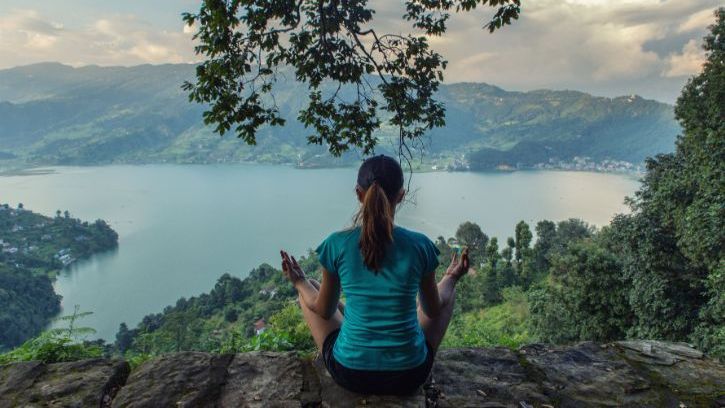 By far the most common way to arrive in Pokhara is by tourist bus with trips from Kathmandu taking six to seven hours and five hours from Chitwan National Park. It is possible to fly into Pokhara from Kathmandu (approx. one hour) and most people do this if they are short for time or want to start trekking straight away. It is also possible to get to Pokhara without visiting Kathmandu at all if you come across the border from India at Raxual/Birganj or further west at Nepalganj.
Pokhara is the main headquarters for kayaking and rafting, with many trips originating here. In recent years the surrounding lower hills have started to be used as jumping off points for paragliding and even 'parahawking' where you take a paraglide and fly with trained eagles or vultures.
Many of our Nepal tours visit the pleasant lakeside town of Pokhara, giving you ample time to dabble in all the activities on offer.
When to visit Pokhara
October - March
This is the perfect time of year to visit, as the temperatures are pleasant, there are fewer rainy days and clear views of the mountains. The monsoon season between June and August is not a good time to visit, as there is a lot of rain.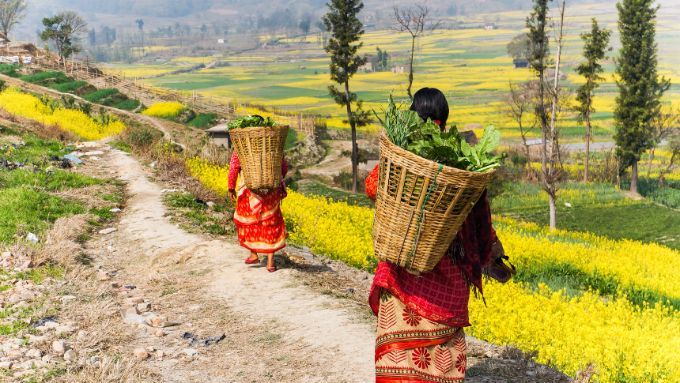 Highlights of Pokhara
Saranghot
With a magnificent vista of the Annapurna Himalaya, this village is in the west of Pokhara. The main village is located below the ridge, but a few steps lead uphill to a viewpoint, which is the site of an ancient fort.
Phewa Tal
This is the second largest lake in Nepal, situated south of the Pokhara Valley. It is also the most popular and most visited lake of Nepal and the only lake to have a temple, which is called the Tal Barahi Temple, in the central part of it.
World Peace Pagoda
Pokhara Shanti Stupa is a Buddhist pagoda-style monument on Anadu Hill in the district of Kaski. Buddhist monks from the Japanese Nipponzan Myohoji organisation built this shrine.
Moondance Restaurant
Positioned in the Lakeside area, this restaurant is a crowd favourite in Pokhara. With a menu of international delicacies, an open fire and beautiful decor, this is the place to feast after a day of exploring.
Old Pokhara
The old town, north of Mahendra Pul offers a look into Pokhara's past. You will find an array of religious shops, decorative Newari houses and the two-tiered Bhimsen Temple - a 200-year-old shrine dedicated to the Newari god of trade and commerce.
Devi Falls
This waterfall, also known as Patale Chhango is the point at which the Pardi Khola stream disappears underground. During the monsoon season, the sounds of the waterfall can be deafening.
International Mountain Museum
This vast museum displays documents and exhibits related to the mountains of Nepal and mountaineering around this country and the world. One of the exhibitions includes the original gear from many of the first Himalayan ascents.
Seti River Gorge
This waterway passes through Pokhara and flows along a gaping, constricted chasm in the centre of the town. The water turns a milky white colour because of this process.
Travel ideas for a Pokhara holiday
Make sure that you see the sunrise from Phewa Lake.
Trek up to the top of the World Peace Pagoda to get a good view of Pokhara.
Dedicate a day to hiking the nearby mountain ranges with rhododendron forests and terraced rice paddies.
Engage with the locals to understand their culture and see their way of life.
Getting around Pokhara
Motorcycle  
For those looking to speed things up, there are plenty of stores where you can rent motorbikes and scooters. Helmets are always provided and if you don't wear one you could be fined by the police. Make sure that the brakes and lights work before you rent it.
Taxi
In the city, you will find many taxis, especially around the tourist bus park, Mahendra Pul.
Bus
If you need to travel further, the local buses run between Lakeside, the airport and the public bus stand. Be warned as the routes and times can sometimes be inconsistent.
Bicycle
One of the best ways to explore the city and the surrounding area is by bicycle. There are plenty of places to rent bicycles in Lakeside.
Things to do in Pokhara
Trekking in Pokhara
If you are inside the Annapurna Conservation Area, you will need a trekking permit from the Annapurna Conservation Area Project in Damside. The permits are issued on the spot and there are checkpoints throughout the reserve, so if you do not have one you will get a fine.
Walking in Pokhara
If you do not feel up to one of the longer treks or tackling the Annapurna Circuit, there are some appealing short treks nearby. For a change of scenery, the route along the north shore of Phewa Tal is very scenic and peaceful. There is also a paved walkway along the shoreline to the village of Pame Bazaar. From here you can pick up a bus back to Pokhara or try the circuit of Phewa Tal.
Boating in Pokhara
Those looking to relax can spend some time on the tranquil waters of Phewa Tal. Wooden doongas, colourful wooden boats, are available for renting at an assortment of stations around the lake. Wearing a lifejacket on the boat is compulsory.
Kayaking and rafting in Pokhara
Near Pokhara there are great rivers for kayaking and rafting trips, with the Kali Gandaki and Seti Rivers being the most popular.
Cycling and mountain biking in Pokhara
Cycling is an excellent mode of transport to see the different sights in the city while getting some exercise. There are also mountain bikes available to rent if you want to go off road.
Horse riding in Pokhara
Many travel agents offer pony treks to a variety of viewpoints around the city and up the mountains.
Swimming in Pokhara
The temperatures can rise in the summer months and the waters of Phewa Tal can be very tempting. As a result of pollution, it is only advisable to swim in the centre of the lake. Make sure that you watch out for currents as they can be strong and don't get too close to the dam in Damside.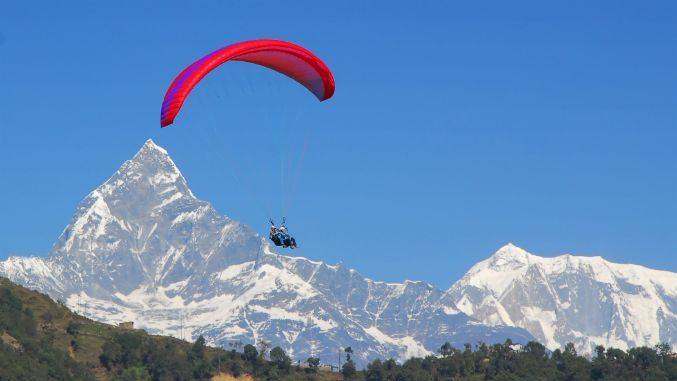 Paragliding in Pokhara
Seeing the mountaintops and Pokhara from above is highly recommended. Paragliding runs when the weather is suitable, and you should only use experienced and trustworthy operators.
Meditation & yoga in Pokhara
After a few hectic days of trekking, people come to Pokhara to unwind and find peace in the natural beauty. Pokhara has several centres where you can meditate.
Spa day
There is nothing better than a massage to ease your aching muscles after trekking. Many spas with experienced masseurs are in the area. Females should ask for a female masseur.
Shopping in Pokhara
Souvenirs can be purchased from boutiques in Lakeside that sell Hindu and Buddhist trinkets, prayer flags and saligram fossils. Snacks and toiletries can be bought from a handful of supermarkets.
Eating & drinking in Pokhara
You can dine at a selection of restaurants and bars serving Western, Chinese, Indian and local dishes in Pokhara. In the evening, some restaurants along the strip come alive with traditional Nepali performances. Nightlife does wind down around 11pm; some places might stay open later.