|
,
Gulets are classic handmade wooden yachts very unique to Turkey and are mainly built in Bodrum and Marmaris on the southwestern coast of the country. They are traditionally two-masted or three-masted vessels about 20 to 30 metres long.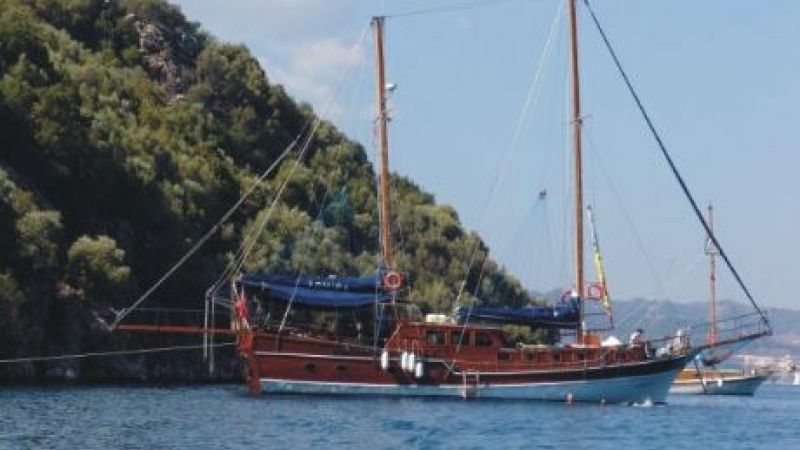 What can I expect from a gulet sailing experience?
A gulet sailing experience is nothing short of idyllic. The Mediterranean coastline in Turkey is beautiful with numerous islands dotted off-shore just waiting to be explored.
Each gulet cruise will have multiple breaks in different scenic bays, small fishing villages, with lots of stops for swimming and snorkelling. You can also bathe in hot springs, see some ancient temples and churches, and enjoy great Turkish and Greek food on the islands.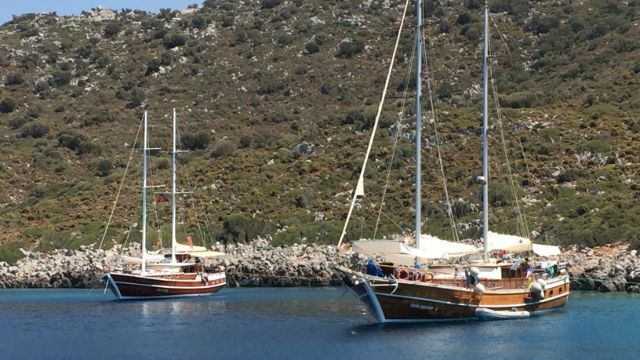 Will we sail all day?
At night we find a beautiful bay or seaside village to moor up in, with other gulets as your neighbours. In good weather conditions, you sail around three to four hours per day. The captain may sail a bit longer to make up time if the weather didn't permit more sailing the day before.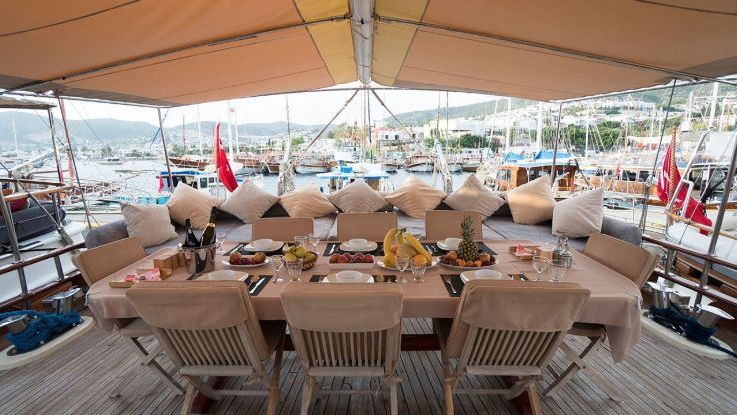 What can I do on board the gulet?
During your time on board and sailing you do little bits of nothing and truly have a holiday. Swimming, tanning and laying around on the deck relaxing, together with hearty meals are the things to look forward to.
The crew also keep basic snorkelling equipment on board for anyone wishing to spot some sea life during one of the many stops.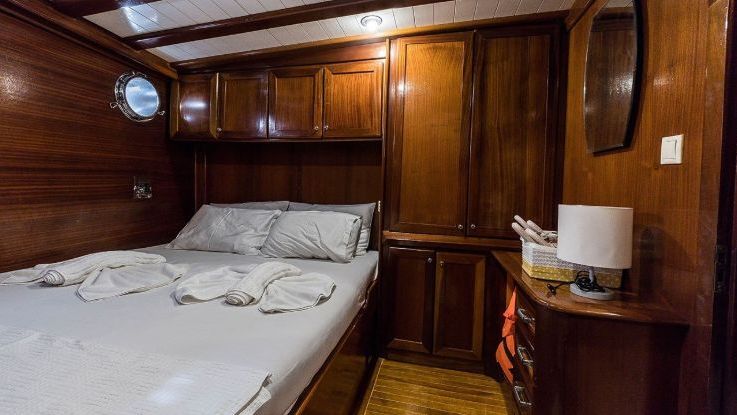 What facilities can I expect on board the gulet?
Although the gulets can look similar from the exterior, internally some are extremely luxurious whilst others are more basic.
Traditionally Gulets were purely sail-powered, but these days also have diesel engines to help them along if the wind is still.
All gulets feature comfortable below deck cabins, the vast majority with en-suite bathrooms (toilet, basin, shower), a spacious indoor common area also known as the saloon, and a large deck that is decorated with cushions.
Gulets have between two and ten cabins, depending on the size of the vessel.
The gulets we like to use most have set departure dates that anyone can join and have six en-suite cabins, carrying up to 12 people in total.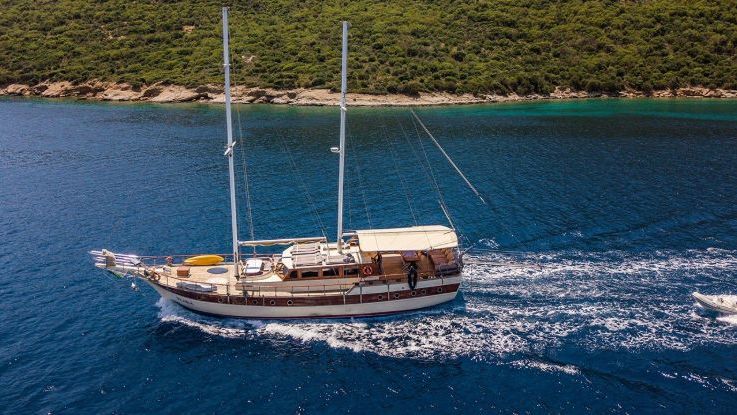 When is the best time to go on a gulet sailing experience?
The peak season for gulet sailing is from July to August, with the shoulder seasons of June and September also popular and a little cheaper. On some routes, the boats operate into May and October.
Our shared boat itineraries from Marmaris to Fethiye are four days, from Bodrum to Gokova and back to Bodrum eight days, and our tours from Marmaris to Fethiye and back to Marmaris are also eight days long.
Some of these tours take in several Greek islands along the way. All of these start and endpoints are easily accessible by domestic flights from Istanbul and many low-cost airlines also fly directly into Bodrum and Dalaman (which serves both Fethiye, around 45 minutes away and Marmaris, which is just under a two-hour drive).
We can arrange transfers to and from the airport and the start/finish of your gulet cruise on request.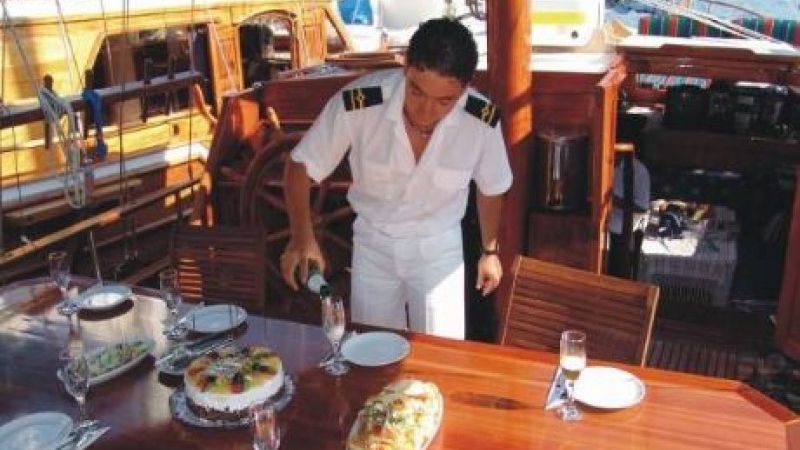 How big is the crew on a gulet?
Your crew is made up of a captain, a chef and three to four helpers depending on the size of the vessel.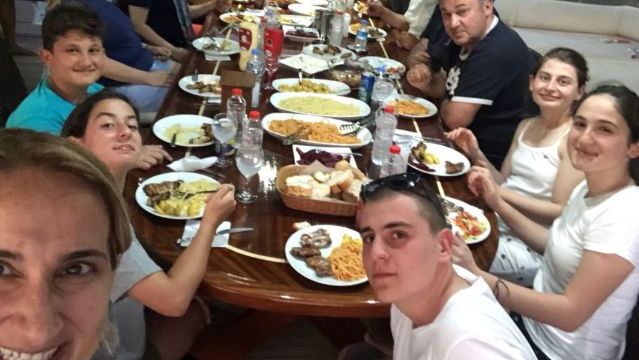 What meals can I expect on a gulet sailing experience?
You are served three main meals per day as well as a tea time refreshment. All meals are served on deck.
Breakfasts are typical Turkish spreads such as olives, cheeses, fruits, bread, pickles and yoghurts.
Lunches are light yet hearty and include items such as pasta, salads, rice and stews.
Dinners are feasts in the form of barbeques whether meat, chicken or fish, served with salads and sides. On the gulets, we enjoy the meals around one large table and everyone on board eats together, which is an essential part of Turkish life.
After dinner, the guests turn in for the night. Despite having their own private cabin, many people prefer to sleep on the deck as the summer nights are warm and tranquil and its a great pleasure to sleep under the stars while hearing the soft sounds of the waves lapping ashore or against the boat.
Overall, gulet cruises are one of Turkey's tourism highlights and one of the country's great holiday experiences. They can be enjoyed on their own as a short holiday, or easily added onto a longer stay in the country, perhaps as an extension onto one of our other Turkey tours.