|
Cambodia has recently emerged as one of the world's top travel destinations. A nation with a tragic past, it has rebuilt and now shares with the world its stunning landscapes, friendly people, and rich culture.
Cambodia is home to around 4000 temples. Many survive from past empires, while many are dedicated to the religion of Buddhism, which thrives in the country to this day. The influence of Hinduism can also be clearly seen.
We've done the research and chosen our pick of the top ten temples to visit in Cambodia. See more about our Cambodia tours here.
Angkor Wat
The magnificent Angkor Wat is top of any list of temples to visit in Cambodia. An architectural and cultural marvel, it is easy to see why. This grand ancient structure is one of the largest religious buildings in the world. It is adorned with sculptures and carvings that have been very well-preserved. It was originally a Hindu temple and was transformed into a Buddhist temple during the 12th century. The stunning artwork that adorns the pillars and sculptures throughout the complex will amaze you.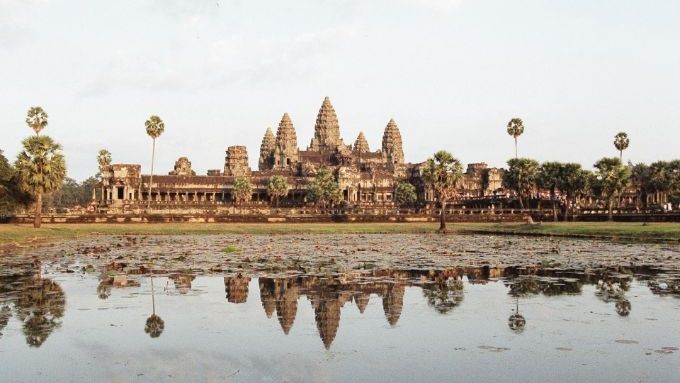 Angkor Thom
Angkor Thom translates literally to "Great City". It covers an area of 9 km², with Bayon Temple at its centre. It is surrounded by 8m-high walls that are punctuated by 5 different entrance gates. A moat, 100m wide, adds another layer of protection outside the walls. Like the Bayon, Angkor Thom also features "face towers", which are believed to depict the face of Lokeshvara, the Bodhisattva of compassion. The four towers face each of the four cardinal directions. Angkor Thom is an extremely popular tourist destination in Cambodia.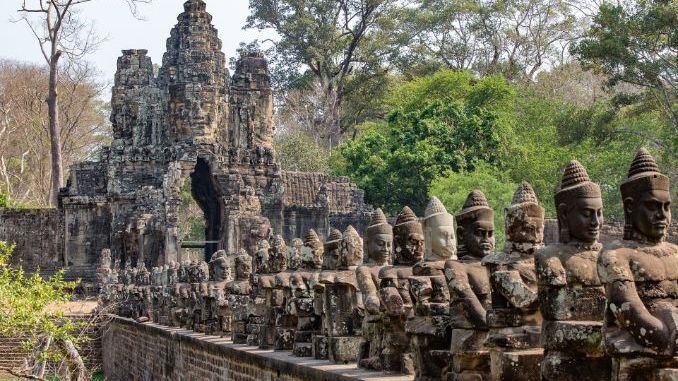 Ta Prohm
Ta Prohm is a temple that is situated in the Angkor complex. It is hauntingly beautiful and has hardly changed since it was discovered in the 19th century. The surrounding forest has slowly crept into the temple and taken over: vines and tree roots snake over the pillars and stones. This has created a mysterious and eerie atmosphere that is ideal for taking beautiful photographs.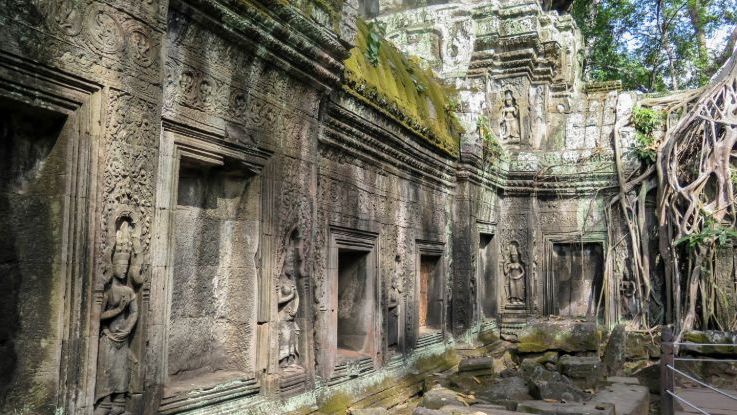 Bayon Temple
Bayon Temple is also located in the Angkor complex. It is most well-known for its enormous stone carvings depicting the faces of bodhisattvas (in Buddhism, these are people that are on the path to Buddhahood). Bayon is a smaller temple with narrow passages. It also doesn't feature a wall, gate, or moat. This phenomenon, which is unusual, was later understood by scholars, who explained that Ta Prohm marks the centre of Angkor Thom.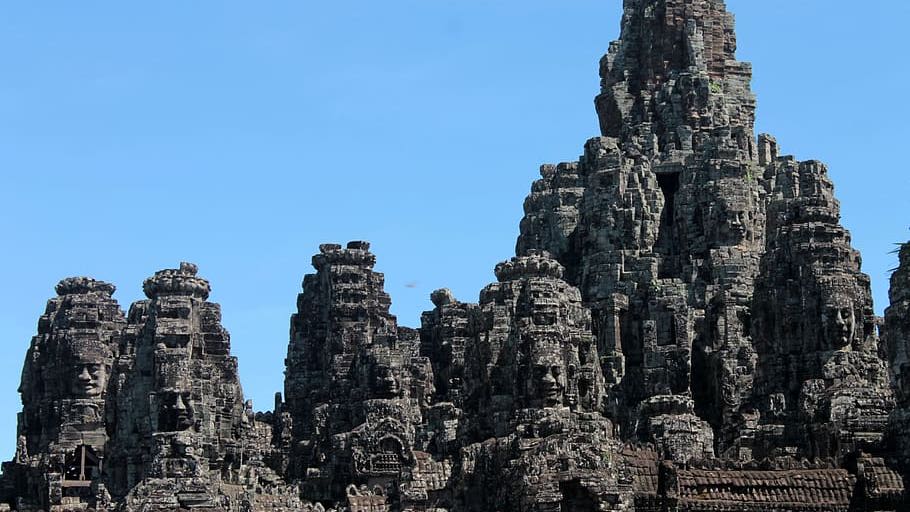 Pre Rup
Pre Rup was built in 961 and is also located in the Angkor complex. It is a Hindu temple dedicated to the god Shiva. It was the king's state temple in the past. It is a brick and sandstone structure, which looks stunning at sunrise or sunset. This temple is not as well-preserved as some of the others, and the carvings on some of the temples have been eroded. However, beautiful details can still be seen on several, especially the southwest tower.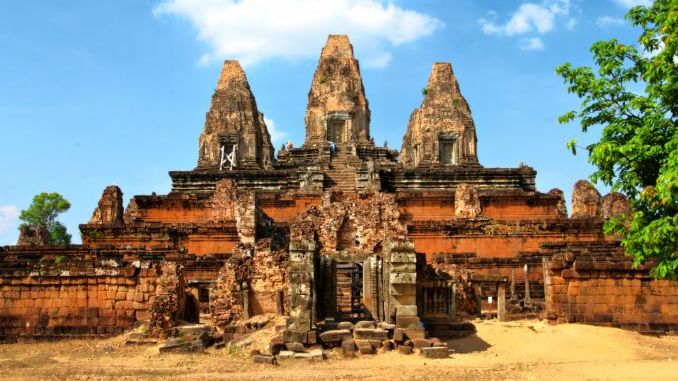 Banteay Srei
Banteay Srei is another Hindu temple dedicated to Shiva, who is one of the three most important gods in Hinduism. This temple is made of sandstone of a unique light pink colour. It features breathtakingly beautiful stone carvings and ornate artwork. The detail in these are quite simply remarkable. This temple is situated about 45 minutes from Siem Reap.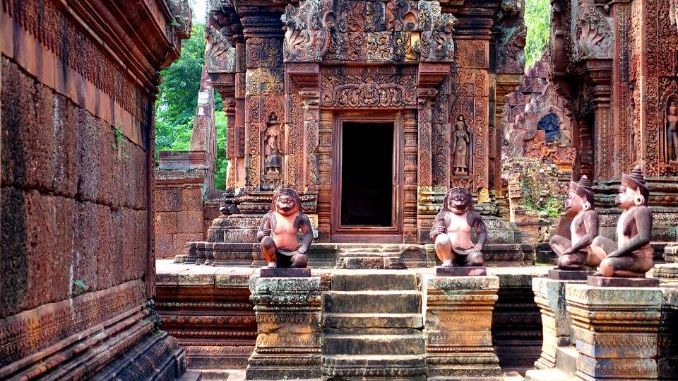 Preah Khan
Preah Khan was constructed in the 12th century. It has served as both a Hindu and Buddhist temple and is one of the biggest found at Angkor. A moat surrounds it; trees and shrubs grow amongst its ruins. Its name translates to "Holy Sword", a reference to its origin: it was built by the Khmer king Jayavarman VII to mark the defeat of the Cham. Beautiful stonework and carvings complement the greenery that grows among the ruins.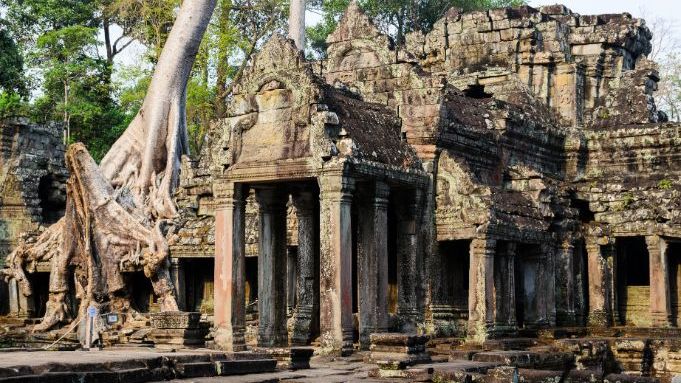 Beng Mealea
Beng Mealea is also known as Bung Mealea, and is found on the royal highway of the ancient times. It is situated 40km to the east of the main Angkor Wat complex, giving it a remote, off-the-beaten-path feel. Like Ta Prohm, it has been virtually subsumed by the surrounding jungle. Its ruins therefore make for a fascinating place to explore and photograph. Beng Mealea is an adventure-lover's paradise.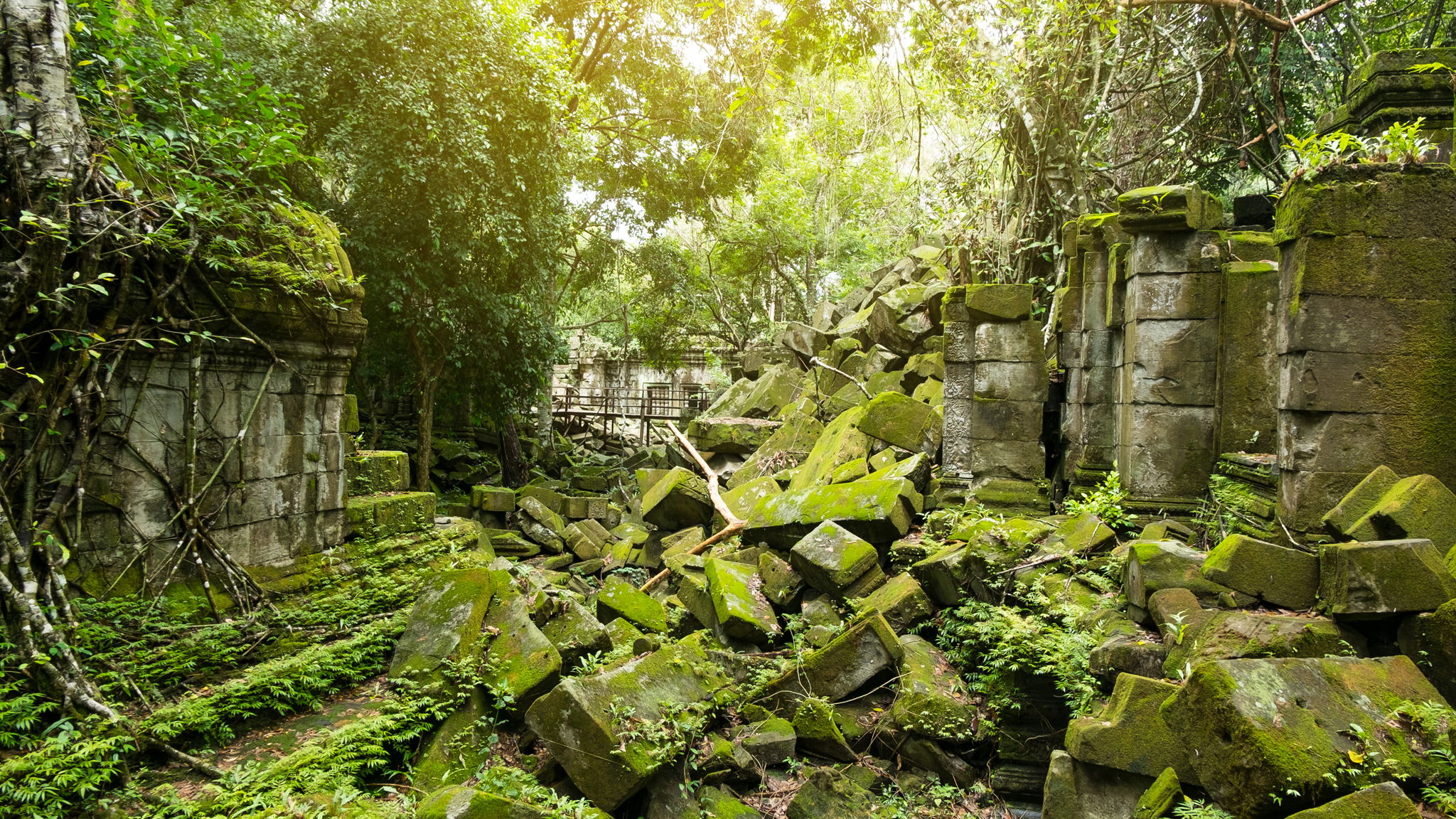 Banteay Kdei
Banteay Kdei was built by King Jayavarman VII. Its name means "Citadel of Chambers", a reference to the large number of chambers that are connected by passages. Banteay Kdei is situated close to Angkor Wat and Ta Prohm, but is frequented much less than them, making it a hidden gem of sorts. It features many sculptures of women, as well as elaborately decorated garudas. A garuda is a bird-like creature of Hindu mythology that has the features of both eagles and humans. A site of interest to visit is the pool of ablutions, called Sra Srang.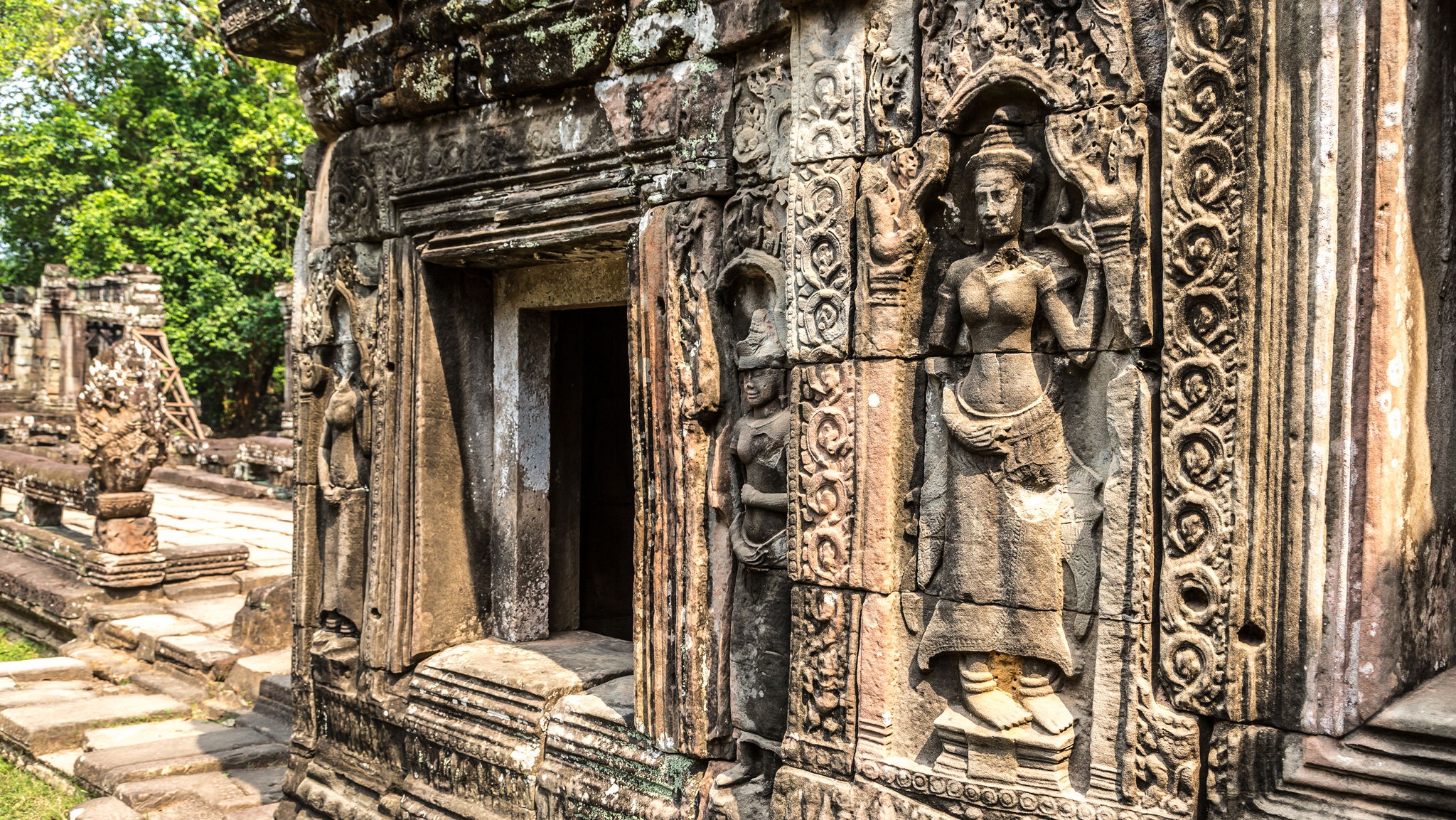 Neak Pean
Neak Pean is a small, quaint little gem of a building. It is perched on as island out in the middle of an artificial lake at Angkor. It is a Buddhist temple and is closely associated with the Preah Khan Temple. The name "Neak Pean" means "entwined serpents", which refers to a sculpture found at the base of the structure. It is believed that Neak Pean is a representation of Anavatapta, a mythical lake in the Himalayas with healing properties that are believed to be able to cure illness.