|
Whether you are traversing one of the famous mountain ranges or exploring the backstreets of a city, there is no denying that lingering ethereal feel. The people of Nepal are renowned not only for their welcoming nature, but also for their perpetual religious tolerance. Nepal is the world's only Hindu Kingdom, however Hinduism is just one of the many religions practiced in the country.
On our Nepal tours, you will soon come to understand the devotion of the locals as seen in the country's vast assortment of temples, stupas and sacred sites.
Religion plays a significant role in the Nepalese society and it is important to be respectful during your stay. If you are eager to learn more, have a look at these main religious sites and annual celebrations in Nepal.
Nepal's spiritual side
Some religions and customs may seem strange, complicated and at times unfathomable, but to local people they are important, so you should always be respectful. About 90% of Nepal's population is Hindu (which is the official state religion); with the rest mostly made up of Tibetan Buddhists. 
Throughout the ages, there has always been a great deal of amalgamation of Hindu and Buddhist beliefs. Hindus have long worshipped at Buddhist temples and Buddhists at Hindu temples. The reason for this is that Hinduism and Buddhism have both evolved as dharmic religions. Because of this, the differences between Hindus and Buddhists are very subtle and academic in nature. For example, Hindus and Buddhists have never engaged in any religious conflicts for the past millennia and many Hindus believe Buddha to be the 9th incarnation of the Hindu deity, Vishnu. 
Temples are Hindu's places of worship and you may not always be allowed to visit if you are a non-Hindu. If you are allowed in, be respectful, take your shoes off before entering, don't take photos unless you have been given permission and leave a few rupees in the donation box. Don't touch offerings or shrines, nor people when they're on their way to shrines or in the process of worshipping. The front of the shrine is usually marked by a pedestal supporting the deity's carrier, and/or a lotus carved stone embedded in the ground. These define the territory of the shrine, where it's particularly important to be reverent. 
Similar sensitivity is due at Buddhist temples and monasteries. Walk around Buddhist stupas and monuments clockwise. You must keep the monument on your right and you can spin the prayer wheels if you wish. There is normally no problem to enter inside Buddhist temples, but take off your shoes and don't take photos.
The dress code in Nepal is fairly relaxed, but if you are visiting a temple or a religious site you will need to cover your arms, lower legs and shoulders.
Pashupatinath
This is the location of Nepal's holiest Hindu pilgrimage site. It is an interesting mix of temples, cremation ghats, ritual bathers and sadhus. As befits such an important site, modesty is required here and visitors should ensure their legs and arms are covered and that respect is given to the grieving families at the cremation pyres. Photography should not be considered here, but a visit to the site can only increase the traveller's understanding of Hindu religious practices.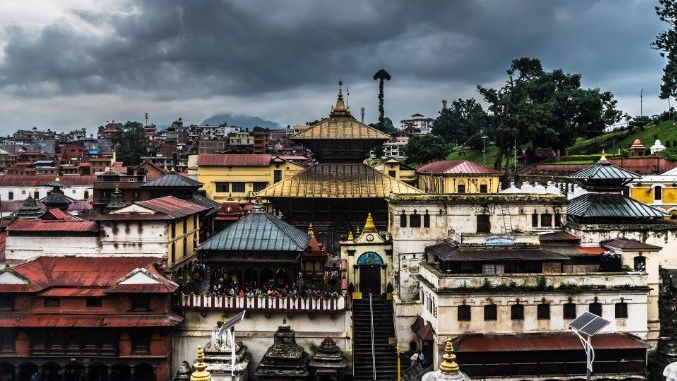 Pashupatinath Temple in Nepal
Lumbini 
This is the site of Buddha's birth into this world and Lumbini does not feature heavily on most people's itineraries. Positioned almost on the Indian border, these days it is mostly international groups of people (particularly Japanese NGOs) that look after and maintain the site. Even at the time of the most important Buddhist festival (Buddha Jayanti) the site does not receive an extreme numbers of visitors with most people, including monks preferring to celebrate in the cooler and more temperate hills.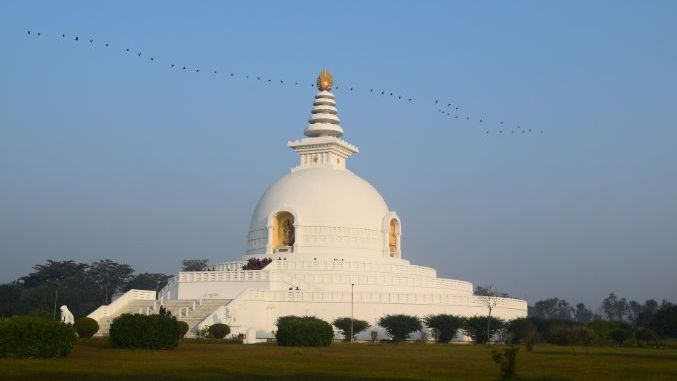 Lumbini
Boudhanath 
Located on the ancient Kathmandu to Tibet trade route, the great stupa at Boudhanath is one of the world's largest stupas and generally acknowledged as being the most important Tibetan Buddhist monument outside of Tibet. The best times to visit the site are early morning or late evening, with the majority of tourists arriving in the day. At these quieter times, one can hear the resonance of monks chanting while observing pilgrims performing kora.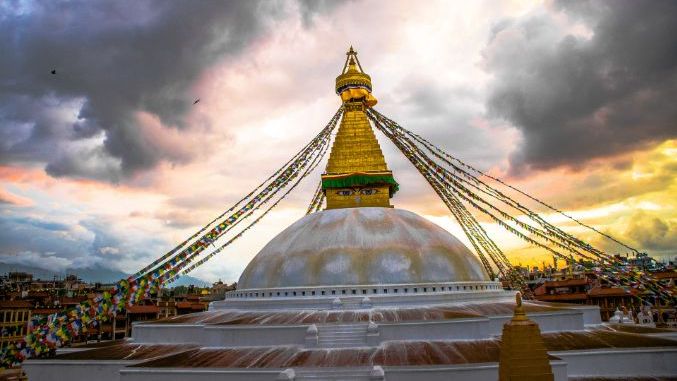 Boudhanath
Swayambhu 
Looking out over Kathmandu, this impressive stupa is a must-see site for most tourists spending any amount of time in Kathmandu. It is a great place to get your bearings and offers incredible views over the entire Kathmandu Valley. Overrun with tourists and monkeys, the temple complex is believed to date from the 5th Century and is perhaps Nepal's most profound expression of Buddhist symbolism. Some believe that an act of worship here is worth 13 billion times more merit than anywhere else.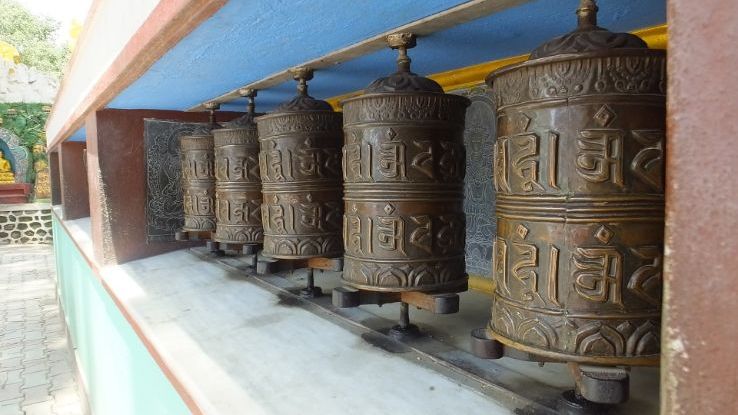 Swayhambhu
Buddhist retreats
Increasingly popular, many people now want to get more involved and understand more about Tibetan Buddhism and to do so they enrol in one or more Buddhist meditation courses. There are many options available, with varying degrees of credibility, but one of the most popular places to take part in this is at Kopan Monastery on the outskirts of Kathmandu. Most courses at Kopan last a minimum of one week, but it's easy to arrange shorter classes with someone like the FPMT (Foundation for the Preservation of the Mahayana Tradition) in Kathmandu.
Dashain 
Hindu in origin, Dashain is Nepal's longest and greatest festival and is embraced by members of all religious and ethnic groups. It lasts for fifteen days, from the new moon to the full moon of Asoj. This festival normally falls just after the summer rice harvest, which is from September to October. It is a time for families to gather at home, children to be indulged and animals to be sacrificed. The tenth day of the festival is the liveliest with Kathmandu's Kumari (living goddess) bestowing Tika at her house in Durbar Square, while various processions and masked-dance troupes take to the streets. 
Losar 
Losar is the celebration of the Tibetan New Year and usually occurs sometime in February or March. It is preceded by three days of drinking, dancing and feasting. A time for families to be together, Losar is the highlight of the calendar in Buddhist highland areas, as well as in Tibetan settlements near Kathmandu and Pokhara.
Holi
Holi is one of the most popular and exciting festivals in the Hindu calendar and signifies the beginning of spring. On the first day, bonfires are lit at night to signify burning Holika. The second day is when all the fun begins as people spend their time throwing coloured powder and water at each other. This is a truly memorable experience, but you should definitely always wear old and faded clothes.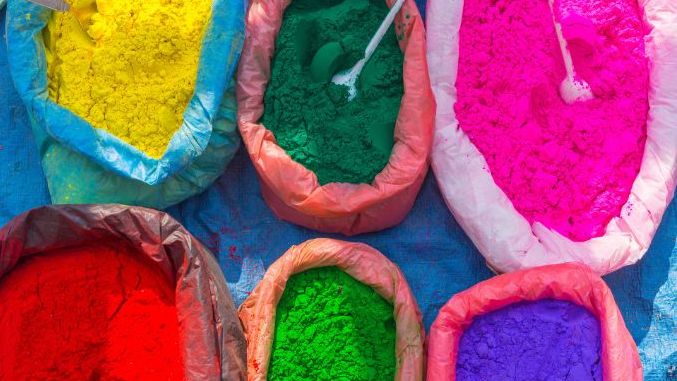 Coloured powders
Buddha Jayanti 
The anniversary of the Buddha's birth, enlightenment and death is celebrated on the full moon day of Baisaakh (April/May) at all Buddhist temples. The celebrations mostly occur at Swayambhu in Kathmandu. Here, the freshly repainted stupa is decorated with thousands of lights and ritual dances are performed. Processions can also be seen at the Boudha stupa and in Patan.