|
,
The capital of Nepal is not for everyone, but those who can see past its manic and jumbled façade will be rewarded. Hidden temples decked in swaths of flowers call for exploration while narrow backstreets, brimming with bazaars entice the intrigued. From the courtyards of extravagant palaces, the Himalayan mountain range serves as a majestic backdrop and nearby peaceful hilltop sanctuaries offer moments for reflection.
With our Nepal tours you will get to experience a country of natural and architectural wonder - where daily discoveries make for an incomparable holiday.
Explore the vast collection of World Heritage Sites
If you are after a heavy dose of culture and history - Kathmandu Valley boasts seven World Heritage Sites. It is one of the world's most historical cities and we recommend setting a day aside to tick off all the landmarks.
Kathmandu Durbar Square is one of three famous squares in the city. These squares include striking temples, adorned palaces and gilded shrines. In 2015, a devastating earthquake sadly destroyed many historic buildings in the area.
Another popular site is the Boudhanath Stupa - one of the largest spherical stupas in Nepal. Positioned on the outskirts of the city, you can't miss this soaring structure set on the ancient trade route from Tibet. The site's location meant that over the years many Tibet merchants have sought refuge here.
Find peace in a plethora of temples
It might seem impossible to visit all of the scenic sanctuaries in Kathmandu - so make sure you get the chance to explore the Hindu temple of Changu Narayan. Sitting on a hill, this temple is encircled by a forest and overlooks the Manahara River. It is dedicated to Lord Vishnu and considered to be the oldest temple in the history of Nepal.
If you have time for another temple, make sure it's Pashupatinath. This sacred Hindu temple complex on the banks of the Bagmati River functions as the seat of Nepal's national deity, Lord Pashupatinath. The main temple at this complex, featuring a golden spire, wooden sculptures and intricate decor, is considered to be a masterpiece of Hindu architecture. Locals also believe that by visiting this enchanting shrine, all your wishes will come true.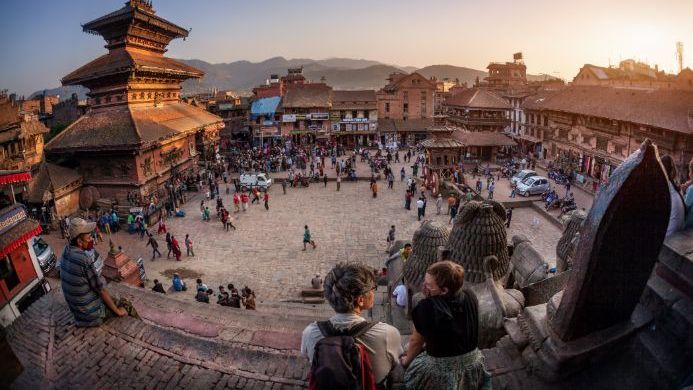 Bargain your way through the city
You will find it hard not to leave Kathmandu without treating yourself to a bit of retail therapy. Even as you walk through the thronging streets - stalls selling beautiful textiles, pashminas and woolen scarves will lure you in. Nepalese handicrafts are renowned for their excellent workmanship and unique artistic design. Many of the handicrafts are of religious significance and are meant for religious purposes.
If you are looking for something a little flashier, Kathmandu has some of the best goldsmiths and silversmiths in the world. To remember your spectacular holiday to Nepal, why not get a custom-made item or splash out on an exquisite piece of jewelry? If its pottery you want, Bhaktapur is the place while carved wooden items can be found in Patan.
For those in search of a more upmarket and less frenzied experience, luxury boutiques and shopping centres promise a calm environment with all of the tempting goods and upmarket brands.
Sample a cuisine of colour
Prepare for some serious indulging - as Kathmandu locals love all things fried and with an extra side of carbohydrates. The national Nepali dish is called dal bhat - a hearty mix of rice and lentils served with a vegetable curry. This meal is cost efficient meal and also gives you the energy needed for tackling the mountainous landscape.
If you visit a food market, sample the potato and bean samosas as well as momos (dumplings stuffed with steamed vegetables or meat). When the weather turns frosty, thukpa - a spicy, hot noodle soup is sure to warm you up, as is gorkhali lamb - a chunky curry that should be scoped up with roti bread.
Marvel at the enchanting Himalayas
In Kathmandu Valley, the surrounding vistas are nothing short of sublime. To get even closer, venture to one of the major hill stations. The stations of Nagarkot, Chovar, Shivapuri, Kakani and Godawari are just a one to three hour drive away. Nagarkot is the most popular place - where you can view eight out of the 13 Himalayas.
This charming hillside village encircled by terraced rice paddies is just a one-hour drive out of Kathmandu. From this point, you are able to spot Mount Everest to the northeast - a sight that is even more spectacular at sunrise and sunset. On a clear day, Mount Everest can also be viewed from the Chandragiri Hills in Kathmandu.
Take to the roads in style
Nothing can really prepare you for the chaos of the roads in Kathmandu. The longer you spend in this city, the quicker you will understand that few rules apply. To truly get into the spirit of things, you should experience the public transport - the bemo. These three-wheeled electric vehicles resemble both a tuk tuk and a rickshaw. This is a cheap way to get around the city and also better for the environment.
The city bus is a more comfortable option and if you really want something traditional, take a ride in a bullock-cart. Alternatively, hiring a bicycle can be an excellent and economical way to see the sights. Taxis can be arranged from your accommodation and no tip is expected.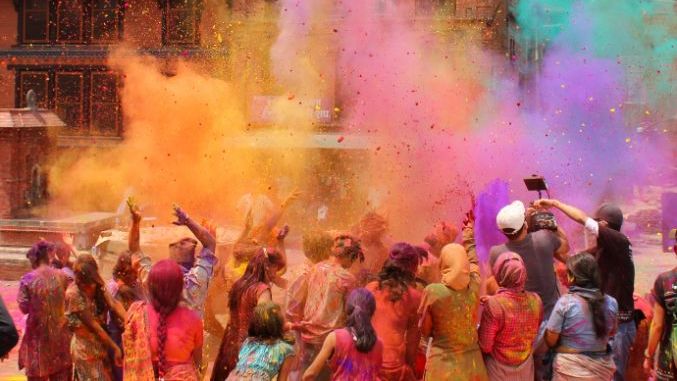 Revel with the locals
The residents of Kathmandu are continuously celebrating - given the assortment of religions practiced in the city. Festivals are viewed as an important part of society as they bring the community together. The religious festivals follow the lunar calendar while the national celebrations have fixed dates.
Holi, one of the most famous Hindu festivals, is a spectacular display of colour and lights. This important celebration and public holiday marks the beginning of spring and the triumph of good will. The night before Holi starts, bonfires illuminate the streets to commemorate the death of the demon Holika. The main event is centered around fun rather than religious requirements or prayer. People spend the day in a cloud of colourful powder - as paint is thrown by hand or buckets along with water balloons.
If you find yourself holidaying in the city during a festival, count yourself lucky and remember to be respectful of the practices.
Spend time not money
If you are travelling on a budget then a holiday in Kathmandu is for you. By international standards, this city guarantees to make your money go far - especially when it comes to accommodation and transport.
If you are looking to save on food, avoid any touristy restaurants and head straight to the markets. Not only will you get to taste traditional Nepalese treats, but you will also save cash for other experiences.
When shopping at the marketplaces in the city, bargaining is also acceptable - so there is no excuse not to stock up on trinkets for every family member.
Stay safe
Like any big city, there are places to avoid and rules to follow. Kathmandu is regarded as a fairly safe city and has a reasonably low crime rate. At night, it is recommended that you do not travel alone and remain aware of your surroundings.
It is also a good idea to lock your valuables in your hotel room, not to carry around large sums of money and to watch out for petty crime, like pickpockets, in busy areas.
Make new friends & memories
Upon visiting Kathmandu, you will receive the warmest and friendliest welcome. As a result of the country's recent destructive earthquake and dark history, the locals are eager to show their gratitude for any form of economic support - that will help rebuild their city.
When visiting the city, don't be surprised by the generosity of the people and their eagerness to engage or even invite you into their home for tea. The Nepali people are also generally happy to help you with directions or advice on what to do.