|
Ancient Egypt has entranced archeologists, historians and the mainstream public for years due to its fascinating monuments, artifacts, hieroglyphic sites and more. From the great pyramids of the Old Kingdom through to the conquests of the New Kingdom, Egypt's vibrant history has even led to its own field of study - Egyptology.
The ancient Egyptian's believed that it was important to preserve the human body after death through mummification, a lengthy process that lasted up to 70 days. This is because according to the religious beliefs of the ancient Egyptians, they required all of their important earthly possessions in order to journey to the afterlife, including their bodies.
This is also why several ancient Egyptian remains can be found buried with unusual items.
In October 2019, an excavation team stumbled upon a series of perfectly preserved sarcophagi in the Asasif necropolis in the ancient town of Thebes, near the city of Luxor.
Thebes was once the bustling royal capital of ancient Egypt and excavations in this area have led to a series of unique and impressive findings. Officials have stated that the first coffin was discovered because the head of the coffin was partially exposed in the sand. Once the team continued to dig, 17 more coffins were found and then an additional 12 coffins beneath that.
The coffins are estimated to be over 3000 years old, an exciting achievement for the Egyptian excavation team as the coffins are exceptionally older than most ancient relics in the area.
The Egyptian Antiquities Minister, Khaled El-Enany stated, "It is the first large human coffin cache discovered since the end of the 19th century". More so, the coffins were found well-preserved, sealed and adorned with vibrant colour descriptions, some of which even depicted engravings of the names of the deceased as well as scenes from the Book Of The Dead.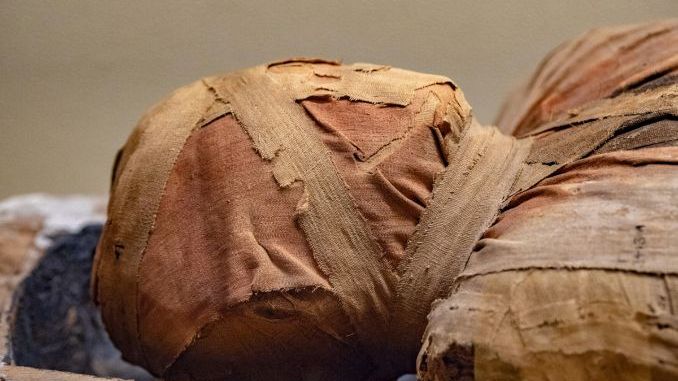 Who were the deceased?
According to archaeologist Zahi Hawass, the deceased coffins belonged to men, women and children from the 22nd dynasty(945-715 B.C). Hawass also explained to reporters during a press event that the discovery shines light on important details about ancient Egyptian burial rights, such as how they respected the dead regardless of gender or age. More so, he stated that "This will enrich our knowledge as Egyptologists about the belief of the afterlife."
This is an extraordinary find for Egyptian excavation team. So much so, that the mummies will be restored before being moved to a museum of ancient Egyptian artifacts in Cairo and will be given their own exhibit. "They will be moved to the Grand Egyptian Museum, which will be opening at the end of 2020, as a new surprise for our visitors," said El-Enany.
Keen to visit this exciting new exhibit and learn more about the enthralling ancient history of Egypt? Take a look at our wide range of Egypt tours and uncover the breath-taking mysteries of this fascinating ancient region.