|
The food of Nepal is sure to give you the energy needed to trek the country's magnificent mountain ranges, explore the breathtaking valleys and meander around the vast assortment of ancient sites.
The local dishes of Nepal are all about spicy flavours and starchy bases - and not only will your budget go far, but you will also remain far from ravenous. When it comes to refreshments, bottled water is key and the end of a hike can appropriately be celebrated with an ice-cold beer.
If you truly want to experience the magic of Nepal, from its distinctive dining scene to its famed and tricky trails, travel with one of our Nepal tours.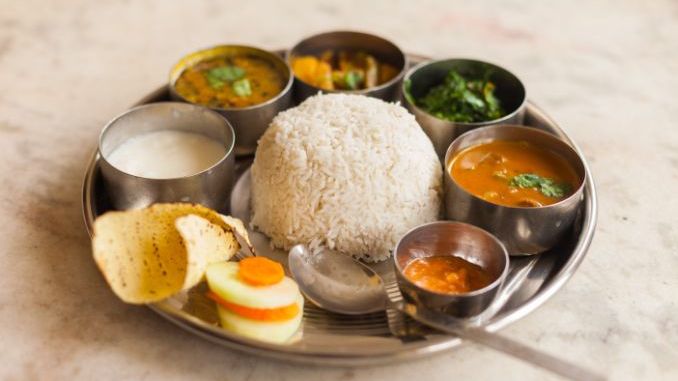 The flavourful fare
Nepalese Food is essentially very similar to Indian food, with a big accent on a rice and dal diet. Dal bhat is the Nepalese take on this Indian staple and it consists of a kind of lentil soup usually served with rice, vegetables and pickles.
Dal is a preparation of pulses, which have been stripped of their outer shells and split. It can also refer to the thick, spicy stew prepared from these pulses. A vast proportion of Nepalis eat a non-meat diet so vegetarians are extremely well catered for. Rice, pulses and breads are served in abundance, as are fresh fruits and vegetables. To eat dal baht the local way, you pour the soupy dal onto the bed of rice, roll it into small balls with your fingers, add some vegetables and some pickles then put it into you mouth with your right hand.
The Newar people of Nepal also have a food culture of their own. It consists of non-vegetarian and vegetarian items as well as alcoholic and non-alcoholic beverages. Mustard oil and a host of spices such as cumin, sesame seeds, turmeric, garlic, ginger, methi (fenugreek), bay leaves, cloves, cinnamon, pepper, chili, mustard seeds and vinegar are all used in cooking. Newari restaurants are very hospitable places to visit and meals often consist of eight or nine courses.
Given that most Hindu Nepalis are also vegetarians, you will find more meat-free options in certain areas. This is not the case in the Kathmandu Valley, where meat is a popular choice with buff (water buffalo) and goat being particular favourites. In the Hindu religion cows are viewed as sacred so are never eaten.
If your palate and your stomach can handle it, we recommend that you tuck into some of the most unusual dishes - think diced spleen, raw steak, fried windpipe and spinal marrowbone.
McDonalds, KFC and the like have not quite made it to Kathmandu yet (thankfully!) but if you're missing the comforts of 'home' cuisine there are plenty of western-style restaurants in Kathmandu and Pokhara which serve steaks, burgers, pizzas, pastas, and Chinese and Indian food. These are also an option and well worth the splurge after a tiring trek. Once you leave the big cities behind, you will realise that the places in more rural areas only offer simple dishes like fried rice, potatoes and dal bhat.
You will be sure to find something to suit everyone in the main cities and restaurants range from cheap eateries to more high-end dining establishments.
For snacks and light meals there are plenty of cafés scattered around the cities - samsa (samosas) are always delicious. If you are looking to dine off the street, the restaurants in Nepal's hotels are always a safe option. Local restaurants are known as bhojanalayas and when you dine here, it is customary to eat with your right hand.
Staple trekking food includes dal, rice, breads, apple pie, and vegetables. Meat is not commonly found while on a trek. Please bear in mind that all the food cooked in the trekking lodges is made to order and is usually the responsibility of just one cook. It makes sense to try and order the same food as the rest of your party; otherwise you will have a long wait, as the cook will make every dish one by one. As well as holding things up, this also uses more fuel, which is a precious commodity up in the mountains. If you are on a rafting trip all food should be provided throughout the trip.
When it comes festivals in Nepal, food plays a pivotal role. Newars cook a bean sprout soup called kwati during the Janai Purnima festival. While the Tibetan Buddhist festival of Losar (Tibetan New Year) calls for gutuk - a dumpling stew. After the stew has been eaten, the dumplings are thrown away to represent the casting away of bad luck.
Nepalis love a sweet and sugary dessert, just like their Indian neighbours. Many of their homemade puddings feature nuts, milk curd and a palm sugar - jaggery. Popular picks include julebi (swirls of orange coloured dough), kheer (rice pudding), barfi (milk fudge), sikarini (whipped yoghurt with nuts, dried fruit and cinnamon) and lal mohan (deep-fired milky dough balls).
If you are visiting Bkhaktapur, it is imperative that you taste the local creamy yogurt - juju dhau.
To conclude a dining experience in Nepal, the Nepalis finish with a type of digestive called pan. This is a blend of betel nut and leaf mixture.
Stay water wise
If you are in Nepal for a relatively short-term stay, the medical profession recommends that you stick with bottled mineral water, in order to avoid gastric upsets. It takes a while for our digestive systems to adapt to even a minor change in water content, so by drinking mineral water, you'll ultimately be a happier, healthier traveller. Bisleri or Aquafina branded bottled mineral water are safe reputable brands. Just ensure that the bottle seal is not broken, and dispose of your empty bottles responsibly.
On long treks we recommend that you take one or two empty bottles to keep. That way you can also purify your own water if you bring iodine tablets, filters or drops with you. This will reduce the number of waste water bottles left up in the mountains (these have become a real problem over the years).
Milk should be treated with suspicion, as it is often unpasteurised, though boiled milk is fine. Tea or coffee should also be safe to drink since the water will have been boiled. If you are served tea in a restaurant, you should expect a very weak cup of brew. This is usually called mechi tea and comes in a glass of hot, sweetened milk. The locals prefer to sip on Nepali chiya, also known as masala tea - a spicy refreshment with milk and sugar.
For a Western-style version of tea, you need to request for the milk to be served separately. In areas with more of a Tibetan-influence, you will find a black tea made with salt and butter. This strong drink is good for dealing with high altitudes and to warm up in the cold weather.
The local fruit juices, especially freshly squeezed juices are a true winner. Take care though as sometimes water has been added. Western soft drinks are also widely available.
Local libations
An amazing and amusing selection of spirits are bottled in Nepal, ranging from the classic Khukuri Rum (dark and raisiny) to Ye Grand Earl Whisky (Glasgow - London - Kathmandu). These are cheap and often rough, but tolerable when mixed with soft drinks. Imported spirits and wine are available in supermarkets and convenience stores at practically duty-free prices; many tourist restaurants and bars serve wine by the glass, and make cocktails with local or imported spirits.
International visitors are entitled to bring up to three bottles of alcohol (wines or spirits) for personal use. Any more than that and you may be questioned. There are no duty-free facilities at Tribhumvan Airport in Kathmandu so it may be better to make a purchase at your departure airport or en-route where duty-free shops are available. Mixers such as cola, lemonade, juices and tonic waters are widely available.
The beer industry in Nepal is booming and a local beer makes a great accompaniment to Nepali and Indian food. Foreign brands brewed by local ventures - notably San Miguel, Carlsberg and Tuborg - are widely available and taste pretty good. All beer bottles come in 650ml bottles. You should remember that beer is a lot better for handling the taste of fiery curry than water is.
Nepalis are avid home brewers - Jaar is the Nepali term for home brewed beer, but it is more commonly referred to by its Tibetan name Chhang. Most often made from rice or millet, it can taste quite sour and be very powerful. This tipple can be enjoyed hot or cold and locals like to have it with a raw egg. As you trek through the beautiful landscape, look out for the traditional home breweries in the hills.
Raksi is something you may come across on a trek and is very similar to tequila. Both these locally brewed drinks should be viewed with caution.
Alcohol is not officially sold on the first two days (full moon days) and the last two Saturdays of a Nepali month.