|
Clocking in as a crowning jewel of Seljuk architecture, the Alaeddin Mosque in Turkey is an awe-inspiring marvel representing a perfect fusion of history, faith, and engineering brilliance.
Nestled in Konya, an ancient city in Turkey with roots plunging as deep as the Bronze Age, this mosque is a symbol of the rich and textured tapestry of Turkish history and a must visit for travellers on Turkey tours.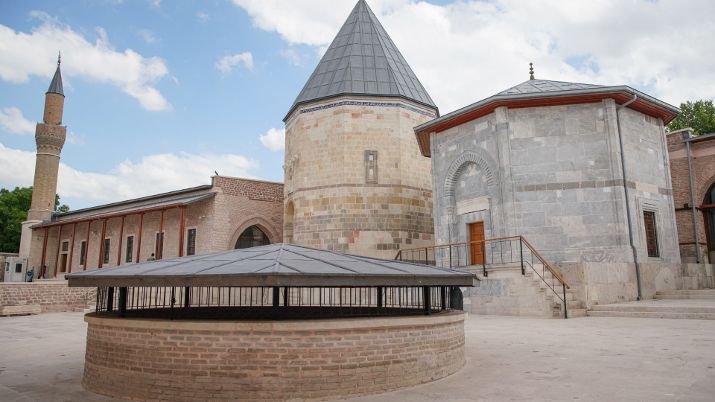 A brief history of the Alaeddin Mosque in Turkey
The Alaeddin Mosque was originally built as part of a larger complex that included an imaret (public kitchen), a medrese (Islamic school), and a mausoleum. The mosque itself was built using traditional Seljuk architectural techniques, including the use of brickwork and stone masonry. The building is adorned with intricate carvings and decorations that reflect its importance to the people of Konya.
In 1243, the mosque was destroyed by fire but was quickly rebuilt using donations from local citizens. During this time, it served as an important center for religious learning and education. It also became known as one of the most important places for Sufi mysticism in all of Turkey.
In 1511, the mosque underwent another major renovation under Sultan Selim I. During this time, many new features were added to the building including minarets, domes, and marble columns. These features gave the mosque its distinctive look which can still be seen today.
Throughout its long history, the Alaeddin Mosque has been used for many different purposes. It has served as a place of worship for Muslims from all over Turkey as well as visitors from other countries who come to experience its beauty and spiritual significance. It is also used as an educational center where students can learn about Islamic culture and history. In addition to these uses, it also serves as an important tourist destination that draws visitors from all around the world every year to experience its grandeur firsthand.
Today, the Alaeddin Mosque continues to stand tall in Konya as a symbol of faith and devotion for both locals and visitors alike. Its long history speaks volumes about how much it means to those who have been lucky enough to experience it firsthand or even just see it from afar. This incredible structure will continue to inspire generations to come with its beauty and significance for many years to come!
Why travelers should visit the Mosque of Alaeddin
The Mosque of Alaeddin is an impressive sight to behold. The exterior walls are made from stone and adorned with intricate carvings and inscriptions. Inside, visitors can admire the beautiful marble columns and colorful mosaics that line the walls. The main prayer hall is decorated with intricate tilework and stained glass windows that allow natural light to flood into the space.
The mosque also features an impressive minaret, which stands tall above the city skyline. Visitors can climb to the top for breathtaking views across Konya and beyond. On clear days, it's possible to see as far as Lake Tuzla to the north and Mount Erciyes to the south.
Visiting this historic site also provides travelers with a glimpse into Turkish culture and history. As one of Turkey's oldest mosques, it has played an important role in Islamic history for centuries. It was here that Mevlana Celaleddin Rumi founded his Sufi order in 1273, which still exists today as one of Turkey's most influential religious movements.
The Mosque of Alaeddin also offers plenty of opportunities for spiritual reflection and contemplation. Visitors can wander through its peaceful gardens or sit beneath its shady trees while admiring its majestic architecture. There are also several small cafes located nearby where travelers can enjoy traditional Turkish cuisine while soaking up the atmosphere of this sacred place.
In addition to being a beautiful site to explore, visiting this mosque is also an excellent way to gain insight into Islamic culture and religion in Turkey. Travelers can learn about its history from knowledgeable guides or take part in guided tours that offer more detailed information about its significance within Islam.
The significance of Seljuk Sultan and the Alaeddin Mosque
The Seljuk Sultan and the Alaeddin Mosque have a long and storied history that has left an indelible mark on the culture of Turkey. The Seljuk Sultan was one of the most powerful rulers in the region during the 11th and 12th centuries, and his legacy lives on today in many aspects of Turkish culture. The Alaeddin Mosque, built by the Seljuk Sultan, is one of the most iconic symbols of the city of Konya in central Turkey. It is a testament to both the power and influence of this great ruler, as well as to his commitment to religious tolerance and understanding.
The Seljuk Sultan was a powerful ruler who rose to power during a period known as the Great Seljuk Empire. This period saw a significant expansion of Islamic rule in Anatolia, which had previously been largely Christian. The Sultan was able to gain control over much of Anatolia through military victories, alliances with other rulers, and diplomatic negotiations. He also established a unified government system which allowed for greater stability throughout his realm. This system included an efficient bureaucracy that allowed for efficient collection of taxes and other resources from his subjects.
The Alaeddin Mosque was built by the Seljuk Sultan in 1220 AD as part of his efforts to promote religious tolerance within his empire. The mosque was designed with both Islamic and Christian elements, making it an example of religious harmony at its finest. The mosque is also significant because it was one of the first mosques to be built with two minarets instead of just one, which symbolized the importance placed on religious freedom within this empire.
The Alaeddin Mosque is also significant for its architectural beauty and grandeur. It features intricate carvings and decorations that are typical of many Islamic buildings from this period. Its two minarets are particularly impressive; they stand at an impressive height above the rest of Konya's skyline, serving as a reminder that this mosque was once home to one of the most powerful rulers in all of Anatolia.
In addition to its architectural significance, the Alaeddin Mosque is also important for its historical significance. It served as a place where people could come together regardless of their faith or background; it provided a safe haven for those who sought refuge from persecution or violence elsewhere in Anatolia during this tumultuous period in history. This spirit still lives on today; visitors can still feel this atmosphere when they visit Konya's Alaeddin Mosque today - it remains a place where people can come together despite their differences in order to celebrate their shared humanity.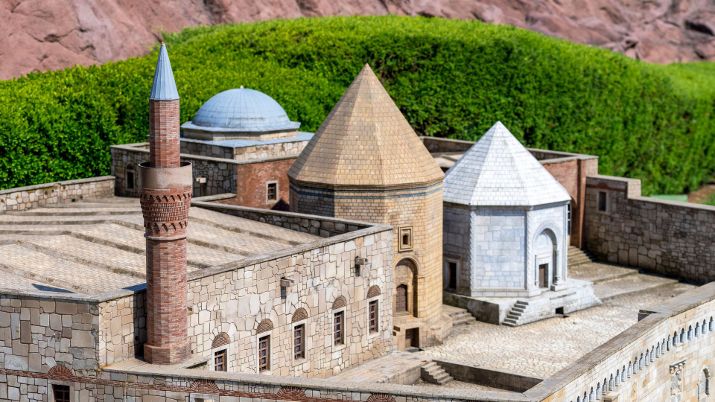 The best time of the year to visit the Alaeddin Mosque
he best time of year to visit the Alaeddin Mosque is during the summer months, from May to September. During this time, the weather is warm and sunny with temperatures ranging from 70-90 degrees Fahrenheit (21-32 degrees Celsius). This makes it perfect for sightseeing and exploring the mosque's grounds. Plus, you can take advantage of the longer days to get more out of your trip!
The Alaeddin Mosque is a stunning structure that stands out against its surrounding landscape. Its grand entrance includes two minarets that reach up into the sky, while its interior features intricate tile work and colorful stained glass windows that let in natural light. It's also home to a large courtyard where visitors can relax and take in the beauty of their surroundings.
Visiting during summer also gives you access to some of the mosque's unique events and activities. Every year, they host an annual festival called "Konya Selcuklu Festival" which celebrates Turkish culture with traditional music, dance performances, food stalls, and more. This event takes place every June and is a great way to experience authentic Turkish culture first-hand!
In addition to festivals, there are also several other events held at Alaeddin Mosque throughout the year such as concerts, lectures, workshops, and exhibitions. These events are open to both locals and tourists alike so you can get an even deeper look into Turkish culture while visiting this amazing site.
The architectural significance of the Alaeddin Mosque
From an architectural standpoint, the Alaeddin Mosque showcases exquisite craftsmanship and attention to detail. Its unique design incorporates a combination of both Seljuk and Anatolian architectural styles. The exterior of the mosque is adorned with intricate patterns and ornate decorations that are a visual delight. The minaret, standing tall and proud, offers a stunning view of the surrounding area.
One of the most remarkable features of the Alaeddin Mosque is its large courtyard, known as the "avlu." This open space serves as a gathering place for worshippers and visitors alike. The courtyard is surrounded by a colonnade of arched walkways, providing shade and shelter. It creates a sense of serenity and tranquility, allowing people to reflect and find peace amid their busy lives.
Inside the mosque, visitors are greeted with a breathtaking sight. The prayer hall is bathed in natural light, thanks to the strategically placed windows and soaring domes. The interior decoration is a testament to the artistic prowess of the craftsmen who worked on it. The walls are adorned with intricate calligraphy and colorful tiles, depicting verses from the Quran and other Islamic motifs. The use of geometric patterns adds to the overall aesthetic appeal of the mosque, creating a harmonious blend of spirituality and artistry.
Another noteworthy aspect of the Alaeddin Mosque is its historical artifacts and treasures. The mosque houses a fascinating collection of Islamic art and relics, including ancient manuscripts, ceremonial objects, and even a handwritten copy of the Quran. These artifacts not only provide insight into the religious and cultural heritage of the region but also serve as a testament to the mosque's importance over the centuries.
Exploring the serenity: Inside Alaeddin Mosque
The intricate architectural details will leave you in awe. From the moment you enter, you'll find yourself immersed in a world of tranquility and spirituality.
The main prayer hall is a sight to behold. It features high ceilings adorned with beautiful chandeliers that cast a warm glow, creating an atmosphere of peace and serenity. The walls are decorated with intricate calligraphy, showcasing the skill and talent of the craftsmen who built this marvelous structure.
One of the most remarkable features of the Alaeddin Mosque is its vast courtyard. As you wander through this open space, you'll feel a sense of tranquility washing over you. The courtyard is beautifully landscaped with lush greenery, creating a serene oasis in the heart of the city. It's the perfect spot to take a moment for yourself, reflect, or simply admire the beauty of your surroundings.
Inside the mosque, you'll find a peaceful atmosphere that invites introspection and contemplation. The soft carpeting under your feet provides a gentle cushion as you find your way to one of the prayer halls. The serenity of this place is palpable, and it's easy to see why so many people come here to seek solace and peace.
One unique aspect of the Alaeddin Mosque is its connection to Turkish history. It is believed to be the oldest mosque in Konya, with origins dating back to the 12th century. Its rich history adds to its allure and gives visitors a sense of the enduring spirituality that has been present here for centuries.
As you explore the mosque, keep an eye out for the mesmerizing mihrab. This architectural element is a focal point in the prayer hall and indicates the direction of Mecca, the holiest city in Islam. The mihrab at the Alaeddin Mosque is a work of art, with intricate detailing and a stunning color palette. It's a sight that should not be missed.
If you're lucky, you may even catch a glimpse of the mesmerizing whirling dervishes. These spiritual performers engage in a rhythmic dance that is both captivating and mesmerizing. The Alaeddin Mosque occasionally hosts performances, giving visitors a glimpse into this beautiful tradition.
Special events and festivals at the Alaeddin Mosque
Let's start with one of the most anticipated events at the Alaeddin Mosque - the annual Eid al-Fitr celebration. This joyous festival marks the end of Ramadan, the Islamic holy month of fasting. As the sun sets on the final day of Ramadan, the mosque transforms into a vivid spectacle of lights, colors, and festivities. People from all walks of life gather here to partake in prayers, exchange greetings, and indulge in delicious traditional feasts.
During the Eid al-Fitr celebration, the atmosphere is buzzing with excitement and happiness. Families come together, dressed in their finest attire, to share their joy and gratitude. The mosque courtyard is adorned with intricate decorations, vibrant lanterns, and fragrant flowers, creating a magical ambiance that is hard to resist. The sound of laughter and children's gleeful cries fill the air as people embrace the spirit of togetherness.
Another noteworthy event at the Alaeddin Mosque is the Mevlana Festival, which celebrates the life and teachings of the renowned Sufi poet, Rumi. This beloved festival takes place every year and showcases a mesmerizing blend of poetry, music, and dance performances. Prepare to be captivated by the soul-stirring verses of Rumi's poetry, performed by talented artists who bring his words to life.
The Mevlana Festival is a true feast for the senses. The air is filled with the melodious tunes of traditional Turkish instruments, like the ney and the oud, creating an enchanting atmosphere that transports you to another world. Dervishes, dressed in flowing white robes, spin gracefully in a mesmerizing display of whirling dance, known as the Sema ceremony. The sight of these mystical figures spinning in a trance-like state is truly awe-inspiring and leaves a lasting impression on all who witness it.
Apart from these major events, the Alaeddin Mosque also hosts various cultural festivals and exhibitions throughout the year. These events aim to showcase the rich heritage and artistic talents of the local community. From intricate calligraphy displays to traditional handicrafts, there's always something to admire and learn about.
One such exhibition that stands out is the "Colors of Anatolia" festival. This vibrant event celebrates the diverse tapestry of Anatolian culture through an array of art forms. Stroll through the booths and immerse yourself in a kaleidoscope of colors, as you admire beautiful paintings, intricately woven carpets, and masterfully crafted ceramics. Engage with the local artists, who are more than happy to share the stories and inspirations behind their creations.
Must-see attractions around Alaeddin Mosque
Once you've soaked in the beauty of Alaeddin Mosque, it's time to explore the nearby Alaeddin Castle, which proudly stands on a hill overlooking the city. This medieval fortress is a treat for history buffs, offering stunning panoramic views and a chance to wander through ancient ruins.
As we make our way down from the castle, let's take a stroll through Alaeddin Park. This green oasis in the heart of the city is a perfect spot for some relaxation. You can have a leisurely picnic, take a peaceful walk along the winding paths, or simply sit back and enjoy the beauty of nature.
Feeling hungry after all that exploring? Fear not, because Alaeddin has a vibrant culinary scene that will leave you craving for more. Head over to the bustling Alaeddin Bazaar, a lively marketplace bursting with the sights, sounds, and aromas of local delicacies. From mouthwatering kebabs to delectable sweets, the bazaar is a food lover's paradise.
No visit to Alaeddin would be complete without a trip to the renowned Alaeddin Hamam. Step into this centuries-old Turkish bathhouse and indulge in a relaxing steam bath followed by an invigorating massage. It's the perfect way to pamper yourself and experience a slice of traditional Alaeddin culture.
Now that you've nourished your body and mind, it's time to satisfy your thirst for knowledge at the Alaeddin Museum. Housed in a historic building, this museum showcases an impressive collection of artifacts and exhibits that shed light on the city's rich history. From ancient pottery to intricate artworks, each display tells a fascinating story that will transport you back in time.
For nature enthusiasts, a visit to the nearby Alaeddin National Park is a must. This sprawling reserve is home to diverse flora and fauna, offering a fantastic opportunity for hiking, bird-watching, and immersing yourself in nature's glory. The park also houses a tranquil lake, perfect for a boat ride or a leisurely picnic by the water.
Visiting Alaeddin Mosque: Do's and don'ts
First and foremost, do dress appropriately. As with any religious site, it's important to respect the customs and traditions. For both men and women, it is recommended to dress modestly. Women should cover their heads with a scarf and wear long skirts or pants, while men should avoid wearing shorts. Remember, this is a place of worship, and dressing appropriately shows your respect for the culture and religion.
When entering the mosque, remove your shoes. It is customary to take off your shoes at the entrance to keep the prayer area clean. You can either carry your shoes with you or leave them in the designated area provided. This is a common practice in mosques all over Turkey, so be prepared to walk around the mosque without your shoes.
Do observe silence and maintain a calm demeanor. Alaeddin Mosque is a peaceful place where people come to pray and reflect. It's important to be mindful of others and avoid loud conversations or disruptive behavior. Take the time to soak in the serenity and appreciate the tranquil atmosphere.
Another important point to remember is to ask for permission before taking photographs. While photography may be allowed in some areas of the mosque, others may be off-limits. It is always better to be respectful and ask for permission before capturing any images. Additionally, remember to turn off the flash on your camera or phone to avoid disturbing those who are praying.
Now let's move on to the don'ts. Don't bring any food or drinks into the mosque. Like many religious sites, Alaeddin Mosque has a strict no-food policy. This is to maintain the cleanliness of the prayer area and prevent any distractions during prayer time. Make sure to finish your meals or snacks before entering the mosque premises.
Don't touch any artifacts or decorations inside the mosque unless explicitly permitted. Alaeddin Mosque is rich in history and preserves many valuable artifacts. It's important to respect these cultural treasures by not touching them. If you're unsure about whether you can touch something, simply ask the mosque staff for guidance.
Another thing to keep in mind is to avoid visiting during prayer times. As a place of worship, Alaeddin Mosque has designated prayer times throughout the day. It is best to plan your visit outside of these times to avoid interrupting the prayers. You can easily find the prayer times online or by asking the local community.
Lastly, don't forget to learn about the mosque's history and significance. Alaeddin Mosque has a fascinating story behind it, and taking the time to understand its cultural and religious significance will enhance your visit. You can find information about the mosque's history from guidebooks, online sources, or even by taking a guided tour of the mosque.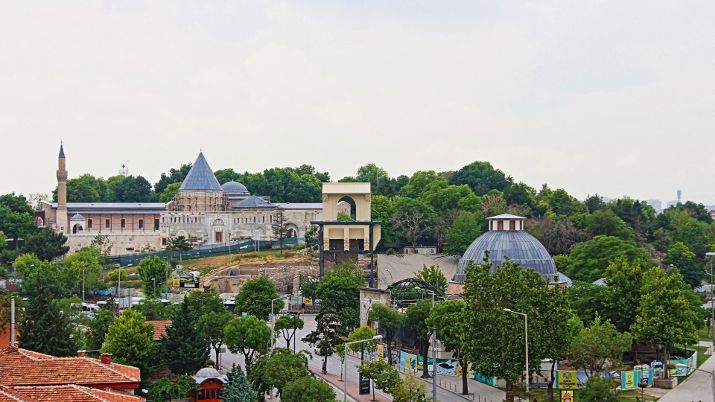 FAQS about Alaeddin Mosque
What is the significance of the Alaeddin Mosque?
The Alaeddin Mosque holds great historical and cultural significance. It is not only a religious site but also a symbol of the Seljuk Empire's power and influence in the region.
What architectural style does the Alaeddin Mosque represent?
The Alaeddin Mosque is an example of Seljuk architecture, featuring intricate details, a unique octagonal plan, and a combination of Byzantine and Islamic elements.
Is the Alaeddin Mosque open to the public?
Yes, the Alaeddin Mosque is open to the public. Visitors can explore the mosque and admire its impressive architecture and historical significance.
Are there any other notable structures on Alaeddin Hill?
Yes, in addition to the Alaeddin Mosque, there are other structures on Alâeddin Hill, including the Karatay Medrese (theological school) and the Seljuk Palace. These structures contribute to the historical and architectural richness of the area.
Is there any ongoing research or scholarly work about the Alaeddin Mosque?
Yes, the Alaeddin Mosque in Konya has been the subject of research and scholarly work. It is discussed in various academic publications, such as the Artibus Asiae and JSTOR, which delve into the mosque's history, architecture, and artistic significance.