,
,
,
|
Our planet is home to thousands upon thousands of drop-dead gorgeous beaches. So choosing the very best piece of sandy real estate in the world is slightly subjective.
For this article, we went with beaches in beautiful locations that are relatively accessible to travellers - from Croatia to Greece, Thailand, and so much more!
To mountain people, there's simply nothing in this world like a beautiful beach. Whether your beach style is rustic and remote or well-equipped and lively, our list offers a peek into some of the most beautiful beaches in the world.
Elafonissi Beach, Crete, Greece
Elafonisi Beach is one of those places that travellers tend to flock to when in Crete. It's a hit on Instagram and ranks on every travel site among the top 10 beaches in the world. Well, it is. It's a magical place.
Elafonissi Beach's immense popularity comes from its pretty pinkish sand, warm lagoon-like waters, and very wild feel.
To be more specific, Elafonissi Beach is an island that's separated from the mainland by the shallow water and sandbars that only disappear under about three feet of water at high tide.
Facilities are limited to palapa-covered sun loungers and a handful of tavernas for fresh seafood.
If Elafonissi is too packed, try Balos Lagoon in the north.
Have a look at what Greece tours we have to offer.
Sunj, Lopud, Croatia
Lopud is a small beautiful island in Croatia, located in the northwest of the city of Dubrovnik - It is also known as a quiet vacation island however in recent years, it's getting more and more popular.
The long, velvety sandy beach Sunj is one of the most beautiful sandy beaches in Croatia, that offers old and young bathing pleasure at its best.
This beach is known for its 2,584 hours of sunshine per year and so it is known as a real paradise for sun-hungry beach holidaymakers.
A fun fact is that there is fresh water here, which makes Lopud a real green dream island. Besides countless trees, palms and bushes, there are also colourful flowers and even a botanical garden - perfect for outdoor enthusiasts.
If you're interested in touring Croatia, visit our page for the best offers.
Railay Beach, Thailand
The Railay Beach sits isolated on a small peninsula that can only be reached by longtail boat - a trip that is worth taking.
Upon arrival, you'll find shimmering, powdery, soft white sand, and a picture-perfect turquoise lagoon, all surrounded by giant limestone monoliths that are both in and out of the water, a dense jungle, cliffs, and caves.
This adventure beach playground is very popular with active couples for its mix of romance and adrenaline. While here, you can rock climb the cliffs, swim through underground caves to find secret lagoons, and much more.
If Thailand is on your travel bucket list, visit our Thailand page.
Reethi Rah, Maldives
The Maldives is known to be home to some of the most stunning beaches on the planet. Most of these, including Reethi Rah, are home to only one or two resorts and as such, you'll have a whole lot of pristine white sand meets turquoise lagoon shoreline to just a select few people.
The Maldives is also known as one of the world's most romantic destinations - a favourite with honeymooners from around the planet, and the beaches on Reethi Rah island are especially spectacular.
Accessible only to guests of the One & Only Reethi Rah resort, the private island has 12 different beaches to explore. It's in its time zone, an hour ahead of the capital of Malé, and the sunsets here stretch on forever.
If relaxing on the sandy beaches of Maldives is youre ultimate dream destination, go on and visit our Maldives page.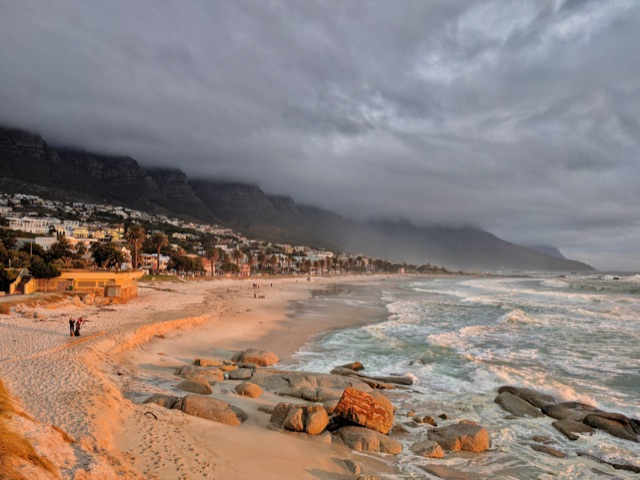 Camps Bay Beach, Cape Town, South Africa
Just a 10-minute drive from downtown Cape Town in South Africa, Camps Bay Beach is simply stunning when it comes to scenery - the water here is of the turquoise and emerald streaked variety, backed by darker blues and dependent on the seasons, but it is deceptively cold.
During the summertime, the public beach draws hordes of swimsuit-clad sun worshippers, and many locals brave the waves long enough to at least cool off - the current here comes straight from Antarctica.
Camps Bay makes our list because the beach itself is beautiful, with scenery not like anywhere else on Earth - on one side, you see the sand and waves and on the other, the Twelve Apostles rock formations tower over the coastline.
If holidaying under the South African sun is for you, visit our South African tours page.
My Khe, Da Nang Beach, Vietnam
Midway down Vietnam's coastline, Da Nang has some of the most beautiful beaches in the country. Here, you will find 28 kilometres of white-sand beaches, blue ocean, and dark green jungle that combines into a visually stunning backdrop.
Here you'll find several beach resorts along this strip and restaurants serving up local fare clustered around the most popular beaches like My Khe and Non-Nuch.
The most popular beach My Khe is the common name of the coastline lasted 10km from the base of the Son Tra Peninsula to the Marble Mountains - It is just 5km from Da Nang city centre and 25km from Hoi An.
My Khe Beach is famous for its blue sky, smooth white sand, gentle slope, clear, and warm water year-round and beautiful areas surrounded by coconut trees. Everything around you is peaceful, natural, and relaxing, that's why Forbes Magazine selected My Khe beach as "one of the most attractive beaches on the planet" title.
This recognition from Forbes Magazine was given after an endless effort of the government and the Da Nang Lifesaving Association in keeping the beach clean, safe for visitors, free admission for tourists, great accommodations, and so on.
My Khe beach was also commended as one of the 10 most popular beaches in Asia by The Sunday Herald Sun of Australia.
Why dream of a Vietnamese holiday when you can click on our Vietnam tour page and see what tours we offer.
Nungwi Beach, Zanzibar Island, Tanzania
Tanzania's Zanzibar Island is one of the most intriguing beach destinations in Africa. Nungwi Beach, on the island's northern tip, fronts a fishing village with a serious buzz these days.
The beach here is comprised of pale coral sand, and the turquoise and aquamarine water beyond - is as beautiful as it gets.
The sea here is warm and perfect for swimming. The vibe is mellow but buzzy, and you'll find several restaurants, vendors, resorts, and water sports outfitters on the strip facing the sand.
If a dreamy Tanzania is your ulimate dream destination, visit our Tanzania page.