|
Are you seeking an adventure that will take you beyond your wildest imagination? If so, why not consider experiencing the mystical beauty of Erg Chebbi in Morocco?
Erg Chebbi is an awe-inspiring Sahara Desert located in the southeastern part of Morocco, near the town of Merzouga. It is known for its lofty dunes, ranging in height from 100 to 150 meters, and its breathtaking vistas of the sprawling desert landscape. Visitors to Erg Chebbi often describe it as a dramatic and surreal experience that leaves them feeling transformed.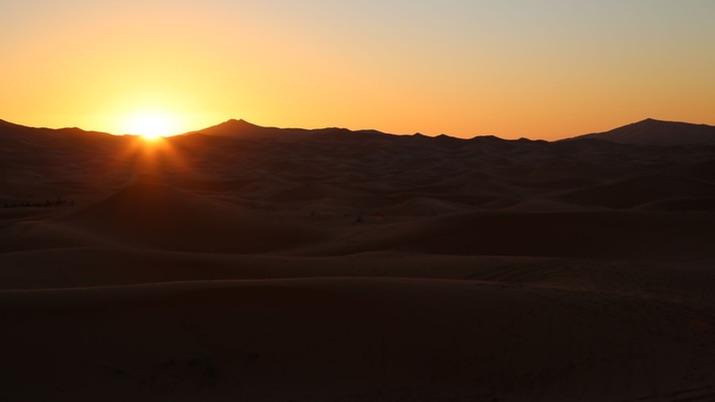 The history and culture of Erg Chebbi
When it comes to exploring the vast and diverse landscapes of Morocco, Erg Chebbi is undoubtedly a must-visit destination. Nestled in the southeast of the country, this region boasts breathtaking sand dunes, unique flora and fauna, and a rich cultural history that dates back centuries. In this essay, we will delve deeper into the history and culture of Erg Chebbi and why it is such a fascinating place to visit.
To understand the history of Erg Chebbi, we have to go back thousands of years to the time of the Berbers, who are the indigenous people of North Africa. The Berbers have lived in this region for over 4,000 years, and their way of life has been closely intertwined with the desert and its resources. The Berbers were nomadic people, and they relied heavily on their camels for transportation and trade. They traveled long distances across the vast expanse of the Sahara, navigating the harsh and unforgiving terrain to find water and graze for their animals.
The Berbers were skilled artisans, and they produced a wide variety of crafts, including rugs, pottery, and silver jewelry. These items were highly prized and traded for various commodities, such as salt, grain, and spices. Caravans of traders would cross the desert from Timbuktu to Marrakech, passing Erg Chebbi on their journey. The Berbers also played a crucial role in the Trans-Saharan trade, which involved the exchange of goods between North Africa and West Africa, including gold, ivory, and slaves.
Over time, the Berbers began to settle in permanent villages, and their culture developed into a complex and vibrant society. They developed their own language and customs, which can still be observed today in the music, dance, and dress of the Berber people. The Berbers were also influenced by the Arab and Islamic cultures that spread throughout North Africa, and many converted to Islam in the 7th century.
Today, Erg Chebbi is home to several small Berber villages, where visitors can experience the unique traditions and lifestyle of these resilient people. The Berbers are known for their hospitality, and travelers can enjoy a meal and a cup of mint tea with a local family, or spend the night in a traditional nomad tent. The Berbers are also skilled musicians, and visitors can listen to the sounds of the guembri (a traditional three-stringed instrument) and watch the mesmerizing dance of the gnaoua (a spiritual dance).
In addition to its fascinating cultural history, Erg Chebbi is also renowned for its stunning desert landscapes. The region is home to some of the highest sand dunes in Morocco, some of which reach heights of up to 150 meters. The dunes offer a surreal and mystical backdrop, especially during sunrise and sunset, when the colors of the sand change from golden to fiery red. The dunes are also a haven for wildlife, such as the fennec fox, a small nocturnal animal with large ears, and the desert hedgehog, which is known for its sharp spines.
Visitors can explore the vast expanse of the dunes on foot, camelback, or on a 4x4 vehicle. The experience of gliding across the sand on a camel is unforgettable, and visitors can stop at a traditional Berber camp to enjoy a meal or spend the night under the stars. There are also several activities that visitors can enjoy in Erg Chebbi, such as sandboarding, quad biking, and dune buggy rides.
When is the best time to visit Erg Chebbi in Merzouga?
Well, that depends on what you're looking for. In this article, we'll explore the different seasons and what they have to offer.
First, let's talk about the winter season, which runs from November to February. While this might not seem like an ideal time to visit Erg Chebbi, it actually has its own unique charm. During the winter, you'll find that the temperatures are cooler, with daytime highs in the mid-60s (Fahrenheit) and nighttime lows in the 30s. This might sound chilly, but it's actually perfect for exploring the dunes without getting too hot. Plus, the winter skies are often clear and bright, which makes for some amazing stargazing opportunities.
Moving on to the spring season, which lasts from March to May. This is a fantastic time to visit Erg Chebbi, as the weather is mild and the crowds are still relatively small. During the day, temperatures can reach the high 70s, but at night they can still drop to the mid-40s. The dunes are also in full bloom during the spring, with a variety of wildflowers dotting the landscape.
Summer is a popular time to visit Erg Chebbi, and it runs from June to August. If you're a fan of hot weather, then this is the season for you. Daytime temperatures can easily soar past 100 degrees, so it's important to stay hydrated and cool. However, if you're willing to brave the heat, you'll be rewarded with stunning sunrises and sunsets that light up the sky in a wash of oranges, pinks, and purples.
Finally, we have the fall season, which runs from September to October. This is another great time to visit Erg Chebbi, as the temperatures begin to cool down and the crowds start to thin out. During the day, you can expect temperatures in the mid to high 80s, with nighttime lows in the 50s. This is a great time to explore the dunes without the sweltering heat of the summer.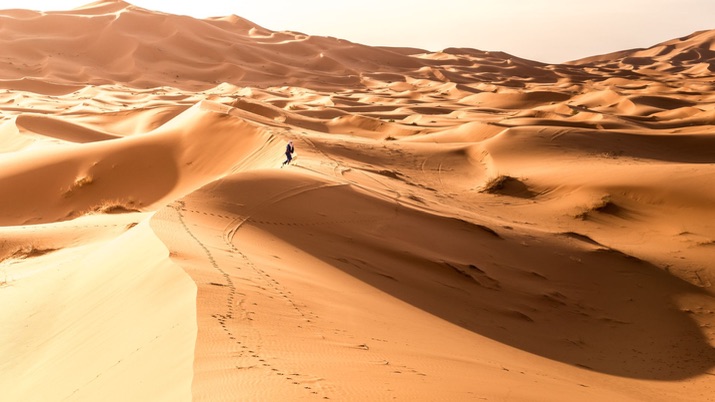 The best things to do in Erg Chebbi desert
One of the most popular things to do in Erg Chebbi is to go on a camel trek. These majestic animals will take you on a journey through the stunning desert landscapes of Erg Chebbi. As you ride, enjoy the peaceful silence and soak in the stunning views that spread out on all sides of you. The camel trek offers a unique and authentic experience that you won't soon forget.
For those seeking a bit more adventure, sandboarding might be just the thing. This exhilarating activity involves sliding down the dunes on a board, just like snowboarding but on sand instead of snow! There are few things more thrilling than feeling the wind in your hair as you slide down the dunes, so don't miss a chance to try sandboarding while you're in Erg Chebbi!
If you're looking for a more relaxed way to experience the desert, stargazing is the perfect option. The clear night skies of Erg Chebbi provide an excellent opportunity for observing stars, planets, and constellations. You'll be amazed by the incredible celestial light show that you'll see here. And with no light pollution around, the stars will be brighter than you ever imagined.
Another way to experience the beautiful landscape of Erg Chebbi is by taking a 4x4 desert tour. This exciting excursion takes you over the dunes and through the valleys of the desert, giving you a chance to see wildlife, ancient ruins, and stunning vistas. You'll also get to visit some of the nearby towns and villages, where you can learn about the rich history and culture of this incredible region.
But the desert is not the only attraction in Erg Chebbi. Just outside the village, there's a beautiful oasis surrounded by palm trees. This tranquil spot is perfect for relaxing and unwinding after a long day of activities. Enjoy a stroll through the gardens or take a dip in the refreshing waters of the natural pool. The oasis is also home to some curious monkeys that love to interact with visitors.
In addition to all the exciting activities and natural beauty that Erg Chebbi has to offer, there are also many opportunities to learn about the local culture. You can participate in a traditional tea ceremony, visit local schools and markets, or even stay with a local family and experience their hospitality and way of life. You'll come away with a deeper understanding and appreciation of the people and culture of this region.
The Must-See Attractions of Erg Chebbi
First and foremost on our list is the stunning Erg Chebbi dunes themselves. These majestic sand mountains offer a once-in-a-lifetime opportunity to surround yourself with the pure beauty of the desert. It's a unique experience that will truly leave you breathless. But, be sure to pack plenty of water and sunscreen because the sun can be quite unforgiving in this part of the world.
Next up is visiting with the Berber people who call Erg Chebbi home. These friendly folks are an indigenous group who have lived in the area for centuries and are always willing to impart some of their wisdom and traditions to visitors. You can take a tour of their traditional villages, learn about their way of life, and customs, and even try some traditional cuisine. It's a truly immersive experience that will give you a taste of the local culture.
If you're a fan of history, then be sure to check out the ancient ksars (fortified villages) that dot the landscape around Erg Chebbi. These fortified habitats were built by the locals as a means of protection against the frequent raids of nomadic tribes and date back to the 17th century. Today, many of these ksars have been restored, and some even house museums showcasing the history and art of the region.
But that's not all! Perhaps one of the most iconic landmarks in Erg Chebbi is the naturally occurring arches that have formed due to the winds blowing through the dunes. These stunning geological formations are a marvel to behold and are a popular spot for photo opportunities.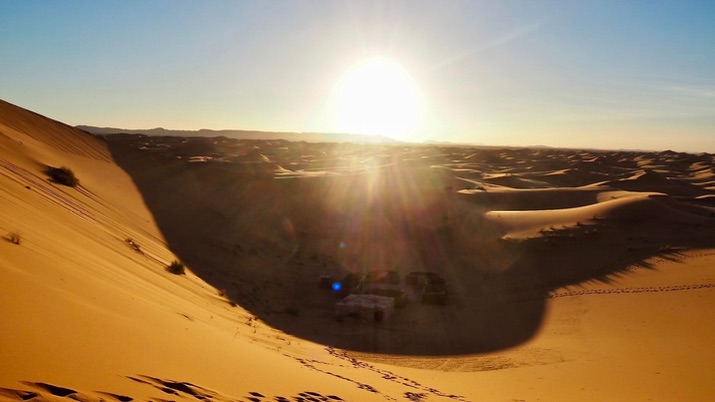 Exploring Erg Chebbi with kids: How to make the experience unforgettable
One of the best things about Erg Chebbi is the variety of activities and attractions that it offers. From sandboarding to quad biking to stargazing, there's something for everyone. If you're feeling adventurous, you and your kids can try sandboarding, which is an exhilarating activity that involves sliding downhill on a sandboard. It's like snowboarding, but on the sand! And if you're looking for a thrilling ride, you can hop on a quad bike and zoom around the desert with your family. You'll feel like you're in a movie as you explore the vast and stunning landscape.
When you're in Erg Chebbi, you can't miss the opportunity to stargaze. The desert is known for its clear skies, and you and your kids can enjoy watching millions of stars twinkle above you. It's a peaceful and calming experience that you and your family will cherish forever. You can even book a night in a traditional Berber tent and enjoy the silence and serenity of the desert while sleeping under the stars.
Of course, with kids in tow, you'll need to make sure they stay entertained and interested throughout your trip. Here are some tips on how to keep them engaged:
Make it fun
Kids love adventure and excitement, so make sure you plan activities that they'll enjoy. For example, you can turn a camel ride into a game of spotting wildlife or landmarks in the desert. You can also challenge your kids to a friendly competition while sandboarding or quad biking.
Teach them about the culture
Erg Chebbi has a rich history and culture that your kids will find fascinating. Take them to visit a nearby village and show them the traditional way of life. You can teach them about the Berber people and their customs, and even learn a few words in their language. It's a great way to expose your kids to different cultures and help them appreciate the diversity in our world.
Involve them in planning
Kids love to feel involved and important. Let them have a say in planning your daily activities and ask for their opinion on what they'd like to do. This will make them feel valued and give them a sense of ownership in the trip.
Take breaks
Traveling can be tiring, especially for kids. Make sure you take breaks and allow your kids to recharge. You can relax in a hammock, have a picnic in the desert, or enjoy a cup of mint tea while watching the sunset. It's important to take things slow and enjoy the moment.
Getting around Erg Chebbi: transportation and logistics
When it comes to transportation options in Erg Chebbi, there are a few choices available. The most common way to explore the area is by camel ride. Camel rides are a must-do experience in the desert, and they can take you some distance away from the main village. You can book a camel ride from the local vendors in the village, or you can book one in advance through a travel agency.
If you're not a fan of camels, there are other transportation options that may suit you better. One option is to rent a 4x4 vehicle. This will give you the freedom to explore the desert at your own pace and go to more remote areas. You can easily rent a 4x4 vehicle from a local rental company or through a travel agency that offers transportation services.
Another option is to hire a private driver. This will give you the advantage of having a local and experienced driver who knows the area well and can take you to the most interesting and less-visited places. You can hire a driver for a day or two or for your entire stay in Erg Chebbi. This option is ideal for those who want more comfort and convenience than a camel ride or a 4x4 vehicle.
In terms of logistics, there are a few things you need to know before you head to Erg Chebbi. The nearest town to the desert area is Erfoud, which is around 40 km away. There are regular buses and taxis from the town to the desert village of Merzouga, which is the main gateway to Erg Chebbi. If you're traveling by bus, you can ask the driver to drop you off at the village.
Once you arrive in the village, you'll need to arrange transport to your accommodation. Most hotels and guesthouses in the area offer pick-up services from the village, so it's a good idea to contact them in advance and book your pick-up. Alternatively, you can hire a taxi or a private driver from the village.
If you're planning to spend the night in the desert, you need to be well-prepared. The temperature can drop significantly after sunset, so you need warm clothing, a sleeping bag, and a good tent. Most desert camps offer basic facilities like toilets and showers but don't expect luxury amenities. However, the experience of spending a night under the stars in the middle of the desert is priceless.
Exploring the dunes in Erg Chebbi on foot
To begin with, the dunes themselves are awe-inspiring. Imagine standing at the base of a towering sandhill that rises hundreds of feet in the air. As you begin your hike, you might feel daunted by the daunting task of scaling the summit, but once you start, your legs will carry you forward, powered by the sheer wonder of the landscape. Moving at a slower pace, you will take in the magnificent surroundings and absorb the staggering natural beauty of the desert.
While the trek can be tiring, it is also invigorating. The sand beneath your feet sinks and shifts with each step, and the warm sun beats down harshly on your skin. But you are not alone; camels are traversing the sand with their tourists, as well as other hikers, reminding you of the majesty of this place.
As you climb higher, the view becomes more and more breathtaking. The view from the mountaintop allows you to truly appreciate how big and beautiful the desert is, and to contemplate how small human beings are in comparison.
But it is not just about the beauty of the landscape. Hiking through Erg Chebbi brings other rewards and experiences. For instance, it gives you a chance to experience the famed Bedouin hospitality. Along the way, you can stop at Bedouin camps and be welcomed with aromatic and sweet mint tea, and generous helpings of traditional Moroccan food. You'll even have the opportunity to ride a camel to your next destination, taking advantage of the experience this animal offers across the sandy terrain.
Adventuring in Erg Chebbi on foot also teases out another sensory delight: the stars. When the day is over, and the sun sinks slowly below the horizon, the night sky comes alive. Billions of stars twinkle and sparkle overhead with a clarity and brightness that can only be appreciated in the vast surroundings of this natural theater. The constellations are clearer than ever, and in the distance, you can make out the twinkling lights of the nearby Bedouin camps, adding to the mystical ambiance of your surroundings.
Culture and traditions of the Berber people in Erg Chebbi
The Berber people, also known as Amazigh, are an ethnic group primarily found in North Africa. They have a deep connection to their land, language, music, and customs. The Berber language is one of the oldest living languages in the world and has multiple dialects spoken throughout North Africa.
Many Berber people reside in the Erg Chebbi region, an expansive desert in southeastern Morocco known for its towering sand dunes that stretch as far as the eye can see. The Berber people have lived here for centuries, and their way of life is deeply interwoven with the desert landscape.
The Berber people have a strong sense of community and kinship. Families often live in close proximity to one another and social gatherings and festivals are a regular occurrence. The annual festival of Imilchil is an important cultural event in the region, bringing together Berber communities from across the area. During this event, young Berber men and women come together, dressed in their traditional clothing, to find potential partners and spouses.
Berber music is an integral part of their cultural heritage, and the sounds of flutes, drums, and the traditional lute-like instrument, the guembri, can often be heard throughout the desert. Music is used to celebrate special occasions and is often improvised. Traditional Berber dances, such as the ahouach and ahidous, are also an essential aspect of the community's cultural expression.
The Berber people have a deep connection with the land and the natural environment around them. They utilize local plants and herbs for both medicinal and cosmetic purposes. The argan tree, found primarily in the southwestern regions of Morocco, is particularly valued by Berber women for its oil, which is used to moisturize skin and hair.
The Berber people also have a long history of nomadic pastoralism, traveling across vast distances with their herds of goats and sheep. This territory covers not only Morocco but also Tunisia, Algeria, Libya, and Mauritania. They are known for their skills in animal husbandry and still practice this way of life today.
Berber architecture is also an important reflection of their cultural heritage. Traditional Berber homes, known as kasbahs, are made primarily of mud and clay and are designed to withstand harsh desert conditions. These homes are often adorned with intricate, geometric patterns and symbols, which are not only aesthetically pleasing but also hold deep cultural significance.
The Berber people's traditional clothing is also a reflection of their cultural identity. Men often wear long, flowing robes known as djellabas, while women wear colorful dresses known as kaftans. The djellabas and kaftans are often intricately decorated with embroidery and were originally designed to keep the wearer cool in the desert heat.
Safety tips for visiting Erg Chebbi
First and foremost, safety is key. The desert can be a harsh environment, and you don't want to get caught in a dangerous situation without being prepared. Here are some safety tips to keep in mind:
1. Bring plenty of water: The desert is hot, and you will need to stay hydrated. Bring at least two liters of water per person per day.
2. Protect yourself from the sun: The sun can be brutal in the desert. Wear sunscreen, a wide-brimmed hat, and sunglasses to protect yourself from the sun.
3. Dress appropriately: Loose, light-coloured clothing is best for the desert. It will keep you cool and protect you from the sun. Avoid wearing dark colors as they will absorb heat.
4. Stay on designated paths: The desert can be deceiving, and it's easy to get lost. Stick to designated paths to avoid getting lost or trapped in the sand.
5. Don't go alone: Always travel with a partner or a group. It's safer and more fun to explore the desert with others.
6. Check weather forecasts: Sandstorms are common in the desert. Check the weather forecast before you go, and avoid going out during a storm.
7. Bring a first aid kit: Accidents can happen anywhere, and the desert is no exception. Bring a first aid kit with you in case of an emergency.
FAQs about Erg Chebbi in Morocco
Is Erg Chebbi part of Sahara?
While many people might assume that it's part of the Sahara due to its sand dunes and location in Morocco, it's technically not. Erg Chebbi is actually part of the pre-Saharan zone, which is a transition area between the Sahara and the Atlas Mountains. The pre-Saharan zone consists of semi-arid regions that are more fertile than the desert and have some vegetation.
What is the highest dune in Erg Chebbi?
It's known locally as "Grand Dune" or "Big Dune," and for good reason. At a height of 300 meters, it's easily the tallest dune in the entire Erg Chebbi area. To put that into perspective, that's almost as tall as the Eiffel Tower!
Is Erg Chebbi worth visiting?
If you're considering visiting Erg Chebbi, my advice is to go for it. The landscape is breathtaking, the activities are fun and unique, the culture is fascinating, and the stargazing is out of this world. It's a once-in-a-lifetime experience that you won't want to miss.
Getting to Erg Chebbi can be a bit of a challenge. It's located quite far from any major city, and the roads leading there can be a bit bumpy. But trust me when I say that it's worth the journey. The remote location is part of what makes it so special, and once you arrive, you'll feel like you've been transported to another world.
What does erg mean in Morocco?
In Arabic, "erg" (pronounced "airg") refers to a specific type of dune - the long, winding ridges of sand that form in sandy deserts. These dunes can be massive, spanning hundreds of miles, and reaching heights of up to 500 feet.
The word "erg" is derived from the Arabic word "arq," which means "dunefield." Morocco's Erg Chebbi, for instance, is one of the country's largest ergs, stretching for 22 kilometers and reaching heights of up to 150 meters.