|
,
There is no better place to conclude your Egypt holiday than at this beachside haven. After having spent your days in Egypt exploring ancient ruins and sailing down the Nile, a sojourn by the sea is just what you need to relax. With year-round sunshine, tranquil warm waters and an array of activities in the sea and on the shore, Hurghada is an unbeatable destination.
Have a look at five of the best things to do in Hurghada and choose from one of our appealing Egypt tours.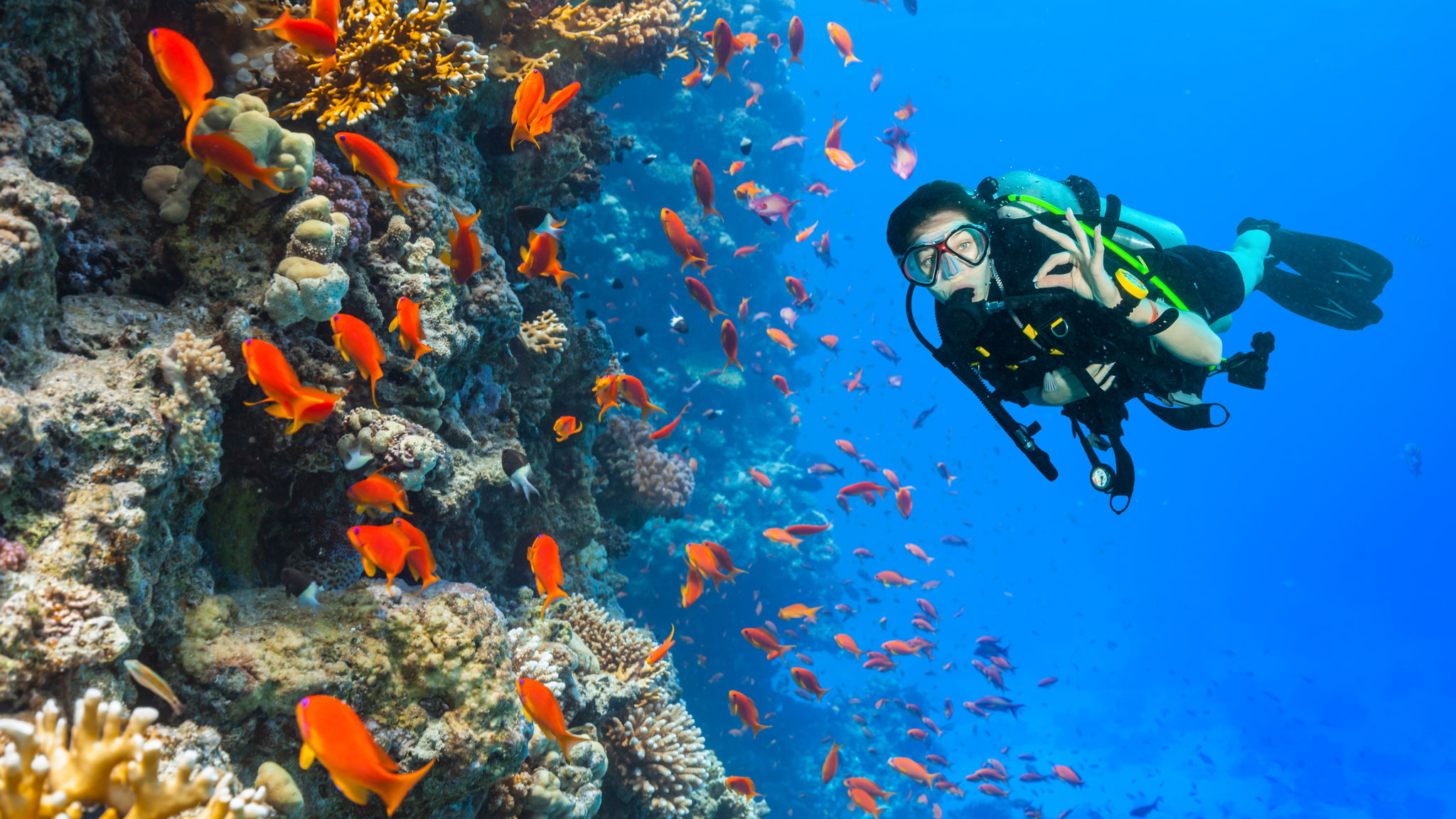 Discover the Red Sea splendors by scuba diving
Hurghada is one of the most favoured diving destinations in the world and continues to attract divers to its magical underwater world. Bordered by Africa and Asia, this seawater inlet of the Indian Ocean is home to a varied ecosystem, 37 dive sites and more than 1,200 species of fish.
The calmness of the waters and the vast array of untouched coral reefs make this tropical sea ideal for learning how to scuba dive. Along the stretch of coastline you will find an assortment of scuba diving centres. During your Egypt tour, you might even be able to procure your diving license.
For the more experienced, diving trips can visit deeper sites with exciting combinations of wrecks and reefs. Thistlegorm and Giannis D are some of the most popular wrecks to explore. You can speak to the guide on your Egypt tour to arrange excursions and rent equipment.
While submerged, expect to come across turtles, trumpetfish, bluespotted rays, morays, crocodilefish and humpead wrasse. You should also keep an eye out for grey reef sharks, barracuda and lionfish. Experienced instructors will accompany you on your dive, point out sights of interest and make you feel comfortable.
If you would rather float on the surface, snorkeling is another option. The Makadi Bay in Hurghada has perfect conditions for snorkeling, as the reefs are shallow without any steep drop-offs. Alternatively, you can join a boat trip to the open sea in search of dolphins and other snorkeling spots.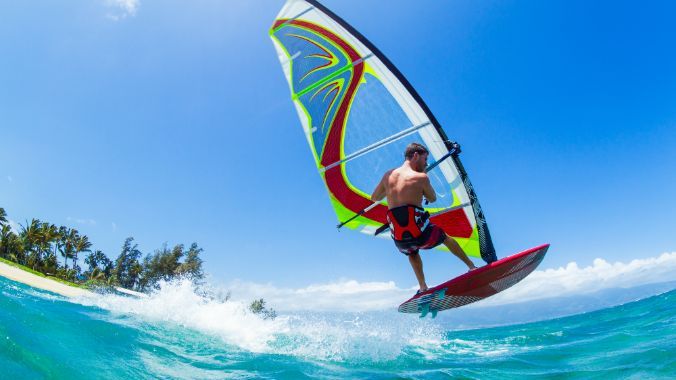 Tackle the waves with windsurfing and kitesurfing
Hurghada is an excellent location for windsurfing and kitesurfing given its flat waters, lagoons and centres offering flexible packages. This beach resort town has many different launch spots on the water, making it perfect for all levels.
Beginners can take to the shallow lagoon as practicing there is a lot easier. The more experienced can start directly from the beach where shallow areas are good for mastering maneuvers. You will find many beaches with side shore winds, flat water and a little chop on the outside.
Many beginner students can learn by the sandbanks off the beaches, which are upwind. The shallow areas will appease freestylers and some windsurfing centres create ramps for tricks. Our Egypt tours will assist you with choosing a centre, arranging lessons and renting equipment.
The sport of kitesurfing is relatively easy, especially when the conditions are so seamless. This activity is a good choice to try on your holiday as you can learn the basics quickly. The long wind season in Hurghada is ideal for beginners and those wanting to improve. Shallow areas off the coast are dedicated to beginners and separate launch areas are for the experts.
The accommodation that you will stay in on your Egypt tour is carefully selected so that you are in close distance to all the main watersport facilities and the best beaches. Your expert guide will ensure that the centres you use are highly reputable with qualified instructors and trainers.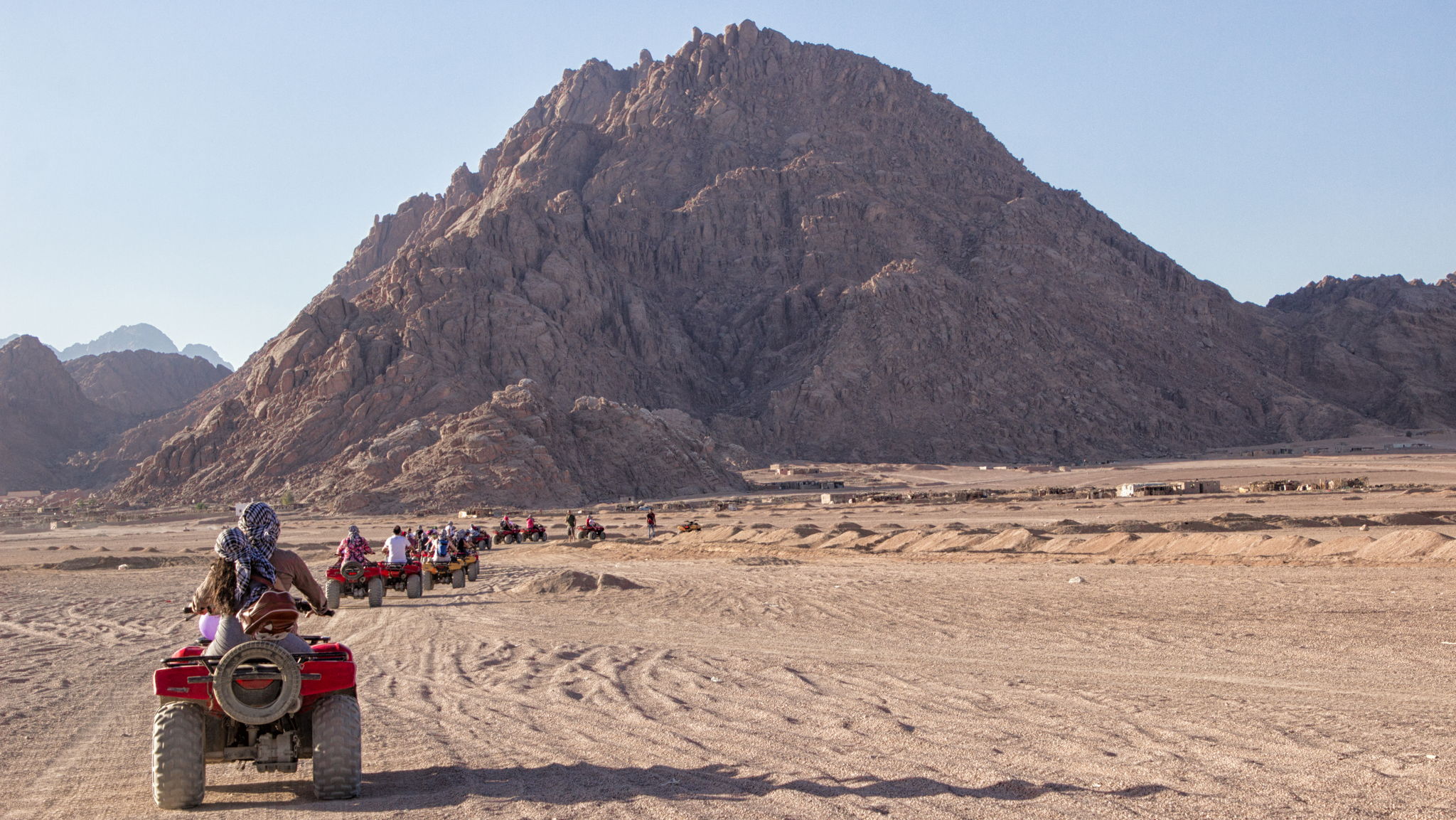 Go inland for adventure
Not all activities in Hurghada take place at sea - the nearby El Gouna desert also calls for adventuring. Quad biking safaris depart from the town and head off into the sand dunes. Some of these tours take up to five hours and you can race over steep hills before arriving at a Bedouin camp. Our Egypt tours will assist you with making any arrangements.
Many quad biking centres in the town promise a day of desert exploration and often include a traditional Bedouin meal. Before you zip off into the dust, you will spend some time at a quad biking training centre to get to grips with turning and the automatic gearbox. We also recommend doing a sunrise or sunset quad biking safari.
If you want to take it slower, camel riding tours also venture into the desert. This is a wonderful way to explore the Eastern desert landscape and soak up the sights at a relaxed pace. It is possible to enjoy a camel ride along one of the beaches too. When visiting the Bedouin camps on the other safaris, you can enjoy camel rides around the villages.
Another way to traverse across the desert terrain is by beach buggy. These tours also head to Bedouin camps before driving up the surrounding mountains. Travelling at high speeds, the beach buggy will go across smooth sands passing by expansive valleys.
Visiting a Bedouin village outside of Hurghada is a cultural highlight and a brilliant opportunity to interact with the local people. You will get a chance to taste the famous Bedouin tea and smoke a hookah pipe. You will also learn about the life of the Bedouin people.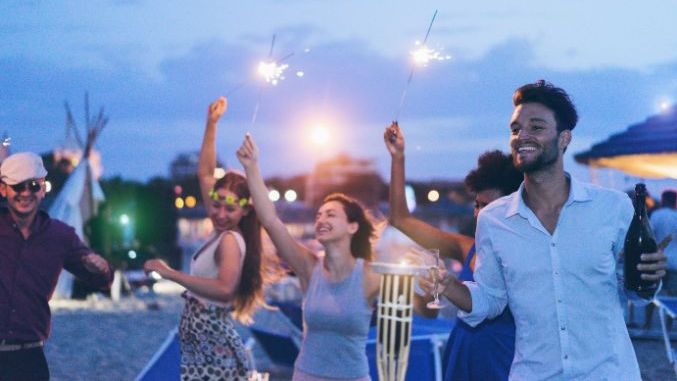 Experience the nightlife
When the sun sets and the boats return to shore, the town of Hurghada comes alive. Open-air dance clubs, bars and restaurants spill out onto the street with revelers drinking luminous drinks and swaying to techno tunes. Some of the higher-end clubs require entrance fees and feature dance shows.
The Ministry of Sound is one of the trendiest clubs in the town with a 1,5000 person capacity venue and impressive DJs. There is a different party every day of the week and themed nights with decor and music. For a more chilled ambience, there are plenty of cocktail bars where you can lounge.
This former fishing village is now one of the Red Sea Rivera's premier party hotspots. Hurghada used to only be known as one of the region's best scuba diving destinations, but thanks to the constant flock of international tourists, the nightlife has thrived. Our Egypt tours make sure that you stay nearby the central hub so that you can be part of the festivities with ease.
Most of the tourist areas are in the Sekalla neighbourhood, positioned along the town's waterfront. Here, you can find many of the main resorts and the entertainment district. The Hurghada Marine Boulevard has more than 80 shops and boutiques, as well as restaurants and bars.
Some resorts and hotels have discos and nightclubs on their properties. Weekly shows and planned events are hosted for guests with local musicians and dancers taking to the stage. Ask your guide on your Egypt tour for suggestions on where to go in the town.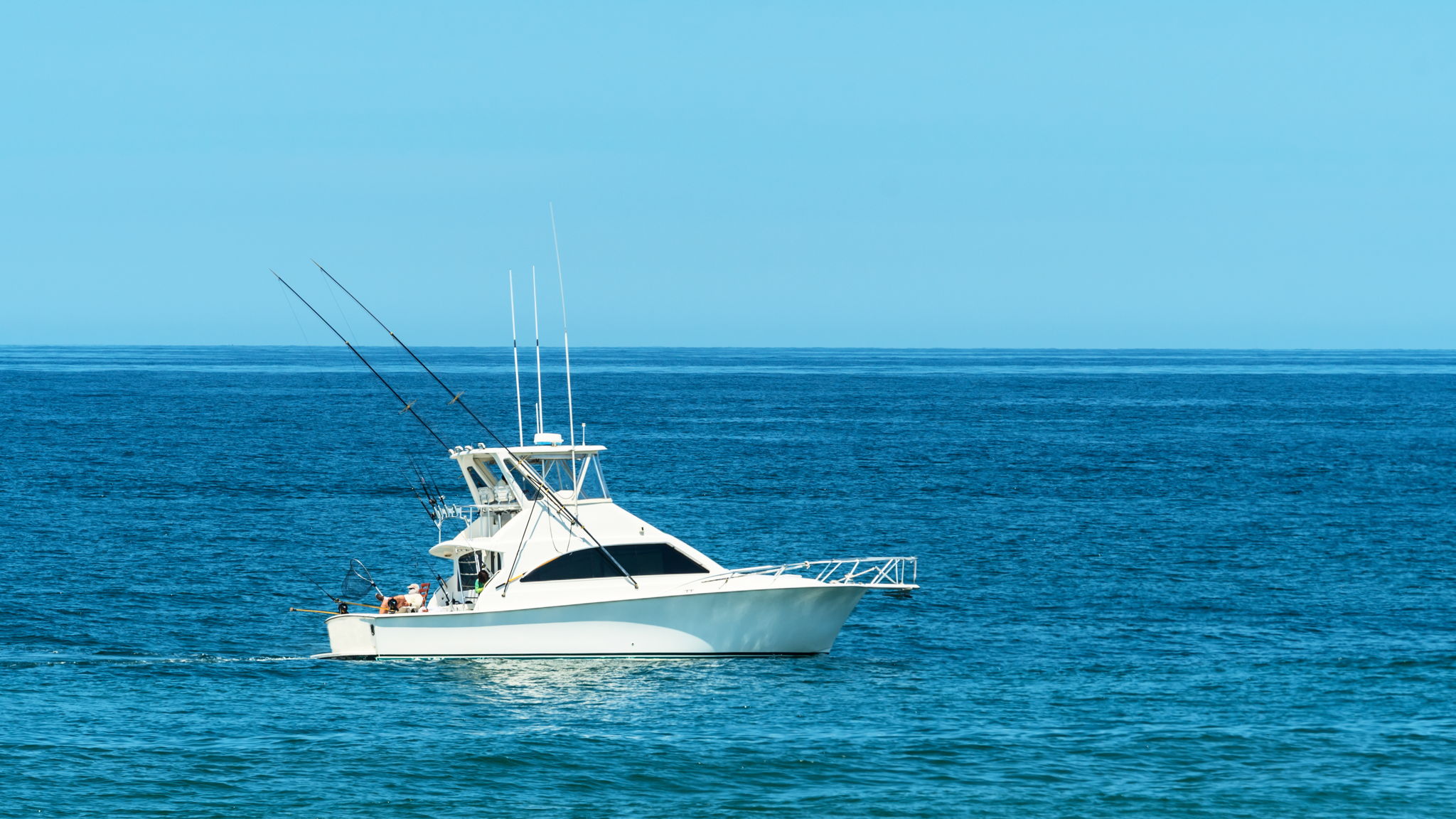 Spend the day fishing
To see the small islands of Hurghada, you can head out on a fishing trip for the day. Many boats visit two promising fishing spots where you can try your luck. Many of the fishing tours include transportation from your accommodation, a private boat and equipment.
On some of the fishing excursions you can also snorkel and scuba dive. For lunch, many tours offer a seafood buffet and if you catch a fish, it will be prepared for the meal. It must be remembered that the Egyptian law strictly prohibits spear gun fishing and harpooning.
The warm waters and weather means that Hurghada is one of the top international locations for fishing. Onboard, you will be given helpful hints and tips on casting. The fish that you are likely to catch include the coral trout, dorado, king mackerel and barracuda.
The vast shoreline features numerous fishing grounds and less populated spots. As there are quite a few protected areas, many of the tours travel far out from the harbour.
The best fishing season for the big game species in Hurghada is from December to March, as well as a small peak in July. Keen fishermen should book their Egypt tours during this time. Your expert guide on your Egypt tour can suggest and help book the best fishing trip for you.