|
The Jerash Ruins are an ancient city located in Jordan that dates back to the Greco-Roman period. It is one of the best-preserved Roman cities in the world and is a popular destination for travelers looking for a unique cultural experience. Like Petra, it's one of the main reasons travelers visit Jordan.
In this blog, we will discuss the history of the Roman ruins of Jerash, where they are located, why travelers should visit them, activities available at the site, when is the best time to visit, what type of travelers will enjoy visiting them, how much it costs to enter, opening times and days, what type of architecture they are renowned for, how safe it is to visit them, what is the recommended dress code and level of fitness needed to visit them and finally how to get there from well-known landmarks.
If you're looking for Egypt and Jordan Combined Tours, have a look at our tours above - we might have the right one for you.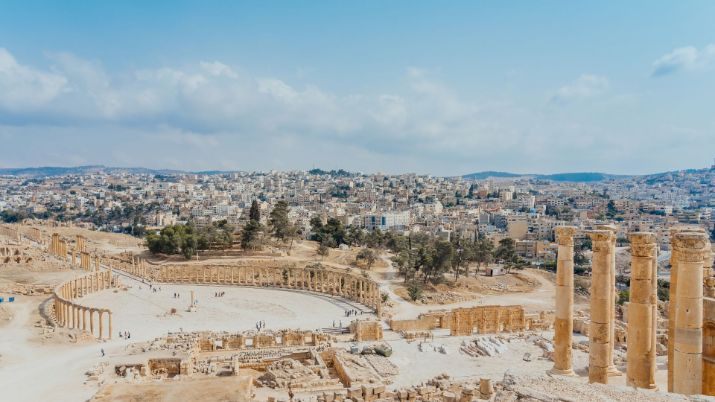 What is the history of Jerash?
The ancient city of Jerash, located in the north of Jordan, is an archaeological site that has existed since the Bronze Age.
In ancient times, Jerash was known as Gerasa and was part of the Decapolis League, a group of ten cities that formed an alliance in the first century AD. The city was founded by Alexander the Great in 331 BC and quickly grew into an important trade center due to its strategic location along major trade routes. By the first century AD, it had become a prosperous Roman city with a population of over 10,000 people. It was home to many temples and public buildings such as theaters, baths, and markets.
At its peak during Roman times, Jerash was known for its vibrant culture and artistry. It became renowned for its amphitheaters which hosted plays and concerts from some of Rome's greatest artists, such as Virgil and Horace. The city also boasted impressive public buildings, such as temples dedicated to Zeus and Athena and other gods from Greek mythology. Its streets were lined with colonnades that provided shade for pedestrians on hot days, while its walls were decorated with beautiful mosaics depicting scenes from Greek mythology.
Jerash continued to prosper until it was destroyed by an earthquake in 749 AD which caused much of the city's infrastructure to collapse or be buried under rubble. The city remained abandoned until it was rediscovered by German explorer Ulrich Jasper Seetzen in 1806, who documented his findings in his book "Travels in Syria and Palestine" which sparked interest among archaeologists who began excavating the site in earnest during the late 19th century.
Since then, numerous archaeological excavations have occurred at Jerash, revealing more about this fascinating ancient city each time. Archaeologists have uncovered many artifacts, including coins, statues, pottery shards, jewelry pieces, tools used for farming or craftsmen work, and inscriptions on stones that provide insight into daily life during ancient times at Jerash as laws governing public behavior or religious practices among others things.
Where are the ruins of Jerash located?
The Jerash Ruins are located in northern Jordan approximately 50 kilometers north of Jordan's capital city of Amman. It lies on a large plateau surrounded by mountains which provide stunning views of the surrounding landscape. It was divided into two parts: an upper city and a lower city. The upper city contained temples, public buildings, and private homes, while the lower city contained markets and workshops.
The ruins at Jerash have been carefully preserved over time due to their location on flat land with no nearby rivers or streams that could cause erosion or flooding. This has given visitors a real sense of what life must have been like during Roman times when they visit these ancient sites today. In addition to its preservation efforts, Jerash also offers visitors plenty to do, such as exploring its many archaeological sites or taking part in its annual festival that takes place every July, where traditional dances are performed on stage as well as other cultural activities like music and food tastings from local vendors.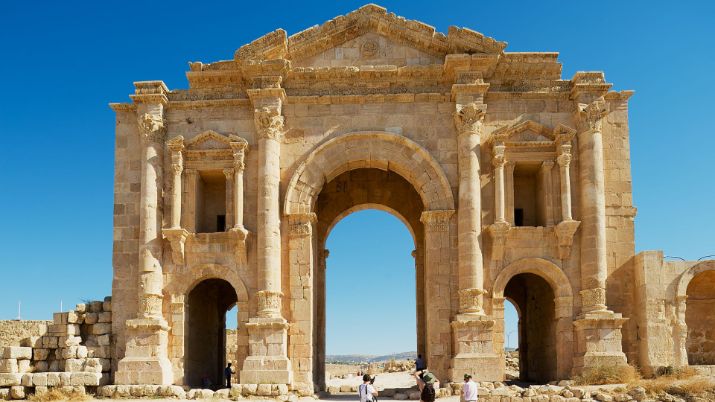 Why should travelers visit the Jerash Ruins?
Travelers should visit the Jerash Ruins because they are a remarkable example of the ancient world. The ruins are located in Jordan and are considered one of the best-preserved Roman cities in the world. There is so much to explore and discover at the Jerash Ruins, making them a must-see destination for any traveler.
The first thing travelers will notice when they arrive at the Jerash Ruins is its impressive size. The city was once home to over 20,000 people and was one of the most important cities in the Roman Empire. As a result, it has an incredibly well-preserved layout that includes several impressive monuments, temples, and other structures.
The most famous structure at the Jerash Ruins is its amphitheater. This massive structure was built during the 2nd century AD and could seat up to 15,000 people. It is still used today for concerts and performances, allowing visitors to experience what it was like to watch a show in ancient times.
Another highlight of visiting the Jerash Ruins is exploring its many temples and monuments. The Temple of Zeus is one of the most impressive structures at Jerash; it was built during the 1st century AD and is dedicated to Zeus, king of all gods in Greek mythology. Other notable monuments include Hadrian's Arch, which marks the entrance into Jerash from its western side, and The South Gate, which dates back to around 200 AD and serves as an entranceway into the city from its southern side.
In addition to exploring these fantastic structures, visitors can participate in fun activities at Jerash Ruins, such as camel rides or horseback riding through its streets. There are also plenty of souvenir shops where travelers can purchase unique items, such as jewelry or pottery crafted by local artisans.
Finally, visitors should also appreciate nature while visiting Jerash Ruins by walking through its lush gardens or admiring its stunning views from one of its many hillsides. No matter what you choose to do while visiting this great site, you will have an unforgettable experience that will stay with you for years to come!
Are any activities available at the Jerash Ruins, and if so, what are they?
One of the most popular activities at the Jerash Ruins is exploring the ruins. Visitors can take a guided tour or explore on their own, taking in all of the amazing sights that this ancient city has to offer. The ruins are full of fascinating artifacts, buildings, and monuments that tell stories about life during Roman times. There are also plenty of places to take pictures and capture memories of your visit.
Another activity available at the Jerash Ruins is attending one of their many events. Throughout the year, various events are held at the ruins, such as musical performances, theatrical productions, and educational lectures. These events allow visitors to learn more about ancient Roman culture and history while being entertained by some amazing performances.
The Jerash Ruins also offer a variety of educational programs for both children and adults. These programs include guided tours, workshops, lectures, and even archaeological excavations for those interested in learning more about archaeology. These programs provide visitors with an opportunity to gain a deeper understanding of this incredible site while having fun at the same time.
If you want something more adventurous than exploring or attending events, try outdoor activities at the Jerash Ruins. One popular activity is horseback riding, allowing visitors to explore more remote areas around the ruins while enjoying the fresh air and beautiful scenery. Plenty of hiking trails are located nearby for those who prefer to explore on foot.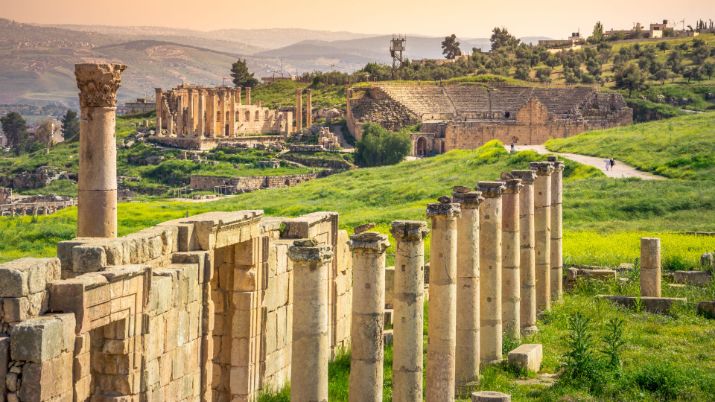 When is the best time to visit Jerash?
The Jerash Ruins are an incredible archaeological site that offers a unique glimpse into the past, and the best time of year to visit them depends on what type of experience you're looking for.
Regarding weather, the best time to visit the Jerash Ruins is during spring and autumn. During these months, temperatures are mild and comfortable, making it ideal for sightseeing and exploring. Springtime brings lush greenery to the area, while autumn offers a clear view of the ruins with fewer crowds. However, summer may be your best bet if you're looking for a unique experience.
During summertime, temperatures can reach 40 degrees Celsius (104 Fahrenheit), meaning fewer crowds at the ruins. This makes it an ideal time for those who want to explore without worrying about large groups of people getting in their way. Additionally, in summer, many festivals take place in Jerash, so visitors can enjoy traditional music and dance performances while exploring the ruins.
So if you're planning a trip soon, consider visiting during spring or autumn for mild temperatures or during summertime if you'd like a unique experience!
What type of travelers will enjoy visiting the ruins of the ancient city of Jerash?
Any traveler who loves history or archaeology or wants a unique cultural experience will find something special at these ruins! The city was first settled in the 6th century BC and was once part of the Roman Empire. As you wander through its ruins, you'll see evidence of its long history - from ancient temples to colonnaded streets. You can also visit some of its most famous landmarks, such as Hadrian's Arch and The Oval Plaza. These sites offer a fascinating insight into how life was lived in this ancient city.
Adventurers will also find plenty to enjoy at Jerash. The site is home to incredible hiking trails that take you through breathtaking scenery. There are also plenty of opportunities for mountain biking, horseback riding, and other outdoor activities that are sure to get your adrenaline pumping! Plus, there are plenty of places to camp out if you want to spend a night under the stars in this magical place.
Finally, those who love exploring new places will find something unique at Jerash. The site is home to some incredible architecture - from ancient temples to Byzantine churches - so there's plenty for visitors to marvel at here. Plus, with its stunning views over Jordan's countryside and its unique cultural heritage, it's easy to see why so many people flock here year after year!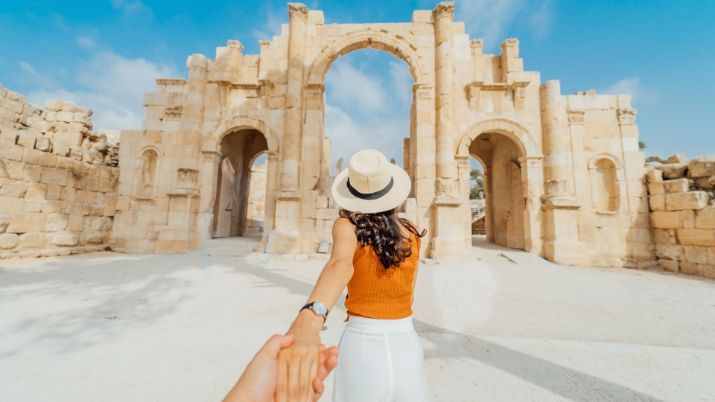 How much does it cost to visit the Jerash Ruins?
The entrance fee for the Jerash Ruins is 10 Jordanian Dinars (JD) for adults and 5 JD for children under 12. This fee covers access to all the ruins and attractions in the area, including the archaeological sites, museums, and gardens. In addition to this entrance fee, there are additional fees for certain activities, such as horseback riding or camel rides.
In addition to these fees, visitors should know that additional costs are associated with visiting Jerash. For example, if you plan on staying overnight in Jerash or nearby areas, you must pay for accommodation. Several hotels and guesthouses in Jerash offer reasonable rates for overnight stays. Additionally, if you plan on eating at any of the restaurants or cafes in Jerash, you will also need to pay for your meals.
Finally, visitors should also be aware that additional costs may be associated with transportation when visiting Jerash. If you travel by car from Amman or another nearby city, you must pay parking fees at specific locations throughout Jerash. Additionally, if you plan on taking a taxi from Amman or another nearby city to get to Jerash, you will need to pay the taxi fare as well.
What time does the Jerash Ruins open? Which days is it available?
The opening hours for the Jerash Ruins vary depending on the season, but generally, it opens from 8 am to 6 pm every day except Fridays and Sundays. During peak season (May-October), it opens from 8 am to 7 pm every day except Fridays and Sundays. On Fridays, it remains closed as a mark of respect for the Muslim holy day. On Sundays, it opens from 8 am to 2 pm only.
It is important to note that during peak season, there are often long queues at the entrance gates, so visitors should arrive early to avoid disappointment. The site also closes earlier than usual on specific days, such as Christmas Eve and New Year's Eve, so visitors should check before they plan their visit.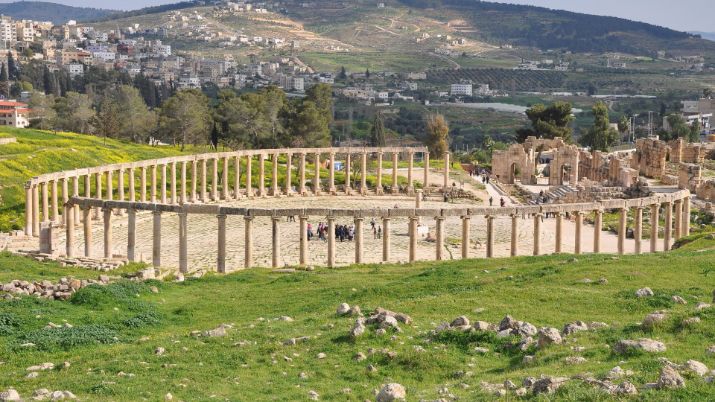 What type of architecture is the Jerash Ruins renowned for?
The most impressive examples of Greco-Roman architecture at Jerash can be seen in its two main squares: the Oval Plaza and Cardo Maximus. The Oval Plaza is a large open space surrounded by colonnades with Corinthian capitals on each column. This plaza was a gathering place for festivals and public events such as chariot races or theatrical performances. The Cardo Maximus is a long street lined with columns running through the city's centre from north to south. This street was used to divide different city sections and provide access to important buildings such as temples or public baths.
In addition to these two main squares, there are also several other impressive structures at Jerash including temples dedicated to Zeus, Athena, Artemis, and other gods; a theater; an amphitheatre; several churches; bathhouses; private villas; fountains; gates; walls; and more. All these structures were built using traditional Greco-Roman techniques such as arches, vaults, columns, pediments, cornices, entablatures, capitals, pilasters, architraves, friezes, cornices and more.
The ruins at Jerash are remarkable not only for their stunning architecture but also for their remarkable state of preservation over centuries. Despite being damaged by earthquakes in 749 CE and again in 747 CE, much of the city remains intact today due to its remote location in Jordan's desert landscape. This has allowed archaeologists to study how Greco-Roman architecture evolved while preserving many original features, such as columns or mosaics, that have been held since antiquity.
How safe is it to visit the Jerash Ruins?
It's generally safe to visit the Jerash Ruins. The Jordanian government takes safety seriously and has implemented measures to ensure visitors' safety. In addition, there are no known terrorist threats in the area, and crime rates are low.
That said, there are a few things to remember when visiting the Jerash Ruins. First and foremost, it's important always to be aware of your surroundings. Be mindful of who is around you and where they are going. It's also important to dress modestly when visiting religious sites such as churches or mosques; this will help avoid potential conflicts with locals who may take offense at more revealing clothing styles. Additionally, it's best not to carry large amounts of cash or expensive jewelry with you while exploring the ruins; pickpockets can be a problem in some areas.
Knowing local laws and customs is essential when visiting the ruins. For example, Jordan has strict laws against drug use and possession; if caught with drugs, you could face serious legal consequences, including jail time or deportation. Additionally, alcohol consumption is not allowed in public places; if caught drinking in public, you could face fines or even jail time, depending on the severity of your offense.
Finally, it's important to be aware that some areas of the ruins may not be safe for visitors due to unstable structures or other hazards such as sinkholes or falling rocks. Be sure to follow signs indicating which areas are off-limits for safety reasons, and only attempt to enter a restricted area with permission from local authorities first.
What is recommended dress code for visiting these ruins?
First and foremost, it is important to wear comfortable clothing when visiting ruins. You may be walking around for hours, so it is important to wear something that allows you to move freely without being too tight or restrictive. It is also a good idea to wear layers to adjust your clothing depending on the weather conditions. For example, if it's cold outside, you can add a jacket or scarf; if it's hot, you can take off some layers.
It is also essential to wear shoes that provide good support and grip for walking on uneven surfaces. Closed-toed shoes such as sneakers or hiking boots are best as they offer more protection than sandals or flip-flops. Ensure that your shoes are comfortable and not too tight, which could cause blisters or other foot problems while walking around the ruins.
When visiting ruins, it is also recommended to wear clothing covering your arms and legs. This will help protect your skin from the sun's rays and any sharp objects or debris at the site. It is also important to remember that some sites may have strict dress codes, such as no shorts or tank tops, so check before visiting any site to avoid potential issues with local authorities.
What is the recommended level of fitness needed to visit these ruins?
As most sites within these ruins can be accessed via stairs, visitors should have a moderate level of fitness to comfortably explore all areas without quickly becoming too tired!
What is the easiest way to get there from well-known landmarks in the surrounding area?
From Amman's Queen Alia International Airport, you can take either bus number 18 (which takes around 1 hour) or a taxi (which takes about 45 minutes) directly to Jerash, where you can begin your exploration!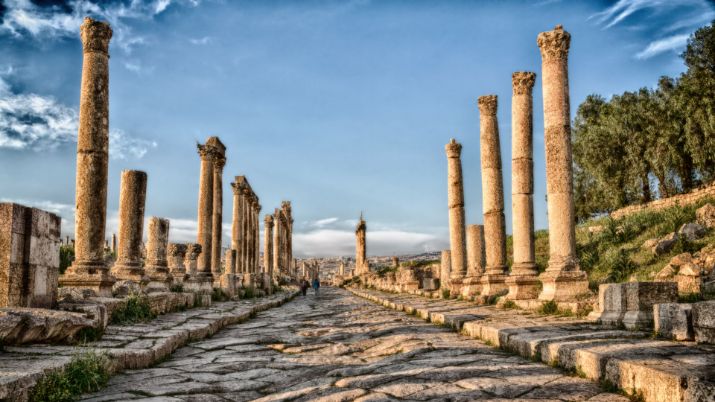 FAQs about the Jerash Ruins by travelers
How was Jerash destroyed?
The first major destruction of Jerash occurred in 749 CE when an earthquake struck the city. The quake caused extensive damage to buildings, including the Temple of Artemis, which was destroyed. This event marked the beginning of a long period of decline for Jerash.
In 1071 CE, another earthquake struck Jerash and caused further destruction to the city. This event was followed by a series of invasions by various forces, including the Seljuks in 1098 CE and the Crusaders in 1187 CE. These invasions caused significant damage to Jerash's infrastructure and weakened its defenses against further attacks.
In 1251 CE, an army led by Sultan Baibars invaded Jerash and laid siege to it for several months. Much of the city's infrastructure was destroyed or looted during this time. The invaders also burned many buildings and monuments that had survived previous earthquakes and invasions. This event marked the end of Jerash as a major trading hub and its decline into obscurity over subsequent centuries.
The final destruction of Jerash occurred in 1759 CE when an earthquake struck again, causing extensive damage to buildings throughout the city. This earthquake caused most remaining structures to collapse or be severely damaged beyond repair leading to their eventual abandonment or demolition.
Today, much of what remains from Jerash is ruins from these various disasters preserved through archaeological excavations. Despite these disasters, some monuments have survived, such as Hadrian's Arch, which still stands today despite being damaged during various historical invasions.
Is Jerash a World Heritage Site?
The city has been recognized as a World Heritage Site by UNESCO since 2002 for its historical significance and outstanding universal value. UNESCO states that Jerash "is an outstanding example of a provincial Roman town in the Near East" due to its "remarkably well-preserved monuments", which "bear witness to a long period of human occupation".
How long should I spend in Jerash?
The answer to this question depends on what you want to get out of your visit. If you're looking for a quick overview of the city, then you can spend a day or two in Jerash. However, if you want to explore all that Jerash has to offer, you should plan to spend at least three days there. This will give you enough time to visit the significant sites and experience some of the local cultures.