|
Much like Santorini, the Greek island of Mykonos enjoys an elite status as being one of Greece's most popular tourist destinations. The island is known for its super-stylish hotels, great beaches and summer party atmosphere (in-fact, some of the wildest nightlife in Greece).
We've listed a few of our favourite things to do in Mykonos below. You'll notice that we haven't talked much about the beaches or the nightlife here, but it goes without saying that Mykonos is one of the best places in Greece for spending your days on beautiful beaches and partying until dawn in the islands many world-class clubs.
You can still have an amazing holiday on Mykonos without taking in any of the party atmosphere.
The Mykonos Windmills
The windmills on Mykonos are one of the islands most iconic features and a must for any photography lover.
If you decide to travel to Mykonos by ferry the windmills will surely be one of the first features of the island you'll notice as your boat heads into the harbour of Chora (the main village on Mykonos). The island is currently home to 16 windmills, 7 of which can be found in Kato Mili, overlooking the harbour of Chora.
The windmills can be easily visited from Chora on foot and most island sightseeing tours will visit Kato Mili too.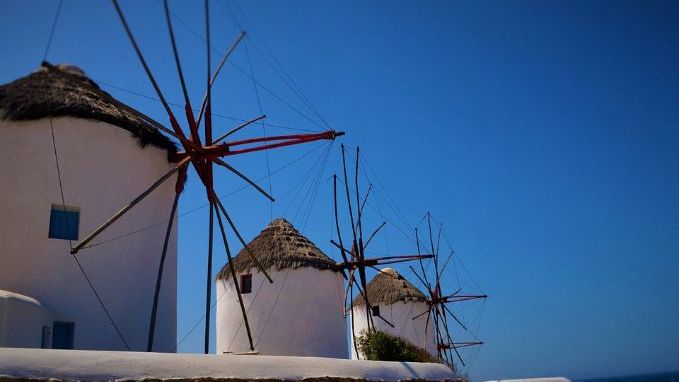 'Little Venice'
If you decide to visit the Windmills of Kato Mili, then you should definitely cool off with a refreshing drink in nearby Little Venice.
The area is known for its charming little buildings which overhanging the sea and with the backdrop of Kato Mili, this place is a real photographers dream! The sunset from Little Venice is a must-see too, although be prepared for the crowds.
Delos
OK, so strictly speaking Delos is an island in its own right and not part of Mykonos, however, we highly recommend taking a day trip here where you'll be able to walk in the mythical birthplaces of Apollo and Artemis.
The archaeological site on Delos is one of the most important in Greece and one of the most extensive in the Mediterranean. The island has been uninhabited for more than a millennia and the only way to visit the island is on a day trip from the nearby islands, so don't miss the opportunity to visit this sanctuary of the gods.
Where to stay?
It's not difficult to find a good place to stay on Mykonos. The island has attracted discerning travellers for years and as such, has some of the best hotels in Greece.
Choosing which area of the island in which to base yourself depends on the type of trip you are looking for (though the island does have a well-connected public transport network, so it's always easy to get around).
If nightlife, shopping and eating out are your requirements, then look no further than Mykonos Town. The area around Mykonos town has the most luxury hotels and best selection of restaurants, bars and clubs.
If you are looking for a quieter stay then you could consider one of the beach resorts such as Ornos, Platis Gialos, Aghios Ionnis or Psarou, though you can still explore Mykonos Town and other parts of the island using the public transport network.
In terms of types of property, Mykonos really has it all - Guest Houses, Boutiques, Luxury hotels, you'll really be spoiled for choice!
Food and Drink
Food and drink are subjective, but in my humble opinion, it's hard to beat Greek food. With age-old traditions, combined with influences from both East and West, modern Greek cuisine has the perfect combination of fresh ingredients and flavour sensations, and Mykonos is sure to satisfy even the most discerning foodie.
With so many restaurants to choose from, you won't have a problem finding somewhere to eat, but there are a few dishes which Mykonos is known for which you really should try!
The first of these is for the cheese lovers among us. Kopanisti is a deliciously spicy, salty cheese which has been produced in Mykonos for over 300 years. It has PDO (Protected Destination of Origin) status so you shouldn't miss the opportunity to try this delight in its rightful home.
Whilst we're talking about cheese we can't forget Ksinotira, which is known for its strong flavour and sour taste. This cheese is left to mature in the sun which gives it a truly unique quality.
For the carnivores, Mykonos has its very own delicacy. Louza is a traditional Mykonian dish consisting of air-dried slices of pork, seasoned with a mix of savoury and allspice.
Ouza is the probably the most famous drink in Greece, but I'd recommend trying its sister drink Tsipouro which tends to be more popular with the local Greek population. It is a type of brandy made from white grapes and distilled multiple times to give it its distinct strong flavour and high alcohol content.
How to get to Mykonos?
Mykonos is easily reached from the Greek mainland and its neighbouring islands by both ferry and domestic flight.
The island also has a very well-connected international airport.
If you are combining your visit to Mykonos with visits to other parts of Greece, we would highly recommend that you travel in at least one direction by local ferry. The views when heading into the Harbour are incredible and shouldn't be missed.