|
,
Home to some of the best beaches on the planet and boasting nearly low-lying coral 1,200 islands & sandbanks, these are just some of the many reasons why millions of people flock to this Indian Ocean paradise each year.
If you're planning a trip to the Maldives, here are our top things not to miss - just in case you need some help with your to-do list.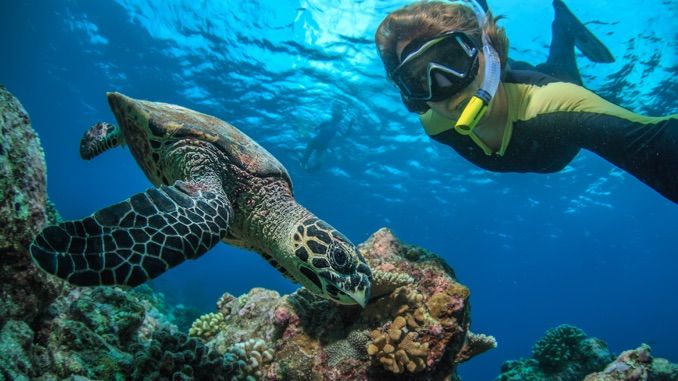 Snorkelling
The Maldives is renowned for its calming blue waters and pleasantly warm temperatures, making it one of the best places in the world for snorkelling.
With more than 1,200 islands surrounded by colourful reefs that team with brightly coloured fish, and other marine life, the Maldives doesn't disappoint when it comes to finding the perfect spot to jump in the water and explore the world down under.
The diversity of the marine and sea life in the Maldives is filled with over 2,000 species of fish that ranges from tiny fish that dart in and out the corals to black-tipped reef sharks, and not forgetting the dolphins, manta rays, moray eels, eagle rays, stingrays, turtles, and the ever famous whale shark - the largest fish in the ocean!
With countless luxury resorts and seaside hotels that offer snorkelling, there's no reason why this fun-filled activity should be at the top of your list of things to do on your bucket list for the Maldives.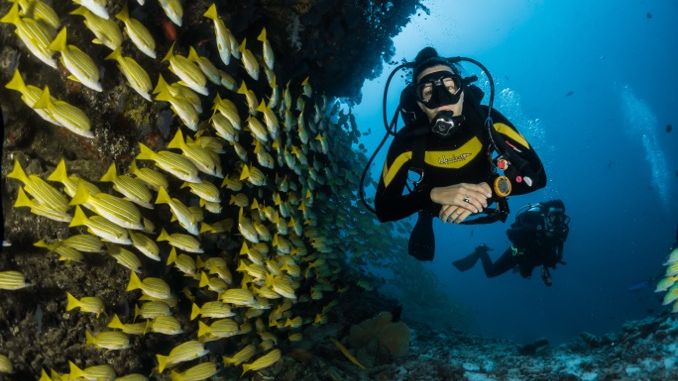 Diving
With its crystal-clear waters and great visibility, the Maldives is the idyllic scuba diving paradise offering several different environments, such as:
Faru - another name for reefs in the Maldives. This could be the outer reefs of the atolls and the reefs of the island.
Giri - this is a circular reef that reaches the top of the surface and can be found inside the atoll and in large lagoons.
Thila - this is where you will find a variety of marine life such as a wealth of fish life including reef sharks. Although most thilas are small peaks, it can be affected by strong currents at times.
Wrecks - although there are plenty of wrecks that can be found in the Maldives, they are usually visited for the fish at the site as opposed to the wreck itself.
Channel - A channel or pass is where the atoll meets the ocean and is the gateway to the atoll. For most life, it is best to dive at channels when there is incoming current, but some spots do offer good dives during outgoing current as well. Underwater photographers will appreciate the geography that some channel reefs have that includes caverns, swim-throughs, undercuts, and overhangs full of colourful sponges and invertebrates.
Lagoon - most islands and big reefs have its sandy bottom lagoon protected from the current which is ideal for beginners learning to scuba.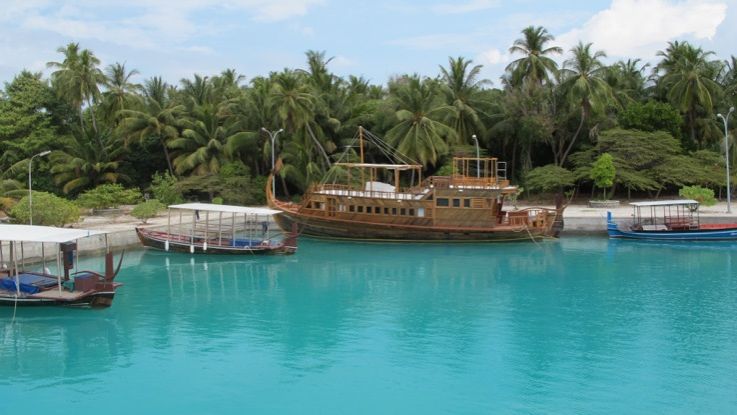 Traditional Dhoni sunset cruises
Experience the turquoise lagoons of the extraordinary islands of the Maldives by traditional dhoni and discover countless perfect beaches and local way of life. Enjoy uninterrupted sunset views over the Indian Ocean with calm waters and white sandy beaches forming the most magnificent backdrop.
A sunset cruise: Here you'll join a daily excursion available from most resort islands setting off between 6 - 6:30 pm and slowly making their way out into the open ocean, leaving you with panoramic views of the surrounding lagoons, beaches, and islands
Romantic evening cruise: A traditional Dhoni utilises lateen sails, and the absence of a motor makes for a completely tranquil cruise into the Indian Ocean sunset - perfect for an unforgettable evening with that special someone. You will have many opportunities to take your perfect picture as you watch the sky fill an array of golden colours before the sun will eventually slip out of sight.
Dolphin watching: Dolphins tend to be a common sight when on a sunset cruise around the Maldives, so keep your eyes peeled for the various dolphin species such as the bottlenose dolphin, spinners and stripper dolphins. Whales, eagle rays and turtles are also known to breach the surface at this time in the evening, particularly in the areas surrounding the coral reefs.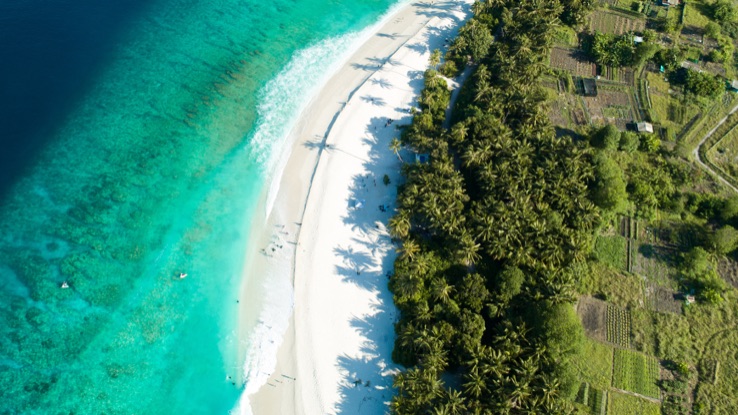 Island hopping
While lazing around on the significance of an exclusive island, the Maldives is made up of 200 inhabited islands - so island hopping would be branching out from your dream-like resort island living to see how diverse the Maldives is by exploring its local islands.
Here are three must-see islands to visit to get a true sense of the Maldives:
Malé: Although remarkably small its hugely busy and offers an endless list of things to see and do - from historical, religious, and cultural sites to artificial beaches, local markets and excellent restaurants.
Maafushi: A local island that's home to vivid houses and quaint local shops with locals that are as friendly as can be - it gives travellers an insight into the Maldivian culture and the daily lives of the locals. You can also indulge in water-based activities here or simply soak up the sunshine on one of the picturesque beaches.
Kanuhura: Only 1,4km long with immaculate beaches on every side and elegant that boasts a sophisticated bohemian flair. Any holiday here is enhanced by top-notch culinary experiences, water sports, novel classes and so much more--it truly is the ultimate resort island.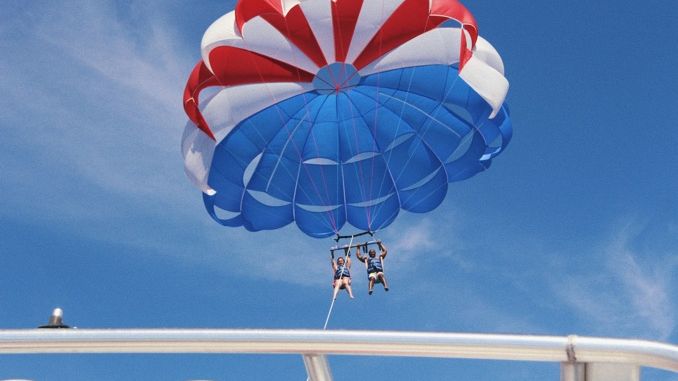 Parasailing
If you're looking for a thrill-seeking adventure, then parasailing in the Maldives is sure to be on it. This sport involves being strapped on a parachute, while attached to a vehicle. As the vehicle starts moving, you are pulled up in the air. In the Maldives, it is a watersport performed using a speedboat.
Parasailing doesn't take any effort on your part and requires no training, so all you need to do is sit back and relax as you soar up in the air and enjoy the view of the lavish blue ocean.
If you're a first-timer, you can even have an expert accompany you in the air. Plus, there is no wrong time to plan your trip, as the Maldives has plenty of sunshine all year round. However, to make sure you do not get stuck in a drizzle, ask the hotel staff to check the weather before you make your booking.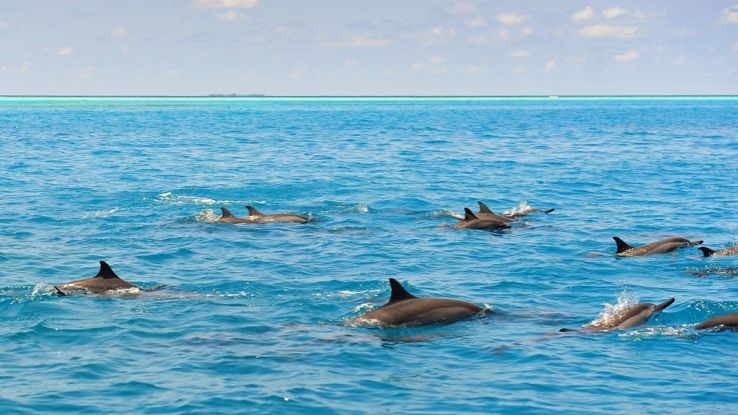 Dolphin spotting
No matter how alluring the Maldives may be if you haven't gone dolphin watching your trip just won't be complete.
Many, if not all, resorts in the Maldives offer dolphin watching excursions and it is one of the most popular among tourists. However, resorts can't guarantee that you will see dolphins - It's a matter of chance, sometimes dependent on weather conditions and seasons.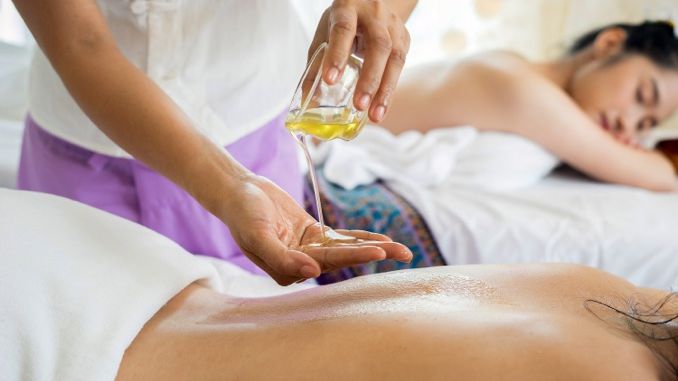 Underwater spa
In the wise words of Sebastian from The Little Mermaid, "darling it's better down where it's wetter... under the sea," and when it comes to the underwater spa in the Maldives, we couldn't agree more!
Huvafen Fushi in the Maldives is home to Lime, the world's first underwater spa - a tranquil paradise that promises an experience like no other, one where you are mere inches away from the marine life.
Treatments here, at this underwater extravaganza, includes an assortment of treatments such as body scrubs, restorative wraps, and more. Treatments also include facials, massages, and an 'underwater dream' treatment where guests can take time to reflect on life in a private room with a spa cocktail and fresh island fruit.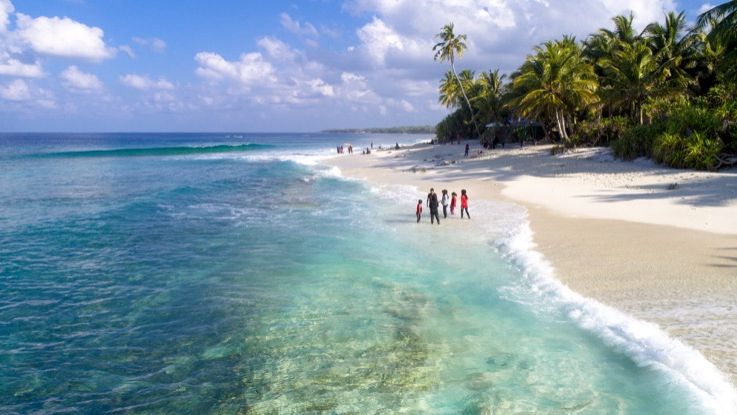 Experience the local culture
The Maldives is more than its crystal blue waters and sandy white beaches. If you look a little bit closer, you will discover a culture that is rich in history. If you're wanting to experience the local island life, here are some of our top tips:
Use the public ferry: Traveling by ferry allows you to interact with the locals.
Island history: Visit ancient sites such as the mosques, Buddhist stupas, baths, and shrines, and learn about how the Maldives converted from Buddhism to Islam.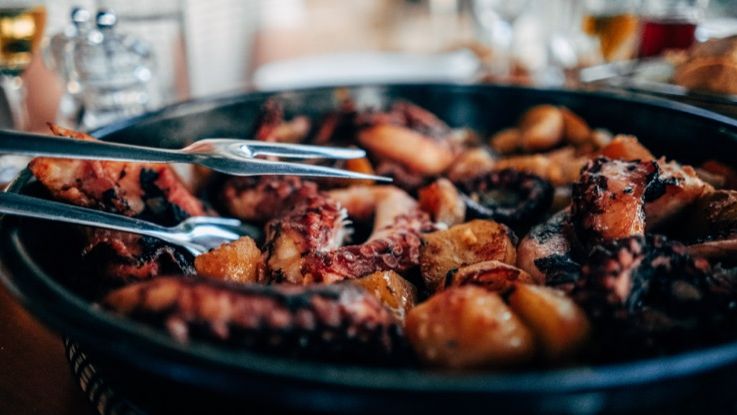 Eat the local cuisine
Your culinary experience in the Maldives is dependent on your resort - anything from haute cuisine ordered from a menu you've discussed with the chef in advance, to bangers and mash at the all-you-can-eat buffet in. What it's unlikely to be in either case is particularly Maldivian, given the disconnection of resorts from local life. However, anyone staying in Male or on an inhabited island should take advantage of this opportunity to try real Maldivian food.
If you feel like trying something both exotic and dear to Maldivian people, go for miruhulee boava (octopus tentacles). The tentacles are stripped and cleaned, then braised in a sauce of curry leaves, cloves, garlic, chilli, onion, pepper and coconut oil - yum!
Dare to take your next adventure to this island paradise - this tropical haven is the ideal destination for travellers looking to soak up some vitamin D in the most sublime of settings and where luxury comforts abound, the type where your island holiday dreams can become a reality.