|
Kerak Castle is an ancient fortress located in the city of Kerak, Jordan. It is one of the most important castles in the region and has been a major stronghold for centuries. Built by the Crusaders in 1142, it was a key strategic point for them in their fight against Saladin's forces. Today, it is a popular tourist attraction and a great place to explore Jordan's history and culture.
If you're looking for Egypt and Jordan Tours from India, have a look at our tours above - we might have the right one for you.
What is the history of Kerak Castle?
The castle was first built during the Crusader era in 1142 by Pagan the Butler, a Crusader lord from France. It was initially constructed as a small fortification to protect the area from Muslim forces. Over time, it grew into a much larger castle with multiple towers and walls designed to protect the city from attack.
The castle was strategically important due to its location near the crossroads of two major trade routes. This made it an ideal spot for travelers and merchants to rest before continuing their journey. During this period, Kerak Castle was also used as a military base by both Christian and Muslim forces. In 1183, Saladin (Salah ad-Din Yusuf ibn Ayyub) captured the castle after a lengthy siege, and it became part of his Ayyubid dynasty.
Kerak Castle remained under Ayyubid control for centuries until 1263, when Baibars, the Mamluk Sultan of Egypt, captured it. During this period, Kerak Castle underwent extensive renovations and expansion, including adding new towers and walls and building an underground water system for defense against siege warfare. In 1291, however, Baibars' forces were defeated by the Mongols at Ain Jalut, which marked the end of Mamluk's rule in Jordan.
Kerak Castle then passed through various hands over the next few centuries, including those of Mamelukes from Egypt, Ottomans from Turkey, Bedouins from Arabia, and Hashemites from Jordan until it eventually came under Jordanian control in 1921 following World War I. During this period, Kerak Castle underwent more renovations to make it more livable for its inhabitants and used as an administrative center for local government officials.
Today, Kerak Castle is one of Jordan's most popular tourist attractions due to its long history and impressive architecture. It includes two main towers and several smaller ones connected by an intricate network of walls and tunnels spanning three levels inside the fortress. It is also home to several museums that showcase artifacts related to its past, such as weapons used during battles and coins minted during different historical periods.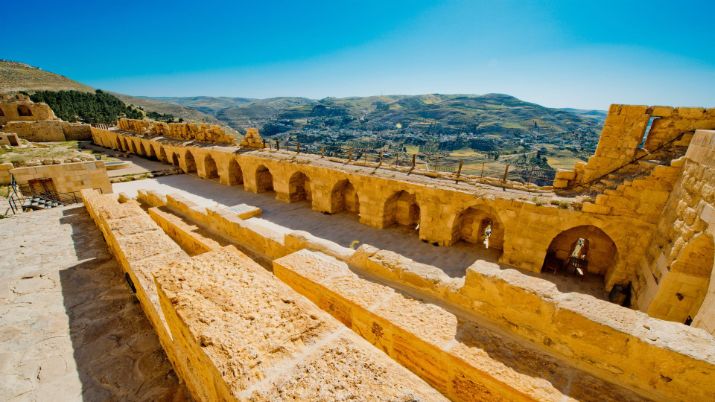 Where is the Kerak Castle located?
Kerak Castle is located in southern Jordan, approximately 80 kilometers south of Amman. It stands on a hilltop overlooking Wadi Mujib Valley and is surrounded by rugged mountains.
Why should travelers visit Kerak Castle?
First, Kerak Castle is an impressive structure that dates back to the 12th century. Crusaders built it as a stronghold against Muslim forces during the Middle Ages. The castle features several towers, walls, and courtyards preserved over time. Visitors can explore these areas and learn about their history and significance to Jordan's past.
Second, the castle offers stunning views of the surrounding area. Visitors can take in breathtaking views of Jordan's countryside and desert landscape from its vantage point on a hilltop overlooking Wadi Mujib Valley. It's also possible to see nearby villages, mountains, and other landmarks from this vantage point.
Third, visitors can learn about the castle's role in Jordanian history through guided tours offered by local guides or self-guided tours using audio guides or brochures at the entrance gate. During these tours, visitors will learn how this fortress played an important role in protecting Jordan from foreign invasions throughout its history. They will also better understand how it has been preserved over time despite numerous battles that have taken place here over centuries.
Fourth, travelers can enjoy traditional Jordanian cuisine while visiting Kerak Castle. Several restaurants near the entrance gate offer delicious local dishes such as hummus with pita bread or kofta (spicy meatballs). Visitors can also purchase souvenirs such as traditional jewelry or pottery from nearby shops for a unique memento of their trip to Jordan.
Finally, travelers should visit Kerak Castle for its unique atmosphere and ambience that cannot be found anywhere else in Jordan. The castle grounds are filled with lush gardens and ancient ruins that provide visitors awe-inspiring beauty and tranquility not found anywhere else in the country.
What activities are available for travelers at Kerak Castle?
Visitors to Kerak Castle can explore its fascinating features, including its walls, towers, courtyards, and dungeons. There are also plenty of activities to enjoy while visiting this historic site.
One of the most popular activities at Kerak Castle is to take a guided tour of the castle. The tours allow visitors to learn about the history of the castle and its many features. The guides are knowledgeable and friendly, providing interesting facts and anecdotes about the castle's past. Tours are available in English and Arabic, making it easy for visitors from all backgrounds to understand what they see.
Another activity at Kerak Castle is exploring its many shops and restaurants. The shops offer souvenirs such as traditional Jordanian clothing, jewelry, pottery, and other items related to Jordanian culture. The restaurants serve up delicious local cuisine that will tantalize your taste buds. Whether you're looking for a quick snack or a full meal, there's something for everyone at Kerak Castle's eateries.
Plenty of options are also available for those looking for more active activities at Kerak Castle. Visitors can ride horseback through the countryside or participate in camel rides around the castle grounds. For those who prefer more leisurely pursuits, there are gardens where one can relax and enjoy the beautiful scenery while enjoying a cup of tea or coffee.
Kerak Castle also offers educational activities for children and adults alike. There are interactive exhibits that teach visitors about the history of Jordan's ancient civilizations and archaeological digs, allowing visitors to search for artifacts from these civilizations independently or with a guide's assistance. Lectures on various topics related to Jordan's past provide insight into this fascinating country's history and culture.
Finally, Kerak Castle hosts numerous cultural events throughout the year, such as concerts featuring traditional Jordanian music or theatrical performances depicting stories from Jordanian folklore. These events provide an opportunity for visitors to experience authentic Jordanian culture firsthand while having fun at the same time!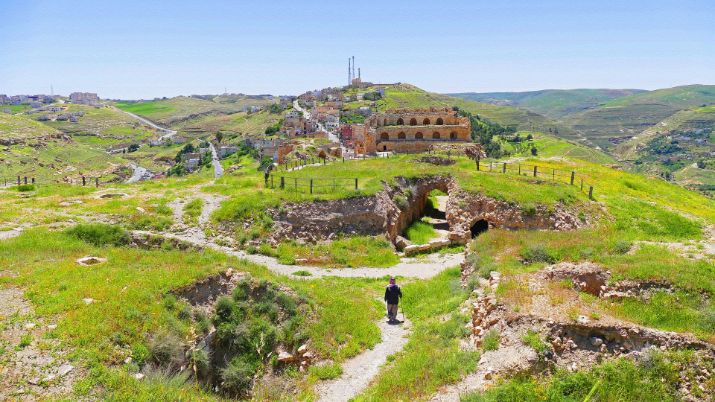 When is the best time of year to visit Kerak Castle?
If you're looking for warm weather, summer is your best bet. From June to August, temperatures can reach 40 degrees Celsius (104 degrees Fahrenheit). This makes it an ideal time for sightseeing and exploring the castle grounds. However, be aware that this time of year can also be very hot and humid, so bring plenty of water and sunscreen.
If you prefer cooler temperatures, then the winter months are your best option. From December to February, temperatures usually stay between 10-15 degrees Celsius (50-59 degrees Fahrenheit). This makes it an excellent time for outdoor activities like hiking or biking around the castle grounds. Plus, it's usually less crowded this time of year, so you'll have more room to explore without feeling overwhelmed by other tourists.
Springtime is also a great time to visit the Kerak Castle as temperatures start to warm up but aren't too hot yet. From March through May, temperatures range from 15-25 degrees Celsius (59-77 degrees Fahrenheit). This makes it an ideal time for sightseeing and outdoor activities like horseback riding or camping nearby. Plus, there are usually fewer crowds during this time of year, which makes it easier to take in all the sights without feeling overwhelmed by other tourists.
What type of travelers will enjoy visiting Kerak Castle?
Kerak Castle is a popular tourist destination in Jordan, and it's easy to see why. With its stunning views, fascinating history, and interesting architecture, the castle is an excellent place for travelers of all kinds to explore. Whether you're a history buff looking to learn more about the Middle East or an adventurer seeking an exciting new experience, Kerak Castle has something for everyone.
For history buffs, Kerak Castle is a treasure trove of information. The castle dates back to the 1140s and was once one of the most powerful Crusader fortresses in the region. It has endured many wars and battles over the centuries and remains a reminder of its turbulent past. Visitors can explore the castle's many rooms and chambers to glimpse its rich history. From artifacts left behind by previous occupants to ancient stone walls that have stood for centuries, there's plenty for history buffs to discover at Kerak Castle.
Adventure seekers will also find plenty to do at Kerak Castle. The castle sits atop a hill overlooking the city below, making it ideal for breathtaking views. Visitors can climb up to the top of the castle walls, take in panoramic views of Jordan from above, or venture down into one of its secret passageways and explore what lies beneath. Plenty of activities are available outside the castle walls, such as horseback riding, hiking trails, and even hot air balloon rides that offer spectacular views from above!
Those looking for something more relaxing will also find plenty to enjoy at Kerak Castle. Visitors can take guided tours around the grounds or sit back and relax while taking in all this historic site has to offer. There are also several cafes nearby where visitors can grab a bite to eat or enjoy traditional Jordanian cuisine while admiring their surroundings.
How much does it cost to visit Kerak Castle?
The cost of visiting Kerak Castle depends on what type of experience you are looking for. If you want to look around, you can enter for free. However, if you want to explore the castle more in-depth, several different packages are available.
The basic package costs 10 Jordanian dinars (around 14 US dollars). This includes access to the castle grounds and main attractions such as the Crusader's Hall and the Mosque of Omar. You will also be able to visit some of the smaller rooms within the castle walls and take in some stunning views from its towers.
If you want a more detailed tour, two additional packages are available. The first one costs 15 Jordanian dinars (around 21 US dollars) and includes access to all castle areas, including its inner chambers and secret passageways. The second package costs 25 Jordanian dinars (around 35 US dollars). It gives you access to all areas plus an exclusive guided tour by an expert guide who will provide detailed information about each area you visit.
Finally, if you would like to stay overnight at Kerak Castle, several accommodation options are available, ranging from basic camping sites to luxury suites. Prices vary depending on what type of accommodation you choose but generally range from 40-100 Jordanian dinars per night (around 56-140 US dollars).
What time does the Kerak Castle open? Which days is it available?
The castle opens at 8:00 am every day except Fridays when it opens at 9:00 am due to religious observance in Jordan on Fridays. It closes at 4:00 pm every day except Thursdays, when it closes at 5:00 pm due to religious observance in Jordan on Thursdays.
What type of architecture is the attraction renowned for?
The architecture of Kerak Castle is characterized by its thick walls and towers. In some places, the walls are made of stone blocks up to three meters thick. This makes them very difficult to breach and provides an effective defense against attackers. The towers are impressive, standing over 30 meters tall with crenellations along their tops for added protection.
The interior design of Kerak Castle also reflects its Crusader origins. The interior features several large halls with vaulted ceilings and large fireplaces for warmth during cold winter nights. Several smaller rooms were used as living quarters for soldiers or servants who worked at the castle. Some rooms even contain frescoes depicting scenes from medieval life or religious iconographies such as crosses or saints.
In addition to its defensive features, Kerak Castle has some aesthetic elements. Along some parts of the exterior walls, decorative arches or columns add an elegant touch to the structure's appearance. Several small gardens are scattered around the grounds, providing a peaceful respite from the hustle and bustle of everyday life outside the castle walls.
Kerak Castle is an excellent example of Crusader architecture. It has been recognized by UNESCO, who have designated it as a World Heritage Site since 2006 due to its historical significance and architectural beauty. It stands today as a testament to this unique style of architecture popular during medieval times throughout Europe and beyond.
How safe is it to visit Kerak Castle?
When visiting Kerak Castle, it's essential to consider safety. Security guards or police officers do not patrol the castle grounds, so visitors should exercise caution when exploring the area. It's also important to be aware of your surroundings and watch for suspicious activity. Additionally, it's best to stay on marked paths and avoid venturing into areas that may be unsafe.
Regarding safety, one of the most important things you can do when visiting any tourist destination is research beforehand. Ensure you know what you're getting into before arriving at the castle gates. Read up on local laws and customs, so you don't unintentionally break any rules or offend anyone during your visit. Additionally, familiarize yourself with emergency contact information in case something goes wrong while you're there.
What is the recommended dress code for visiting Kerak Castle?
The recommended dress code for visiting Kerak Castle should include comfortable shoes since some parts may be slippery due to uneven surfaces; modest clothing such as long pants/skirts that cover shoulders & knees if entering holy sites such as mosques & churches inside or near castle grounds; hats/sunglasses/sunscreen if visiting during hot days; & bringing water bottles since there may not be any water sources available inside.
What is the recommended level of fitness to visit Kerak Castle?
The recommended level of fitness for visiting the castle is moderate. This means you should be able to walk for long periods and climb stairs easily. You should also be able to carry a backpack with water, snacks, and sunscreen. If you have any medical conditions or physical limitations, it's important to consult with your doctor before attempting the journey.
If you're up for the challenge, there are several ways to prepare for your trip. First, get plenty of rest before setting out on your adventure. You'll need all the energy you can get! Additionally, start exercising regularly to build up your strength and endurance. This could include running or jogging, biking, swimming, or any other aerobic exercise that works for you.
It's also important to stay hydrated throughout your visit. Bring plenty of water and take regular breaks to rest and rehydrate when needed. Bring some snacks to refuel if necessary during your hike up the hill.
Finally, remember clothing! Please wear comfortable shoes suitable for walking on uneven terrain and clothes made from breathable fabrics like cotton or linen so that they don't trap heat or sweat against your skin while climbing up the hillside.
What is the easiest way to get to Kerak Castle?
The easiest way to get to the castle is by car. If traveling from Amman, you can take Highway 15 south until you reach Kerak. From there, it's only a few minutes' drive to the castle. You can also take a bus from Amman or other cities in Jordan that will take you directly to Kerak.
Flying into Amman is your best bet if you come from outside Jordan. Several airlines fly into Amman Airport, so finding a flight should be easy. Once you arrive at the airport, several car rental companies can help you get to Kerak quickly and easily.
Another option for getting to the castle is by train. You can take a train from Amman or other cities in Jordan that will take you directly to Kerak Station. From there, it's only a short walk or taxi ride from the castle.
Finally, you should avoid driving or taking public transportation. In that case, several tour companies offer guided tours of the area around Kerak Castle and other nearby attractions such as Petra and Wadi Rum. These tours usually include transportation from your hotel in Amman or another city in Jordan and admission fees for all attractions included on tour.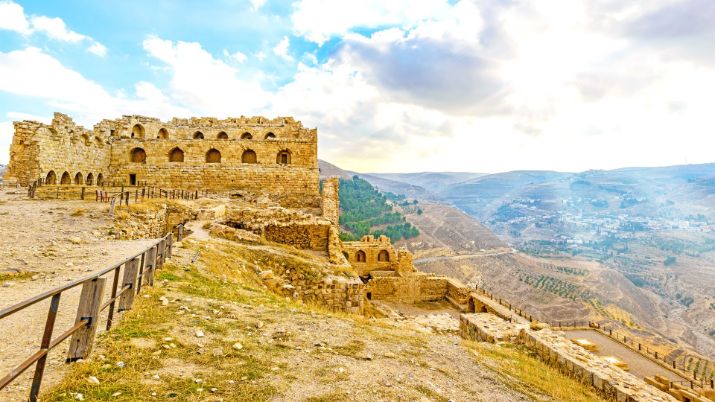 Frequently asked questions about Kerak Castle by travelers
Who won the battle of Kerak?
The Battle of Kerak was fierce and bloody, leaving many wondering who would come out on top. After days of intense fighting, the victor of the battle was ultimately decided. As the dust settled, it became clear that the Crusader forces had emerged victorious, leaving the Muslim forces in defeat. With this victory came a sense of perplexity about how such a small force had managed to overpower their larger opponents. The answer to this question lies in the courage and determination of those brave Crusader soldiers who fought against all odds and emerged victorious!
How many Crusader castles are there in Jordan?
With over 60 castles scattered across the country, you can discover a hidden history and secrets from a bygone era. From the majestic Ajloun Castle to the ruins of Kerak Castle, you can explore these ancient fortresses and uncover their secrets. So come on an adventure and discover the secrets of Jordan's Crusader castles!