|
Overland tours allow for authentic, unique adventures. Compared to the early days of overland tours when they were often conducted in ex-army trucks with wooden bench seats, overland tours today are somewhat more cushy and comfortable. However, they can still have their challenges and you need to approach every trip with an open mind and flexible attitude.
What you can expect
Breakfast
Your typical day on an overland trip will start early - we aim to never drive during the dark, and so our days are based much more around sunlight times than the clock. Your crew will have started setting things out and preparing things for breakfast, but the help of the group is always welcome too. After a hearty breakfast, its time to wash up (which everyone helps with), and then take and pack up your tent (if you're camping) or check out of your room if you're on the accommodated option. You'll get your day pack ready with things you'll want on board the truck as your main bag won't be accessible easily. In particular, it is best to be prepared for any weather changes,and having your sun hat and sun-cream on hand, as well as any camera or binoculars you've brought. Finally we pack the truck up and off we go.
Driving days
The amount of driving can vary hugely day by day. As on nearly all trips we have a lot of ground to cover, some days are used mainly as transits from place to place. Even on these long days, we will stop several times for snacks, photo opportunities, a lunch break, shopping for groceries, and at any interesting sites along the way. During the day you can chat or play cards with your fellow travellers, listen to music, or just watch the world go by out of the windows.
Lunch stops are taken where we can stop somewhere as scenic as possible .We'll get the tables and cooking gear out and either make a snack lunch of sandwiches, salads and fruit (some of which may have been prepared by the crew that morning), or purchase some roadside snacks or streetfood. After a quick clear up and re-pack, we're back on the road again.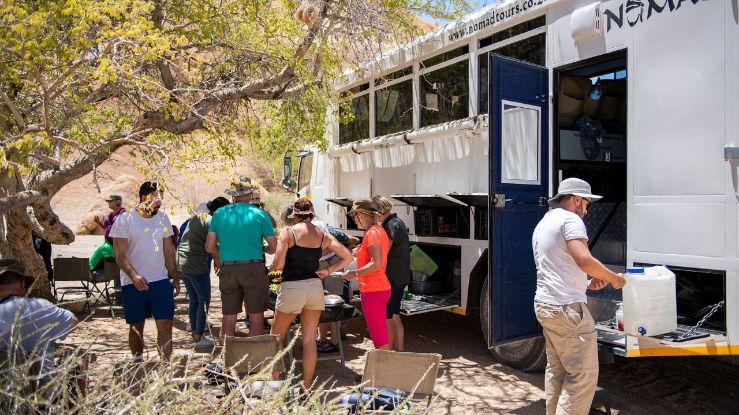 Activity and rest days
On other days we may have very little driving at all, if any, and be based in a city, or at a national park with various local activities either included or available as local options. You can make your own choice of what to do during the day, subject to your budget, interests, and energy levels. Sometimes its great to just chillax at the campsite, while other times everyone wants to be up early and getting out on safari to see some of Africa's amazing wildlife, or to discover a new, bustling city or town.
Your daily itinerary will identify what is included, and what is available locally, and your tour leader will brief you on your options the day before as well. .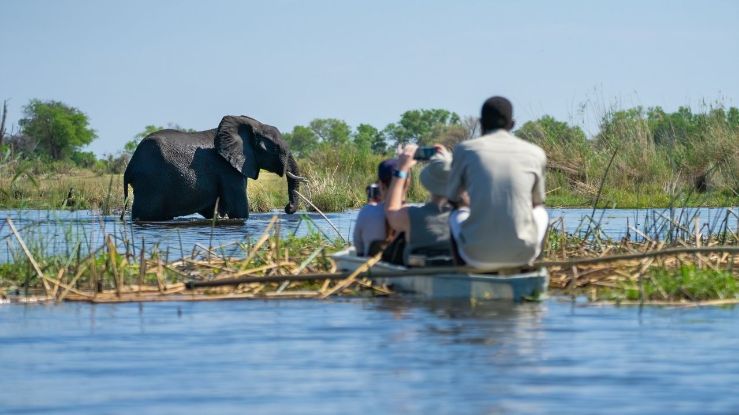 At the end of the day
If we're arriving at a new destination, then when we arrive any campers will get their tents off the truck and set up for the night. People on accommodated options will check in and get settled into their room. There is normally also the option for people who have booked the camping option to upgrade to a room for the night if you'd like some extra comfort. This will be subject to availability and pricing set by the place you are staying.
Then, it's dinner time, which is normally taken at the truck and prepared by the crew. You'll be amazed what variety of meals your crew can come up with during a trip, and we generally eat pretty well. Some nights may include a barbecue and local specialities, or a quicker meal if we have arrived late in the day. We appreciate a bit of help getting set up and preparing the meal, but our crew will take the lead on cooking. After clearing up, then we'll perhaps sit around the campfire with a drink and chat for a couple of hours, or if in a town or city, go out exploring and discovering the local nightlife.
Your tour leader will brief you on the plans for tomorrow, and then its off to bed. Every day on an overland trip is different, so sleep well and get ready for some new adventures tomorrow.