|
As you step foot inside the castle, you'll find yourself transported back in time. Wander through its ancient corridors, marveling at the intricate details of its architecture. Your footsteps echo on the cobblestone paths, whispering stories of warriors, royalty, and conquests.
From atop the castle walls, the panoramic views will take your breath away. Feel the wind caress your face as you gaze out over the stunning Mediterranean coastline. The turquoise waters stretch out as far as the eye can see, inviting you to explore its hidden treasures.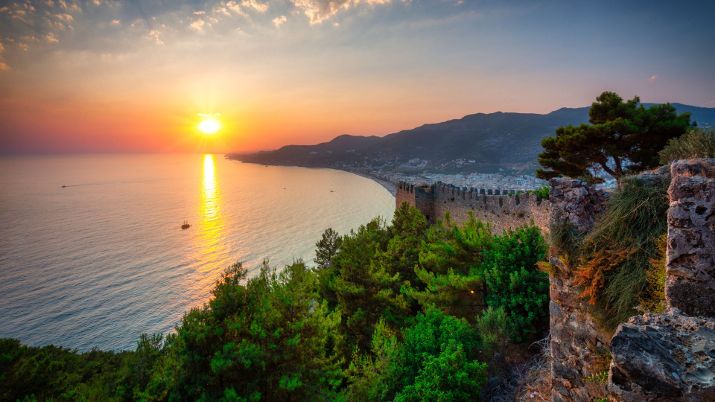 But it's not just the scenery that will captivate you. Alanya Castle has a rich history waiting to be discovered. Listen to the echoes of wars fought, civilizations risen and fallen, and the harmonious blend of cultures that have left their mark on this very ground.
For a truly immersive experience, join a guided tour and let the experts bring the castle's stories to life. Imagine the clash of swords, the scent of spices wafting through bustling markets, and the vibrant tapestry of daily life in centuries gone by.
So whether you're a history enthusiast or simply in search of a unique adventure, Alanya Castle should be at the top of your travel bucket list when booking Turkey tours. Step into the pages of history and create unforgettable memories in this mesmerizing historical landmark. Don't miss out! Your next adventure awaits.
What is the history of Alanya Castle?
The origins of Alanya Castle can be traced back to the 1st century BC when it was built by the Hellenistic civilization. Over the years, the castle changed hands and was ruled by various empires and civilizations, including the Roman Empire, Byzantine Empire, Seljuk Empire, and Ottoman Empire. Each era brought its own influences and architectural styles to the castle, resulting in an eclectic mix of designs.
One of the most significant periods in the castle's history was during the reign of the Seljuk Turks built in the 13th century. Under their rule, the castle of Alanya experienced a period of prosperity and development. The Seljuk Sultan expanded the fortifications and added impressive structures, such as the Red Tower, which still stands today as an iconic symbol of the castle.
During the Crusades, Alanya Castle became a strategic stronghold. Its location overlooking the Mediterranean Sea made it an ideal defensive position, and it was fiercely contested by both Christians and Muslims. The castle saw numerous battles and sieges, but it managed to withstand the attacks and preserve its historical significance.
In the following centuries, Alanya Castle went through a series of modifications and renovations. The Ottoman Empire made substantial changes to the castle, including the addition of mosques and houses within its walls. These additions transformed the castle into a thriving settlement, with a vibrant community living within its protective embrace.
Unfortunately, as time passed, the castle fell into a state of disrepair. Neglect and natural disasters took their toll on the structure, and it slowly started to crumble. However, in recent years, the Turkish government has taken steps to restore and preserve Alanya Castle. Extensive restoration projects have been undertaken, aiming to revive the castle's former glory and ensure its survival for future generations.
Today, Alanya Castle is a must-visit destination for history enthusiasts and travelers who crave a glimpse into the past. The castle's imposing walls, ancient buildings, and breathtaking views of the Mediterranean Sea make it a truly remarkable sight. Visitors can explore the intricate network of narrow streets and passageways, discover hidden chambers, and marvel at the intricate details of the architecture.
Within the castle grounds, you'll also find the Alanya Castle Museum, which exhibits a wide range of artifacts from different periods in the castle's history. From ancient weapons and armor to Byzantine ceramics and Ottoman textiles, the museum offers a comprehensive look into the castle's past.
The panoramic views from the castle walls are nothing short of awe-inspiring. On a clear day, you can see miles of coastline, with the azure waters of the Mediterranean stretching far into the distance. It's a picture-perfect spot for capturing memorable photos or simply soaking in the beauty of the Turkish coastline.
Exploring Alanya Castle can be an adventurous experience, with its maze-like layout and unexpected surprises around every corner. Whether you're climbing up to the highest tower for a panoramic view or wandering through the atmospheric underground tunnels, you'll feel like you've stepped back in time.
In conclusion, the history of Alanya Castle is a tale of resilience, survival, and preservation. From its humble beginnings as a Hellenistic fortress to its pivotal role during the Crusades and its modern-day status as a tourist attraction, the castle has played a significant part in shaping the region's history. Visiting Alanya Castle offers a captivating journey through time and a deeper understanding of the rich cultural heritage of this fascinating destination. So, don't miss the chance to explore this ancient marvel and create memories that will last a lifetime.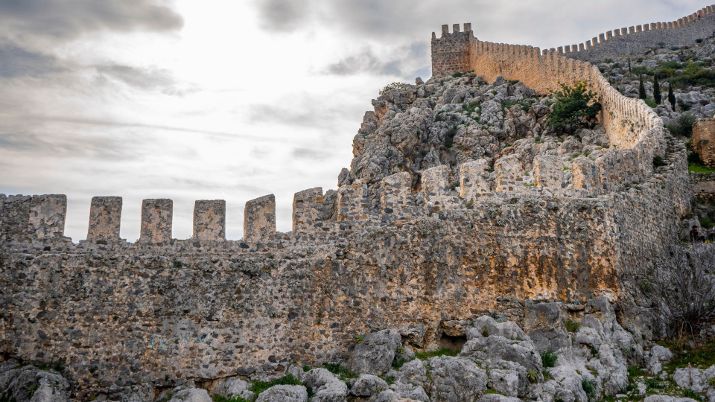 Where is the Alanya Castle based?
Alanya Castle is perched high on a rocky hill in the heart of Alanya, a charming beach resort town in the Antalya province of Turkey. With its strategic location, the castle offers panoramic views of the azure Mediterranean Sea, the bustling harbor, and the vibrant cityscape below. It's a sight that will leave you utterly spellbound.
Let's rewind the clock for a moment and delve into the castle's fascinating history. Built during the 13th century, Alanya Castle carries the whispers of the Seljuk Empire, which once reigned over this land. It served as a defensive fortress, protecting the town and its inhabitants from invaders. Over the centuries, the castle witnessed numerous conquests, from the Romans to the Ottomans, each leaving their indelible mark on its walls and towers.
Today, Alanya Castle stands tall, serving as a testament to the rich tapestry of history that has shaped this region. As you wander through its ancient corridors and gaze at its majestic towers, it's impossible not to feel a sense of awe and reverence for those who walked these very grounds centuries ago.
But the castle isn't just a relic frozen in time. It buzzes with life, offering a myriad of attractions to explore. Once you've ascended the hill, prepare to be greeted by the imposing Red Tower, a signature landmark that marks the entrance to the castle. This cylindrical tower, with its distinct red bricks, makes for the perfect photo-op, instantly transporting you to a bygone era.
As you venture deeper into the castle, don't miss the Ethnographic Museum located within its walls. This hidden gem offers a glimpse into the daily life and traditions of the people who once called Alanya their home. From delicate pottery to ancient weaponry, the museum showcases artifacts that bring history to life.
As you reach the highest points of the castle, be prepared to have your breath taken away. The panoramic vistas extend as far as the eye can see, encompassing the glittering sea, the rugged coastline, and the sprawling city below. It's a view that deserves to be savored, so take your time and let the sheer beauty of the surroundings sink in.
If you're feeling a bit peckish after all that exploring, fear not. The castle has got you covered. Nestled amidst the ancient ruins, you'll find charming tea houses and cafes serving up traditional Turkish cuisine. Treat yourself to some mouth-watering kebabs, mezes, or baklava, while soaking in the ambiance of this historic setting. Trust me, it's an experience you won't want to miss.
But wait, there's more! Alanya Castle hosts various cultural events throughout the year, from music festivals to historical reenactments. Keep an eye out for these events, as they provide a unique opportunity to witness the castle come alive with the spirit of the past.
So, my fellow explorers, it's time to mark Alanya Castle on your travel bucket list. Whether you're a history buff, an architecture enthusiast, or simply someone seeking awe-inspiring views, this castle has something for everyone. As you walk along the same paths that were once traversed by warriors and rulers, you can't help but feel a deep connection to the past. So, pack your bags, grab your camera, and let Alanya Castle transport you to a world where time stands still, and legends come to life.
Why should travelers visit Alanya Castle?
Step back in time:
As you wander through the castle's imposing walls and winding pathways, you'll be captivated by the authenticity and ambience that envelops you. Each stone speaks volumes about the triumphs and struggles of those who ruled and defended this stronghold centuries ago. Alanya Castle truly takes you on a captivating journey through time, offering a glimpse into the past that you won't soon forget.
Panoramic vistas:
Prepare to be awestruck by the breathtaking panoramic views that await you at Alanya Castle. With its strategic location high above the city, expect to be treated to stunning vistas of Alanya's skyline, the turquoise Mediterranean waters, and the surrounding Taurus Mountains. Take a moment to catch your breath and revel in the beauty that stretches as far as the eye can see - it's a sight that will leave an indelible mark on your travel memories.
Architectural masterpiece:
Alanya Castle's architectural brilliance is truly remarkable. As you navigate the fortress, you'll be mesmerized by the craftsmanship and attention to detail that has stood the test of time. From the intricately carved stone walls to the majestic towers and minarets, every corner brims with architectural splendor that showcases the genius and skills of the medieval craftsmen. Don't forget to bring your camera along, as Alanya Castle is a true feast for the eyes.
Uncover hidden gems:
Beyond its striking exterior, Alanya Castle holds numerous hidden gems waiting to be discovered. Explore the underground passageways and dungeons, where echoes of the past will send shivers down your spine. Climb the ancient watchtowers for a bird's-eye view and immerse yourself in the tales of ancient civilizations. As you explore further, you may stumble upon ancient churches, mosques, and even a cistern which provide further insight into the castle's rich history.
A cultural hub:
Alanya Castle is not only a fascinating historical landmark but also a bustling cultural hub. With frequent performances and events that showcase traditional music, dance, and art, visitors have the opportunity to immerse themselves in the vibrant local culture. Don't miss the chance to witness a captivating traditional dance performance or indulge in local delicacies at the on-site cafes. By engaging with the local culture, your visit to Alanya Castle will be an authentic and enriching experience.
Adventure awaits:
For those seeking a dose of adventure, Alanya Castle won't disappoint. Climb the rugged paths, explore hidden corners, and let your imagination run wild as you envision the castle's majestic past. Feel the thrill of conquering the fortress as you conquer each step, and reward yourself with a sense of accomplishment and an unmatched sense of wonder. Alanya Castle is the perfect destination for travelers yearning to infuse their journey with excitement and exploration.
Alanya Castle boasts a combination of historical significance, architectural splendor, panoramic vistas, and a vibrant cultural atmosphere that make it an unmissable destination for travelers. Immerse yourself in the castle's grandeur, unravel the tales of the past, and soak in the beauty that awaits at every turn. Prepare to be transported to a bygone era, where the allure of history and the wonders of nature merge seamlessly. Alanya Castle is an experience that will surely leave an indelible mark on your travel adventures.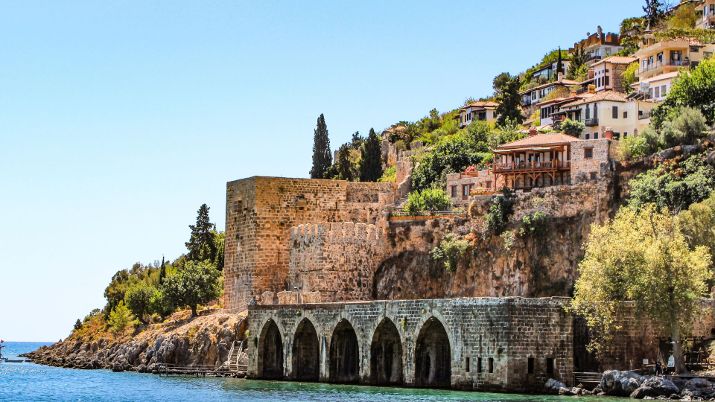 How do you get to Alanya Castle with cable car?
Getting to Alanya Castle with the cable car is an absolute breeze. First things first, make your way to the cable car station. You'll find it conveniently located near the entrance of the city, just a stone's throw away from the hustle and bustle of Alanya's center.
Now, let me tell you a little something about this cable car. It's not your ordinary cable car, my friend. Oh no! It's a marvel of engineering, designed to whisk you up to the heavens in style. As you ascend, you'll be greeted with breathtaking views of Alanya's coastline, the azure waters of the Mediterranean, and the majestic Taurus Mountains. Trust me when I say, you won't be able to resist whipping out your camera to capture the beauty that unfolds before your eyes!
Let's get back to the practicalities of getting to Alanya Castle with the cable car. Once you arrive at the cable car station, you'll need to purchase a ticket. Don't worry, it won't break the bank. The ticket price is quite reasonable, and it's well worth it for the experience you're about to have.
With ticket in hand, it's time to hop on board the cable car. Now, my friend, prepare yourself for a ride like no other. As you ascend, you'll feel a mix of excitement and awe. The gentle swaying of the cable car, the cool breeze caressing your face, and the anticipation of what lies ahead - it all adds to the thrill of the journey.
As the cable car glides higher and higher, you'll start to catch glimpses of Alanya Castle in the distance. It's perched atop a hill, majestically overlooking the city and the sea. The closer you get, the more you'll be able to appreciate its grandeur. It's truly a sight to behold, my friend.
Once you reach the top, it's time to disembark from the cable car and explore Alanya Castle. Now, let me warn you - you're in for a good amount of walking. But trust me, it's worth every step. The castle is a treasure trove of history and culture, with ancient walls, magnificent towers, and stunning views that will leave you breathless.
As you wander through the castle grounds, take a moment to soak in the atmosphere. Imagine the stories that these walls could tell - tales of conquests, sieges, and the passage of time. It's truly a humbling experience to stand in a place that has witnessed so much history.
Don't forget to bring your camera along, my friend. There are countless photo opportunities waiting to be captured. The panoramic views of Alanya, the picturesque landscapes, and the intricate details of the castle architecture - you'll want to remember them all.
And when you've had your fill of exploring, take a moment to relax and soak in the beauty of your surroundings. Find a quiet spot, sit back, and let the serenity of Alanya Castle wash over you. It's the perfect place to unwind, reflect, and appreciate the wonders of the world.
It's simple - make your way to the cable car station, purchase a ticket, hop on board, and let the cable car transport you to new heights. Once you reach the top, prepare to be amazed by the beauty and history that awaits you. Alanya Castle is a true gem, and visiting it with the cable car is an experience you won't soon forget. So go ahead, embrace the adventure, and let Alanya's charm sweep you off your feet.
What type of architecture is Alanya Castle known for?
One of the prominent architectural styles seen in Alanya Castle is the Romanesque style. This style originated in medieval Europe and is characterized by its robust and sturdy structures. In Alanya Castle, you can witness the Romanesque influence in the thick walls, imposing towers, and arched entrances. These architectural features not only provide a majestic sight but also serve as a testament to the castle's defensive capabilities.
Moving further into the castle grounds, you will be greeted by the exquisite Seljuk architecture. The Seljuks were a Turkish dynasty that ruled over Anatolia during the medieval era. Their architectural style is known for its intricate patterns and geometric designs, inspired by Islamic art. In Alanya Castle, you can observe this style in the details of the entrance portals, minaret-like towers, and the decoration on the interior walls. The Seljuk architecture adds an element of beauty and elegance to the overall castle complex.
As you explore the castle's inner sanctums, you will encounter the influence of the Ottoman architecture. The Ottomans, who conquered the region in the 13th century, left their mark on Alanya Castle. Ottoman architecture is characterized by its vast domes, ornate decorations, and the extensive use of arches. These architectural elements can be found in the mosques and hammams (Turkish baths) within the castle. The Ottoman influence adds a touch of grandeur and cultural significance to the castle's architecture.
Apart from these major influences, Alanya Castle also incorporates elements of Byzantine and Gothic architecture. The Byzantine Empire, which spanned over a thousand years, left behind a legacy of architectural marvels. This influence can be seen in the ornate Byzantine churches and chapels that still stand within the castle walls. Additionally, the Gothic architectural style, which originated in medieval Europe, can be observed in the pointed arches and slender columns found in some sections of the castle.
The diverse architectural styles present in Alanya Castle make it a treasure trove of historical and cultural significance. Each style tells a story of the various civilizations that once thrived in the region. As you walk through the castle's corridors, you can't help but marvel at the craftsmanship and ingenuity of the architects who built it.
In addition to its architectural splendor, Alanya Castle offers breathtaking panoramic views of the Mediterranean Sea and the surrounding landscape. From its strategic hilltop location, you can see the turquoise waters, golden beaches, and picturesque cliffs that make the Turkish coast so popular among travelers.
Visiting Alanya Castle is like stepping back in time. Its architecture serves as a visual timeline, showcasing the evolution of architectural styles over the centuries. Whether you are an architecture enthusiast, a history lover, or simply a curious traveler, Alanya Castle will undoubtedly leave you in awe.
In conclusion, Alanya Castle is known for its diverse architectural styles, representing the legacy of various civilizations that once flourished in the region. From the Romanesque fortifications to the Seljuk intricacies, from the Ottoman grandeur to the Byzantine and Gothic influences, the castle offers a captivating blend of architectural wonders. Immersing yourself in the castle's rich history and admiring its stunning views will undoubtedly make for an unforgettable travel experience. So, pack your bags, grab your camera, and get ready to explore the architectural marvel that is Alanya Castle!
What can be found inside the inner castle in Alanya?
Once you enter the castle gates, you will be transported back in time, to an era of knights, kings, and battles. The inner castle is a maze of narrow streets, charming houses, and ancient ruins. As you wander through its cobblestone paths, you can almost hear the echoes of stories from the past.
One of the main attractions inside the inner castle is the Alanya Archaeological Museum. This remarkable museum showcases artifacts from various civilizations that once inhabited the area. You will have the opportunity to witness a wide range of exhibits, including pottery, jewelry, and tools, dating back to the Hellenistic, Roman, and Byzantine periods.
As you continue your exploration of the inner castle, you will come across the Alanya Castle Mosque. This stunning mosque is a symbol of religious tolerance and showcases the beautiful blend of Islamic and Seljuk architectural styles. Step inside to admire the intricate calligraphy and elegant designs that adorn the walls and ceilings.
For those seeking panoramic views of Alanya and its surrounding beauty, a visit to the inner castle walls is a must. Climb up the ancient stairs and find yourself on the ramparts, where you will be rewarded with breathtaking vistas of the turquoise sea, the red rooftops of the city, and the majestic Taurus Mountains. Capture the perfect Instagram-worthy shot or simply soak in the ambience of this incredible location.
Inside the inner castle, you will also discover the old cistern, known as the Kizilkule Cistern. This underground water storage system was vital for the survival of the castle's inhabitants during times of siege. Take a moment to marvel at the engineering skills of the past as you explore this impressive structure.
As you delve deeper into the inner castle, you will stumble upon the fascinating Alanya Castle Dungeons. These dark and eerie chambers were once used to imprison prisoners of war. Step inside if you dare, and imagine the hardships faced by those unfortunate souls who were held captive within these stark walls.
Another notable feature of the inner castle is the Alanya Castle Shipyard. This ancient shipyard is a testament to the city's rich maritime history. Marvel at the remnants of ships that were once built and repaired here, and appreciate the importance of Alanya as a strategic location for naval activities.
To quench your thirst and satisfy your hunger, head to one of the many traditional tea houses or cafes dotted throughout the inner castle. Relax and indulge in a cup of Turkish tea or savor the flavors of local cuisine while immersing yourself in the unique ambiance of this historic setting.
Before you leave the inner castle, make sure to explore the outer walls and towers. These fortified structures not only served as defensive mechanisms but also offered spectacular vistas of the Mediterranean coastline. Be sure to climb to the top of the Red Tower, the most prominent structure in the outer walls, for an unparalleled view.
In conclusion, the inner castle in Alanya offers a captivating journey into the past. From the Alanya Archaeological Museum to the enchanting castle mosques, from the breathtaking views atop the ramparts to the haunting dungeons, there is something for everyone within these ancient walls. So, pack your bags, put on your explorer's hat, and prepare to delve deep into the rich history and culture that awaits you inside the inner castle of Alanya.
Are there any activities surrounding the castle of Alanya, if so, what are they?
One of the must-do activities in and around the castle is exploring its many nooks and crannies. As you stroll through the winding pathways, you'll come across hidden chambers, eerie dungeons, and breathtaking vistas. It's like stepping back in time and immersing yourself in history. Don't forget to bring your camera, because you'll want to capture every moment of this unforgettable experience!
But hold on tight, because the adventure doesn't stop there. For the thrill-seekers among us, there are adrenaline-pumping activities that will get your heart racing. How about taking a ride on a zip line that stretches across the castle walls? Soar through the air like a bird, taking in the panoramic views below. It's an exhilarating experience that will leave you wanting more.
If you're more into water-based activities, fear not - there's something for you too. Just below the castle, you'll find the sparkling waters of the Mediterranean Sea, inviting you to take a dip. Snorkeling and diving are popular activities in Alanya, allowing you to explore the vibrant marine life that thrives in these waters. Just imagine floating alongside colorful fish and discovering hidden underwater caves - it's a true aquatic adventure!
But wait, there's more! Have you ever wanted to channel your inner Robin Hood? Well, now's your chance. Head over to the castle's archery range and try your hand at this timeless skill. With proper instruction, you'll be hitting the bullseye in no time. It's a unique activity that will make you feel like a true medieval hero.
If you're visiting Alanya with your family, there are plenty of activities that will keep both kids and adults entertained. How about a treasure hunt within the castle's walls? Solve riddles, follow clues, and search for hidden treasures - it's an exciting and educational experience that the whole family can enjoy.
And let's not forget about the foodies among us. Inside the castle, you'll find charming cafes and restaurants where you can indulge in delicious Turkish cuisine. From succulent kebabs to flavorful mezes, your taste buds will be in for a treat. Pair your meal with a glass of traditional Turkish tea or a strong cup of Turkish coffee, and you'll be in food heaven.
As you can see, the castle of Alanya is not just a static monument - it's a hub of activities that cater to all interests and preferences. Whether you're a history buff, an adrenaline junkie, a water enthusiast, an archery aficionado, a family traveler, or a food lover, there's something for everyone within the castle's walls.
So, what are you waiting for? Book your trip to Alanya and get ready for an adventure-packed experience at the castle. Trust me, you won't be disappointed. It's time to make memories, have fun, and explore all the exciting activities that await you in this magical place.
What is the best time of year to visit the fortress of Alanya in Turkey?
First and foremost, it's important to note that Alanya experiences a Mediterranean climate, which means mild and wet winters, and hot and dry summers. With this in mind, let's dive into the different seasons and what they have to offer.
Springtime in Alanya, which falls between March and May, can be a great time to visit the fortress. During this period, the weather is usually pleasant with temperatures ranging from 15 to 25 degrees Celsius. The days start getting longer, allowing you to have more time to explore the fortress and soak up the breathtaking views. Plus, the surrounding landscapes are in full bloom, creating a picturesque setting for your visit.
Moving on to summer, which spans from June to August, it's essential to consider the scorching heat Alanya experiences during this time. Temperatures can soar up to 40 degrees Celsius, making it quite uncomfortable for outdoor activities, especially if you're planning to climb up the fortress. However, if you can handle the heat and are prepared with sunscreen and plenty of water, summer can still be a good time to visit. Just make sure to plan your visit early in the morning or later in the evening to avoid the peak heat hours.
As summer draws to a close, we enter the fall season, running from September to November. Autumn in Alanya is a popular time for tourists, as the weather starts to cool down, and the summer crowds begin to disperse. The temperatures during fall range from 20 to 30 degrees Celsius, providing a more pleasant climate for exploring the fortress. Moreover, the autumn foliage adds a touch of beauty to the surroundings, making it a photographer's paradise.
Lastly, we have winter, spanning from December to February. Alanya experiences mild winters with temperatures ranging from 10 to 20 degrees Celsius. While it might not be the ideal time for a beach vacation, it's still worth considering a visit to the fortress during this season. The lack of crowds allows you to explore at your own pace, and the occasional rain showers bring a refreshing touch to the atmosphere.
In conclusion, the best time of year to visit the fortress of Alanya in Turkey depends on your preferences and tolerance to extreme weather conditions. If you enjoy mild temperatures and picturesque landscapes, spring and autumn are ideal. For those who can handle the scorching heat, summer can be a possibility with careful planning. And if you prefer a quieter experience and don't mind cooler temperatures, winter might suit you well.
Remember to check the weather forecast before your trip, as it can vary from year to year. And irrespective of the season you choose, be sure to come prepared with comfortable shoes, sunscreen, and plenty of water, as exploring the fortress can involve some walking and climbing.
What time does Alanya Castle open? Which days is it open?
Alanya Castle welcomes eager visitors from various corners of the world from 9:00 a.m. until 5:00 p.m. You may note that these opening hours are observed throughout the week, from Monday to Sunday. Yes, you heard it right - Alanya Castle is open seven days a week! Isn't that fantastic news?
Now that we have the opening hours covered, let's delve into the marvelous details of Alanya Castle. Prepare yourself for a journey back in time as you explore the walls and alleys of this majestic fortress. As you step foot inside, you will be transported to a bygone era - a time when knights roamed the lands, battles were fought, and haunting stories were born.
Situated on a rocky hill, Alanya Castle offers breathtaking panoramic views of the sparkling Mediterranean Sea and the charming town below. The captivating sights alone are reason enough to schedule a visit to this historic site.
As you wander through the castle grounds, let your curiosity be your guide. Explore the numerous towers, bastions, and chambers that have stood the test of time. Immerse yourself in the rich history that unfolds with each step you take. Feel the echoes of centuries past resonate within you.
One of the most remarkable features of Alanya Castle is the imposing Red Tower, or Kızıl Kule in Turkish. This iconic structure, with its distinctive octagonal shape, is a sight to behold. As you climb its sturdy stairs, you will be rewarded with stunning vistas of Alanya's coastline. Don't forget to capture this awe-inspiring moment with your camera - it will be a memory to cherish.
While marveling at the architecture and soaking in the breathtaking views, keep an eye out for the various exhibitions and displays within the castle. These exhibits shed light on the rich history and cultural significance of Alanya Castle. From ancient artifacts to interactive displays, there is something to captivate visitors of all ages.
After exploring to your heart's content, take a moment to relax and recharge at one of the quaint cafes or restaurants dotted around the castle grounds. Treat yourself to a refreshing drink or a traditional Turkish delicacy as you bask in the ambiance of this extraordinary locale. And don't forget to take a moment to appreciate the vibrant tapestry of colors that the setting sun paints across the sky - it is a sight that will forever be etched in your memory.
How much does it cost to visit the Alanya Castle?
First things first, let's talk about the entrance fees. The cost of visiting the Alanya Castle varies depending on your age and nationality. For adults, the entrance fee is typically around $10. But if you're a senior citizen or a student, you may be eligible for a discounted rate. So, it's always a good idea to bring along your ID or any documentation that proves your eligibility for these discounts.
Now, let's dive into the details. Children below a certain age, usually 12 years old, are often allowed free entry. This is a great perk for families who are traveling with little ones. However, do keep in mind that children must be accompanied by an adult at all times.
If you're a history buff or simply fascinated by ancient ruins, you can also choose to hire a local guide to enhance your experience. These knowledgeable guides will take you on a journey back in time and provide you with intriguing stories and insights about the castle. While this is an optional extra, it's certainly a worthwhile investment for anyone who wants to delve deeper into the castle's rich history. The cost of a guided tour can range from $20 to $50, depending on the duration and the guide's expertise.
If you're planning to drive to the Alanya Castle, you'll be pleased to know that there are ample parking spaces available nearby. The cost of parking varies depending on the duration of your visit. Typically, you can expect to pay around $5 for a few hours of parking. However, if you plan to spend the entire day exploring the castle, you may have to pay a higher fee.
It's important to note that some attractions within the castle grounds may have separate entrance fees. For example, if you wish to visit the Alanya Archaeological Museum, there may be an additional fee. It's always a good idea to check the official website or inquire at the entrance for any additional costs that may apply to specific attractions within the castle.
Now that we've covered the cost aspect, let's talk about the value you'll get from visiting the Alanya Castle. Trust me, it's worth every penny! This medieval fortress is a treasure trove of history and offers breathtaking panoramic views of the city and the Mediterranean Sea. As you explore the castle's impressive walls and towers, you'll find yourself transported back in time. The architectural marvels and ancient artifacts will leave you awe-inspired.
But the Alanya Castle is not just about history and stunning views. It's also a place for adventure enthusiasts. You can embark on an exhilarating hike up the steep hillside to reach the castle or opt for a thrilling horseback ride. The journey is part of the experience and will reward you with awe-inspiring vistas along the way.
Once you reach the top, make sure to carve out some time to admire the stunning sunset. Trust me, there's no better place to witness nature's breathtaking spectacle than from the Alanya Castle. So, don't forget to bring your camera and capture those Insta-worthy shots.
And let's not forget about the local cuisine! After a day of exploration, you'll surely work up an appetite. Luckily, there are plenty of restaurants and cafes located within and around the castle grounds. Treat yourself to some authentic Turkish delights and indulge in the flavors of the region. From kebabs to baklava, there's something to satisfy every taste bud.
In conclusion, visiting the Alanya Castle is a must-do for any traveler. While there is a cost involved, the experience and memories you'll gain from exploring this historical gem are truly priceless. From the entrance fees to optional add-ons like guided tours, there are various options available to suit every budget and preference. So, go ahead and plan your visit. The Alanya Castle awaits you with open gates and a journey through time.
How safe is it to visit the Alanya Kalesi Castle?
Alanya Kalesi Castle offers a captivating journey through centuries of history. The castle's management recognizes the importance of ensuring visitors' safety, which is why they have implemented several measures to keep everyone secure.
1. Maintained Infrastructure:
The castle's infrastructure is meticulously maintained to guarantee visitors' safety. Cracked walls, uneven ground, and other potential hazards are regularly assessed and repaired promptly. This commitment to infrastructure maintenance ensures a safe and enjoyable experience for all.
2. Clear Signage and Information:
Navigating a castle as vast as Alanya Kalesi can be overwhelming. However, the castle's management has taken proactive steps to address this concern. Clear, concise signage throughout the castle premises directs visitors to various areas of interest while providing crucial safety information. These signs also highlight potential hazards and inform visitors about any temporary closures or restricted areas.
3. Knowledgeable Staff:
At Alanya Kalesi Castle, you will find friendly and helpful staff members who are well-versed in the castle's history and safety procedures. They are readily available to assist visitors, answer questions, and provide guidance wherever needed. Their presence ensures an added sense of security and comfort during your exploration of the castle.
4. Lighting and Accessibility:
The castle's management understands the importance of proper lighting and accessibility to ensure visitors' safety. Well-lit pathways and staircases eliminate potential trip hazards, allowing visitors to move freely and comfortably. Additionally, visitors with limited mobility can access certain areas of the castle through the provision of ramps and elevators.
5. Security Personnel:
Alanya Kalesi Castle prioritizes visitor safety by employing well-trained security personnel who are stationed strategically throughout the premises. Their presence acts as a preventive measure, ensuring a peaceful and secure environment for visitors. These personnel are easily identifiable and can be approached in case of any concerns or emergencies.
Visitor Tips for a Safe Visit to Alanya Kalesi Castle:
1. Wear Comfortable Shoes:
Exploring Alanya Kalesi Castle involves walking on various terrains, including cobbled paths and stairs. To ensure your safety and comfort, it is advisable to wear comfortable, sturdy shoes that provide good grip.
2. Stay Hydrated:
As you immerse yourself in the castle's rich history, it is crucial to stay hydrated. Bring a water bottle with you and take regular hydration breaks to keep yourself refreshed and energized.
3. Be Mindful of Heights:
Alanya Kalesi Castle offers stunning panoramic views, which often involve heights. While enjoying these breathtaking vistas, exercise caution and be mindful of your surroundings. Adhere to the safety railings and avoid leaning over unprotected areas.
4. Secure Your Valuables:
As with any tourist destination, it is important to be mindful of your belongings. Keep your valuables secure and be aware of your surroundings to prevent any potential theft or loss.
Visiting Alanya Kalesi Castle is an enriching and safe experience for travelers of all ages. Through its commitment to infrastructure maintenance, clear signage, knowledgeable staff, lighting and accessibility, and dedicated security personnel, the castle management ensures that visitors can explore the site with peace of mind. By following the provided visitor tips and staying mindful of safety precautions, you can fully immerse yourself in the castle's captivating history while enjoying a safe and memorable visit to Alanya Kalesi Castle.
What is the easiest way of accessing Alanya Castle from well-known surrounding landmarks?
First things first, let's talk about how to get to Alanya Castle from the city center. If you find yourself in the heart of Alanya, you can simply hop on a local bus or catch a taxi. The bus routes in Alanya are quite extensive, and you won't have any trouble finding one that will take you directly to the castle. Plus, it's a budget-friendly option, meaning you'll have some extra cash in your pocket to spend on souvenirs or a refreshing ice cream cone.
Speaking of ice cream, did you know that Alanya Castle is also easily accessible from the popular Cleopatra Beach? That's right, my fellow sun worshippers! Once you're finished soaking up the sun and taking a dip in the crystal-clear waters, you can make your way to the castle with ease. Just grab a taxi or hail a dolmuş (a shared taxi-like minivan) and you'll be there in no time.
Now, let's say you're coming from the lovely town of Side. Fear not, my adventurous friend, for there are several options available to you. If you're feeling up to it, you can rent a car and enjoy a scenic drive along the coastline. The journey itself is a feast for the eyes, with breathtaking views of the Mediterranean Sea accompanying you every step of the way. However, if driving isn't your cup of tea, you can also take a bus from Side to Alanya and then hop on a taxi or dolmuş to reach the castle. The choice is yours!
But what if you're staying in the city of Antalya and want to explore Alanya Castle? Well, you're in luck because there are frequent bus services that operate between these two cities. These buses are comfortable and reliable, ensuring you have a smooth journey. Once you arrive in Alanya, you can follow the same steps as mentioned earlier and easily get to the castle. It's as simple as pie!
Now, let's talk about my personal favorite way of accessing Alanya Castle - by boat! Yes, you heard me right. If you're staying in one of the coastal towns such as Manavgat or Kemer, you can embark on a delightful boat trip that will take you to Alanya. Not only will you get to enjoy the scenic beauty of the Mediterranean Sea, but you'll also have the chance to see the castle from a whole new perspective. It's an experience like no other, my friend, and I highly recommend it!
So, there you have it - the easiest ways to access Alanya Castle from well-known surrounding landmarks. Whether you're in the city center, Cleopatra Beach, Side, Antalya, or even on a boat trip, getting to the castle couldn't be simpler. Just hop on a bus, catch a taxi, hail a dolmuş, rent a car or sail the high seas - the choice is yours!