|
As the capital of Jordan, Amman is a bustling metropolis that effortlessly combines ancient history with modern charm. If you're a traveler seeking an unforgettable experience in this enchanting city, you've come to the right place.
In this blog, we will delve into the best Amman city tours, specifically focusing on half-day private tour ideas. These tours are designed to cater to your personal preferences, ensuring an intimate and tailored experience that allows you to discover Amman's hidden gems at your own pace.
Whether you're a history buff eager to unearth the secrets of ancient civilizations or a culture enthusiast yearning to immerse yourself in the local traditions and customs, Amman has something to offer for everyone. From iconic landmarks to bustling markets, from panoramic views to mouthwatering culinary delights, this city will leave you captivated and craving for more.
If you're looking for Egypt Jordan Tour Packages, have a look at our tours above - we might have the right one for you.
What is the history of Amman?
Did you know that this bustling ancient city has actually been around since prehistoric times? That's right, artifacts found in the nearby caves suggest that humans have been inhabiting the area for over 10,000 years! But it wasn't until around 1200 BC that the Ammonites, a powerful tribe from the area, established their capital there and gave the city the name "Rabbath Ammon". Throughout the centuries, Amman has undergone significant changes, being conquered by various empires such as the Romans and the Ottomans. Each culture left its mark on the city, resulting in a unique blend of ancient and modern architecture that can be seen today.
Amman City Tours was founded in 2015 with the mission of providing tourists with a comprehensive experience of Amman, Jordan. The company was started by a group of locals who wanted to share their love and knowledge of the city with visitors.
Over the years, Amman City Tours has expanded its offerings to include a variety of activities and experiences. These include walking tours, food tours, cultural experiences, and even adventure activities such as hiking and camping. Each tour is carefully curated to showcase the best of what the city has to offer.
One unique aspect of an Amman tour is their commitment to sustainable tourism practices. They work closely with local communities and businesses to ensure that their tours have a positive impact on the environment and the local economy. They also prioritize hiring local guides and using locally owned transportation.
Why should travelers consider going on an Amman city tour?
Now, you may be wondering why exactly Amman is worth a visit. After all, there are plenty of world-renowned tourist spots out there. But let me tell you, there are some seriously compelling reasons to add Amman to your itinerary. For one, the city is home to some awe-inspiring ancient ruins, such as the Roman Amphitheater and the Amman Citadel. These stunning landmarks have stood the test of time and serve as a testament to human ingenuity and creativity. Additionally, the panoramic views from the Citadel are absolutely breathtaking, providing a stunning vista of the surrounding hills and valleys.
But Amman isn't just about ancient treasures- it's also a bustling, modern city full of energy and charm. The streets are lined with markets and cafes, each offering a unique glimpse into Jordanian culture. It's an excellent opportunity to sample local cuisine and chat with friendly locals, soaking up the vibrant atmosphere. And if you're a fan of museums, Amman has plenty to offer- from the Jordan Museum, showcasing the country's rich history, to the Royal Automobile Museum, featuring a collection of rare classic cars.
Now, you may be thinking, "Okay, Amman sounds great, but how do I go about experiencing all of these incredible sights?" That's where Amman City Tours comes in! This company specializes in providing comprehensive tours of the city, allowing tourists to see all the highlights in a convenient and hassle-free way. Their knowledgeable guides are well-versed in the city's history and culture and are eager to share their insights with visitors. The tours are also customizable, allowing guests to tailor their experience to their interests and preferences. Whether you want to focus on ancient ruins or modern hotspots, Amman City Tours has got you covered.
But perhaps the best part of Amman City Tours is the opportunity to connect with fellow travelers from around the world. Sharing experiences and making new friends is a key part of the travel experience, and these tours provide an excellent opportunity to do just that. And who knows- you may even end up forging lifelong connections with people you meet on the tour!
Are there any half day private tours in Amman?
One of the most popular half-day private tours in Amman is the tour of the old city. This tour takes you on a journey through the fascinating history of Amman, from the Roman theater to the Citadel, the ancient fortress that dominates the skyline of the city. The Citadel is home to several landmarks, including the Temple of Hercules, the Ummayyad Palace, and the Archaeological Museum, which houses an impressive collection of ancient artifacts.
Another great half-day private tour in Amman is the food tour. Jordanian cuisine is a delight for foodies, and this tour takes you on a culinary adventure through Amman's vibrant food scene. From Jordanian coffee to traditional mezze, the food tour offers a unique insight into Jordanian culture and hospitality. You will have the opportunity to sample a variety of dishes while exploring the bustling markets and hidden food spots in Amman.
For those interested in the natural beauty of Amman, a half-day private tour of the city's nature reserves is an excellent option. The nature reserves of Wadi Rum and Petra are renowned for their stunning scenery, geological wonders, and unique flora and fauna. A visit to these nature reserves provides a glimpse of the natural beauty of Jordan and is a must-see experience for nature lovers.
If you are looking for adventure, a half-day private tour of Amman's desert is a fantastic option. You can experience the thrill of sandboarding, ride a camel through the vast expanse of desert, or simply enjoy the breathtaking views of the rugged terrain. The desert tour is an excellent way to escape the hustle and bustle of the city and experience the tranquility of the desert.
Your Amman tour itinerary: Things to do in Amman
Here is a comprehensive list of things to do as a traveler in Amman:
Explore the Amman Citadel: Visit this ancient hilltop site, home to the Temple of Hercules, the Umayyad Palace, and breathtaking panoramic views of the city.
Wander through the Roman Theater: Marvel at the well-preserved amphitheater, which dates back to the 2nd century AD and offers a glimpse into Amman's Roman past.
Stroll along Rainbow Street: Immerse yourself in the vibrant atmosphere of this trendy street lined with cafes, art galleries, boutique shops, and local eateries.
Discover the Jordan Museum: Dive into Jordan's rich history and culture through its impressive collection of artifacts, including the Dead Sea Scrolls and archaeological treasures.
Shop at the bustling Souk Jara: Visit this lively open-air market, held every Friday, where you can browse and purchase a variety of handicrafts, local products, and delicious street food.
Visit the King Abdullah Mosque: Explore one of Amman's most iconic landmarks, known for its striking blue dome and intricate Islamic architecture. Remember to dress modestly when visiting mosques.
Indulge in Jordanian cuisine: Treat your taste buds to mouthwatering dishes like mansaf (traditional lamb dish), falafel, mezze, and sweet treats like knafeh and baklava at local restaurants and street food stalls.
Experience the local culture at Jabal Al Lweibdeh: This bohemian neighborhood is brimming with art galleries, cultural centers, cafes, and charming streets to explore.
Visit the Royal Automobile Museum: Car enthusiasts will enjoy this museum, showcasing a collection of vintage cars, including those owned by Jordan's royal family.
Explore the Amman Design Week: If you happen to be in Amman during this event, immerse yourself in the creative world of design through exhibitions, workshops, and installations.
Relax at the Amman Beach: Unwind and escape the city heat at this artificial beach located near the Dead Sea, offering swimming pools, water slides, and a sandy shore.
Take a day trip to Jerash: Discover the well-preserved ancient Roman city of Jerash, located just outside Amman, and explore its magnificent ruins, including the Oval Plaza, Hadrian's Arch, and the Hippodrome.
Experience the local hammams: Treat yourself to a traditional Turkish bath experience at one of Amman's hammams, where you can indulge in steam rooms, exfoliation, and relaxation.
Hike in the nearby Wadi Mujib: Venture out of the city and explore the stunning Wadi Mujib, known as the "Jordanian Grand Canyon," where you can hike through narrow gorges and cool off in natural pools.
Enjoy the Amman nightlife: Experience the vibrant nightlife scene in Amman, with its trendy rooftop bars, live music venues, and clubs offering a mix of local and international entertainment.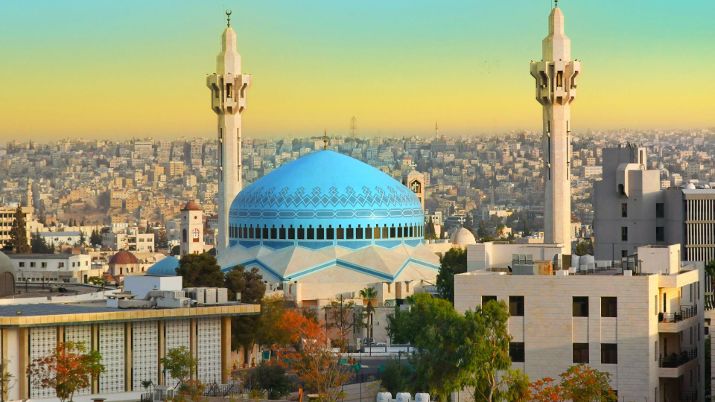 What is Rainbow street?
Rainbow street is a vibrant and colorful avenue in Amman that is lined with historical buildings and trendy cafes. It is a popular spot for locals and tourists alike to hang out, grab a cup of coffee, and enjoy the lively atmosphere. To understand the charm of Rainbow street, one must walk down the avenue and experience it for themselves. The street is decorated with rainbow flags and features an array of shops selling traditional handicrafts, clothing, and souvenirs.
One of the most famous landmarks on Rainbow street is the iconic Rainbow Theater, which has been a mainstay in the city since the 1950s. It is a cultural hub that hosts film screenings, music concerts, and other events that showcase the best of Jordanian art and entertainment. A visit to the Rainbow Theater is a must for those who want to immerse themselves in the local culture.
How safe is a full day or half day Amman day tour?
As for the safety of taking an Amman day tour, visitors need not worry. Jordan is considered one of the safest countries in the Middle East, with low rates of crime and terrorism. The government has taken measures to ensure the safety of tourists, such as increasing patrols in tourist areas, providing security at popular landmarks, and implementing strict security screenings at airports and borders.
Tourists are advised to follow common sense safety practices, such as keeping an eye on their belongings, avoiding crowded areas, and being aware of their surroundings. During Amman city tours, visitors can expect to be accompanied by knowledgeable guides who can provide insights on the history and culture of Jordan, as well as recommendations on places to visit and local cuisine to try.
What is the recommended dress code for a day trip in Amman?
As with any destination, it's important to dress appropriately and respect local customs and traditions. In Amman, it's recommended that both men and women dress modestly. This means covering your shoulders, knees, and avoiding revealing or tight clothing. For women, it's also recommended to wear a headscarf when visiting religious sites. These customs are not just about respecting the culture but also a practical suggestion as the weather can be hot and dry in Amman. Loose-fitting clothes made from breathable fabrics like cotton or linen are ideal to keep you comfortable throughout the day.
What is the recommended level of fitness for a day trip in Amman?
While the city offers a variety of experiences, we recommend that visitors be in moderate physical condition, especially for walking tours. Amman is nestled between seven hills and while it's great for stunning views, it can be a challenge for anyone with mobility issues. Some walking tours require ascending steep steps and pathways, so it's important to prepare accordingly. Comfortable walking shoes or sneakers are a must and ensure you remain hydrated throughout the day to keep up your energy levels.
One of the most popular tours in Amman is visiting the Citadel. Built on top of one of the seven hills, the Citadel is a collection of ancient ruins, dating back to the Bronze Age. It's a fascinating glimpse into the city's rich history and culture. However, reaching the top can be a challenge, with several steps leading up to the entrance. If you have difficulty climbing stairs or walking long distances, it's best to avoid this tour or prepare to take it slowly.
Another must-visit attraction in Amman is the Roman Theatre, a well-preserved structure dating back to the second century AD. The amphitheatre is an iconic symbol of Jordan's ancient history, and visiting it is a must-do on every tourist's list. The good news is that the amphitheatre is accessible, and visitors can walk to the top to get a stunning view of the city. However, if you have difficulty walking, there are stairs at the entrance that you need to climb to access the site.
If you're someone who prefers something less physically challenging, then the Al-Husseini Mosque should definitely be on your list. One of the oldest and largest mosques in Jordan, the Al-Husseini Mosque is a beautiful tribute to Islamic architecture. Visitors are required to dress modestly and remove their shoes before entering the premises. As it's a place of worship, tourists are also requested to maintain a respectful and quiet demeanor.
Frequently Asked Questions about day trips from Amman
What City Tours in Amman are good for avoiding crowds?
If you're looking for a way to explore the capital of Jordan without feeling like cattle being herded around tourist attractions, then embarking on a City Tour in Amman is the way to go. These tours take you on an alternative route that allows you to experience the city from a different perspective, giving you the chance to explore hidden gems and lesser-known parts of town without the hassle of dodging crowds or fighting for space.
One such tour is the Authentic Jordan Experience Tour, which offers a unique and personalized journey through the back alleys of Amman. This tour takes you on a cultural adventure, giving you the opportunity to immerse yourself in the local lifestyle by visiting traditional markets, tasting local cuisine, and engaging with locals. This tour is perfect for those who wish to avoid the tourist traps and discover the real essence of Jordan.
Another popular tour is the Historic Downtown Amman Walking Tour, which navigates through the heart of the city's oldest neighborhoods. This tour is great for history buffs who seek to discover Jordan's rich past, as it covers important landmarks such as the Roman Amphitheater, the Citadel, and the vibrant Rainbow Street. The best part about this tour is that you can explore Amman's history without feeling overwhelmed by crowds or long lines.
Finally, the Street Food Tour in Amman is an excellent way to avoid touristy restaurants and instead indulge in authentic local cuisine. This tour takes you on a culinary journey through the city's most vivacious culinary markets, where you can savor traditional dishes such as hummus, shawarma, and falafel. Tasting these local delicacies without the chaos and bustle of tourist traps creates a serene environment where you can truly savor the flavors of Jordan.
I assume we should visit Ajloun - Jerash, but are Mount Nebo and Madaba musts?
There are plenty of fascinating places to explore, and Ajloun-Jerash is undoubtedly a must-see, with its captivating ruins and rich history. But what about Mount Nebo and Madaba? Are they worth a visit?
Let's start with Mount Nebo. This scenic spot is steeped in biblical history, as it's believed to be the place where Moses was granted a view of the Promised Land before he passed away. From the summit, you'll be able to take in a breathtaking panorama of the majestic Jordan Valley, as well as pay your respects at the memorial dedicated to Moses. For history buffs, Mount Nebo is undoubtedly a must-see.
Madaba, on the other hand, is a charming town renowned for its impressive mosaics. Known as the "City of Mosaics," Madaba is home to several awe-inspiring pieces, including a famous map of the Holy Land crafted in the mid-sixth century. The map, which is located in the Church of St. George, depicts the region as it appeared during biblical times and is a testament to the exceptional craftsmanship of the era. If you're interested in art or history, then a trip to Madaba is not to be missed.
Which places provide the best city tours in Amman for travelers on a budget?
Don't fret, there is a wealth of budget-friendly city tours that offer fantastic value and will not burn a hole in your pocket. One of the most affordable and exciting city tours in Amman is the Downtown Amman Walking Tour. This tour allows you to explore the bustling streets and magical alleyways of the city, while also learning about the rich history and culture of the region.
Another great budget-friendly option is the Amman Citadel and Roman Theatre Tour. This tour takes you on an unforgettable journey back in time to explore the ancient ruins of the Citadel and the stunning Roman Theatre. It is a must-see experience that will satisfy your thirst for history and leave you in awe of the beautiful architecture.
If you are looking for something a little different, then the Jordan Olive Farms Tour is an excellent choice. Not only is it incredibly affordable, but it also provides a unique insight into Jordanian agriculture and culture by taking you on a journey to the heart of an olive farm. You can learn about the harvesting and processing of olives, taste delicious olive oil, and even purchase some to take home with you.
Finally, if you are a lover of food, then the Jordanian Cooking Class and Market Tour is an excellent option for budget travelers. This tour takes you to the local markets where you can shop for fresh ingredients before heading to a local's house to learn how to cook traditional Jordanian cuisine. Not only will you get to experience authentic Jordanian cuisine, but you will also learn a valuable skill that you can try out back home.