|
Bedouin culture in Jordan is a fascinating topic that's worthy of in-depth exploration. The Bedouin tribe are nomadic tribes that have roamed the Middle East for centuries. They have a rich cultural heritage that is strongly rooted in their customs, beliefs, and traditions. Jordan, in particular, is home to a large Bedouin population, and their presence in the country has had a significant impact on its culture and way of life.
If you're looking for a Jordan Egypt Tour Package, have a look at our tours above - we might have the right one for you.
The history of Bedouin culture in Jordan
Bedouin culture in Jordan has a long and storied history. The Bedouin people are a nomadic Arab tribe that has been living in the Jordanian desert for centuries. They are known for their strong sense of community, hospitality, and resilience in the face of adversity.
The Bedouin people have a unique way of life that is centered around their herds of camels, goats, and sheep. They move from place to place in search of grazing lands and water sources for their animals. This nomadic lifestyle has allowed the Bedouins to develop a deep understanding and respect for the natural world around them.
One of the most striking features of Bedouin culture is their hospitality. Bedouins are known for their generosity and welcoming spirit towards strangers. They believe that it is their duty to provide food, shelter, and protection to anyone who comes into their camp. This tradition has been passed down from generation to generation and is an integral part of Bedouin identity.
Despite their traditional way of life, the Bedouin people have faced many challenges throughout history. In the early 20th century, the Jordanian government began to exert greater control over the Bedouin population. This led to conflicts between the Bedouins and the government, as many Bedouins felt that their way of life was being threatened.
In recent years, the Bedouin people have faced new challenges as Jordan becomes more modernized. Many young Bedouins are leaving their nomadic way of life behind in favor of urban lifestyles. This has led to a decline in the number of Bedouins in Jordan, as well as a loss of traditional knowledge and culture.
Despite these challenges, the Bedouin people have managed to preserve many aspects of their culture. Bedouin music and storytelling traditions continue to thrive, and visitors to Jordan can experience Bedouin hospitality through overnight camping trips in the desert.
Why should travelers visit Bedouin campsites in Jordan?
Bedouin campsites offer travelers an unforgettable experience, where they can immerse themselves in the culture of the local nomadic people.
Firstly, Bedouin campsites offer a unique opportunity to see rural Jordan and experience a way of life that has remained unchanged for centuries. Visitors can witness how Bedouins live their day-to-day lives in close harmony with their natural environment, and learn about their traditional customs and practices.
Bedouin hospitality is also something that cannot be missed. The Bedouins are renowned for their generosity and welcoming nature, and visitors can expect to be treated like family as they are welcomed into their campsites. Traditional coffee and tea will be served, followed by a delicious meal of local cuisine, all while sitting cross-legged on carpets and cushions under the stars.
Another reason to visit Bedouin campsites is the chance to disconnect from the distractions of modern life and truly connect with nature. Visitors can spend their days exploring the stunning landscapes of Jordan, with hikes through rocky canyons and rugged mountains, or camel treks across the vast expanses of desert.
And when the day is done, come back to camp and relax with the Bedouins, listening to their stories and immersing yourself in their rich cultural heritage. It's a chance to slow down and appreciate the simple pleasures of life, something that many travelers never get to experience.
For those seeking adventure, Bedouin campsites offer a wide range of activities to satisfy any thrill-seeker. Visitors can take part in camel races, try their hand at archery or even go on a hunting expedition with trained falcons.
If you're a history buff, Bedouin campsites also offer a unique insight into the ancient trade routes that once crisscrossed the Arabian Peninsula. The Bedouins were once the backbone of these routes, with their camels carrying goods from one end of the desert to the other. Visitors can learn about this fascinating history and even see some of the ancient trade routes that are still in use today.
Bedouin campsites are also a great way to support local communities and contribute to sustainable tourism. Many Bedouin campsites are run by local families who have been living on the land for generations. By visiting these campsites, travelers are directly supporting these communities and helping to preserve their way of life.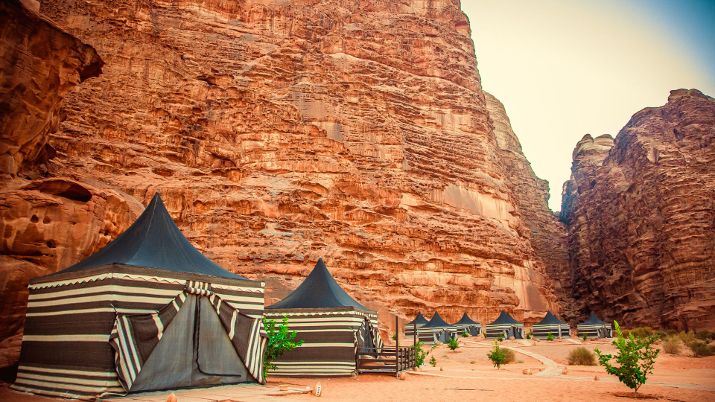 Why is the Bedouin culture known for its nomadic way of life?
First things first, let's define who the Bedouins are. They are a group of Arab nomads who have been living in the deserts of the Middle East for centuries. They are known for their hospitality, their fierce independence, and their strong connection to the land. They move from place to place in search of water, food, and grazing land for their animals - mainly goats, camels, and sheep. The Bedouins are experts in survival in the harsh desert environment, which has enabled them to maintain their lifestyle for generations.
Now, let's talk about why they choose to live this way. For the Bedouins, their nomadic lifestyle is not a choice, but a necessity. The harsh desert environment of the Middle East, where temperatures can soar well above 100 degrees Fahrenheit during the day and plummet close to freezing at night, means that water and resources are scarce. Therefore, the Bedouins need to move frequently in search of these essential resources.
Furthermore, the Bedouins have developed a way of life that is uniquely suited to the challenging desert environment. For example, their tents, made of goat or camel hair, are designed to provide adequate shade during the day and warmth at night. They have also developed a strong lineage system where family and extended family members travel together, share responsibilities, and maintain close ties with one another.
Moreover, the Bedouin culture values independence, self-reliance, and freedom. They are a people who reject strict social hierarchies and embrace a more egalitarian way of life where everyone has equal opportunities and responsibilities. They have a deep connection with the land, and their nomadic way of life allows them to maintain their connection with nature.
Another reason why the Bedouins choose to live this way is to preserve their unique culture and traditions. The Bedouin way of life has been around for centuries, and it is an essential part of their identity. They live in a way that honors their ancestors, preserving their traditions, customs, and beliefs. Their nomadic lifestyle allows them to maintain their cultural practices and pass them down to future generations.
What best describes the hospitality of the Bedouins in Jordan?
When we talk about Bedouin hospitality, we're referring to the warm and welcoming attitude that these people of Jordan extend to visitors. For the Bedouins, hospitality is not just a social custom - it's a way of life. They believe that it is their duty to provide food, shelter, and protection to anyone in need, regardless of their nationality or religion. This attitude is deeply ingrained in their culture and is something that visitors to Jordan are sure to notice.
So, what can you expect when you visit a Bedouin community in Jordan? Firstly, you'll likely be greeted with open arms and a warm smile. Bedouins are known for their friendly and hospitable nature, so don't be surprised if strangers offer to share their meal or invite you to stay in their home.
In fact, it's not uncommon for Bedouins to invite visitors to stay with them for several days, free of charge. This is known as "qirsh," and it's a tradition that dates back hundreds of years. The idea is that by providing hospitality to strangers, you earn blessings and good karma in return.
Of course, it's up to you whether or not you want to take up a Bedouin's offer of qirsh. However, if you do decide to stay with a family or community, you're sure to be treated like royalty. Bedouins take great pride in their hospitality, and they will go out of their way to ensure that you feel comfortable and welcome.
One example of this is the traditional Bedouin meal. When you sit down to eat with a Bedouin family, you'll be treated to a feast of delicious local dishes. From roasted lamb to sweet Arabic coffee, every dish is prepared with care and love. You'll be encouraged to eat as much as you like and to try everything on offer - it's all part of the Bedouin experience.
Another aspect of Bedouin hospitality that visitors often comment on is the sense of community. Bedouin families and tribes are tightly-knit, and they place great importance on coming together to share meals, celebrate special occasions, and support each other in times of need. As a visitor, you'll be welcomed into this community with open arms, and you'll be invited to participate in their customs and traditions.
One example of this is the Bedouin henna party. This is a pre-wedding tradition in which the bride and her female relatives get together to decorate their hands and feet with intricate henna designs. Visitors are often invited to participate in these celebrations, and it's a wonderful way to experience Bedouin culture firsthand.
Finally, it's worth noting that Bedouin hospitality isn't just limited to visitors. Bedouins are known for their generosity and compassion towards all living creatures, including animals. It's not uncommon to see Bedouins feeding stray cats or offering water to thirsty camels. This attitude is a reflection of the Bedouins' deep respect for nature and their belief that all living things are interconnected.
The Spiritual Significance of Desert and Struggles of the Bedouins of Jordan
The Bedouins are nomadic people who have been living in the deserts of Jordan for centuries. They have adapted to the harsh conditions of their environment by developing a deep understanding and appreciation for the natural world around them. For the Bedouins, the desert is not just a physical landscape, but a spiritual one as well.
At the heart of Bedouin spirituality is the idea of struggle. A desert is a place of constant struggle - for water, food, for shelter. But these struggles are also seen as opportunities for growth and self-discovery. Through their struggles, the Bedouins learn to rely on their own resourcefulness and resilience and to trust in a higher power to provide for them in times of need.
This idea of struggle is reflected in many aspects of Bedouin culture. For example, the Bedouins have a rich tradition of storytelling, and many of their stories center around characters who face great challenges and overcome them through courage and perseverance. These stories serve as a reminder to the Bedouins of the importance of struggle in shaping their character and their relationship with the world around them.
The spiritual significance of the desert is also reflected in Bedouin art and music. The Bedouins are known for their traditional dances, which tell stories and express emotions through movement. Many of these dances are performed around the campfire, under the stars, adding to the sense of connection with the natural world. Bedouin art often features motifs of desert landscapes and animals, such as camels, which are central to Bedouin life.
The nomadic Bedouins architecture and environment
When we think of Bedouin architecture, we often conjure up images of tents and temporary structures. But the truth is, Bedouin architecture is so much more than that. It is a reflection of the environment in which it is built and the lifestyle of those who inhabit it.
The Bedouin people have been practicing architecture for centuries, and their structures are built with a profound understanding of their desert surroundings. They have learned to adapt to the harsh climate, using natural and sustainable materials that are readily available. This includes using mud, straw, and palm fronds to construct their homes, which are designed to keep the heat out during the day and provide insulation at night when temperatures can drop dramatically.
One of the most fascinating aspects of Bedouin architecture is its mobility. The Bedouin people are nomadic and rely on their homes being portable. Their tents are made from woven goat hair, which can be easily dismantled and transported to a new location. This allows the Bedouins to follow the movements of their livestock and seek out new grazing areas.
The tents themselves are incredibly functional, designed to protect the occupants from the elements while also promoting ventilation. The open top of the tent allows air to flow freely, keeping the interior cool and fresh. Walls that can be raised or lowered depending on the weather further contribute to the adaptable nature of the structure.
One of the most important aspects of Bedouin architecture is its close relationship with the natural environment. The materials used in construction are sourced locally and sustainably, and the buildings themselves are designed to blend in with their surroundings. The muted colors and natural materials used in construction allow the structures to blend seamlessly into the desert landscape.
The Bedouin people have a deep respect for the environment in which they live, and their architecture reflects this. They have developed a keen understanding of the land and its resources, and have learned to live in harmony with nature. Their structures are built with an eye towards sustainability and longevity, reflecting a culture that values simplicity and practicality.
Tips for Engaging with Bedouin People and Culture
When interacting with Bedouin people, it is important to dress modestly. Women should cover their hair and wear loose clothing that covers their arms and legs. Men should also dress modestly, wearing long pants and shirts with sleeves. This is a sign of respect towards the Bedouin culture, which values modesty and humility.
Language can also be a barrier when engaging with Bedouin people. Arabic is the most commonly spoken language among Bedouins, but many also speak other dialects such as Persian or Turkish. Therefore, it is helpful to learn a few basic Arabic phrases such as "hello" (salam) and "thank you" (shukran). This will show that you are making an effort to engage with their culture and will help to break down any language barriers.
Another important aspect of Bedouin culture is their love of tea. Tea is a symbol of hospitality and is typically served to guests upon arrival. It is important to accept the tea as a sign of respect towards your host. When drinking with Bedouin people, it is customary to hold the handle of the cup with your thumb and index finger, leaving the rest of the fingers curled up. This is a mark of respect and shows that you are honoring the tradition of tea drinking in Bedouin culture.
One thing to keep in mind when engaging with Bedouin people is their strong sense of honor. Honor is highly valued in Bedouin culture, and actions that are perceived as dishonorable can result in serious consequences. Therefore, it is important to be respectful and avoid behaviors that could be seen as insulting or disrespectful.
Finally, it is important to keep an open mind when engaging with Bedouin people and culture. Bedouin culture is unique and may not align with your own cultural norms and values. However, it is important to approach their culture with an open and respectful attitude. By doing so, you will gain a deeper understanding and appreciation of their way of life.
FAQs about Bedouin culture in Jordan
Did you know that the Bedouins of Jordan are often termed as the "pure-blooded" people?
It's not just a title or a simple label, it's a reflection of their rich cultural heritage and distinctive way of life. These nomadic people, who have inhabited the desert regions of Jordan for centuries, have lived in harmony with the land and their traditions. Their way of life has remained unchanged for generations, and their customs and traditions are deeply rooted in their history and culture.
Did you know that the tents are made from sheep and goat hair and that they are spun by the women of the tribe?
These nomadic people have been constructing portable shelters for centuries, and the secret to their durability lies in the choice of materials. Unlike modern construction techniques, Bedouin tents use natural elements found in their environment to create resilient structures capable of withstanding harsh weather conditions. So, what exactly are these tents made of? The answer may surprise you! From goat hair to camel wool to palm leaves, the Bedouins have perfected the art of building shelters using resources readily available to them. Join us on a journey to discover the fascinating world of traditional Bedouin tent construction and learn about the ingenious methods used to create these enticing structures.