|
Little Petra, also known as Al Beidha, is a historical village located in the southern part of Jordan. It is a charming place with a long and fascinating history that dates back to the 1st century AD. The village is situated just a few miles from Petra, which is undoubtedly one of the most famous historical sites in the world. However, Little Petra attracts fewer visitors than Petra, which makes it a hidden gem for those who love to explore hidden and magical places.
What is the history of Little Petra?
The history of Little Petra is quite intriguing. According to archaeological excavations and researches, Little Petra was once a hub for trade and commerce in the Nabatean kingdom. The Nabateans were an ancient tribe that resided in the lands of Jordan, Syria, and Saudi Arabia during the 2nd century BC to the 2nd century AD. They were renowned for their skills in constructing impressive structures, carving intricate designs on rocks, and trading spices, incense, and silk.
Little Petra used to be one of the trading posts of the Nabateans. They used the village to rest and replenish their necessities on their journey towards faraway destinations such as Egypt, Syria, and Mesopotamia. The Nabateans also used Little Petra as a storage facility for their commodities. They carved large chambers on rocks and used them to store grain, olive oil, and other products. The rock-cut caves were so well made that they provided natural insulation and helped preserve the products for long periods.
Apart from being a trading hub, Little Petra also had a religious significance for the Nabateans. The village has an impressive rock-carved temple that was dedicated to their deity called Dushara. The temple had a massive facade that was decorated with intricate carvings of the Nabatean gods and goddesses. The temple had a large central hall that was used for religious ceremonies and rituals.
Little Petra was abandoned after the fall of the Nabatean Kingdom in the 2nd century AD. However, the village remained a vital site for the Bedouin tribes that lived in the area. The Bedouin used the rock-carved chambers as temporary shelters during their trips across the desert. They also used them as hiding places for their goods and treasures.
Why is Little Petra also known as Al Beidha?
The reason why Little Petra is also known as Al Beidha is quite simple. The name Al Beidha translates to "The White One" in Arabic. The name is derived from the white rocks that dominate the area around the village. The rocks are made of white sandstone that gives them a unique and spectacular appearance. The rocks have been shaped and sculpted by nature for millions of years, creating an otherworldly landscape.
The name Al Beidha is also significant because it reflects the peaceful and serene ambiance of the village. Little Petra is a small village that is surrounded by an arid and hostile environment. However, the village radiates a sense of calmness and tranquillity. It is a place where one can escape the hustle and bustle of modern life and immerse themselves in the beauty of nature.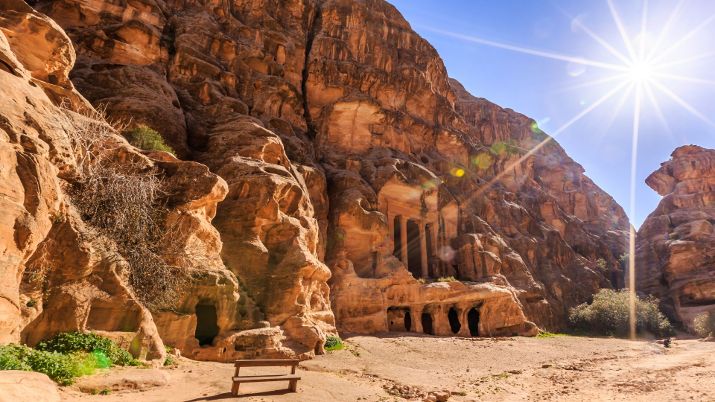 Why should travelers visit Little Petra?
For those looking for an authentic cultural experience, Little Petra is also a perfect choice. Visitors can mingle with local Bedouin communities, who have lived in the region for centuries and have preserved their unique cultural traditions. Guests can join a guided tour of the local villages, enjoy traditional Bedouin music and dance, and even participate in local craft workshops and culinary demonstrations.
Little Petra is also a prime destination for those looking to escape the hustle and bustle of city life and reconnect with themselves and nature. Whether one is seeking solitude and introspection or simply looking to unwind and recharge, Little Petra offers a tranquil respite from the stresses of modern life.
Are there any activities available at Little Petra, and if so, what are they?
In terms of things to do, Little Petra offers a range of activities that cater to various interests. If you're a history buff, you can take a guided tour of the site and learn about the history of the Nabataean people. If you're into hiking or nature, you can explore the surrounding desert landscape and marvel at the stunning views. Plus, there are also plenty of opportunities for photography, so make sure you bring your camera!
One of the standout features of Little Petra is the Siq al-Barid, which translates to "cold canyon". It's a narrow gorge that's similar in structure to the famous Siq in Petra, but it's much less crowded and offers a more intimate experience. Walking through the Siq al-Barid feels like stepping back in time, as you pass by ancient ruins and tombs that are thousands of years old. It's a truly unique experience that you won't find elsewhere.
Another activity that's worth checking out is the Petra Kitchen cooking class, which is located just outside of Little Petra. Here, you can learn how to cook traditional Jordanian dishes using fresh ingredients and traditional methods. It's a hands-on experience that's both fun and educational, and the best part is that you get to eat what you make!
If you're looking for something a bit more adventurous, you can also go on a jeep safari or try your hand at rock climbing. Both activities offer a unique perspective on the desert landscape and will get your adrenaline pumping.
Little Petra to Petra: How to get to Petra
To travel from Little Petra to Petra, you have a few options. Here are the most common methods of transportation:
Private Vehicle: If you have access to a car or are planning to rent one, driving from Little Petra to Petra is a straightforward option. The distance between the two sites is approximately 9 kilometers (5.6 miles), and the journey takes around 15 minutes. There are signs along the way to guide you.
Taxi: Taxis are readily available in the area, and you can hire one to take you from Little Petra to Petra. Negotiate the fare beforehand or make sure the meter is used. Taxis offer convenience and are a popular choice for travelers.
Shared Shuttle: Shared shuttles or minibusses operate between Little Petra and Petra. These are often available at fixed departure times, and you can inquire about them at local accommodations or travel agencies. The shuttle ride typically takes around 20-30 minutes.
Hiking: For those who enjoy outdoor activities and have the time, you can hike from Little Petra to Petra. There is a scenic trail known as the "Backdoor" or "Al-Madras Trail" that connects the two sites. The hike takes approximately 2-3 hours, depending on your pace and fitness level. Make sure to bring water, wear comfortable shoes, and be prepared for the terrain.
It's worth noting that Petra is a popular tourist destination, so transportation options are generally well-established and easy to find. Consider your preferences, budget, and time constraints when choosing the best mode of transportation for your journey.
What is Wadi Musa?
Little Petra is an archaeological site located in the Jordanian city of Wadi Musa. Wadi Musa, which translates to "Valley of Moses" in English, is a small town located near the iconic Petra, which is considered one of the Seven Wonders of the World. Wadi Musa is a must-visit destination due to its strategic location near Petra, and also because of its captivating scenery and rich cultural history. The vibe in Wadi Musa is a fusion of traditional and modern, which makes it an excellent destination for tourists visiting Jordan.
Where to stay near Little Petra?
When it comes to finding a place to stay near Little Petra, you have a few different options to consider. One popular option is the town of Wadi Musa, which is located just a short drive away from Little Petra itself. Here, you will find a variety of different hotels and guesthouses to choose from, ranging from budget-friendly options to more luxurious accommodations.
Another option is to stay in the nearby city of Petra itself. While this may be a bit further away from Little Petra, it will give you easy access to all of the other attractions in the area, such as the Petra Archaeological Park and the Monastery. You will also find a wide range of accommodation options here, from basic hostels to high-end hotels.
If you're looking for something a bit more unique, you may want to consider staying in a Bedouin camp near Little Petra. These traditional camps provide a one-of-a-kind experience, allowing you to immerse yourself in the local culture and enjoy the natural beauty of the surrounding desert.
Ultimately, the best place to stay near Little Petra will depend on your personal preferences and budget. Whether you choose to stay in Wadi Musa, Petra, or a Bedouin camp, you are sure to have an unforgettable experience exploring this breathtaking corner of Jordan.
When is the best time of year to visit Little Petra?
The ideal time to visit Little Petra is from March to May, and from September to November. During these months, the weather is comfortable and not too hot, which allows visitors to explore the site without feeling exhausted by the sweltering heat. The temperature during these months is usually around 20-25 degrees Celsius, making it ideal for outdoor activities.
What is the entrance fee for Little Petra?
The fee for Little Petra won't break the bank. In fact, it's only 3 Jordanian Dinars, which is equivalent to about 4 USD. That's a steal! And even better, if you've already purchased a ticket for Petra, then you can just use that to enter Little Petra as well. So, no need to fret about extra costs.
What time does Little Petra open? Which days is it open?
Now, let's talk about what times Little Petra is open. The site is open every day from 8:30 am to 4 pm. It's important to note, however, that in the winter months (November to February), the site may close earlier due to the shorter daylight hours. So, it's always best to double-check before you head out there.
What type of architecture is Little Petra renowned for?
Little Petra is renowned for its complex rock-cut façades and architectural structures dating back to the 1st century BC. The structures are carved into the soft sandstone cliff faces and feature a multitude of intricately designed chambers, rooms, and courtyards.
The highlight of the architecture is the Beidha-style façade, consisting of a triclinium or banqueting hall, complete with benches hewn from the rock, water channels, basins, and niches providing shelter to small sculptures.
Apart from the triclinium, there are other notable structures such as the Painted House, which houses rare frescoes that are still visible today. The Painted House gets its name because of the guardianship of the frescoes, which bear witness to the technical precision and artistic talent of the Nabataean civilization.
Hike to the Monastery from Little Petra
Hiking the notorious Monastery trail from Little Petra is a must-do. Although the Petra Monastery trail is a long one, with a round-trip distance of 8 miles; it's worth the effort.
The trail takes you through the rugged hills, lush canyons, and winding mountains, with sweeping panoramas - some of the finest in Jordan. It does require a certain level of fitness and mental preparation, but it's doable for moderately fit hikers. It's a good idea to pack lots of water, sturdy hiking boots, and sunscreen to conquer the trail like a pro.
The trail starts from Little Petra, which allows you to cut through a dramatic maze of rock formations, passing dwellings and tombs along the way, before culminating at the Monastery. To be more accurate, it's the Petra Monastery, or Ad-Deir, a monumental rock-carved structure that stands 148 feet tall and measures 50 meters wide.
The Monastery was also built in the 1st century BC and is believed to have been a temple, rather than a monastery as its name suggests - fascinating, right? The Monastery's architecture and design are similar to the more well-known Treasury but are larger in size and scale.
The hike to the Monastery is all about the journey rather than the destination. It's an opportunity to soak yourself in the stunning beauty of Jordan's exquisite terrain and challenge yourself mentally and physically. Additionally, it's an opportunity to learn more about the culture and history of the Nabataean civilization.
What is the easiest way to get to Little Petra from well-known landmarks in the surrounding area?
If you're already in the nearby areas like Petra, Amman, or Wadi Rum, you can take a taxi to Little Petra. The drive usually takes around 30-45 minutes, depending on your starting point. What's great about this option is that you have the flexibility to visit on your own schedule.
Another alternative is to book a guided tour that includes Little Petra as part of the itinerary. Many tour companies offer this option, and it's an excellent way to learn more about the history and culture of the area. You can also access Little Petra via horseback or camelback tours.
If you're feeling adventurous, you can also hike to Little Petra from Petra itself, which is about a 1-hour trek through the canyons. The hike is not for the faint of heart, but if you're up for the challenge, the reward is stunning views and an authentic Bedouin experience.
No matter how you arrive, once you're in Little Petra, you'll be transported to another time and place.
Frequently Asked Questions about exploring Petra by travelers
Is Little Petra included in Jordan pass?
For those of you not yet in the know, this nifty card gives you access to a whole range of tourist sites in Jordan, including some of the most iconic ones like Petra, Jerash, and more. So the question is, is Little Petra also included in the pass? The answer is a resounding YES! The Jordan Pass offers access to Little Petra along with several other gorgeous sites, so make sure to get your hands on it to save some serious cash.
Do you need to book in advance to visit Little Petra?
Let me just say that if you're planning a visit to Little Petra, it's imperative that you book well ahead of your trip. The reasons are twofold. Firstly, Little Petra is not as widely known as its bigger cousin and may take a bit of planning to visit it. Secondly, as Little Petra is not as crowded as Petra's main site, it's ideal for travelers looking for a quieter and more serene experience. So to enjoy it to the fullest, it's wise to book in advance to avoid any misadventures. There are several tour operators that provide trips to Little Petra. You can easily book your tours online or by phone.
What restaurants are near Little Petra?
Let's look at what restaurants you can find near Little Petra. As Little Petra is situated in a relatively isolated locale, there aren't a ton of restaurant options close by. However, there are still some fantastic eateries to explore during your visit. For example, there is a charming coffee shop called the Crown Plaza, that offers some of the best Arabic coffee in Petra. They also have a great selection of teas and light food options.
If you're looking for something more substantial, there are a couple of restaurants in the nearby town of Wadi Musa. One popular option is the Bedouin Garden restaurant, which offers a range of Middle Eastern dishes like hummus, falafel, and tabbouleh. The location is perfect to take in the stunning views of the surrounding landscapes. Another great option is the Red Cave restaurant, which serves delicious local cuisine, such as lamb shawarma, grilled chicken, and various mezze plates.