|
Morocco, officially called the Kingdom of Morocco, is a country in North Africa. It enjoys a unique location at the junction of three separate regions: Africa, Arabia, and Europe. This has resulted in a nation of immense diversity, with a wonderful blend of cultures, languages, and customs stemming from a rich history. Add to this the country's stunning natural landscapes and welcoming citizens, and you have a travel destination that is a must-visit. We've picked our top 5 essential attractions to experience on a Morocco tour.
Jamaa el-F'na Souk
Jamaa el-F'na in Marrakech offers the ultimate souk experience. Souks, which are marketplaces or bazaars, are one of the most exciting and enjoyable places to visit in Morocco. Vibrant and lively, they ignite the senses with their distinct brand of organised chaos. An array of sights, sounds, smells, and even tastes awaits you as you browse between the stalls, haggling with the vendors and finding delightful hidden gems.
Jamaa el F'na is known as one of the best souks in Morocco. It is located in the old quarter of Marrakech, and is the main square of the city. It offers a truly unforgettable experience, especially at sunset and during the night-time. Besides stalls selling delicious street fare and peddling handicrafts and souvenirs, you will find a unique blend of entertainment acts here: storytellers, magicians, snake-charmers, acrobats, and dancers are some of the performers that you can expect to see at Jamaa el-F'na.
Hassan II Mosque
The famous Hassan II Mosque of Casablanca boasts a number of impressive accolades. It is the biggest mosque on the African continent, and the 3rd largest in the world. It can hold 105 000 people in total: 25 000 people inside the mosque itself, with another 80 000 in the outer courtyard. At 210m (689 ft. or 60 stories), the mosque also possesses the second-highest minaret in the world. At the top is a laser light that points in the direction of Makkah in Saudi Arabia (the holiest site in Islam).
The Hassan II Mosque also boasts a stunningly beautiful setting: it is perched on an outcropping of rock that juts out into the Atlantic Ocean. It is possible for someone praying inside the mosque to stand "over" the sea. The mosque is beautiful in itself, as well-- it is constructed from handcrafted stone, wood, and marble, with gilded ceilings, intricate patterns, and delicately-designed tilework. The prayer hall is huge and grand, with a retractable roof to allow a sea breeze in. Even the ablution facilities, which are located in the basement, feature marble fountains shaped like enormous lotus flowers. Visitors are allowed to visit the mosque at various times during the day, depending on the prayer schedule.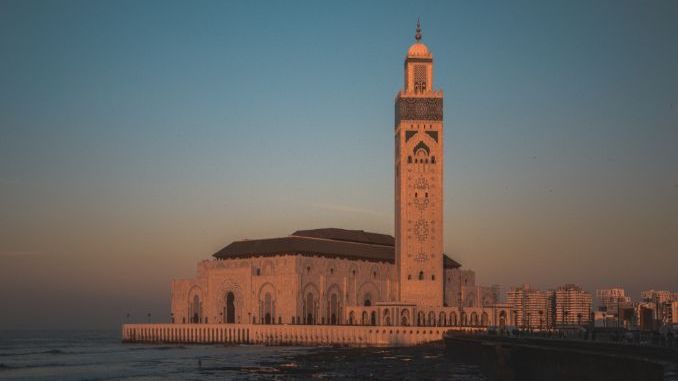 Oudayah Kasbah Residential Neighbourhood
The Oudayah Kasbah is located within the city of Rabat, which is the administrative capital of Morocco. While the Kasbah is an amazing attraction, its quaint residential area is an attraction in itself. Despite being found in the centre of Rabat, this charming neighbourhood is so tranquil and peaceful, with an atmosphere that is so far removed from that of the modern world, that it feels as though it is a hundred miles away. It features rows of clean, quiet streets that are lined with houses painted in various shades of blue and white, a distinctive feature of the area. Splashes of colour in the form of flowerpots and window art add to the aesthetic appeal. Another drawcard of this area is that it doesn't get as crowded with tourists as other destinations in Fes and Marrakech.
Volubilis
The site of Volubilis houses the remains of an ancient Roman city. It is known as the finest and best-preserved Roman historical site in Morocco. It is 40 hectares in size, with more than half still to be excavated. Dating back to 40AD, Volubilis features an intriguing collection of historical remnants, including temples, columns, pillars, and arches. It also houses a stunning collection of mosaics, each situated in the same spot at which it was unearthed.
Volubilis is perched at the top of a hill, with glorious views of the surrounding countryside. The site has seen centuries of history, with various civilisations occupying it over the years. It is a UNESCO World Heritage Site, and is a fascinating place to visit, especially for lovers of history and ancient architecture and culture.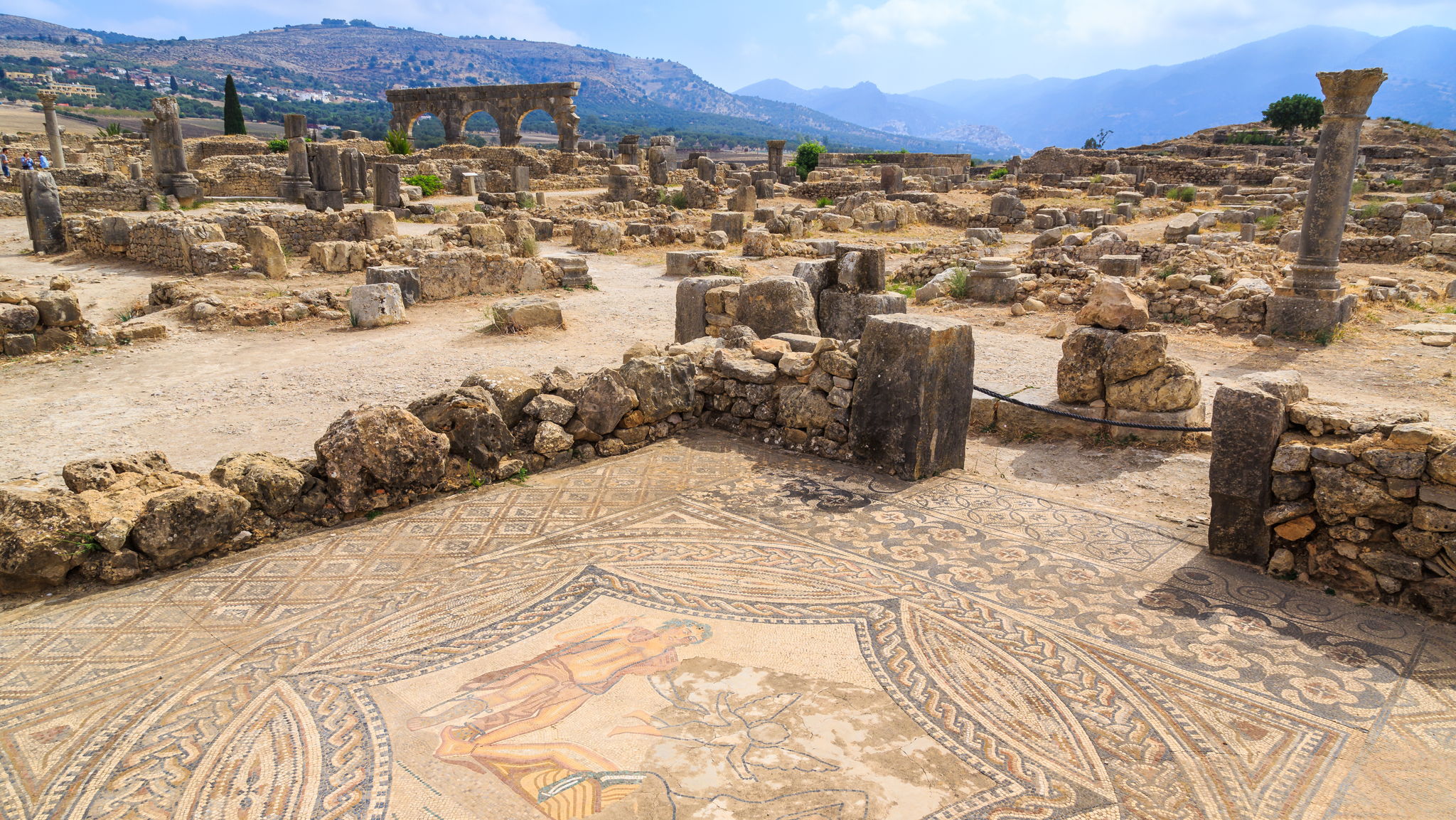 Fes
The remarkable city of Fes is located in northern Morocco. This chaotic city is often referred to as the country's "cultural" capital, and it's easy to see why. It is a heady jumble of narrow streets and alleyways, ornately-carved doors, bustling souks, and numerous mosques. The old medieval city, called Fes al Bali, is still surrounded by high walls that are punctuated by enormous historical gates. It is recognised as a World Heritage Site, and is known for being one of the largest car-free regions in the world. Instead of cars, you will see people and goods being transported by donkey, motorbike, and carriage! Fes al Bali also houses several educational institutions, including the University of al-Qarawiyyin, which is recognised by UNESCO as being the oldest existing educational institution in the world.
Another famous sight to see in Fes is the awe-inspiring outdoor leather tanneries. Here you can watch the tanners labouring over the enormous stone vats, as they work to preserve and dye the animal hides that are brought in. While the smell of the tanneries is famously awful, it is definitely worth seeing-- even if it's just for a few minutes!