|
Bhutan is located in southeast Asia. It is a small landlocked nation sandwiched between Tibet, Nepal, and India. It is found in the eastern region of the Himalayan Mountains, and is a predominantly Buddhist nation.
Bhutan is known for being a tranquil land that is rich in natural beauty and biodiversity. This aura of exotic allure is reflected in its cuisine. Like the country itself, Bhutanese cuisine is unique. Local produce forms the basis of the cuisine, which also has Tibetan roots.
The prevailing characteristic of Bhutanese cuisine is spiciness. Chillies are a crucial ingredient in almost all dishes. Chilli peppers are not indigenous to Bhutan; they are believed to have been introduced to the country via India. Chillies are so integral in Bhutan that they are also used in the brewing process of the local liquor, and are even burned in order to drive evil spirits away.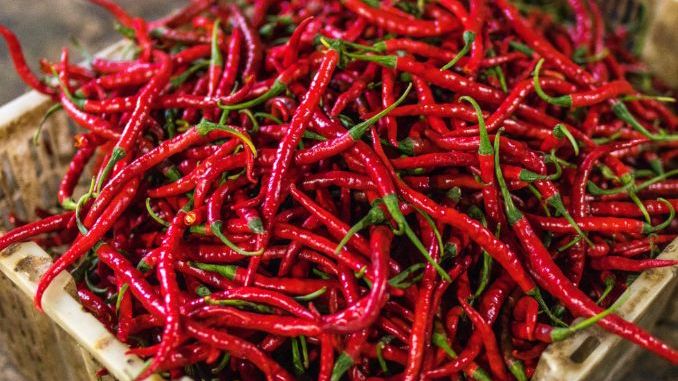 Vegetarian dishes are common in Bhutan, and many Bhutanese people are vegetarians. However, meat-based dishes are not difficult to find.
Rice is a staple ingredient in Bhutan, and comprises the main element of many meals. Red rice is most commonly eaten. This type of rice is has a soft and somewhat sticky texture when cooked.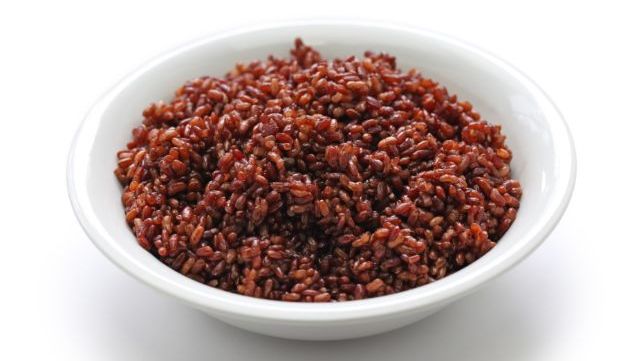 The rice is usually accompanied by side dishes of vegetables or meat. Turnips, radishes, tomatoes, pumpkins, and spinach are common vegetables; while beef, chicken, and pork are the main types of meat. Other grains are also grown in different parts of the country, including barley and buckwheat.
Stews and soups are popular during the cold seasons, which can be harsh. They are made with rice, vegetables, lentils, and meat, and are spiced with chillies and heartened with cheese. Dairy products are extensively used in Bhutanese cuisine, especially butter and cheese made from the milk of cows and yaks.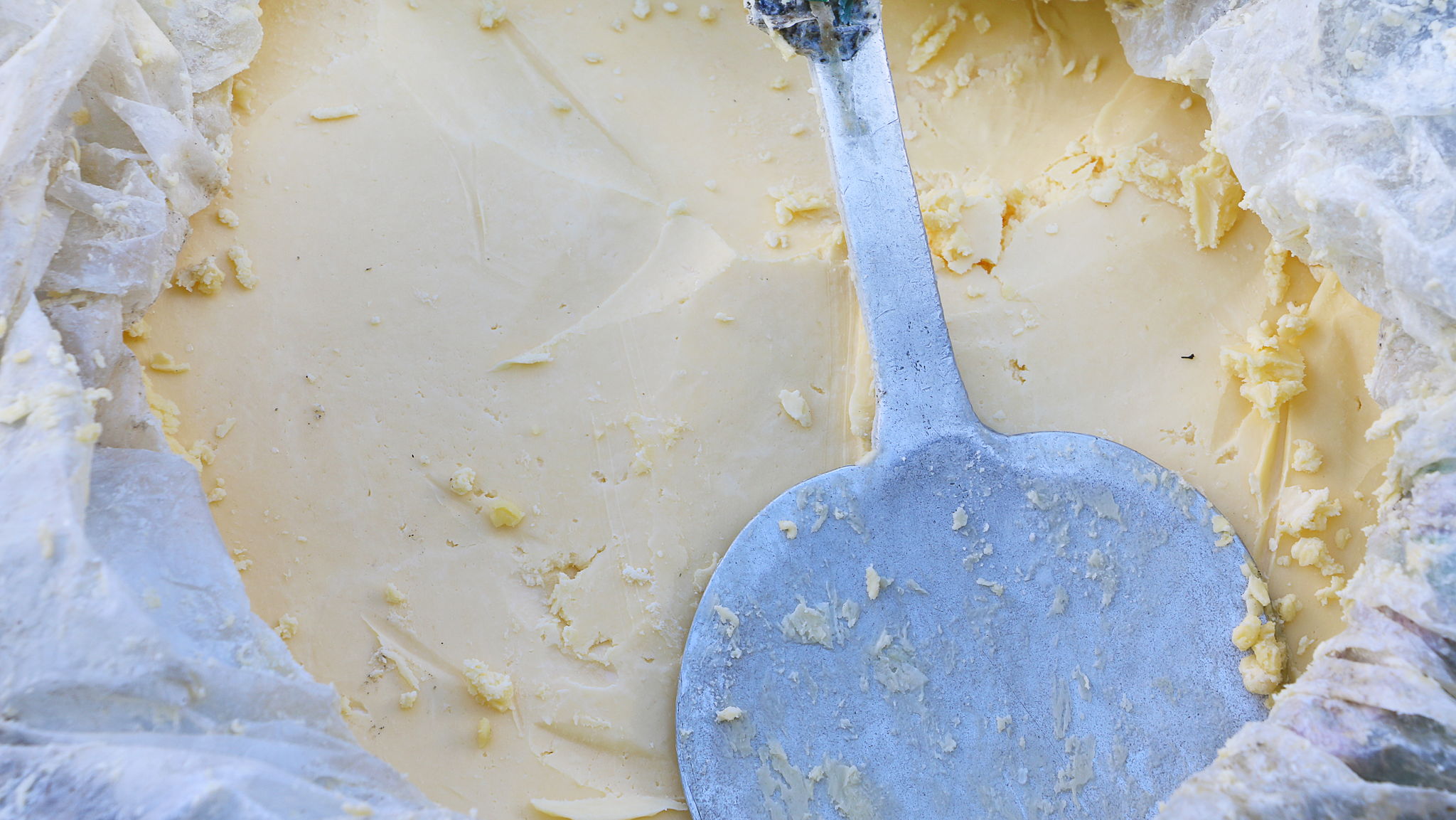 Chinese and Indian food can be easily obtained in Bhutan, and many restaurants also serve Nepalese and Tibetan food. Recently, many Korean restaurants have opened up in Bhutan.
The national dish of Bhutan is known as ema datshi. It is eaten throughout the country and is a fundamental part of most meals. It is essentially a stew made from cheese and chilli peppers. "Ema" means "chillies" and "datshi" means "cheese" in the local language of Dzongkha. This fiery dish is made by cutting the chillies open lengthwise and removing the seeds; cheese, garlic, water, and oil are then added. Onions and tomatoes may also sometimes be added; other variations include mushrooms, green beans, potatoes, and ferns. A special type of farmer's cheese, which is rarely found outside of Bhutan and which does not dissolve in water, is used in the preparation of ema datshi. Yak cheese is sometimes also used. Ema datshi is often served with red rice.
Other popular dishes that can be expected to be eaten on a trip to Bhutan include:
Momos
Momos are dumplings made in a Tibetan style and commonly eaten during special occasions. They are steamed and can contain different types of stuffings. Traditionally, they are stuffed with minced meat like beef or pork, but nowadays can also have cheese or vegetable fillings. They are very common across southeast Asia, and are a favourite among the Bhutanese.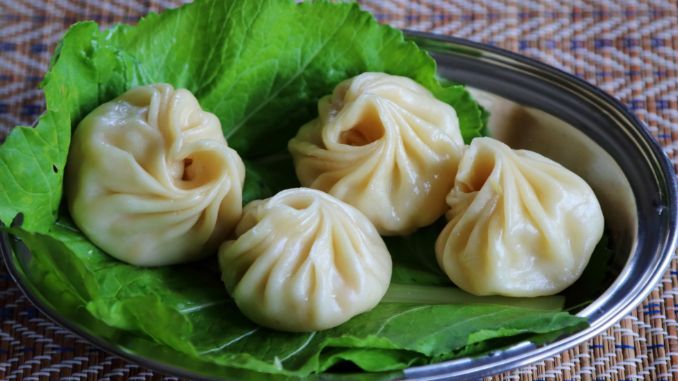 Phaksha Paa and Hoentoe
Phaksha paa is a spicy pork dish that is cooked with red chillies. The pork is stir-fried and can be served with spinach or radishes. Phaksha paa is best enjoyed with a serving of red rice. Hoentoe can also accompany phaksha paa. These are dumplings similar to momos, but made from buckwheat, and filled with turnip, cheese, and chilli. Variations of hoentoe can be filled with spinach, soya beans, and other ingredients.
Jasha Maru
Jasha maru is one of Bhutan's most well-known dishes. It consists of chicken, which is cut into cubes and cooked using various fresh ingredients such as garlic, ginger, tomato, onions, chillies, and coriander. It can be enjoyed on its own, or as a curry with red rice. It is usually very spicy, so you may want to request a milder version if you decide to try it.
Goep (Tripe)
Tripe is a kind of edible lining from the stomachs of various animals. Although the popularity of tripe has decreased in many Asian countries, it remains a favourite in Bhutan. It is cooked with vegetables, spices, and, of course, chillies.
Khur-le
This is a type of Bhutanese pancake, which is made using buckwheat instead of wheat flour. It is spongy in texture and is ideal to eat alongside a main dish like ema datshi. It is also commonly eaten for breakfast.
Beverages
Tea is very popular in Bhutan and is widely consumed. Suja is the Bhutanese version of butter tea, which is popular in the Himalayan countries. It is made from tea leaves, water, salt, and yak butter. Cow's milk butter in also widely used to make it.
Ngaja is another popular type of tea. This is tea brewed Indian-style, with milk and sugar.
In parts of central and eastern Bhutan, ara or arag is consumed. This is a locally-brewed rice wine with 20% alcohol content. However, it is worth noting that the Bhutanese government is actively involved in discouraging the consumption and sale of alcohol.