|
The beautiful nation of Vietnam is home to stunning natural scenery and has a rich history. It is also known for being a spiritual centre for Buddhism, which is its main religion. It is home to thousands of temples and places of worship, some of which date back hundreds of years.
Many of the temples in Vietnam are called "pagodas". This is defined as a Buddhist or Hindu temple, often in the form of a tower consisting of multiple tiers.
We've chosen our top ten temples to visit in Vietnam. Book a Vietnam tour for a chance to visit these mysterious and fascinating temples.
Tran Quoc Pagoda
Tran Quoc Pagoda is top of any list of temples to visit in Vietnam. It is situated on an islet in the West Lake in Hanoi. It is around 1500 years old and has been renamed and relocated many times. The main building/tower is 15m high and has 11 levels, surrounded by several smaller towers. The rest of the complex includes a museum with historical artefacts, as well as a house for incense-burning. There are also many ancient carvings and statues to be seen.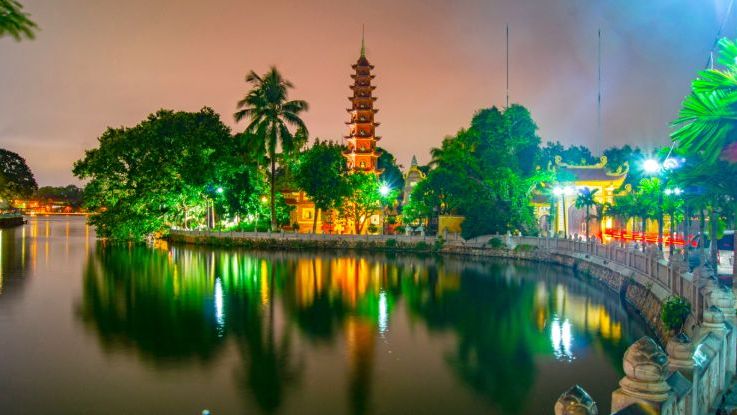 The Temple of Literature
This beautiful and picturesque temple was originally a university that was built in the year 1070 in order to honour Confucius and his scholars. It is located in Hanoi and stands as tribute to literature and education. It is a very well-preserved temple that exhibits the influences of the many dynasties that it has seen.
The complex covers a large area and is divided into five main sections. It features courtyards, passageways, pathways, and pillars, and is a stunning example of traditional Vietnamese architecture. It is rich with historical significance and is a fascinating place to explore. It is also a very popular spot for wedding and graduation photoshoots.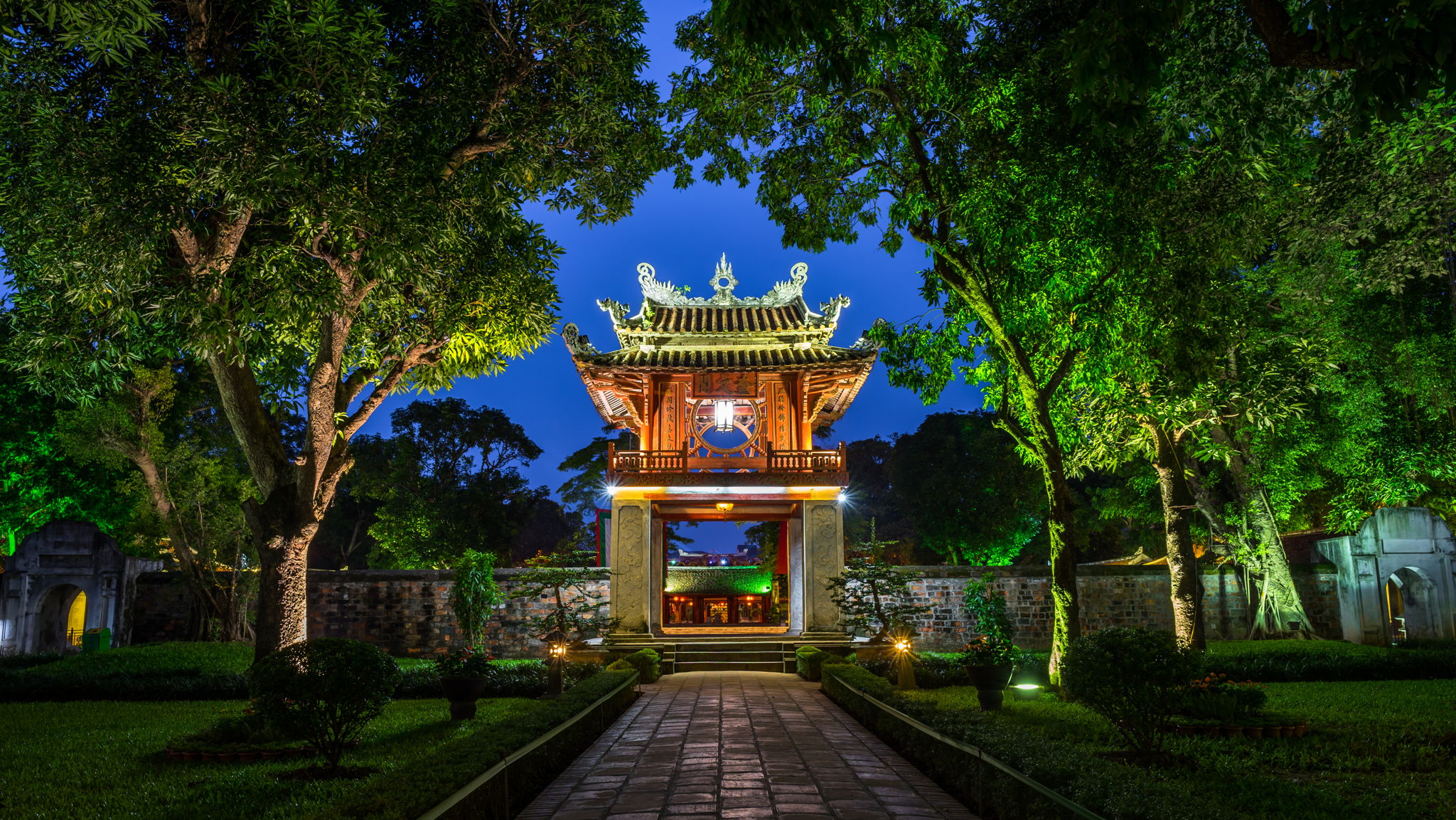 Cao Dai Temple
The Cao Dai Temple is found to the northeast of Ho Chi Minh City. It is a religious place of worship for Cao Daists, who believe that all religions are ultimately the same. The different religions are combined into one monotheistic religion and figures such as Muhammad, Jesus Christ, The Lord Buddha, Joan of Arc, and Julius Cesar are all worshipped at this temple. Worshipping ceremonies are held daily every six hours, and the public are allowed to watch the worshippers pray. Priests wear yellow, red, or blue robes, while the followers wear white. The worshippers sit in rows, with women on the left and men on the right. The temple itself is ornate and multi-coloured, with carvings of dragons and snakes.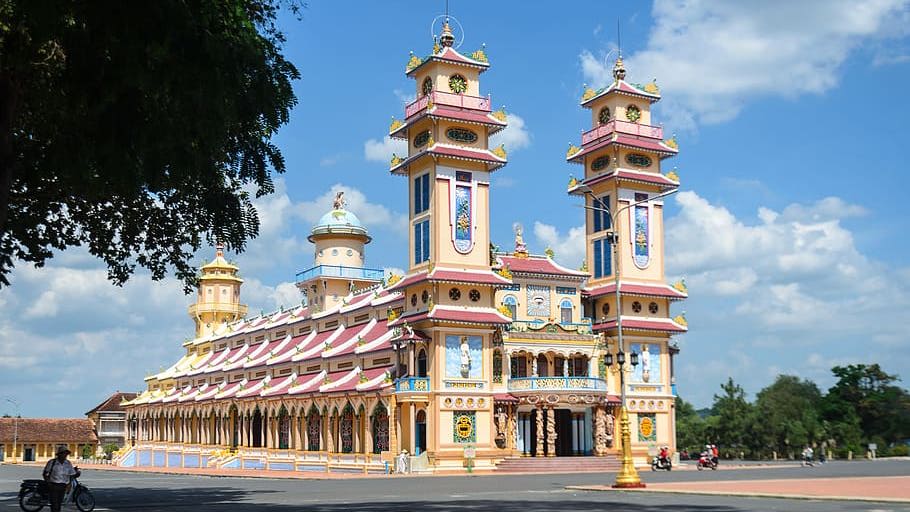 Bai Dinh Pagoda
The Bai Dinh Pagoda is most well-known for housing what is thought to be the largest bronze statue of Buddha in southeast Asia. It is ten metres in height, and is the largest of a collection of 500 intricately-carved statues of Buddha found here. Bai Dinh is made up of several temples surrounded by mountainous terrain. It is hundreds of years old and is visited regularly by local people who come to the monks to have their fortunes told.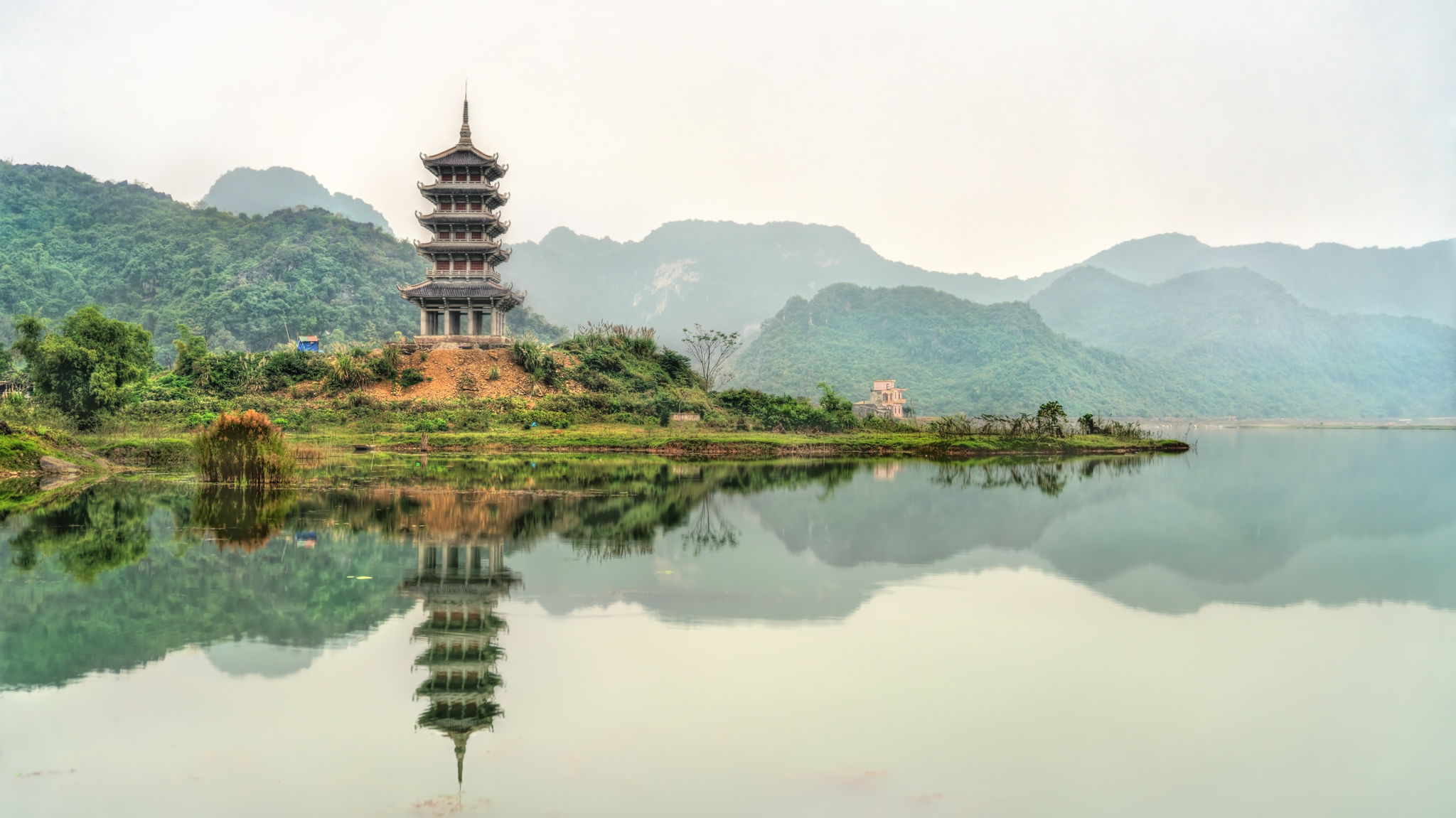 Giac Lam Pagoda
The Giac Lam Pagoda is the oldest Buddhist temple in Ho Chi Minh City. It was constructed in 1744. It features 3 main buildings surrounded by peaceful gardens. Features of interest include a large statue of Quan The Am Bo Tat (or Goddess of Mercy), a bronze bell that is believed to answers prayers when rung, and many statues in the gardens. Inside the main sanctuary, you can see many golden statues. There are 98 pillars inside the temple, on which are carved 86 phrases in golden lettering. A large statue of Amitabha Buddha sits on the main altar.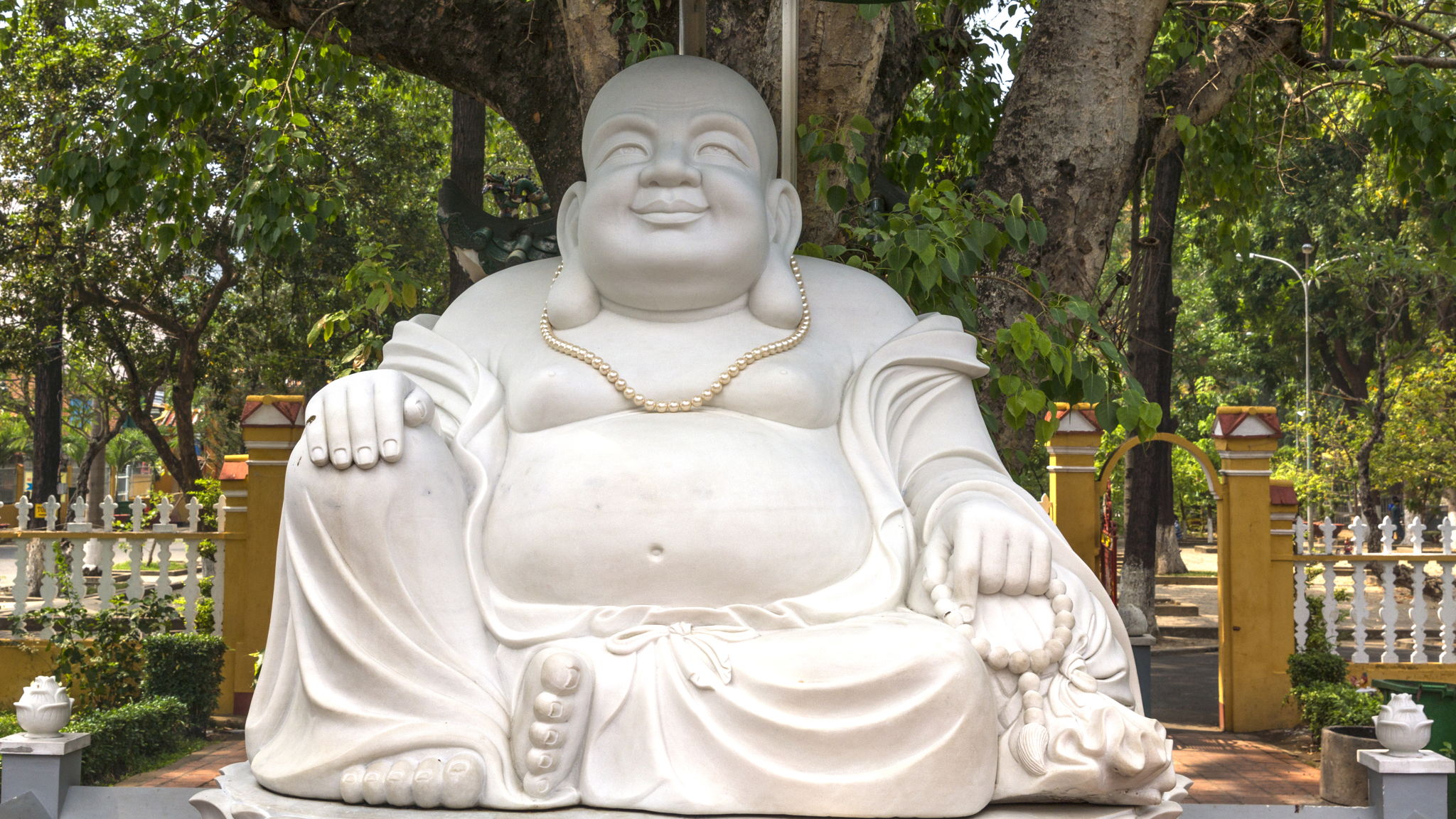 Emperor Jade Pagoda
The Emperor Jade Pagoda, or Jade Emperor Pagoda, is a Mahayan Buddhist temple in Ho Chi Minh city. This is a branch of Buddhism that is widespread in Vietnam. It was built at the start of the 20th century by a man from China called Luu Minh, and so has a Chinese architectural style. It is frequented daily by worshippers, who often leave offerings in the form of flowers or lit candles, creating a romantic atmosphere. This temple is also known as the Tortoise Pagoda.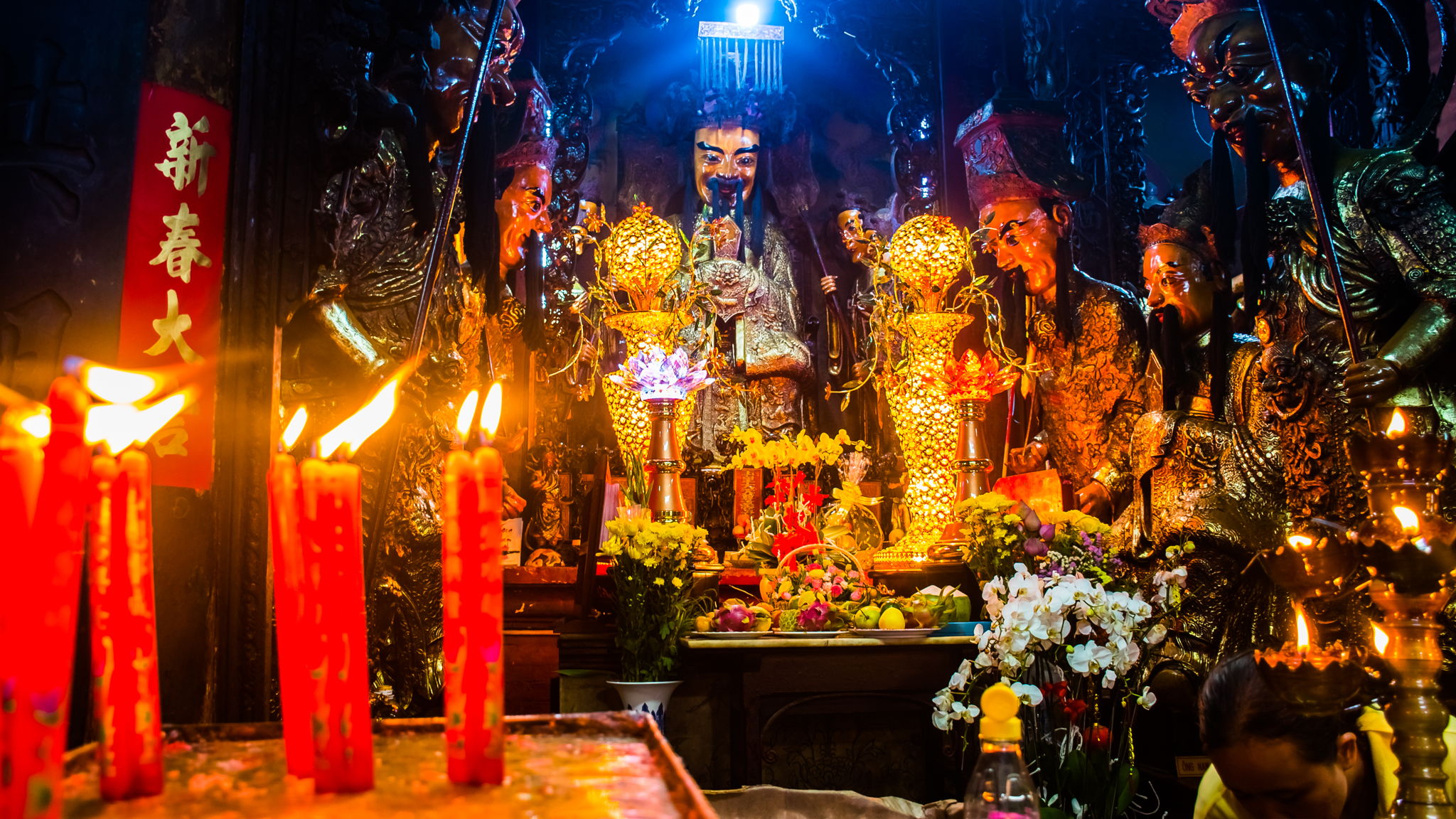 The Perfume Pagoda
True to its name, the Perfume Pagoda is one of the most breathtaking destinations in Vietnam. Surrounded by mountains, forests, and wide flowing streams, it is the site of a religious festival that draws large numbers of pilgrims. It is comprised of several Buddhist temples that are carved into the mountains. It is reached by journeying down the river by boat. It is known as Chua Hong in Vietnam, and is considered a sacred place. Each pagoda features a different shrine, and inside the main pagoda (the Inner Temple) there are statues, stalactites, and stalagmites.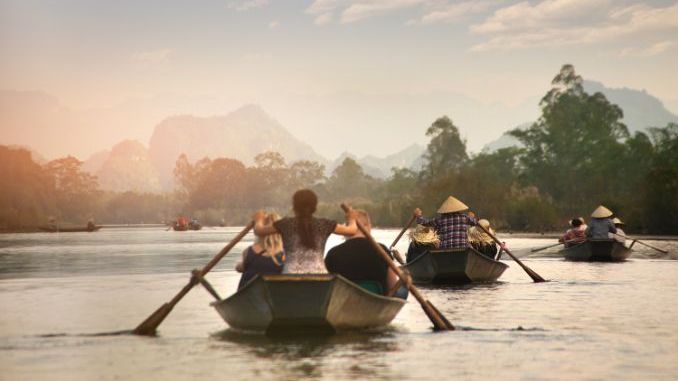 The One Pillar Pagoda (Chua Mot Cot)
The One Pillar Pagoda is Buddhist temple in Hanoi that was constructed in 1049. It is unique in design, and is shaped like a blooming lotus flower floating on the water. In Buddhism, the lotus flower symbolises purity. This remarkable temple is situated in its entirety on a stone pillar that stands in Linh Chieu Lake. The temple itself is made from wood and has a curved roof. It is intricately decorated and features dragon symbols. To reach the temple, you ascend a small 13-step staircase. Inside, there is a statue of Quan Am Buddha.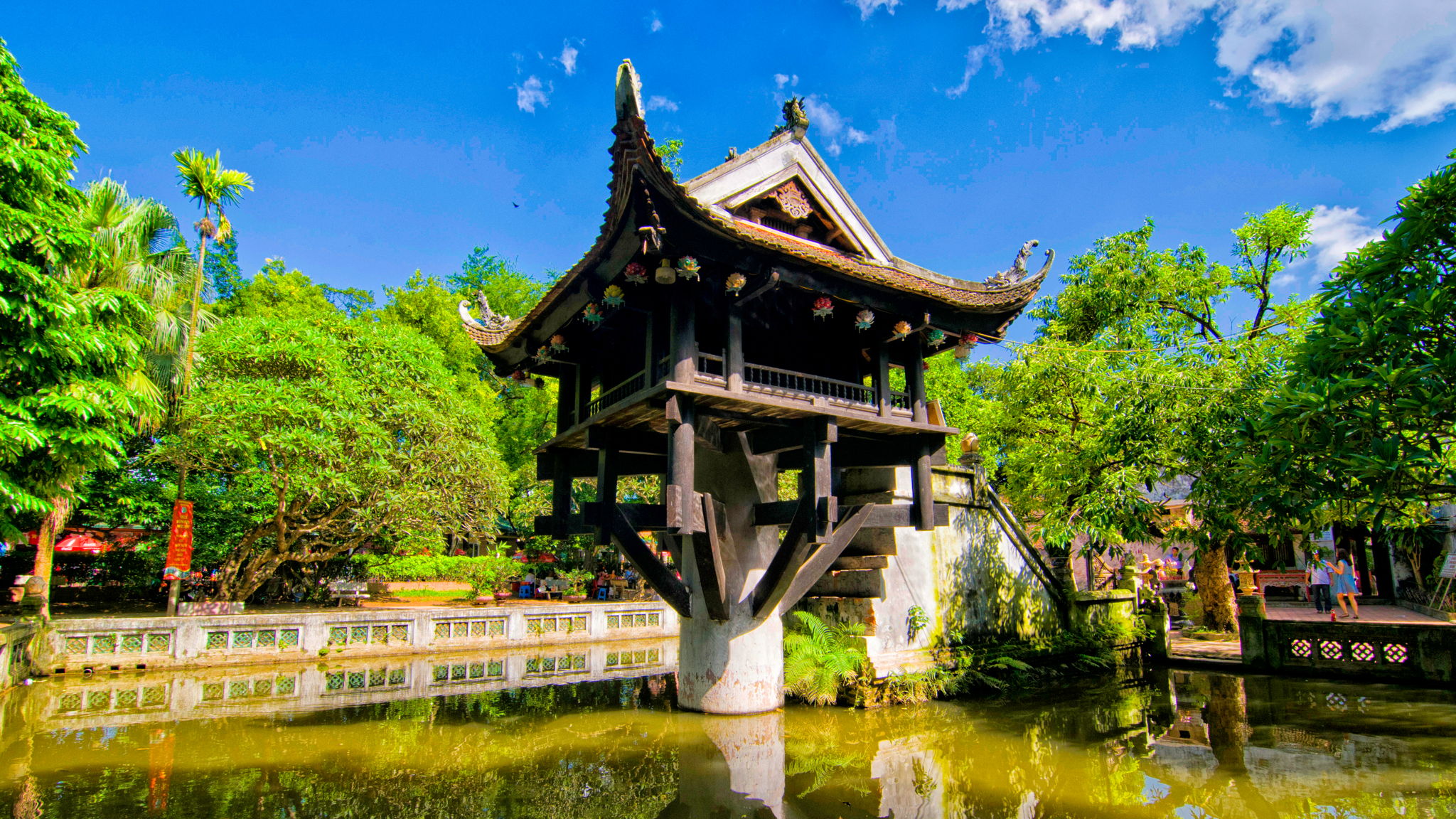 The Buu Long Pagoda (Chua Buu Long)
Along with the Tran Quoc Pagoda, the Buu Long Temple is considered to be one of the most beautiful temples in the world. It is set on the banks of the Dong Nai River, with trees surrounding it, making for a peaceful and fairy-tale atmosphere. It was built in 1942 and renovated in 2007. It is 11 hectares in size, with many large and small buildings. It combines white and gold colours with carved dragons and a turquoise lake. Unlike other temples, here only the Buddha is worshipped, which means that candles and incense are not burnt.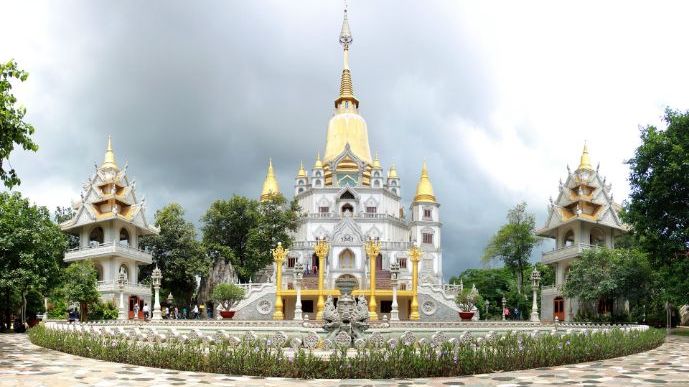 The Vinh Nghiem Pagoda (Chua Vinh Nghiem)
The Vinh Nghiem Pagoda is located in Ho Chi Minh City. This famous temple was the first pagoda in Vietnam to be built in the traditional style of architecture. It was also the first to be made from concrete and not natural materials, like most others.
It is a Buddhist temple- specifically a Mahayana pagoda, the most dominant form of Buddhism in Asia. It serves as a place to worship Gautama Buddha and two bodhisattvas, Manjusri and Samantabhadra.
It is 7 storeys high, with a tower measuring 40m. It also features a lotus pond with an L-shaped row of buildings.