|
Are you ready to embark on a cultural journey through the bustling streets of Cairo? As a tourist, one of the must-see destinations in this vibrant city is the Cairo Opera House. Whether you are an opera aficionado or simply a lover of the arts, the Cairo Opera House promises to be an unforgettable experience.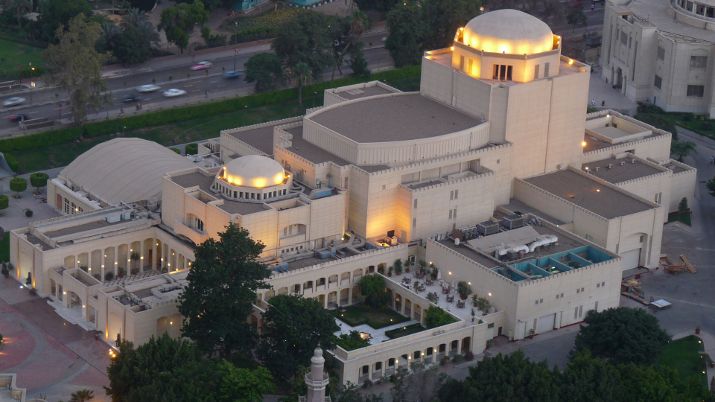 What is the history of the Cairo Opera House?
Back in the year 1869, the idea of establishing an opera house in Cairo started brewing in the minds of the enlightened. The credit for its inception goes to Khedive Ismail Pasha, the mastermind behind this magnificent project. Inspired by the grandeur of European opera houses, he embarked on a mission to bring a piece of that sophistication to the heart of Egypt.
It took a couple of years of meticulous planning, but in October 1871, the Cairo Opera House officially opened its doors to the public. What a grand opening it was! The Egyptian high society flocked to witness this spectacle that was unlike anything they had ever experienced before. Swanky evening gowns and dapper tuxedos were paraded around the venue, while the air buzzed with excitement.
The architectural magnificence of the Cairo Opera House can't be overstated. Picture this: elegant arches, majestic columns, and intricate details adorning the facade. Designed by the famous Italian architects Avoscani and Rossi, it seamlessly blends European influences with traditional Islamic motifs. A true feast for the eyes!
As the years passed, the Cairo Opera House became the epicenter of artistic and cultural activities in Egypt. Not only did it host grand opera productions but also mesmerizing ballet performances, classical music concerts, and theatrical plays. It quickly became a melting pot of talent from all over the world, attracting artists and performers of the highest caliber.
However, like all great tales, the Cairo Opera House faced its fair share of challenges. In 1971, a devastating fire swept through the building, leaving it in ruins. It was a heartbreaking blow to the cultural community in Cairo. But you can't keep a good thing down! The Egyptian government rallied its forces and commenced the process of rebuilding the opera house.
After years of hard work and dedication, the Cairo Opera House rose from the ashes like a phoenix. In 1988, it was reincarnated, more beautiful and majestic than ever before. The reopening ceremony was nothing short of spectacular. Celebrities, diplomats, and art enthusiasts gathered to witness this triumphant moment.
Today, the Cairo Opera House stands tall as a symbol of Egypt's cultural renaissance. It continues to host a diverse range of artistic events, embracing different genres and styles. From Verdi to Tchaikovsky, from Shakespeare to Chekhov, from classical ballet to contemporary dance, there's something for everyone to enjoy at this vibrant cultural centre.
But it's not just about the performances; the Cairo Opera House has also become a hub for nurturing local talent. It provides a platform for young Egyptian artists to showcase their skills and unleash their creativity. Workshops, masterclasses, and training programs are regularly organized to enrich the artistic scene in Egypt.
Moreover, the importance of the Cairo Opera House extends beyond its cultural significance. It serves as a bridge connecting Egypt with the international community. Through collaborations with renowned artists and cultural institutions from around the globe, it promotes cultural exchange and mutual understanding.
So, whether you're an avid opera fan, a lover of dance, or a theater aficionado, the Cairo Opera House has something that will make your heart skip a beat. Experience the magic of world-class performances in a breathtaking venue that enfolds you in its historical embrace.
Everything you need to know about visiting the Cairo Opera House as a tourist
When planning your visit to the Cairo Opera House, here are some key things to keep in mind. Firstly, it is advisable to check the schedule in advance to see which performances are taking place during your visit. The Opera House offers a diverse program throughout the year, featuring both local productions and international collaborations. By checking the schedule, you can plan your visit accordingly and ensure that you don't miss out on any exciting performances.
Tickets to the Cairo Opera House can be purchased online or at the box office. It is recommended to book your tickets in advance, especially for popular shows, as they tend to sell out quickly. Prices may vary depending on the performance and seating category, so make sure to check the website for accurate information. Remember to bring your identification, as it may be required when picking up your tickets.
On the day of your visit, arrive early to allow yourself ample time to explore the surroundings and soak in the vibrant atmosphere. The Opera House is situated in a lush garden setting, providing a peaceful retreat from the bustling city. Take a leisurely stroll through the beautifully landscaped gardens, and perhaps enjoy a cup of traditional Egyptian tea at one of the charming cafes nearby.
Once inside, you will be greeted by the grandeur of the Opera House's architecture. The main hall, with its magnificent chandeliers and elegant décor, is truly a sight to behold. Don't forget to take a moment to appreciate the intricate details and craftsmanship that went into creating this architectural masterpiece. You may even spot some renowned Egyptian artwork displayed throughout the Opera House, adding an extra layer of cultural significance to your visit.
As you settle into your seat, get ready to be enchanted by the performances. The Cairo Opera House boasts world-class acoustics, ensuring that every note and every movement is delivered with utmost precision and clarity. The talented performers will transport you into a world of music and storytelling, leaving you captivated throughout the entire performance.
During intermission, take the opportunity to mingle with fellow attendees and share your experience. Engaging in conversations with others can enhance your cultural experience and provide unique insights into different perspectives. Don't be shy to strike up a conversation and bond over your mutual appreciation for the arts.
After the performance, consider extending your visit by exploring the nearby attractions. The Opera House is conveniently located close to many iconic landmarks, such as the Egyptian Museum and the Nile River. Why not take a leisurely walk along the Nile promenade, enjoying the river breeze and taking in the city's lively ambiance? You may also stumble upon some local street performers, showcasing their talents and adding an impromptu touch of entertainment to your evening.
What venues and facilities does the Cairo Opera Complex consist of?
The Cairo Opera Complex is a multifaceted cultural institution that encompasses various venues and facilities, catering to a wide range of artistic and cultural activities.
Main Hall (Grand Hall): This is one of the primary performance spaces within the complex, designed to host large-scale events such as operas, ballets, orchestral concerts, and other theatrical performances. It has a significant seating capacity, making it suitable for grand productions.

Small Hall: The Small Hall is a more intimate venue, ideal for chamber music concerts, recitals, and smaller theatrical performances. It provides a more personal setting for artistic presentations.

Open-Air Theater: The Cairo Opera Complex often features an outdoor theater, allowing performances to take place under the open sky. This space is well-suited for events that benefit from an alfresco setting, such as music concerts and cultural festivals.

Studio Theater: This smaller theater is versatile and can be used for various performances, workshops, seminars, and experimental productions. Its flexibility makes it a valuable space for diverse artistic endeavors.

Artistic Academies and Institutes: The Cairo Opera Complex is also home to several artistic academies and training institutes, providing education and training in various disciplines such as music, ballet, theater, and visual arts.

Exhibition Spaces: The complex may have exhibition spaces dedicated to visual arts, showcasing works by local and international artists. These spaces contribute to the cultural richness of the institution.

Restaurants and Cafes: Visitors to the Cairo Opera Complex can find dining and refreshment options within the premises, providing a convenient and pleasant environment to enjoy meals and socialize.

Administrative Offices: The complex houses administrative offices that manage the various artistic and operational aspects of the institution.
When is the best time to visit the Cairo Opera House?
Cairo can get pretty darn hot, especially during the summer months. If you don't enjoy the heat, you might want to avoid visiting the Opera House during those scorching days. Instead, try coming in the cooler months of Autumn or Spring. That way, you can enjoy the performances without feeling like you're melting away in the desert heat.
The Cairo Opera House hosts a wide range of events throughout the year, from classical music concerts to ballet performances to theater productions. If you're a opera lover, you'll be pleased to know that the opera season usually runs from October to May. That's the prime time to catch some world-class performances and immerse yourself in the magical world of opera.
But there's more to the Cairo Opera House than just opera. If you're a fan of ballet, you'll be thrilled to know that the Cairo Ballet Company puts on some stellar shows. Their performances are known for their grace, elegance, and jaw-dropping moves. So if you're into pirouettes and pliés, make sure to check out the ballet season, which usually runs from September to June.
The Cairo Opera House also offers a diverse selection of theater productions throughout the year. From thought-provoking dramas to side-splitting comedies, there's something for everyone. So if you're in the mood for some top-notch theater, keep an eye out for their theater season, which varies from year to year.
The Cairo Opera House is not just a venue for performances; it's also a magnificent architectural gem. The building itself is a sight to behold, with its grand design and stunning details. So even if you aren't able to catch a performance, it's still worth visiting just to admire the beauty of the place. Snap some Instagram-worthy pictures, and soak in the majestic atmosphere.
Did you know that the Cairo Opera House also hosts a plethora of cultural festivals? They celebrate everything from Arabic music to international dance to jazz. These festivals bring together artists from all over the world, creating a vibrant and diverse atmosphere. So if you're a fan of cultural exchange and want to expand your horizons, make sure to check out their festival schedule.
How much does it cost to visit the Cairo Opera House?
When it comes to the cost of visiting the Cairo Opera House, it's important to know that prices can vary depending on the type of event you wish to attend. Whether it's a concert, a ballet performance, or an opera, the prices may differ.
On average, tickets for events at the Cairo Opera House range from around 50 Egyptian pounds to 200 Egyptian pounds. Of course, this can change depending on the popularity and nature of the performance. If it's a well-known artist or a highly-anticipated show, you may find yourself paying a bit more. But good things in life usually come with a price tag, right?
What time does the Cairo Opera House open? Which days is it open?
The Cairo Opera House usually opens its doors at around 9:00 in the morning. However, it's important to note that this schedule may vary depending on the day and the specific events taking place. So, it's always a good idea to double-check the opening hours before you plan your visit.
The Cairo Opera House is generally open from Sunday to Thursday. That's right, you can enjoy the magic of this splendid venue during the weekdays. However, on Fridays and Saturdays, the Opera House usually takes a break.
How safe is it to visit the Cairo Opera House?
Ensuring the safety and security of visitors has always been a top priority for the management of the Cairo Opera House. The venue upholds strict security measures, including trained personnel and surveillance systems, to promote a safe environment for all. While Egypt, like any other country, has its unique challenges, the Opera House takes every possible step to ensure a pleasant experience for its guests.
What is the recommended dress code for visiting the Cairo Opera House?
The Cairo Opera House boasts an elegant ambiance, making it a truly captivating experience for all attendees. To match the grandeur of the venue, it is advisable to follow a recommended dress code. However, worry not, as there is no need to morph into a high society fashionista; instead, opt for semi-formal or smart-casual attire. For gentlemen, a collared shirt paired with trousers or dress pants would be perfectly appropriate. Ladies can choose a tasteful dress, a blouse with a skirt or pants, or an outfit that reflects their personal style while maintaining a respectful aesthetic. It is always better to avoid excessively revealing or casual clothing, as it respects the cultural norms and adds an extra touch of elegance to your experience.
What is the recommended level of fitness to visit the Cairo Opera House?
As with any cultural outing, visitors to the Cairo Opera House will be walking and possibly climbing stairs. While the venue is well-equipped with facilities to cater to all, being at a reasonable level of fitness will certainly enhance your enjoyment of the experience. There are various levels and sections within the Opera House, giving you the opportunity to explore its lush surroundings. Therefore, ensure you are physically capable of traversing the pathways comfortably, especially if you plan to engage in activities that involve navigating the venue extensively.
Frequently Asked Questions about the Cairo Opera House
Is there any parking close to the Cairo Opera House ?
While it may not be as plentiful as we would hope for, there are indeed options available for the clever and resourceful among us.
One option that immediately comes to mind is the nearby hotels. They not only offer cozy beds and luxurious amenities, but some of them also have parking facilities for their guests.
If you prefer to explore other options, there are public parking areas near the opera house as well. However, do tread carefully, for these spaces can fill up swiftly, especially during peak times and events. It's always a good idea to arrive early, giving yourself ample time to secure a parking spot. As the saying goes, the early bird catches the worm, or in this case, the early parker catches the spot!
What hotels are near the Cairo Opera House?
Some of the hotels in the vicinity that offer parking facilities include the renowned Nile Hilton Hotel, the majestic Marriott Mena House, and the elegant Kempinski Nile Hotel. These esteemed establishments understand the pains of finding parking and have taken it upon themselves to provide this essential service to their patrons.