|
Dendera Temple is a unique architectural masterpiece in the city of Dendera in Egypt. This ancient temple houses a rich history and has been standing for thousands of years, dating back to the Greco-Roman period.
The temple is known for its elaborate decoration, detailed depictions of ancient gods, mystifying hieroglyphs, and stunning astronomical ceiling paintings. The temple was dedicated to the goddess Hathor, who was worshipped as the goddess of love, fertility and music.
The history of the Dendera Temple - The Temple of Hathor
The earliest known reference to the Dendera Temple comes from a Greek historian named Herodotus, who wrote about it in his Histories in 450 BC. He described it as a "magnificent temple" with a "great court" and "many statues". In the following centuries, many other travelers and scholars wrote about their visits to the temple, including Roman historian Strabo and Greek geographer Pausanias.
The temple was likely built during the reign of Ptolemy VI Philometor (180-145 BC). His successors expanded it, including Ptolemy XII Neos Dionysos (80-51 BC), who added a large hypostyle hall with four columns decorated with Hathor's head at each corner. The walls of this hall are covered with reliefs depicting various gods and goddesses such as Isis, Osiris, Horus, Anubis, Thoth, Maat, Ra-Horakhty, Ptah-Sokar-Osiris and Hathor herself.
In addition to these deities are images of Cleopatra VII Philopator (69-30 BC), one of Egypt's last Pharaohs before it became part of the Roman Empire in 30 BC. She is depicted offering incense to Hathor at her temple at Dendera - a sign that she had great respect for this goddess.
The Dendera Temple also contains an astronomical ceiling, which modern astronomers have studied extensively. This ceiling contains images of stars and constellations, which ancient Egyptians used for navigation and predicting seasonal changes such as floods or droughts.
One particularly interesting feature of this ceiling is an image known as "the zodiacal light", which appears during certain times of the year when sunlight reflects off particles in Earth's atmosphere, creating an eerie glow around certain stars or constellations. This phenomenon was observed by ancient Egyptians thousands of years ago but was formally documented in 17th-century Europe when Galileo Galilei first noted its existence in 1609 AD!
The Dendera Temple has been studied extensively by archaeologists and historians who have uncovered many secrets about its past inhabitants and their beliefs about life after death - which has fascinated people since antiquity! For example, several reliefs depict scenes from Egyptian mythology, such as Osiris' journey through Duat (the underworld) or Isis' search for her husband's body parts after he was killed by his brother Set. These scenes provide insight into how ancient Egyptians viewed death and what they believed happened after someone passed away - something we still ponder today!
What is the Zodiac of Dendera?
The Zodiac of Dendera is an ancient Egyptian astronomical chart that dates back to the 2nd century BC. It is among the most famous and well-known examples of ancient Egyptian astronomical knowledge. The chart contains a representation of the constellations and stars in the night sky and symbols for various gods and goddesses associated with them. It was discovered in the temple complex at Dendera, Egypt, and is now housed in the Louvre Museum in Paris.
The Zodiac of Dendera is a circular chart that measures about 5 feet in diameter. It comprises a series of concentric circles, each with its own set of symbols and figures. In the center of the chart is a representation of Nut, the sky goddess believed to be responsible for creating the universe. Surrounding her are 12 figures representing 12 zodiac signs: Aries, Taurus, Gemini, Cancer, Leo, Virgo, Libra, Scorpio, Sagittarius, Capricorn, Aquarius and Pisces. Each sign has its own unique set of symbols and figures associated with it.
The Zodiac also contains several other symbols believed to represent various gods or goddesses associated with each sign. For example, figures depicting Isis (the goddess of fertility), Hathor (the goddess of love), Thoth (the god of wisdom), Ra (the sun god) and Anubis (the god who guided souls to their afterlife). There are also representations of stars and constellations, such as Ursa Major (the Big Dipper) and Orion's Belt.
In addition to these symbols associated with each sign, there are also hieroglyphs which tell stories about each sign or provide information about them. For example, there is a hieroglyphic story about how Isis created mankind using pieces from her body to form humans out of clay.
Scholars have studied the Zodiac extensively to understand ancient Egyptian astronomy and mythology better. It has been used to know how Egyptians viewed their world and their place within it. It has also provided insight into how they viewed time - for example, some scholars believe it may have been used to calculate lunar cycles or even predict eclipses!
The Zodiac remains an integral part of our understanding of ancient Egyptian culture today - not only does it provide us with insight into their beliefs and an important reminder that our ancestors were capable thinkers who could observe and record their environment in great detail!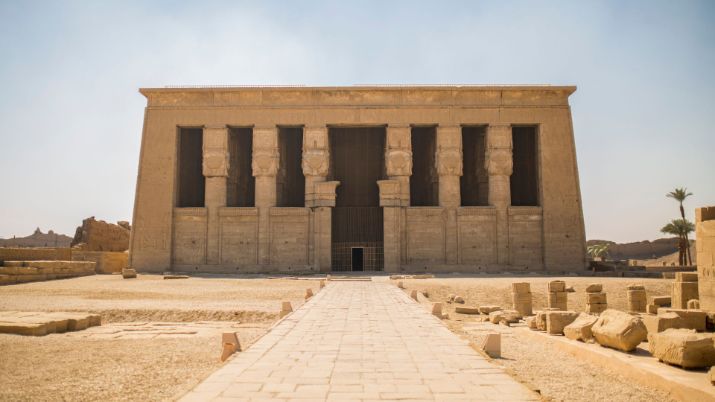 Where is the Hathor Temple based?
The Dendera Temple complex is located in the small town of Dendera, situated on the west bank of the Nile, about 60 kilometers north of Luxor. This ancient temple is a well-preserved example of Greco-Roman architecture, with its main temple, the Temple of Hathor is considered one of the best-preserved temples in Egypt. A wall surrounds the temple complex, and visitors enter through a large gateway, which leads to the first courtyard. From there, visitors can see the Temple of Hathor, the complex's largest and most impressive temple. Several other smaller temples, shrines, and structures comprise the Dendera Temple complex. The temple has been religiously significant for more than 4,000 years. It is known for its exceptionally well-preserved carvings and hieroglyphics, which provide a fascinating insight into ancient Egypt's culture and daily life.
What is the Temple of Mammisi? How is it related to Dendera Temple?
The Temple of Mammisi, also known as the Birth House of Horus, is an ancient Egyptian temple in Dendera, Egypt. It was built during the Ptolemaic era and is dedicated to the goddess Hathor and her son Horus. The temple is well known for its beautiful reliefs and sculptures depicting various gods and goddesses.
The temple was built to commemorate the birth of Horus, the god of kingship, born from Hathor's womb in Dendera. The temple has two main parts: a hypostyle hall with four columns and a sanctuary with three chambers. The walls are decorated with reliefs depicting various gods and goddesses associated with childbirth, such as Isis, Hathor, Taweret, Bes, Neith and Khonsu. In addition to these figures are depictions of Pharaohs offering sacrifices to the gods and scenes showing the birth of Horus.
The Temple of Mammisi is closely related to the nearby Dendera Temple. Both temples were dedicated to Hathor and her son Horus, both important deities in ancient Egyptian religion. The two temples shared many similarities in architecture and decoration but also some differences. For example, while Dendera Temple was dedicated to Hathor alone, Mammisi Temple was dedicated to both Hathor and her son Horus. In addition, while Dendera Temple had a large hypostyle hall with many columns, Mammisi Temple had only four columns in its hypostyle hall.
The relationship between these two temples can be seen in their shared iconography, which includes depictions of Pharaohs offering sacrifices to the gods and scenes showing Horus's birth from Hathor's womb. This iconography suggests that both temples were part of a larger religious complex that celebrated Horus's birth from his mother's womb at Dendera Temple.
In addition to its religious significance, the Temple of Mammisi has great historical importance as it provides insight into ancient Egyptian culture and beliefs about childbirth and fertility. The reliefs on its walls depict various gods associated with childbirth, such as Isis, Hathor, Taweret, Bes, Neith and Khonsu, all important deities in ancient Egyptian religion. These reliefs provide us with a glimpse into how ancient Egyptians viewed childbirth and how they believed it could be made easier through offerings made to these deities or through rituals performed at these temples or other places associated with them.
Why travelers visit the Dendera Temple Complex
The Dendera Temple is a cultural and historical gem all travelers should consider visiting. It offers a unique glimpse into the ancient Egyptian civilization's religious practices and architectural achievements. The temple is renowned for its exquisite artwork, which offers a glimpse into the stories and myths prevalent in ancient Egyptian culture.
Visiting the Dendera Temple offers an opportunity to experience the grandeur and majesty of ancient Egypt, a civilization that spanned over 3000 years. The temple boasts impressive architecture that speaks to the ingenuity and skill of ancient Egyptian builders. Furthermore, visitors can gain insight into the temple's religious significance, which was dedicated to Hathor, a deity revered for her association with love, fertility, and feminine power.
The temple is home to some of ancient Egyptian art's most intricate carvings and paintings. The well-preserved artwork tells the story of Egyptian mythology and offers insight into the daily life of ancient Egyptians. Travelers interested in ancient history, art, and architecture will be in awe of the intricate details and depictions at the Dendera Temple.
Moreover, the Dendera Temple offers a serene and peaceful atmosphere where visitors can disconnect from the hustle and bustle of modern life. The temple is surrounded by beautiful palm trees and landscaping, offering a perfect backdrop for meditation and reflection.
Visiting the Dendera Temple is a once-in-a-lifetime opportunity to witness ancient Egypt's cultural and historical significance. It allows travelers to learn about ancient civilizations, appreciate beautiful art and architecture, and immerse themselves in a peaceful and serene environment.
Activities available at the Dendera Complex
The Dendera Temple is not only a remarkable testament to ancient Egyptian architecture and religion but also a place where travelers can engage in some thrilling activities. While the temple site is primarily a renowned historical and spiritual site, there is more to explore here than just impressive structures and ancient artifacts.
One of the most popular activities at the Dendera Temple is guided tours. These tours allow visitors to explore the temple complex and gain insight into its history, architecture, and religious practices. Knowledgeable tour guides can provide in-depth explanations of the temple's many sacred spaces and their significance, offering a deeper appreciation of ancient Egyptian culture.
Another exciting activity at the temple is the chance to witness the daily rituals performed by the resident priests. These rituals, which involve lighting candles and incense, chanting prayers, and carrying sacred objects, help visitors get a sense of the temple's spiritual significance and the importance of religious practice in ancient Egyptian culture.
For the adventurous traveler, there is the unique opportunity to take a hot air balloon ride over the temple site. This thrilling experience provides a breathtaking bird's eye view of the temple's many structures and surrounding landscape. It is an unforgettable way to take in the sheer immensity and beauty of the site, and it is sure to be an experience that visitors will remember for years to come.
Lastly, the Dendera Temple also serves as a venue for cultural events and festivals throughout the year. These events allow visitors to immerse themselves in the vibrant world of Egyptian culture through dance, music, food, and traditional dress. Travelers who attend these events will have an opportunity to learn more about the customs and traditions of the Egyptian people and gain a deeper understanding of the country's history and identity.
The best time to visit the Dendera Temple in Upper Egypt
The best time to visit the Dendera Temple is during the winter months, from November to February. This is because the weather is mild, with pleasant temperatures and low humidity, which makes exploring the temple and its outdoor areas comfortable. In the summer months, from June to September, temperatures can reach 40°C, making it very hot and uncomfortable to be outside for long periods. Additionally, there is a higher chance of sandstorms during the summer, which can hinder visibility and disrupt your experience at the temple.
Visiting the Dendera Temple during the winter also means that you can witness the Temple of Hathor Festival, which takes place in August. The festival celebrates the goddess Hathor, believed to bring joy, love, and motherhood. During the festival, visitors can witness processions, music, and dance performances and enjoy local food and drinks.
Apart from the weather and the festival, visiting the Dendera Temple in winter also means enjoying the temple without large crowds. The summer attracts more tourists, making it difficult to appreciate the temple's serene atmosphere and intricate details fully. Visiting during the winter months means that you can take your time exploring the temple without the disturbance of large crowds.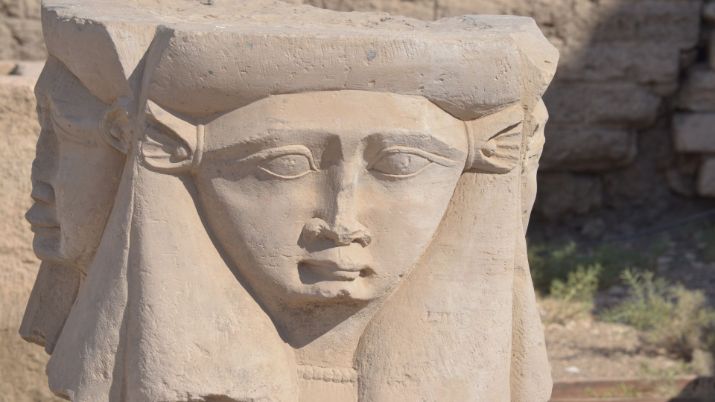 What type of travelers will enjoy visiting the Dendera Temple?
The Dendera Temple is ideal for travelers who appreciate art, architecture, and history. Those who have a fascination for ancient Egyptian mythology and religious practices will find this temple to be a fascinating place to visit. The temple accurately represents Egyptian civilization, and all the diverse eras of the country's history are intertwined in its walls. It is a place where individuals can explore the intricacies of Egyptian culture, symbolism, and mythology.
Additionally, the Dendera Temple is perfect for travelers eager to explore lesser-known and off-the-beaten-path destinations. It is tucked away in a quiet corner of Egypt and is not as frequented as other popular tourist sites, such as the Pyramids of Giza or the Valley of the Kings. The lack of crowds makes it a peaceful place to visit, which allows travelers to explore the temple at their own pace and connect with the history of the place on a more personal level.
Furthermore, the Dendera Temple is an ideal destination for photography enthusiasts. The temple's unique and distinctive architectural design, which includes representations of animals, star patterns, the Zodiac, and other symbols, makes it an excellent place to capture some stunning photos. Additionally, the use of light and shadow throughout the temple and the intricate carvings and artwork will provide photographers with endless opportunities to experiment with composition, color, and contrast.
Finally, the Dendera Temple is an excellent choice for those who enjoy outdoor activities or adventure. The temple is in the heart of rural Egypt and surrounded by miles of open, unspoiled desert. Visitors can stroll around the temple and enjoy the serenity of the landscape or book a camel ride through the desert. Adventurers can also book a hot air balloon ride over the temple or embark on a guided tour of the local area, which includes visits to nearby villages, historic ruins, and ancient tombs.
How much does it cost to visit the Dendera Temple?
The cost of visiting the Dendera Temple is modest, making it an accessible destination for tourists on a budget. The entrance fee for foreigners is approximately 150 EGP, and for locals, it is 15 EGP. The additional cost of hiring a tour guide is recommended as the temple has a rich history, and a guide can provide additional insights and information about the site. The cost of hiring a tour guide varies, but it generally ranges from 100 to 200 EGP.
It is important to note that the cost of visiting the Dendera Temple varies depending on the time of year you visit. During peak tourism season (November to March), prices tend to increase, with tour guides charging a premium for their services. Thus, travelers must factor in these costs when planning their visit.
What time does the Dendera Temple open?
When planning a visit to the Dendera Temple, one of the most important pieces of information is its opening time and days. The temple is open every day of the week from 6 am to 5 pm, except for some religious holidays when it may close earlier. This schedule provides visitors ample time to explore the beautiful temple complex and learn about its rich history.
Visiting the temple in the morning is advisable as it tends to get crowded during the day, and the harsh Egyptian sun can make the experience less enjoyable. However, the temple is well-equipped with shaded areas and seating options, a welcome respite from the heat.
It is worth noting that some areas of the temple may have restricted access due to ongoing restoration work or renovations. Additionally, the temple may periodically close for maintenance work or special events. It is advisable to check the temple's website or social media channels for any updates or alerts before planning a visit.
What type of architecture is the Dendera Temple renowned for?
The Dendera temple is renowned for its distinctive architectural style, which portrays a combination of different cultures, including Egyptian, Greek, and Roman influences. The temple has several unique features, including its façade, which is decorated with large columns, intricate carvings, and detailed reliefs. The columns are topped with elaborate and finely detailed Hathor heads, interspersed with intricate floral patterns.
Another notable feature of the temple is its hypostyle hall, which boasts an impressive ceiling of intricate, star-patterned carvings. The hall also houses an eye-catching relief of Cleopatra VII and her son, Caesarean, who were believed to have been temple patrons.
Further inside the temple lies the sanctuary of Hathor, considered the most sacred part of the temple. It features a large black granite shrine, which is said to have once housed a gold statue of the goddess. The sanctuary's walls are adorned with elaborate carvings and hieroglyphics dedicated to the goddess and the pharaohs who contributed to the temple's construction.
How safe is it to visit the Dendera Temple?
Regarding safety, the Dendera Temple has generally considered a safe place to visit. As with any tourist destination, it is always important to be aware of your surroundings and take basic safety precautions, such as keeping an eye on your belongings and not wandering alone in unfamiliar areas. However, there have been no reports of major safety concerns or incidents at the temple.
The area around the temple is generally very peaceful, with little to no crime reported. The temple is located in a rural area of Egypt, far away from the hustle and bustle of urban areas. This means that visitors are less likely to encounter any crime or danger.
The recommended dress code for visiting the Dendera Temple
When planning to visit the Dendera Temple in Egypt, it is essential to consider the recommended dress code to ensure that you are adequately dressed for the occasion. The temple is a sacred site, and visitors are expected to dress modestly out of respect for the site's religious significance. This means clothing should cover the shoulders and extend to the knees or beyond.
It is recommended to wear loose-fitting clothing that allows for easy movement and air circulation, especially during the hot months when temperatures can soar. Visitors should avoid tight-fitting clothes that cling to the body, as well as shorts, short skirts, tank tops, and sleeveless shirts. Clothing with offensive or graphic prints, as well as revealing clothing, should be avoided.
Both men and women are expected to dress modestly when visiting the Dendera Temple. Women should wear long skirts or dresses that cover the knees and shoulders, with a scarf or shawl to protect the head if needed. Alternatively, they can wear loose-fitting pants with a tunic or long blouse that extends below the hips. Men should wear long pants with a shirt that covers the shoulders.
The recommended level of fitness to visit the Dendera Temple
When planning a trip to the Dendera Temple, it is important to consider the recommended level of fitness required to fully enjoy and explore this ancient Egyptian marvel. The Dendera Temple is a sprawling, complex structure that has stood for thousands of years, with many areas that require some degree of physical exertion to navigate. Visitors should aim to be in relatively good shape and be prepared to do some walking and climbing to experience all the temple fully has to offer.
While many parts of the temple are easily accessible, several areas may be more challenging for those with limited mobility or physical fitness. For example, the roof of the main temple is accessible via a steep, narrow staircase, while some of the chambers within the temple require visitors to crouch or crawl through tight spaces. Additionally, the temple complex covers a relatively large area, and visitors may need to walk considerable distances to move between different structures and features.
It is worth noting, however, that while some areas of the temple may be more challenging for some visitors, there are also plenty of areas that are accessible to all. For those with limited mobility, many sections of the temple can still be explored and enjoyed without the need for extensive walking or climbing.
What is the easiest way to get to the Dendera Temple from well-known landmarks in the surrounding area?
If you're planning a visit to the Dendera Temple and are wondering how to get there from nearby landmarks, a few options are available. Situated in the small town of Dendera, the temple is located on the west bank of the Nile, around four kilometers southeast of the city of Qena in Upper Egypt.
If you're already in Qena, the easiest way to get to the temple is by road. You can hire a taxi or private car to take you directly from your hotel in Qena to the temple. The journey takes around 20-30 minutes and costs roughly 200-300 Egyptian pounds. Alternatively, if you prefer public transport, you can take a microbus or minibus from the local bus station in Qena.
If you're coming from Luxor, around 70 kilometers northwest of the temple, you can also take a taxi or private car. The journey takes around 90 minutes and costs roughly 500-700 Egyptian pounds. Alternatively, you can take a public bus to Qena and then change to a microbus or minibus to bring you the rest of the way.
Another option is to take a Nile River cruise from Luxor to Aswan or vice versa, which often includes a stop at the Dendera Temple as part of the itinerary. This is a popular way to see multiple sites along the Nile, including other temples, tombs, and museums, while enjoying the scenery and comfort of a cruise ship.
It's worth noting that if you're traveling during peak tourist season, typically from October to March, booking your transport in advance is advisable to avoid disappointment or delays. Also, be prepared for some hassle from touts and hawkers when arriving at the temple, as this is common at many tourist sites in Egypt.
Overall, getting to the Dendera Temple from nearby landmarks is relatively easy, with multiple options available depending on your budget and preferred mode of transport. Whether traveling solo or in a group, the journey will surely be an enjoyable and memorable part of your visit to this beautiful and ancient site.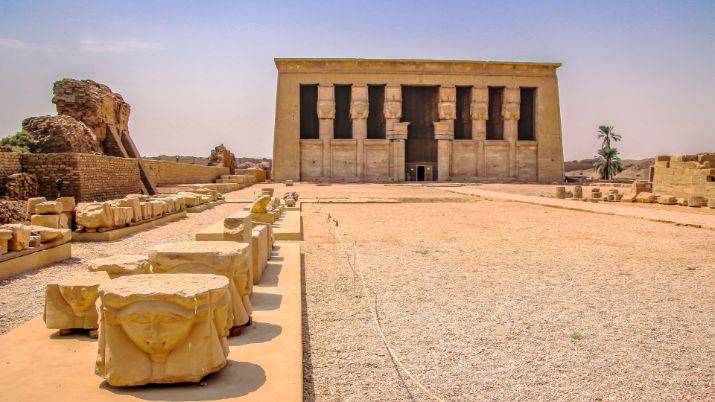 Frequently asked questions about the Dendera Temple Complex by travelers
What does Hathor have on her head?
At the stunning Dendera Temple in the heart of Egypt, visitors are greeted by Hathor's majestic presence. But what's truly fascinating is what she wears on her head - a crown adorned with sun disks and cow horns. What does it mean? Historians and archaeologists have long debated the significance, with some believing it represents her divine nature, while others argue it symbolizes her association with the stars and sky.
What is the temple of Dendera made of?
The temple of Dendera in Egypt was primarily constructed out of sandstone and limestone, with some parts also made of mud brick.
How old is Dendera Temple?
Dendera Temple, also known as the Temple of Hathor, is around 2,000 years old. The construction of the temple complex began during the reign of the Pharaoh Ptolemy VIII in 54 BC, and it continued to develop over the subsequent centuries.