|
,
For many, the first thing that springs to mind when thinking of a Nepal tour is Mount Everest, and fair enough - the Himalayas are a feature of day to day life in many parts of Nepal.
Its snow-capped mountain tops adorn the horizon in many towns and cities, and the landscapes they have carved out have helped shape the culture of many ethnic groups, but Nepal is also home to tea fields, lakes, jungles, glacial rivers, and unique people and languages.
What are small group tours you may ask - well, at Encounters Travel our small group adventure tours allows you to travel with all the perks of fun, adventure, culture, and sites to some of the world's most exotic and exciting destinations.
Small group tours are usually made up of a diverse group of like-minded people giving travellers the perfect opportunity to meet new all while exploring a new destination.
If you're considering going on a small group tour to Nepal, here are our top four tours.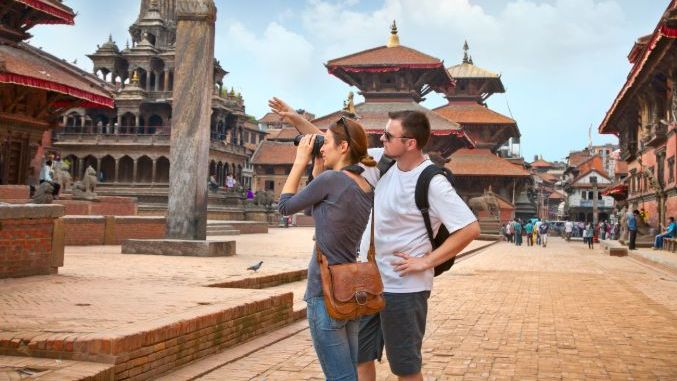 On this comprehensive 15-day Nepal tour you can expect lush mountain scenery, rich wildlife and jungles, and ancient hilltop villages.
The tour kicks off in Kathmandu before taking a drive to Chitwan National Park in the lowland Terai region of Nepal -here you'll have the option for white water rafting on the Trisuli River, en-route to Chitwan National Park.
Chitwan is famous for its population of Asian rhinos. There are also other animals and birds to see including several species of deer and monkeys, wild boar, sloth bear, elephants, gharial and mugger crocodiles, and if you're very lucky you may catch a glimpse of a tiger too.
You will have two nights at a wildlife lodge at Chitwan, while enjoying a range of activities in the park, including a jungle walk, traditional river canoe trip and elephant safari.
Outside the park, you'll take a rural village walk to see how the local Tharu people live. An early morning bird watching walk is also available.
Next, we head to the hilltop Newari town of Bandipur, the centre of which has been carefully restored and is well worth exploring.
After taking in great mountain views, you will head to the lakeside town of Pokhara at the foot of the Annapurna range before starting a 5-day trek through the Himalayan foothills to the spectacular viewpoint of Poon Hill.
On the trek you will stay in locally owned trekking lodges and experienced guides and porters will accompany you on the trek - this a moderate trek, you certainly don't need to be super-fit.
You'll walk through a wide variety of landscapes and countryside including riverside trails, rhododendron forests, terraced farmland and grassy ridges, all while enjoying views of the Annapurna range above you.
Next, you'll have free time to relax in Pokhara after which you'll return to Kathmandu. Here you'll spend a night at the village of Nagarkot, perched on the rim of the Kathmandu Valley.
After sunrise and breathtaking views of the Himalayas - including Mount Everest in the far distance - we return to Kathmandu via Bhaktapur, where we take time to enjoy the wonderful, intricately carved, wooden architecture of the traditional Hindu temples and surrounding buildings.
Book the Classic Nepal tour here.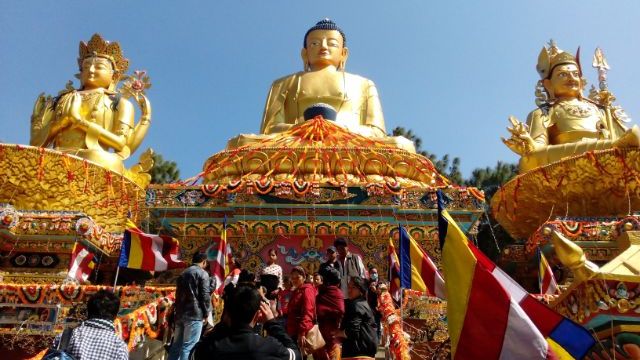 Ancient cultures & religions, wildlife parks, remote hilltop villages, and not forgetting time to relax in the lakeside town of Pokhara.
Starting in Kathmandu with a guided tour through the narrow city streets to the palaces and temples in Durbar Square followed by a drive to the hilltop 'monkey temple' of Swayambunath.
Next in the itinerary, we head for the lowland Terai region of Nepal - an exciting optional day's white water rafting on the Trisuli river is available en-route to Chitwan.
In Chitwan, we spend two nights in a wildlife lodge with several safaris - we search for the endangered Asian one-horned rhino, wild elephants, the elusive Bengal tiger, and numerous other animal and birdlife.
We head back into the hills from Chitwan and spend a night in the Newari village of Bandipur, where you'll have time to explore the restored town centre, hike to the impressive Sidha Cave, or explore the surrounding farmland and villages.
Our next stop is the lakeside town of Pokhara, nestled at the foot of the mighty Annapurna mountain range - a short tour and free day to do some short or full-day walks, take a boat on the lake, or just relax amidst the beautiful surroundings.
We return to the Kathmandu Valley from Pokhara and spend a night in the village of Nagarkot which sits on a ridge and is famous for its mountain views.
The tour comes to an end at the ancient centre of Bhaktapur to see the traditional ornate, wooden architecture of the local temples and buildings, and important pilgrimage sites of Pasupatinath (Hindu) and Boudhanath (Buddhist) before one last night in Kathmandu.
Book the Nepal Exposed tour here.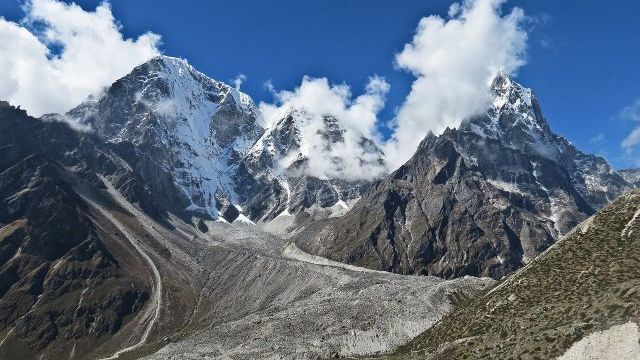 Any visit to Bhutan needs to be combined with at least a little time in Nepal - this tour takes in a few days in the Kathmandu Valley in Nepal at either side of your time in Bhutan.
Bhutan is a unique and fascinating place, and your 8 days in the country will allow you to explore several fascinating Dzongs, visit beautiful temples, and enjoy some short walks through spectacular scenery.
The tour starts in Kathmandu - touring through its busy streets and surroundings seeing stupas, temples and palaces. After arriving in Bhutan, you'll visit the Paro Dzong, the national museum. Here your guide will begin his introduction to the country's history and way of life.
From Paro, you follow slow winding roads through mixed forests and over the Dochu La Pass to the Punakha Valley where you'll visit the huge and beautifully situated Punakha Dzong and enjoy an easy riverside walk from a hilltop temple through mixed forest and fields of vegetables and chillies.
We'll also visit the Phobjika Valley - famous for being the migratory destination of the endangered Black Necked Crane, and Gangtey Dzong.
We then take some time to visit the capital Thimphu during the weekend market after which you'll return to Paro where you'll climb up to Taktshang monastery (Tiger's Nest).
One back in Nepal, you'll visit the ancient centre of Bhaktapur, the important Pasupatinah temple and Boudhnath stupa, and spend a night with beautiful mountain views from the rim of the Kathmandu valley.
Book the Himalayan Kingdoms tour here.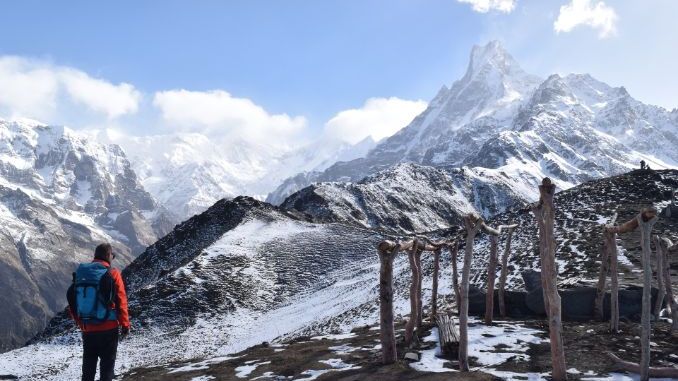 Getting up close to the world's largest mountain is no easy feat, so plenty of preparation is required if you intend to take on the Everest base camp trek.
The journey starts at the capital of Kathmandu where you will have time to explore the historic and intriguing city before catching a flight to Lukla to begin the two week Everest base camp trek.
The trek to Base Camp is sensibly paced with a couple of acclimatisation days in Namche Bazaar and Dingboche.
Each day involves climbing higher while taking in the wondrous views of the imposing Everest and the snow-topped Himalayas, with evenings spent residing in friendly trekking lodges found along the way.
After seven and eight days - depending on weather and other circumstances - a final push up the Khumbu Valley and we'll reach base camp, with the chance for an extra hike up to Kala Pattar for the best view of Mount Everest.
You will eventually descend back down through the mountains before flying back to Kathmandu where you will have a free day for visiting nearby towns such as Patan and Bhaktapur.
Book the Everest Base Camp tour here.
To summarise, mountains, jungles, ancient cities, spiritual sites, travel nirvana and the friendliest people of earth - yip, there's a reason why we love Nepal, and you will too.
It's almost too obvious to speak of the incredible natural scenery, however, it is reason enough to visit Nepal. The soaring Himalayan mountains offer some of the best hiking and mountaineering on the planet, while the steamy plains bordering India provide many of Asia's best wildlife viewing opportunities.
To us, what makes Nepal so great is intangible - it's a spiritual feeling that comes over you the minute you step foot on Nepali soil.
It's hard to adequately describe the feels, but to truly understand us and Nepal, you have to experience it yourself.
So what are you waiting for? Book now!