|
The awe-inspiring Wadi Rum Protected Area lies in the heart of Jordan's southern desert, a stunning expanse of sandstone cliffs, rugged mountains, and sweeping desert landscapes.
This unique region is steeped in history and culture, inhabited by nomadic tribes for thousands of years. With its incredible natural beauty, rich cultural heritage, and countless opportunities for adventure, it's no wonder that Wadi Rum has become one of the most popular tourist destinations in the Middle East.
In this travel guide, we'll take you through Wadi Rum, sharing everything you need to know to make the most of your trip. Whether you're an outdoor enthusiast, a culture lover, or simply seeking a new adventure, Wadi Rum will captivate your heart and soul.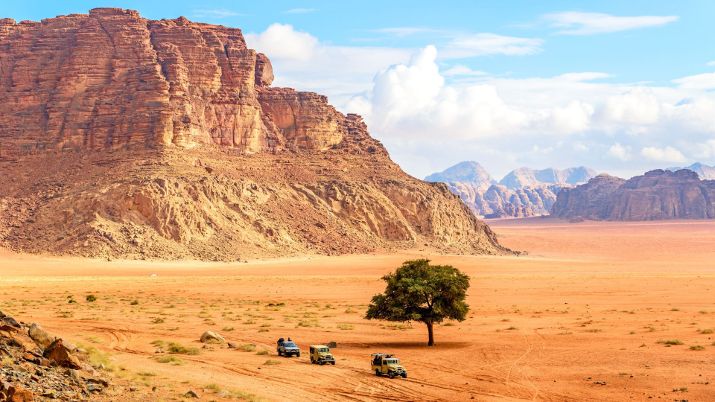 The history of Wadi Rum
Wadi Rum, also known as the Valley of the Moon, is a valley in Jordan's southern desert region. It is one of the most spectacular desert landscapes in the world and has been inhabited since prehistoric times. The area is renowned for its unique rock formations, dunes, and vast open spaces.
The history of Wadi Rum dates back to prehistory when nomadic hunter-gatherers roamed the area. Early artifacts have been found in the area that dates back to around 12,000 BCE. During this time, Wadi Rum was home to several nomadic tribes who lived off the land and hunted wild animals for food.
During ancient times, Wadi Rum was part of the Nabataean kingdom, which extended from Syria to Egypt. The Nabataeans were trading people who developed an extensive network of trade routes throughout the Middle East and North Africa. They built several cities in Wadi Rum, including Petra, their capital city.
In the 7th century CE, Wadi Rum became part of the Islamic Umayyad Caliphate, which stretched from Spain to India at its peak. Many Bedouin tribes moved into Wadi Rum and began herding sheep and goats to survive in this harsh environment.
In 1917, during World War I, Lawrence of Arabia led an Arab revolt against Ottoman rule in Wadi Rum with help from local Bedouin tribesmen who provided invaluable assistance during his campaign. This revolt eventually led to British rule over Jordan after World War I ended in 1918.
After World War II ended in 1945, Wadi Rum became a tourist destination for visitors worldwide, drawn by its unique landscape and rich cultural heritage. In 1998, it was declared a protected area by UNESCO due to its outstanding natural beauty and cultural significance.
Today, Wadi Rum is a popular tourist destination with visitors worldwide to explore its unique landscape and experience its rich cultural heritage firsthand. It is also home to many Bedouin tribes living off the land as they have done for centuries. The area has become an important symbol for Jordanians, representing their proud past and connection with nature and their environment.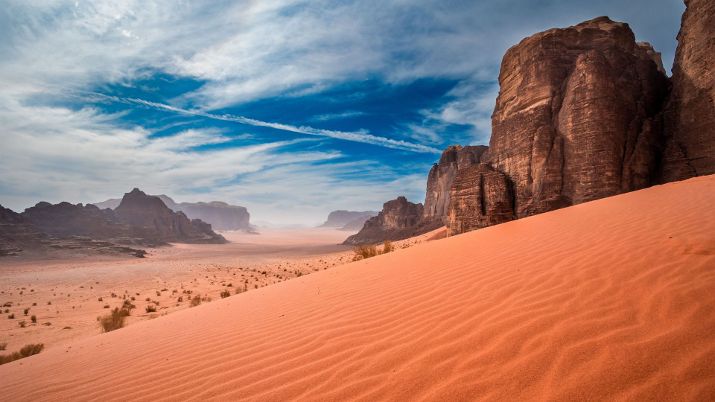 Where is Wadi Rum located?
The exact location of Wadi Rum is in the southwest corner of Jordan, close to the border with Saudi Arabia. It lies within a large desert region known as the Great Arabian Desert and covers an area of 720 square kilometers (280 square miles). The nearest cities are Aqaba to the west, Petra to the north, and Amman to the east.
The landscape of Wadi Rum is dominated by its towering mountains, which rise from the desert floor like sentinels. These mountains are made of sandstone eroded over time by wind and water into dramatic shapes such as arches, cliffs, canyons, gorges and valleys. The highest peak in Wadi Rum is Jabal Umm ad Dami at 1,734 meters (5,700 feet).
The desert floor is covered with dunes that shift with the wind, creating ever-changing patterns. There are also numerous springs which provide a water source for wildlife, including ibex and foxes, as well as for nomadic Bedouin tribes who have lived in this area for centuries.
Wadi Rum has long been a popular destination for adventurers exploring its rugged beauty on foot or by camel or jeep. Visitors can explore ancient rock art sites left by early inhabitants or participate in rock climbing or sandboarding down its dunes. There are also several luxury campsites where visitors can stay overnight under canvas or in traditional Bedouin tents while enjoying starlit skies and campfire stories around a crackling fire.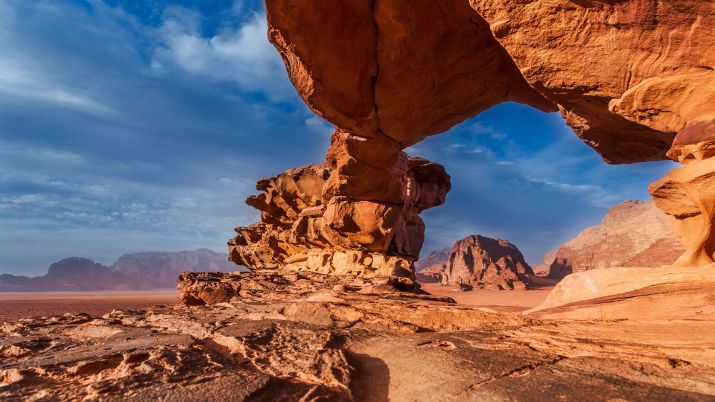 The Bedouins of Wadi Rum
The Bedouins of Wadi Rum are a unique group of people who have lived in the desert for centuries. They are nomadic and have adapted to the harsh environment of the desert. They live in tents, travel on camelback, and rely on their resources to survive.
The Bedouins have a strong sense of community and tradition. They are fiercely loyal to their families and clans and take pride in their culture and heritage. They have a deep respect for nature, reflected in their lifestyle. They use the resources from the desert to sustain themselves, such as collecting firewood, hunting animals, gathering wild plants, and harvesting dates from palm trees.
The Bedouins are incredibly hospitable and welcome visitors into their homes with open arms. They will often invite visitors to stay for dinner or even spend the night in one of their tents. Visitors will be treated with traditional Bedouin hospitality, which includes sharing stories around a campfire or enjoying a cup of tea made from local herbs.
The Bedouins are also known for their music and artistry. Music is integral to their culture; it expresses emotions, tells stories, and celebrates special occasions. Traditional instruments include drums, flutes, lutes, violins, and ouds (Arabic stringed instruments). The Bedouins also create beautiful artwork, such as rugs and jewelry, that reflect their culture and beliefs.
The Bedouins of Wadi Rum are integral to Jordanian culture; they exemplify how people can adapt to harsh conditions while maintaining a strong sense of identity and community. Their hospitality is renowned throughout the region; they offer visitors a unique insight into life in the desert that cannot be found anywhere else.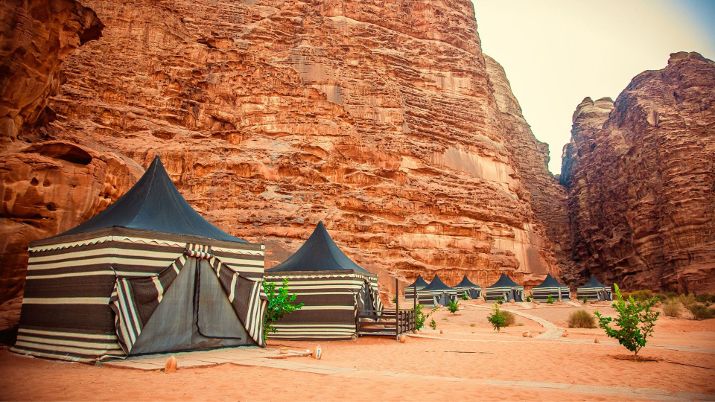 When is the best time to visit Wadi Rum?
The best time to visit Wadi Rum depends on what type of experience you're looking for. If you want to explore the desert in peace and quiet, then the winter months are your best bet. From December to February, temperatures are mild and comfortable during the day, making it ideal for exploration. The nights can be chilly, so bring warm clothing to camp in the desert.
If you're looking for an adrenaline-filled adventure, summer is the best time to visit Wadi Rum. From June to August, temperatures can get quite hot during the day (upwards of 40 degrees Celsius), making it perfect for rock climbing and sandboarding down dunes. The nights are cooler and more comfortable than during the day, making it ideal for camping out under the stars.
No matter when you choose to visit Wadi Rum, plenty of activities available year-round will make your trip unforgettable. You can explore ancient ruins like Lawrence's Spring or take a camel ride through the desert landscape. You can also take a jeep tour or hike up one of its many mountains. There are also plenty of opportunities for stargazing at night - truly magical in this part of Jordan!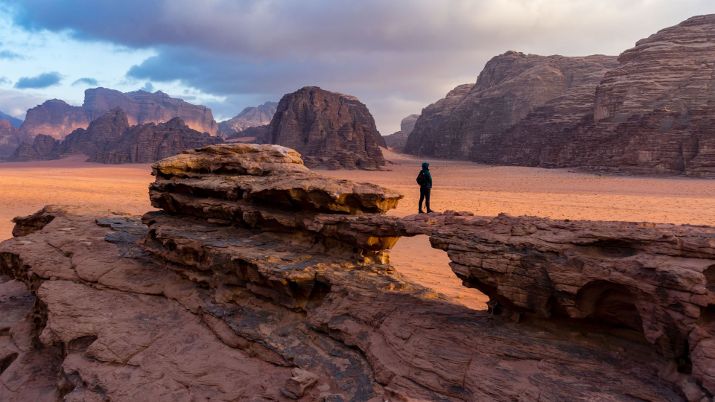 How much does it cost to visit Wadi Rum?
The cost of visiting Wadi Rum can vary depending on your travel style and preferences. Generally, the biggest expenses will be accommodation, transportation, and tours or activities.
If you're on a budget, you can pay around 10-20 JOD (14-28 USD) per night for a basic campsite or homestay. However, for a more luxurious experience, you can expect to pay upwards of 100 JOD (140 USD) per night for a high-end desert camp or hotel.
Transportation costs will also vary depending on your mode of travel. If traveling independently, you can rent a car or take a public bus from Amman or Aqaba, which will cost around 5-15 JOD (7-21 USD) per person. Alternatively, you can hire a private driver or join a guided tour ranging from 50-200 JOD (70-280 USD) per person, depending on the duration and inclusions.
Finally, the cost of tours and activities will depend on what you choose to do. A typical 2-hour jeep tour of Wadi Rum will cost around 40-60 JOD (56-84 USD) per person, while longer tours or specialized activities like camel riding, rock climbing, or hot air balloon rides can cost upwards of 100 JOD (140 USD) per person.
With careful planning and budgeting, visiting Wadi Rum on various budgets is possible.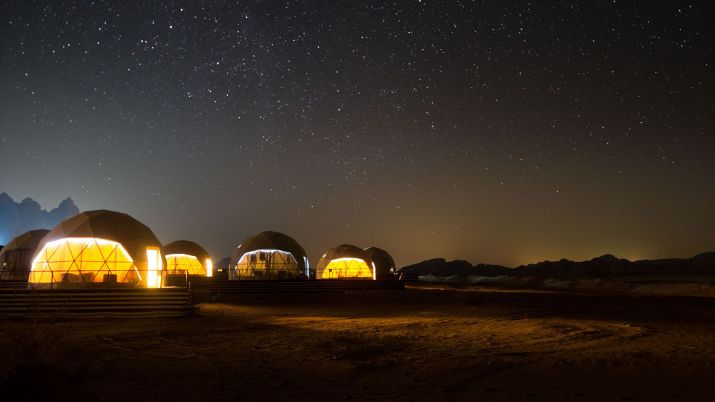 What's the best way to travel to Wadi Rum?
The best way to travel to Wadi Rum will depend on your starting point and travel preferences. Here are some of the most common options:
Private car or rental car: If traveling from Amman or Aqaba, you can rent a car or hire a private driver to take you to Wadi Rum. This option gives you more flexibility and control over your itinerary and allows you to explore the surrounding areas at your own pace.
Public bus: Regular buses run from Amman and Aqaba to Wadi Rum village. This is the most affordable option but it can be time-consuming and crowded.
Taxi: Taxis are available in Amman and Aqaba, and you can negotiate a price with the driver to take you to Wadi Rum. This option can be more expensive than the bus but faster and more convenient.
Guided tour: Many tour operators offer guided tours to Wadi Rum from Amman or Aqaba. This option covers all logistics, including transportation, accommodation, and activities. It can be a bit more expensive, but it's a great way to see all the area's highlights without hassle.
Ultimately, the best way to travel to Wadi Rum depends on your preferences, budget, and style.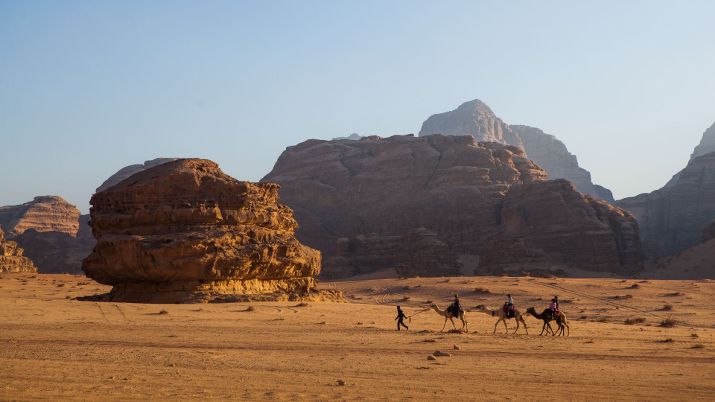 What activities can travelers experience in Wadi Rum?
Wadi Rum offers various activities for travelers of all interests and fitness levels. Here are some of the most popular things to do in Wadi Rum:
Jeep tours: One of the best ways to explore the stunning desert landscapes of Wadi Rum is by taking a jeep tour. Experienced local drivers will take you on a thrilling ride through the desert, stopping at scenic viewpoints and historical sites.
Camel rides: Another classic desert experience is a ride through Wadi Rum. You can choose from short rides or multi-day treks through the desert, staying in traditional Bedouin camps.
Rock climbing: Wadi Rum is a world-famous rock climbing destination with towering sandstone cliffs that offer a range of climbing challenges for both beginner and advanced climbers.
Hiking: Wadi Rum has numerous hiking trails, ranging from short walks to multi-day treks. Some of the most popular hikes include the Um Fruth Rock Bridge and the Burdah Rock Bridge trails.
Hot air balloon rides: For a truly unique perspective on Wadi Rum, consider taking a hot air balloon ride over the desert. This experience offers unparalleled views of stunning landscapes and will surely be a highlight of any trip to the area.
Stargazing: With its clear skies and remote location, Wadi Rum is an excellent place for stargazing. You can join a guided stargazing tour or enjoy the stars from your desert camp.
These are just a few of the many activities that travelers can experience in Wadi Rum. Whatever your interests, there's something for everyone in this stunning desert wilderness.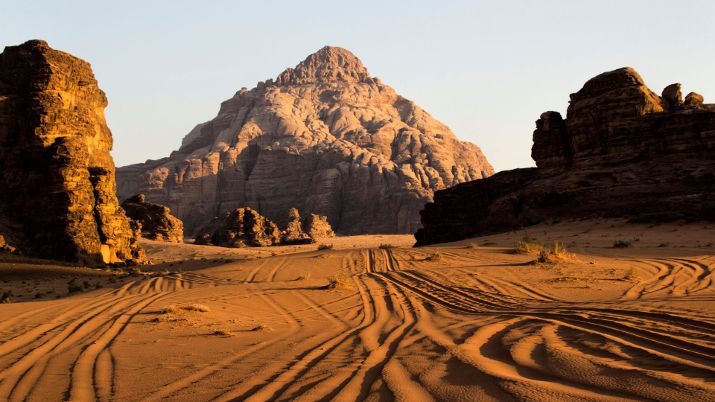 Everything to know about Jeep tours in Wadi Rum
Jeep tours in Wadi Rum are a fantastic way to explore the beautiful desert landscape of Jordan. Wadi Rum is a stunning desert valley in the country's south with unique rock formations, ancient ruins, and breathtaking views. A jeep tour is a perfect way to enjoy all this area offers. Whether you're looking for a thrilling off-road adventure or a relaxing sightseeing experience, there's something for everyone. Here's everything you need to know about jeep tours in Wadi Rum.
First and foremost, it's essential to understand that jeep tours in Wadi Rum are not just about driving around in a 4x4 vehicle. They are guided tours where you can learn about the history and culture of the area as well as take in some of its most spectacular sights. Most jeep tours include stops at various points of interest, such as Bedouin villages, ancient ruins, and breathtaking vistas. Depending on your interests, you can choose from jeep tours ranging from half-day to multi-day excursions.
When planning your Jeep tour in Wadi Rum, there are several things to consider. First and foremost is safety - it's important to make sure that you choose a reputable tour operator who has experience leading off-road trips through this rugged terrain. It's also essential to ensure your vehicle is well-maintained and equipped with all necessary safety equipment, such as seatbelts and fire extinguishers.
Another important factor when planning your jeep tour is cost - prices can vary significantly depending on the length of your trip and any additional services you may require, such as meals or overnight accommodation. It's also worth noting that some operators may offer discounts for groups or special packages for families or couples.
Finally, it's important to think about what type of experience you want from your Jeep tour - do you want an adrenaline-filled off-road adventure, or would you prefer something more leisurely? If you're looking for an adrenaline rush, then look out for operators who offer more challenging routes with steep climbs and rocky terrain - but if relaxation is more your thing, then look out for operators who offer more leisurely routes with plenty of stops along the way so that you can take time to admire the scenery and learn about the local culture and history.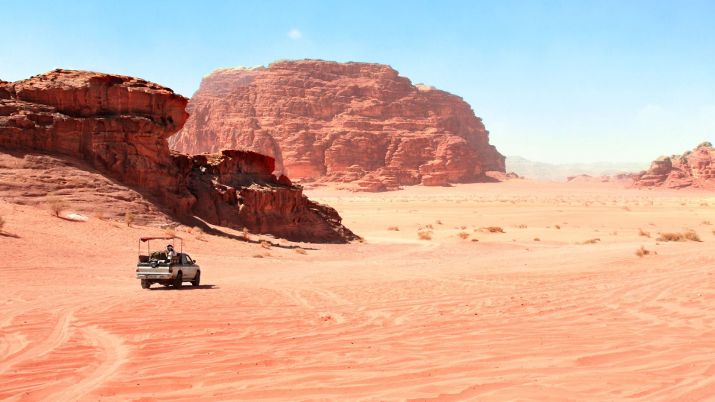 A detailed guide to rock climbing in Wadi Rum
Wadi Rum is a world-renowned rock climbing destination with towering sandstone cliffs offering beginner and advanced climbers a range of climbing challenges. Here is a detailed guide to rock climbing in Wadi Rum:
When to go: The best time to rock climb in Wadi Rum is from September to May, when temperatures are cooler and more comfortable. During summer, temperatures can soar above 40°C (104°F), challenging climbing.
Planning your trip: If you're an experienced climber, you can plan your climbing trip to Wadi Rum, but hiring a local guide who knows the area well and can provide you with the necessary equipment and support is recommended. You can also join a guided climbing tour, which covers all the logistics and includes accommodation, food, and transportation.
Types of climbs: Wadi Rum offers a wide range of climbing challenges, from easy beginner routes to multi-pitch climbs for experienced climbers. Some of the most famous climbs include:
Jebel Rum: This is the highest peak in Wadi Rum, and climbing to the summit offers stunning views of the surrounding desert. The climb is challenging and requires advanced skills, but it's a bucket-list experience for many climbers.
Burdah Rock Bridge: This popular climbing spot in Wadi Rum, thanks to its iconic rock bridge and breathtaking views. The climb is relatively easy and suitable for beginner and intermediate climbers.
Hammad's Route: This classic multi-pitch climb takes you up a 300-meter (984-foot) sandstone wall. The climb is challenging and requires advanced skills, but the views from the top are well worth it.
Safety and equipment: As with any outdoor activity, safety is paramount when climbing in Wadi Rum. Always wear a helmet and harness, and make sure your equipment is in good condition. It's also essential to climb with a partner or a guide and to communicate clearly with your climbing partner and any support staff.
Accommodation: Many Bedouin camps in Wadi Rum offer comfortable accommodations for climbers, often in traditional tents or stone huts. Many of these camps also provide meals and other amenities, making them an ideal base for your climbing trip.
Rock climbing in Wadi Rum is an unforgettable experience, offering breathtaking views, challenging climbs, and a deep sense of adventure. With careful planning and preparation, you can have a safe and rewarding climbing trip in this stunning desert wilderness.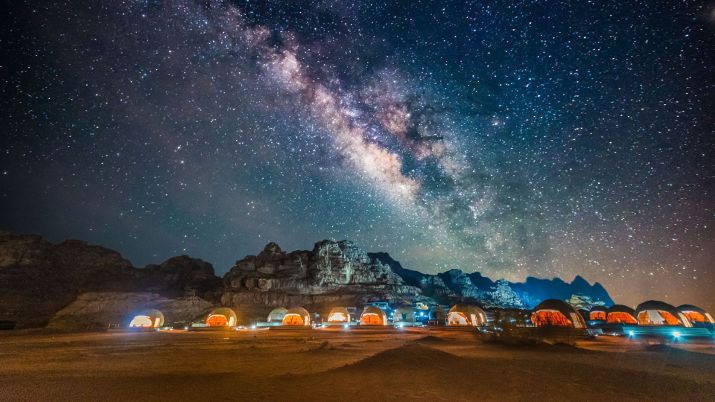 Useful tips for travelers visiting Wadi Rum
If you're planning a trip to Wadi Rum, here are some valuable tips to help you make the most of your experience:
Dress appropriately: Wadi Rum is a desert region, so it's important to dress appropriately for the climate. Loose, lightweight clothing that covers your arms and legs is recommended to protect you from the sun and sand. Comfortable closed-toe shoes are also a must for activities like hiking and climbing.
Please bring plenty of water: It's essential to stay hydrated in the desert, so make sure to bring plenty of water. Packing electrolyte tablets or sports drinks to replenish lost fluids and minerals is also good.
Respect local culture: Wadi Rum is home to a vibrant Bedouin culture, and it's important to respect local customs and traditions. Dress modestly when interacting with locals, and always ask permission before taking photos of people or their homes.
Hire a local guide: Hiring a local guide is a great way to learn about the history and culture of Wadi Rum and access some of the more remote and stunning areas of the desert. Local guides can also help you navigate the desert and ensure your safety during activities like hiking and climbing.
Bring a headlamp or flashlight: Wadi Rum is known for its stunning night skies, but navigating the desert after dark can be challenging. Bring a headlamp or flashlight to help you see in the dark and avoid potential hazards.
Pack a first aid kit: It's always a good idea to pack a basic first aid kit when traveling, especially in remote areas like Wadi Rum. Ensure to include bandages, antiseptic, pain relievers, and medications.
Be prepared for variable weather: While Wadi Rum is generally warm and sunny, weather conditions can change quickly in the desert. Be prepared for sudden rain or windstorms by packing a lightweight rain jacket and dressing in layers.
By following these tips, you can have a safe, enjoyable, and unforgettable experience in Wadi Rum.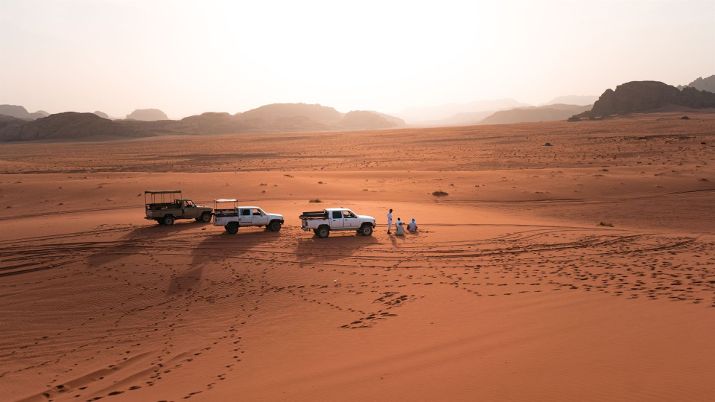 Why is Wadi Rum a popular filming location?
Wadi Rum is a popular filming location due to its unique and otherworldly landscape. The desert's dramatic sandstone cliffs, vast expanses of sand, and unusual rock formations create a visually stunning and distinctive backdrop used in numerous films and TV shows.
Some of the most famous movies filmed in Wadi Rum include "Lawrence of Arabia," "The Martian," "Prometheus," and "Star Wars: Episode IX - The Rise of Skywalker." In science fiction films, the area's rugged and remote terrain has also been used as a stand-in for other planets and alien landscapes.
In addition to its striking scenery, Wadi Rum is a popular filming location due to its easy access and relatively low filming costs. The Jordanian government actively promotes the area as a filming destination and supports filmmakers through its Film Commission.
In conclusion, the Wadi Rum Protected Area in Jordan is a must-visit destination for travelers seeking an unforgettable desert adventure. From exploring ancient rock art and ruins to hiking, rock climbing, and stargazing, there is no shortage of activities to experience in this stunning landscape.
Visitors can also immerse themselves in the vibrant culture of the Bedouin people, who have lived in the area for centuries and continue to maintain their traditional way of life. Whether you're a seasoned adventurer or a first-time visitor, Wadi Rum offers something for everyone.
With this travel guide, we hope to provide you with all the information you need to plan your Wadi Rum adventure. We've covered all the essentials, from how to get there and where to stay, to what to see and do. So pack your bags, grab your hiking boots, and get ready to experience the beauty and wonder of Wadi Rum for yourself.