|
Thinking about going on a Maldives tour, but you're wondering what you might eat? Keep scrolling and you'll find out everything you need to know.
Traditional Maldivian cuisine (also referred to as Dhivehi cuisine) holds a wonderful array of tastes and flavours with strong influences from neighbouring countries, particularly India and Sri Lanka.
Fish and seafood are strong staple in Maldivian cuisine and coconuts, yams, mangoes, papayas and pineapples grow abundantly in the Maldives, resulting in a unique fresh and tropical cuisine style.
Due to the trade influences from neighbouring countries over the years, Maldivian food is generally quite spicy and therefore if you're eating local - travellers should be prepared to indulge in spicy curries, fish soups, wonderful crunchy snacks and delicious chapati breads.
Habits and Customs
The Maldivians are very relaxed and as long as you show respect for their culture and enjoyment of their food, they will be happy that you're joining them for a meal. However, it is important to remember to wait to be shown where to sit by the island chief(kateeb) or alternatively by the male head of the household before being seated at the table.
During meals, it is recommended to take a small portion of everything that is being served and to remember to eat with your right hand. This is because the left hand is considered to be less clean in Islamic culture. Don't feel shy to ask for cutlery if you find it difficult to eat like the locals by rolling your food into small balls, it is common for foreigners to eat with utensils.
Garudhiya
One of the most traditional items found on menus in the Maldives, Garudhiya is a clear fish broth made from tuna. Cooked using 3 simple ingredients of fish, salt and water, Kekki Garudiya is a variant dish that incorporates spices. Garudiya is generally served with steamed rice but it can also be eaten with roshi, a Maldivian chapati.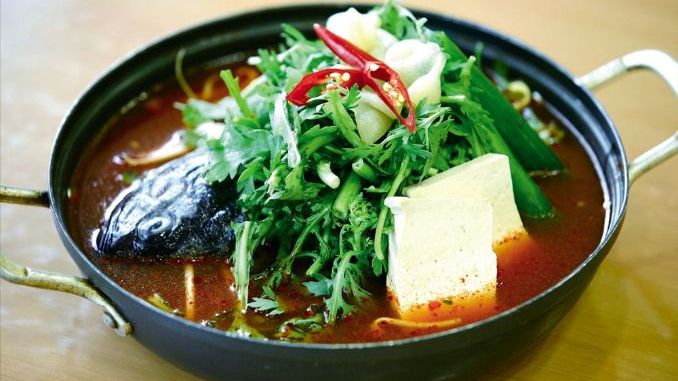 Mas Huni
Mas Huni is a traditional Maldivian breakfast dish made from a combination of tuna, onions, shredded coconut and chilis. The ingredients are mixed up in a bowl, seasoned with salt and pepper and then served with Maldivian flatbread(huni roshi) which is used to scoop up the food. Additionally, Mas Huni is often accompanied by sweetened hot tea.



Fihuna Mas
Fihuna Mas is a common dish found in the Maldives which consists of a whole fish grilled either in an oven or on hot coals. The fish is coated in a blend of chili, cumin, curry leaves, onions, garlic, peppercorns and salt. Deep slashes are made in the cleaned and descaled fish before being coated in the delightful blend of spices. The fish is then cooked whole and is served with roti, rice and mango salsa.
Handulu Bondibai
This is a unique Maldivian dessert made from sweetened sticky rice, served for special occasions such as birthdays and holidays. Handulu Bondibai is traditionally served with sago, breadfruit or rice parcels.
Bajiya
Bajiya is a traditional tea-time snack in the Maldives and can be likened to Samoosas as they consist of a thin dough stuffed with filling and deep fried until crispy. Bajiya filling can vary however the most commonly found Bajiya filling consists of smoked tuna, boiled eggs and a traditional paste made from fish, coconut and dried chilis.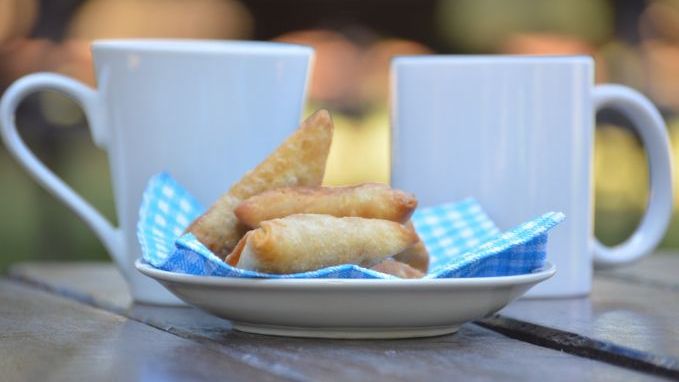 Traditional Maldivian cuisine offers a vast array of delicious, fresh and spicy flavours which resonate with travellers long after their departure from the Maldives. The amalgamation of fresh seafood, island fruits and spicy chilis have led to a selection of mouth-watering Maldivian dishes that are not to be missed during a visit to the Maldives.