|
Welcome to the Atlas Mountains in Morocco, a hidden gem just waiting to be discovered.
As you embark on your journey through this natural wonder, prepare to be amazed by the sheer grandeur of the snow-capped peaks and deep valleys. But it's not just about the breathtaking scenery and cultural experiences. The Atlas Mountains offer a plethora of exciting activities for adrenaline junkies. Feel the rush as you go rock climbing, mountain biking, or paragliding. If you're looking for a more serene experience, opt for a scenic horseback ride or a peaceful picnic by a glistening waterfall.
Feel the thrill of conquering rugged terrain as you traverse through ancient Berber villages, where time seems to stand still. Immerse yourself in the rich local culture, meeting friendly locals who will share their traditions and stories with you. Indulge in traditional Moroccan cuisine, bursting with flavors that will tantalize your taste buds.
What is the history of the Atlas Mountains?
The Atlas Mountains have been around for millions of years, formed by the collision of tectonic plates. This geological wonder has stood witness to the rise and fall of civilizations throughout the centuries.
One of the earliest known civilizations in the Atlas Mountains was the Berbers, an indigenous people who have inhabited the region for thousands of years. These resilient souls have adapted to the harsh mountain terrain, developing their own unique culture and way of life. They have passed down their knowledge and traditions from one generation to another, creating a living link to the past.
Fast forward to the 7th century AD when the Arabs arrived in North Africa. They introduced Islamic beliefs and established dynasties that would leave a lasting impact on the region. During this time, the Atlas Mountains became a strategic stronghold for various empires, such as the Almoravids and the Almohads. These empires sought to control the mountain passes for trade routes and military purposes, leaving behind fortresses and architectural wonders that still dot the landscape today.
But the history of the Atlas Mountains doesn't stop there, my friend. European powers, hungry for resources and eager to establish colonies, set their sights on North Africa in the 19th and 20th centuries. This period of colonization brought about immense change in the region. The French, in particular, had a significant presence in Algeria, which lies in the eastern part of the Atlas Mountains. They built roads, railways, and infrastructure that opened up the region to trade and development.
Speaking of development, let's not forget the impact of tourism on the Atlas Mountains. These mountains have become a popular destination for adventure seekers and nature lovers in recent years. Trekkers and hikers worldwide flock to the Atlas Mountains to conquer their peaks and explore their hidden valleys. The stunning landscapes, remote villages, and warm hospitality of the Berber people make for an unforgettable experience.
Where are the Atlas Mountains based?
The Atlas Mountains are found in the western part of North Africa, stretching across the countries of Morocco, Algeria, and Tunisia. These majestic mountains are a popular destination for travelers seeking stunning landscapes, breathtaking views, and a unique cultural experience.
Let's begin our journey in Morocco, where the High Atlas Mountains dominate the landscape. These mountains are known for their rugged peaks, lush valleys, and traditional Berber villages. As you ascend the winding roads, you'll be greeted by panoramic vistas that will leave you in awe. Make sure to stop by the charming town of Imlil, a starting point for treks to Mount Toubkal, the highest peak in North Africa.
Continuing our exploration, we move eastward into Algeria, where the Atlas Mountains extend into the Sahara Desert. This region, known as the Saharan Atlas, offers a stark contrast to the verdant landscapes of Morocco. Here, you'll witness vast sand dunes merging with rugged mountain ranges, creating a dramatic and otherworldly scene. Be sure to visit the town of Tamanrasset, located in the heart of the Algerian Sahara, and experience the rich culture and hospitality of the Tuareg people.
Heading further east, we reach Tunisia, where the mountains form the northern border of the Sahara Desert. The Tunisian Atlas Mountains, also known as the Tell Atlas, boast picturesque landscapes of rolling hills, fertile plains, and deep gorges. One must-visit destination in this region is the charming mountain town of Tabarka, famous for its coral reefs, pristine beaches, and an annual jazz festival that attracts music enthusiasts from around the world.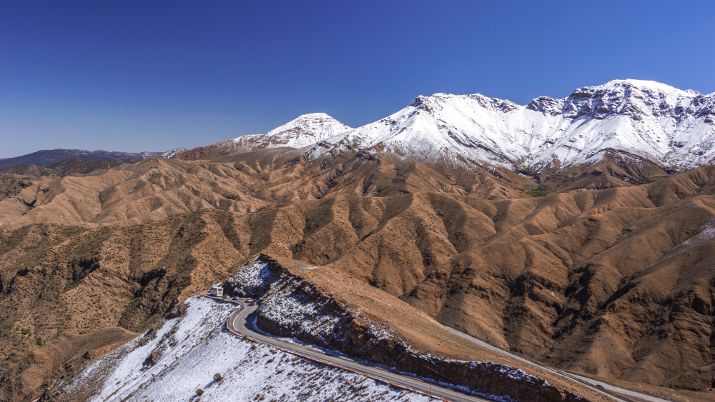 Why should travelers visit the Atlas Mountains in Morocco?
Firstly, the Atlas Mountains boast some of the most awe-inspiring landscapes on the planet. Imagine standing on a panoramic viewpoint, surrounded by towering peaks adorned with a pristine layer of snow, while valleys and gorges stretch out before your eyes. These vistas are truly breathtaking, offering a sense of serenity and tranquility that cannot be replicated elsewhere. Whether you're an avid hiker or simply enjoy nature's beauty, exploring the diverse terrain of the Atlas Mountains will surely leave you speechless.
Aside from their natural beauty, the Atlas Mountains offer a wide array of outdoor activities that cater to different interests and fitness levels. From leisurely strolls through lush green valleys to challenging hikes up steep mountainsides, there is something for everyone here. If you're a thrill-seeker, you can even try your hand at rock climbing or paragliding, taking in the stunning views from new heights. For those who prefer a more relaxed experience, horseback riding or biking along the mountain trails is an excellent way to immerse oneself in the stunning surroundings.
Beyond the physical allure, the Atlas Mountains are deeply rooted in Moroccan culture and history. This region is home to the Berber people, an indigenous population with a rich heritage that spans centuries. Interacting with the warm and welcoming Berber community is an opportunity to gain insight into their traditional way of life. You can visit local villages, where time seems to have stood still, and witness their daily routines, taste authentic cuisine, and marvel at their skilled craftsmanship via purchasing handmade souvenirs. By engaging with the local culture, you will gain a deeper understanding of Morocco's fascinating history and traditions.
One of the highlights of any trip to the Atlas Mountains is undoubtedly a visit to the world-renowned town of Marrakech. Known as the "Red City," Marrakech is a vibrant and bustling metropolis located at the foothills of the mountains. Here, you can explore the Medina, a UNESCO World Heritage site, and get lost in its labyrinthine streets filled with colorful markets, known as souks. Indulge in the sensory overload of exotic spices, handmade textiles, and vibrant ceramics. Be sure to visit Jardin Majorelle, a botanical masterpiece created by French painter Jacques Majorelle, now owned by fashion icon Yves Saint Laurent, with its vibrant blue buildings contrasting against the lush greenery.
A trip to the Atlas Mountains is also an opportunity to experience the unique Moroccan cuisine. Moroccan food is known for its bold flavors and aromatic spices that tantalize the taste buds. Tagines, a slow-cooked stew prepared with a variety of meats, vegetables, and spices, are a staple dish in this region. You can also savor other delightful delicacies such as couscous, pastilla, and an array of mouth-watering sweets like baklava. Don't miss the chance to refresh yourself with a cup of traditional mint tea, a symbol of Moroccan hospitality.
When planning your trip to the Atlas Mountains, keep in mind that the best time to visit is in the spring or autumn when the weather is mild, making outdoor activities more enjoyable. Summers tend to be scorching, while winters can bring heavy snowfall at higher altitudes. It's important to pack appropriate clothing and gear depending on the season and activities you plan to undertake. Also, don't forget to bring a camera to capture the stunning vistas, local encounters, and unforgettable memories.
In conclusion, the Atlas Mountains in Morocco offer an enchanting and diverse travel experience for adventurers and nature lovers alike. From the breathtaking landscapes to the vibrant cultural encounters, there is no shortage of reasons to explore this natural wonder. Whether you're scaling the peaks, immersing yourself in the local Berber culture, or indulging in the flavors of Moroccan cuisine, a trip to the Atlas Mountains is sure to create memories that will last a lifetime. So, why wait? Start planning your adventure to the Atlas Mountains now and embark on a journey you will never forget!
What is the best time to visit the Atlas Mountains?
Spanning across three countries - Morocco, Algeria, and Tunisia. These majestic mountains offer breathtaking landscapes, picturesque villages, and a chance to experience the rich cultures of the region. Here's a breakdown of the Atlas Mountains during each season:
Spring:
During this season The Atlas Mountains are a sight to behold. Starting from March to May, this is the season when nature comes alive. The snow begins to melt, and stunning wildflowers start to bloom, creating a vibrant and colorful atmosphere. The temperatures during this time are mild and pleasant, making it perfect for hiking and exploring the mountain trails. It's also the time when the local Berber communities celebrate their festivals, providing a unique cultural experience for visitors. So, if you're a nature lover and want to witness the mountains at their most beautiful, spring is the ideal time for you.
Summer:
Summer in the Atlas Mountains lasts from June to August and can be quite hot, especially in the lower altitudes. However, if you're seeking an escape from the scorching heat of the cities, the mountains can offer a refreshing retreat. The higher altitudes provide cooler temperatures, making it an excellent time for trekking and mountain climbing. It's important to note that the summer months also coincide with Ramadan, the holy month of fasting for Muslims. During this time, it's advisable to be respectful of the local customs and traditions.
Autumn:
As we move into the autumn months, September to November, the Atlas Mountains offer a different kind of beauty. The summer heat starts to fade away, and the landscapes transform into a breathtaking tapestry of warm colors. The cooler temperatures make it even more comfortable for outdoor activities such as hiking and camping. Autumn is also considered the harvest season in the Atlas Mountains, where you can taste the freshest local produce and experience traditional farming practices. So, if you're a food enthusiast or a lover of fall foliage, autumn is the perfect time for you to visit.
Winter:
Winter spans from December to February. Winter in the Atlas Mountains is a magical experience, especially for winter sports enthusiasts. The higher elevations are covered in a blanket of snow, making it the perfect time for skiing, snowboarding, and other snow-related activities. The local ski resorts are bustling with both locals and tourists, creating a vibrant and lively atmosphere. However, it's important to pack warm clothing as temperatures can drop significantly, especially during the night.
Now that we've broken down the different seasons in the Atlas Mountains, it's essential to consider a few factors before planning your trip. The first factor is the type of activities you're interested in. If you're looking for hiking and exploring, the spring and autumn seasons offer the best weather conditions. On the other hand, if you're more inclined towards winter sports, the winter season is the obvious choice. It's also important to consider your tolerance for crowds. The spring and autumn seasons are generally less crowded, offering a more peaceful and less touristy experience. In contrast, the summer and winter seasons tend to attract more tourists due to the favorable weather and specific activities.
Another significant factor to consider is the region within the Atlas Mountains that you wish to visit. The climate and weather conditions can vary greatly depending on the specific location. For example, the High Atlas Mountains experience colder temperatures compared to the Middle Atlas or Anti-Atlas regions. It's important to research and understand the weather patterns of the specific area you plan to explore before making any arrangements.
In conclusion, the best time to visit the Atlas Mountains ultimately depends on your personal preferences and the activities you wish to engage in. Whether you prefer the vibrant colors of spring, the cooler temperatures of autumn, the winter wonderland, or a summer escape, the Atlas Mountains have something to offer all year round. So, pack your bags, and embark on an unforgettable adventure in this awe-inspiring mountain range!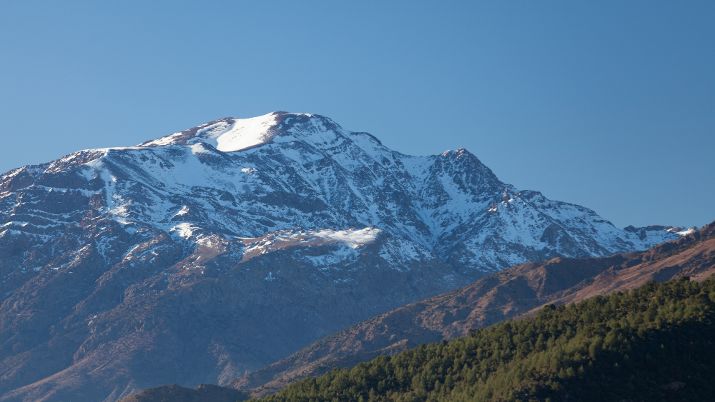 What type of travelers will enjoy visiting the Atlas Mountains?
The Atlas Mountains, offer an incredible playground for a wide range of travelers, each seeking their own authentic and fulfilling journey.
Here's a quick breakdown of the types of travelers who will enjoy these stunning mountains:
Nature Enthusiasts: If you're someone who finds solace and tranquility in the lap of Mother Nature, then the Atlas Mountains will be a slice of paradise for you. With its rugged peaks, lush valleys, and cascading waterfalls, this stunning mountain range is a nature lover's dream come true. Picture yourself hiking through picturesque trails, surrounded by panoramic vistas of snow-capped peaks and vibrant wildflowers. The Atlas Mountains offer a myriad of opportunities for birdwatching, wildlife spotting, and even stargazing under a clear night sky, making it an ideal destination for nature enthusiasts seeking an off-the-beaten-path adventure.
Outdoor Adventurers: For thrill-seekers and adrenaline junkies, the Atlas Mountains provide an exhilarating playground. From challenging treks to mountain biking and rock climbing, there are endless opportunities to pump up your energy levels and push your limits. Imagine the rush of conquering jagged peaks or rappelling down cascading waterfalls. With its diverse terrain and varied activities, the Atlas Mountains offer an unforgettable experience for outdoor adventurers.
Cultural Explorers: If you have a deep appreciation for history, culture, and immersive experiences, then the Atlas Mountains will captivate your heart and mind. This region is home to several Berber villages, where you can immerse yourself in traditional customs, explore local markets, and interact with warm and hospitable locals. Additionally, you can visit ancient kasbahs (fortified houses) and discover the rich historical heritage of the Atlas Mountains. Immerse yourself in the captivating tales of these timeless mountains and gain a unique insight into the local way of life.
Photography Enthusiasts: Are you someone who loves capturing iconic landscapes, unique moments, and vibrant cultures through your camera lens? Then the Atlas Mountains will be a visual feast for your photography passion! With its dramatic landscapes, charming Berber settlements, and colorful markets, every frame in the Atlas Mountains tells a compelling story. From capturing beautiful sunsets against the silhouettes of mountain peaks to snapping candid shots of locals going about their daily lives, the opportunities for stunning photographs are endless.
Wellness Retreat Seekers: In today's fast-paced world, finding moments of peace and rejuvenation is essential for our well-being. The Atlas Mountains provide the perfect setting for a wellness retreat, allowing you to unwind, recharge, and reconnect with yourself in the lap of nature. Imagine practicing yoga amidst breathtaking panoramas, indulging in spa treatments infused with local traditions, or simply enjoying a serene meditation session while listening to the sound of gushing rivers. Whether it's a solo trip or a group retreat, the Atlas Mountains offer a serene sanctuary for those seeking a wellness escape.
In conclusion, the Atlas Mountains cater to a diverse range of travelers, each finding their own unique joy and enrichment. Whether you're an outdoor enthusiast, a nature lover, a cultural explorer, a photography enthusiast, or a wellness retreat seeker, this awe-inspiring mountain range promises an adventure of a lifetime. So pack your bags, put on your hiking boots, and get ready to lose yourself in the unparalleled beauty and charm of the Atlas Mountains.
What is the geology of the high Atlas Mountains?
The geology of the High Atlas Mountains is a fascinating subject that reveals the gradual shaping and formation of this breathtaking range. Stretching over 2,500 kilometers, the High Atlas Mountains span across Morocco, Algeria, and Tunisia. Dotted with magnificent peaks, deep valleys, and picturesque landscapes, this mountain range offers an awe-inspiring natural beauty that attracts adventurers and nature enthusiasts from all around the world.
To understand the geology of the High Atlas Mountains, we need to delve into the intricate processes that have shaped them over millions of years. The mountains owe their existence to the collision of the African and Eurasian tectonic plates. This ongoing tectonic activity has resulted in the uplifting and folding of the rocks, creating the stunning topography we see today.
One of the most dominant rock types in the High Atlas Mountains is limestone. This sedimentary rock forms through the accumulation of ancient marine fossils and can be found in abundance throughout the range. The limestone is responsible for the distinctive white and grey hues that adorn the cliffs and peaks, providing a striking contrast against the vibrant greens and blues of the surrounding landscapes.
In addition to limestone, the High Atlas Mountains also contain a variety of other rock types, including sandstone, shale, and conglomerate. These rocks provide a colorful tapestry of earthy tones, further enhancing the rugged beauty of the terrain. Each rock type has its own unique characteristics, offering geologists and geology enthusiasts a treasure trove of information about the region's geological history.
One notable feature of the High Atlas Mountains is the presence of metamorphic rocks. These rocks have undergone intense heat and pressure over time, transforming their original composition and structure. Metamorphic rocks such as marble and quartzite can be found scattered across the range, adding to the geological diversity and creating picturesque formations.
As we explore the High Atlas Mountains, we come across various geological formations that captivate the imagination. One such formation is the iconic Tizi n'Tichka Pass, a mountain pass that marks the highest point of the road between Marrakech and Ouarzazate. This pass winds its way through steep slopes and dramatic cliffs, providing visitors with breathtaking panoramic views of the surrounding peaks and valleys.
Another noteworthy geological feature in the High Atlas Mountains is the Ouzoud Waterfalls. These picturesque cascades plunge over 100 meters into a series of deep pools, creating a mesmerizing spectacle. The waterfalls owe their existence to the erosive power of rivers cutting through the limestone rocks, gradually shaping the landscape over time.
Dangling Modifier alert! As we venture deeper into the mountains, we might stumble upon ancient riverbeds, evidence of the region's dynamic past. These dry riverbeds, known as wadis, were once filled with rushing waters that carved their way through the rocky terrain. Today, they are a testament to the erosive forces that have shaped the landscape and provide a glimpse into the geological history of the High Atlas Mountains.
In addition to the geological wonders, the High Atlas Mountains are also home to a rich and diverse flora and fauna. The rugged terrain and varying altitudes create different microclimates that support a wide range of plant and animal species. From the hardy shrubs and thorny acacias of the lower slopes to the majestic cedar forests at higher elevations, the mountains teem with life.
As we wrap up our exploration of the geology of the High Atlas Mountains, it becomes evident that this majestic range is a testament to the Earth's ever-changing nature. The collision of tectonic plates, the forces of erosion, and the slow but steady movement of the Earth's crust have all contributed to the creation of this awe-inspiring landscape. Whether you're an avid geology enthusiast or simply a traveler seeking adventure and natural beauty, the High Atlas Mountains will leave an indelible mark on your soul. So, pack your bags, put on your hiking boots, and embark on a memorable journey to discover the geological wonders of the High Atlas Mountains. You won't be disappointed!
How much does it cost to visit the Atlas Mountains?
First and foremost, it's important to clarify that the actual cost of visiting the Atlas Mountains can vary greatly depending on a range of factors. These factors include the duration of your trip, the type of accommodation you choose, transportation expenses, and the activities you wish to partake in. Therefore, it's advisable to carefully plan your journey and budget accordingly.
When it comes to accommodation, you have a variety of options to choose from. If you're a fan of backpacking and looking to experience the mountains on a budget, you can find hostels or guesthouses for as low as $10 to $20 per night. These humble accommodations provide you with basic amenities and a chance to meet fellow travelers.
For those seeking a more comfortable stay, there are several mid-range hotels available, ranging from $50 to $100 per night. These hotels usually offer more amenities and services, including private bathrooms, Wi-Fi access, and sometimes even a swimming pool or spa facility.
If you're looking for a luxurious experience, you'll find high-end resorts nestled in the Atlas Mountains. These resorts provide top-notch services, such as gourmet dining, luxurious spas, and stunning panoramic views. However, be prepared to spend around $200 to $500 per night for such indulgence.
Transportation is another significant factor to consider when estimating your budget. If you're already in Morocco, you can reach the Atlas Mountains by hiring a local taxi or renting a car. The cost of a taxi ride can vary depending on the distance, but on average, it can range from $50 to $100. Renting a car offers greater flexibility, and prices start at approximately $35 per day, excluding fuel expenses.
For international travelers, flying into Morocco is the most common option. Marrakech, with its vibrant atmosphere and lively Medina, serves as an excellent starting point for your Atlas Mountains adventure. A round-trip flight from major cities in the United States, such as New York or Los Angeles, can cost between $500 and $900, depending on the time of year and the airline you choose.
Once you've arrived in Marrakech, various transportation methods are available to take you into the Atlas Mountains. Shared taxis or private drivers are frequently used options for travelers. Shared taxis are a cost-effective choice, with fares generally ranging from $5 to $15, depending on the distance and your negotiation skills. Private drivers can be hired for a more comfortable and personalized experience, but expect to pay a bit more, starting from $30 for a day trip.
Now that you've settled your accommodation and transportation, let's discuss the activities and excursions you can enjoy in the Atlas Mountains. Hiking enthusiasts will find a paradise of trails, including the famous Toubkal National Park. Guided hikes can vary in price depending on the duration and difficulty level, but on average, expect to pay around $50 to $100 per day.
For those seeking cultural immersion, exploring the local Berber villages and experiencing their hospitality is a must. Many organized tours offer visits to these villages, providing a glimpse into their traditional way of life. The cost of these tours can range from $30 to $70 per person, depending on the duration and included activities.
If you're an adrenaline junkie, you can engage in thrilling activities such as mountain biking, paragliding, and even skiing during the winter season. Prices for these activities range from $30 to $150, depending on the duration and the equipment provided.
It's important to note that the cost estimates provided above are approximate and can vary based on several factors, such as the season, your negotiation skills, and the level of comfort you expect. Additionally, it's always wise to have some extra cash on hand for unexpected expenses or souvenirs.
In conclusion, visiting the Atlas Mountains offers an incredible travel experience, combining natural beauty, cultural encounters, and exciting activities. While it's challenging to provide an exact cost for such an adventure, budgeting for accommodation, transportation, and activities will help you plan your journey effectively.
Which well-known attractions can be found around the Atlas Mountains in Morocco?
If you're lured by Morocco's mystic charm and wish to witness its breathtaking landscapes, there's no better place to start than the Atlas Mountains.
Ouarzazate: Hollywood of Morocco
Nestled at the foot of the Atlas Mountains, Ouarzazate is often referred to as the "Hollywood of Morocco." This desert city has been used as a backdrop for numerous cinematic productions, including legendary movies like "Lawrence of Arabia" and "Gladiator." Be sure to visit the Taourirt Kasbah, a UNESCO World Heritage site, showcasing intricate Moroccan architecture alongside stunning views of the surrounding landscapes.
Aït Benhaddou: A Timeless Beauty
Continuing our journey towards the southern part of the Atlas Mountains, we stumble upon Aït Benhaddou, an ancient fortified village. This UNESCO World Heritage site astonishes visitors with its well-preserved mud-brick structures and narrow alleys. Walking through the winding labyrinth of Aït Benhaddou is like stepping back in time, immersing yourself in the history-rich atmosphere of this cinematic gem.
Todra Gorge: A Nature Lover's Haven
Moving further east, the Atlas Mountains reveal another hidden treasure: Todra Gorge. Carved by the Todra River, this magnificent limestone canyon offers a haven for rock climbers and hikers. Towering walls, rising up to 1,000 feet in some areas, embrace a narrow passage where a river gently flows. The awe-inspiring views and challenging climbs make Todra Gorge a must-visit destination for outdoor enthusiasts.
Ourika Valley: A Refreshing Escape
Escape the scorching heat of Morocco's lowlands and find tranquility amidst the lush greenery of Ourika Valley. Located just an hour's drive from Marrakech, this picturesque valley offers a serene retreat from the bustling city life. Hike through the vibrant landscapes, visit traditional Berber villages, and plunge into refreshing waterfalls cascading down from the Atlas Mountains. Don't forget to sample some traditional mint tea while interacting with the warm and friendly locals.
Toubkal National Park: Scaling New Heights
For those seeking an adrenaline rush and panoramic vistas, the Toubkal National Park is an adventurer's paradise. Home to the highest peak in North Africa, Mount Toubkal, this national park offers a challenging yet rewarding trekking experience. Conquer the summit and be rewarded with breathtaking views of snow-capped peaks, deep valleys, and picturesque Berber villages nestled in the mountainside.
The Atlas Mountains hold a treasure trove of well-known attractions that cater to diverse interests. From the cinematic allure of Ouarzazate to the historical charm of Aït Benhaddou, and from the majestic beauty of Todra Gorge to the soothing ambiance of Ourika Valley, there's something for everyone. Whether you're an avid adventurer, nature lover, or simply a curious traveler, exploring the wonders around the Atlas Mountains guarantees an unforgettable journey through Morocco's rich cultural tapestry. So pack your bags, embrace the essence of a timeless land, and embark on an extraordinary adventure in the heart of the Atlas Mountains. Happy travels!
What is the recommended fitness level for exploring the Atlas Mountains?
First and foremost, you need to be prepared for some serious uphill hiking. The Atlas Mountains are notorious for their steep ascents and descents. You'll be trekking along rocky pathways, traversing uneven terrain, and climbing tricky slopes. Stamina is key here, my friend. If you're not accustomed to regular exercise, it's best to start training at least a few months before your trip.
Cardiovascular fitness plays a crucial role in conquering the Atlas Mountains. The higher altitudes can leave you breathless, quite literally. Long walks, jogging, cycling, or swimming are excellent ways to improve your overall endurance. Aim for at least 30 minutes of aerobic exercise, three to four times a week. You want to build up your lung capacity and get your heart pumping.
Endurance alone won't cut it, though. You'll also need strength to tackle the challenging terrain. Think about those steep inclines and rocky paths. Your leg muscles, in particular, will be getting a serious workout. Squats, lunges, and calf raises are great exercises to strengthen your lower body. Don't forget to work on your core as well, as it will help stabilize your body and reduce the strain on your back.
Flexibility is another crucial component to consider. Stretching exercises, such as yoga or Pilates, can improve your range of motion and reduce the risk of injuries. Remember, you'll be navigating through uneven surfaces, so having flexible muscles and joints will come in handy.
Apart from the physical aspect, it's also essential to mentally prepare yourself. Trekking through the Atlas Mountains requires mental resilience and a positive mindset. There will be moments of exhaustion and doubt, but staying focused and determined will help you overcome any obstacles you encounter.
Now, let's be clear: you don't need to be a super-fit athlete to explore the Atlas Mountains. However, having a decent level of fitness will undoubtedly enhance your overall experience. You don't want to miss out on the stunning panoramic views and awe-inspiring landscapes because you're struggling to catch your breath, do you?
If you find that your current fitness level falls short, fret not! There's still time to get in shape before your trip. Start with low-intensity workouts and gradually increase the intensity and duration. Mix it up with aerobic exercises, strength training, and flexibility sessions. Your body will thank you for it when you're basking in the glory of the Atlas Mountains.
Finally, remember that everyone's fitness level is unique. What might be a walk in the park for some could be a challenging trek for others. Listen to your body, know your limits, and don't push yourself beyond what you're comfortable with. It's all about finding a balance between challenging yourself and enjoying the journey.
What is the recommended dress code when visiting the Atlas Mountains?
When it comes to tackling the Atlas Mountains, comfort and practicality should be your top priority. Whether you're embarking on a hiking expedition or simply planning a leisurely stroll, you'll want to dress in layers to accommodate the ever-changing weather conditions. So, first things first, don't forget your trusty hiking boots! Opt for a sturdy and well-fitting pair to ensure the utmost comfort and support during your adventure.
Now, let's focus on the upper body. Start with a moisture-wicking base layer, such as a lightweight t-shirt or tank top. This will help keep you cool and dry during those challenging uphill climbs. On top of your base layer, throw on a long-sleeved shirt or blouse. This will protect your arms from the harsh sun and pesky insects that might lurk around.
Moving on to the lower body, it's time to whip out those trusty hiking pants or convertible trousers. These versatile bottoms will come in handy when you need to adapt to changing temperatures. If you're visiting in the colder months or planning an ascent to the mountain peaks, consider adding an extra layer by wearing thermal leggings underneath your hiking pants.
Let's not forget about the essentials! Remember to bring a lightweight waterproof jacket or shell to shield yourself from unexpected rain showers. It's also wise to pack a warm fleece or sweater for those chilly evenings in the mountains. And oh, don't forget a hat or a cap to protect your head and face from the scorching sun.
Now that we've covered the wardrobe basics let's meander into the realm of accessories. When it comes to accessories, a good pair of sunglasses is an absolute must. The mountain sun can be intense, and protecting your eyes is essential. Additionally, don't forget to slather on some sunscreen and bring a refillable water bottle to stay hydrated throughout your journey.
Lastly, let's have a quick chat about cultural sensitivity. While Morocco is known for its relaxed dress code, it's still important to be respectful of the local customs and traditions when venturing into the Atlas Mountains. Avoid wearing revealing clothing, particularly when visiting villages and communities. Opt for modest attire, such as loose-fitting pants or long skirts, and cover your shoulders with a shawl or a scarf.
What is the easiest way to get to the Atlas Mountains from well-known landmarks in the surrounding area?
Let's start with Marrakech, one of the most popular tourist destinations in Morocco. If you're staying in Marrakech and want to make a day trip to the Atlas Mountains, there are a few options available to you. The easiest and most convenient way is to book a tour. There are plenty of tour operators in Marrakech that offer guided tours to the Atlas Mountains. These tours usually include transportation, a knowledgeable guide, and sometimes even a delicious traditional Moroccan lunch. It's a stress-free way to explore the mountains and learn about the local culture.
If you prefer to go at your own pace and have more flexibility, you can also rent a car and drive to the Atlas Mountains. The journey from Marrakech to the mountains takes about an hour and a half, so it's quite easy. Just make sure to have a GPS or a map handy, as the roads can sometimes be a bit confusing. But don't worry, the locals are friendly and always willing to help if you get lost!
Another option is to take a taxi or a shared minibus. Taxis are readily available in Marrakech and can take you directly to the mountains. Just make sure to negotiate the price beforehand, as some taxi drivers might try to overcharge tourists. Shared minibusses, on the other hand, are a more affordable option. They operate on a fixed schedule and usually depart from the main bus station in Marrakech. They're a bit slower than taxis, but they're a great way to save some money and meet fellow travelers along the way.
Now, let's move on to another famous landmark in Morocco - the city of Casablanca. If you find yourself in Casablanca and want to visit the Atlas Mountains, the easiest way is to take a train to Marrakech and then follow one of the options I mentioned earlier. Trains in Morocco are comfortable, reliable, and relatively affordable. The journey from Casablanca to Marrakech takes about 2 and a half hours, so it's not too long of a ride.
If you're short on time and can't make it all the way to Marrakech, you can still visit the Atlas Mountains from Casablanca. There are tour operators in Casablanca that offer day trips to the mountains. These tours usually include transportation, a guide, and some stops at scenic viewpoints along the way. It's a great way to experience the beauty of the mountains without having to make the long journey to Marrakech.
Lastly, let's talk about Fes, another well-known landmark in Morocco. If you're in Fes and want to get to the Atlas Mountains, your best bet is to take a direct bus to Marrakech. The journey takes about 7 hours, so it's a bit longer than the other options I mentioned earlier. But the buses in Morocco are comfortable and usually have air conditioning, so it's not too bad of a ride. Once you arrive in Marrakech, you can follow the same options I mentioned before to explore the mountains.
In conclusion, there are several easy ways to get to the Atlas Mountains from well-known landmarks in the surrounding area. Whether you're in Marrakech, Casablanca, or Fes, you can easily book a tour, rent a car, take a taxi or shared minibus, or hop on a train or bus to reach the beautiful mountains. Just make sure to plan your trip in advance, take some snacks and water with you, and prepare yourself for an unforgettable adventure in the Atlas Mountains. Happy travels!