|
Exploring the grandeur of ancient architectural marvels allows us to step back in time and marvel at the remarkable feats achieved by civilizations long gone. Among these awe-inspiring structures, the Great Hypostyle Hall at the Temple of Amun-Re, commonly known as the Karnak Temple, stands as a testament to the ingenuity, devotion, and artistic mastery of the ancient Egyptians.
This monumental hall, with its towering columns and intricate designs, not only served as a sacred space for religious rituals but also embodies the very essence of Egypt's rich history and cultural heritage.
Join us on a captivating journey as we delve into the captivating story, architectural significance, and cultural importance of the Great Hypostyle Hall, uncovering the mysteries and stories that have stood the test of time within its colossal stone walls.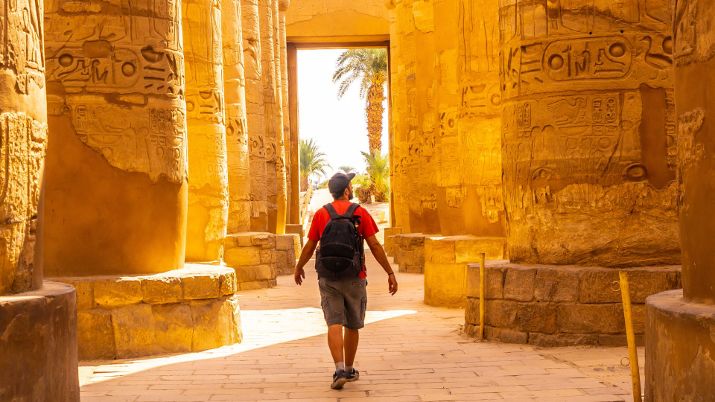 The history of the Great Hypostyle Hall at Karnak
The Great Hypostyle Hall at the Temple of Amun at Karnak, often referred to simply as the Karnak Temple, is one of the most iconic and monumental structures of ancient Egypt. This colossal architectural masterpiece is located near the modern city of Luxor, on the east bank of the Nile River. Its history spans over centuries, as various pharaohs contributed to its construction and expansion, resulting in the awe-inspiring complex we see today.
Early Beginnings: Middle Kingdom
The origins of the Karnak Temple complex can be traced back to the Middle Kingdom (circa 2055-1650 BCE), although the Great Hypostyle Hall itself took shape during the New Kingdom (circa 1550-1070 BCE). The Middle Kingdom pharaohs initiated the construction of the temple as a place of worship dedicated to the god Amun, often amalgamated with the sun god Ra to become Amun-Ra, a significant deity in the Egyptian pantheon.
Expansion and Transformation: New Kingdom
It was during the New Kingdom that the Karnak Temple complex experienced its most significant expansion and development. Pharaohs like Hatshepsut, Thutmose III, and Amenhotep III contributed to its growth, erecting colossal pylons (monumental gateways) and adding structures that enhanced the temple's magnificence. However, it was Ramses II (1279-1213 BCE), one of ancient Egypt's most prolific builders, who left an indelible mark on the temple.
Ramses II and the Great Hypostyle Hall
Ramses II's reign is marked by an extensive building campaign that aimed to commemorate his greatness and solidify his legacy. The most prominent addition to the Karnak Temple during his rule was the Great Hypostyle Hall. This vast hall, spanning 54,000 square feet, was designed to be a monumental space for religious ceremonies and gatherings.
The Great Hypostyle Hall is characterized by its forest of towering columns--134 in total--arranged in a grid pattern. The columns are divided into two main rows: the larger central columns rise to over 70 feet in height, while the surrounding columns reach around 40 feet. These columns, with their intricately carved capitals depicting papyrus and lotus plants, create a mesmerizing effect as light filters through their colossal forms.
Purpose and Significance
The Great Hypostyle Hall served as a vital space for various religious activities. It was here that priests and pharaohs would conduct rituals, ceremonies, and offerings to the gods. The hall also held a symbolic function, representing the primeval marsh from which, according to Egyptian creation myths, the world emerged.
Decline and Rediscovery
Following the decline of the New Kingdom and the gradual shift in religious beliefs, the Karnak Temple complex lost some of its significance. As Egypt's political landscape changed, the temples suffered from neglect and desecration. Additionally, natural factors, such as flooding from the Nile, took their toll on the structures.
It wasn't until the 19th century that renewed interest in Egyptology and archaeological exploration led to the restoration and preservation of the Karnak Temple, including the Great Hypostyle Hall. Archaeologists and conservationists worked diligently to document, restore, and protect this remarkable ancient site, ensuring that its splendor could be appreciated by generations to come.
Legacy and Impact
The Great Hypostyle Hall stands not only as a testament to the architectural achievements of ancient Egypt but also as a symbolic representation of the Egyptian worldview and religious practices. Its colossal columns and intricate carvings reflect the devotion, artistic prowess, and engineering prowess of the ancient Egyptians. Today, it continues to be a captivating attraction that draws visitors from around the world, offering a glimpse into the grandeur of Egypt's rich history and cultural heritage.
What's so special about the columns of the Great Hypostyle Hall at the Temple of Karnak?
The Great Hypostyle Hall at the Temple of Karnak is a truly awe-inspiring sight. Spanning an area of over 54,000 square feet and featuring 134 massive columns, it's one of the most impressive structures in all of Egypt. But what makes these columns so special? Let's take a closer look.
The first thing that stands out about the columns is their sheer size. Each one is made from granite and measures up to 70 feet tall, with a diameter of 10 feet at its base. This makes them some of the largest stone columns in the world, and they are incredibly impressive to behold.
The second thing that makes these columns unique is their design. Each one has a distinctive bell-shaped capital, which was designed to support the weight of the roof above it. This design was incredibly advanced for its time, and allowed for the roof to be built much higher than would have been possible with other designs.
The third thing that makes these columns so special is their symbolism. The Egyptians believed that each column represented a god or goddess, and this symbolism was reflected in their design. For example, some of the columns are decorated with images of Hathor, who was associated with love and beauty; others feature images of Amun-Ra, who was associated with power and strength; while still others feature images of Anubis, who was associated with death and resurrection.
Finally, these columns are also special because they have stood the test of time. Despite being over 3,500 years old, they remain largely intact today thanks to their sturdy construction and careful maintenance over the centuries. This makes them a lasting symbol not only of ancient Egyptian culture but also of human ingenuity and craftsmanship in general.
Who was Amun-Re?
Amun-Re was an ancient Egyptian god who was worshiped throughout the country. He was considered to be a powerful creator god, and his name means "hidden one" or "mysterious of form". He was associated with the sun and air, and was seen as a symbol of fertility and life. He is often depicted with a ram's head, which symbolizes strength and power.
Amun-Re is believed to have originated in the city of Thebes around 2000 BC. He was originally known as Amun, but his name changed when he became associated with the sun god Ra. This combination of gods created the deity Amun-Re, who became one of the most important gods in ancient Egypt.
Amun-Re was seen as a great protector of Egypt, and he was believed to be responsible for providing protection from enemies and for providing fertility to the land. He was also seen as a provider of justice and order in society. As such, he had many temples built in his honor throughout Egypt.
In addition to being a protector, Amun-Re was also seen as a source of wisdom and knowledge. He was believed to be able to provide insight into matters such as philosophy, science, mathematics, astrology, medicine, literature, music, and more. People would often go to him for advice or guidance on various matters.
Amun-Re is also associated with magic and sorcery. It is said that he could grant wishes or bestow magical powers upon those who asked for them. This made him very popular among those who sought out magical assistance or advice from him.
The worship of Amun-Re spread throughout Egypt during its history until it eventually became one of the most important gods in ancient Egyptian religion. His cult center at Thebes grew into one of the largest cities in ancient Egypt at one point in time due to its popularity among worshippers from all over the country. Even after his cult had declined in popularity elsewhere in Egypt, it remained strong at Thebes until it eventually faded away completely after Christianity began spreading across Egypt during Roman times around 300 AD.
To this day, Amun-Re remains an important figure in Egyptian culture and mythology due to his association with protection from enemies and providing fertility to land as well as wisdom and knowledge through magic and sorcery. Although his cult has long since faded away from its former glory days at Thebes, many still remember him fondly for all that he provided for them during their time on earth.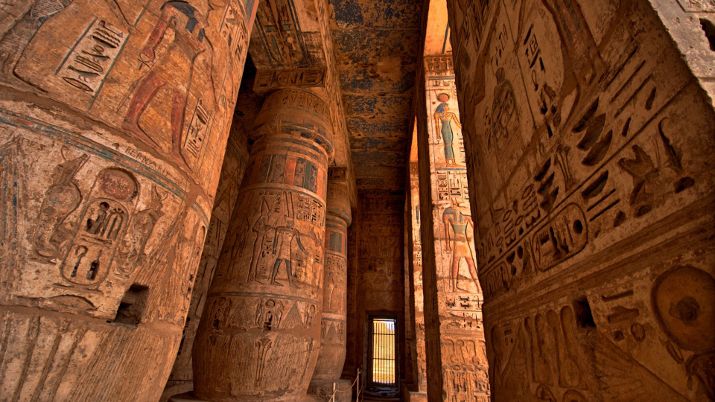 What do the reliefs and inscriptions on the walls of the Great Hypostyle Hall display?
The walls of the Great Hypostyle Hall at the Temple of Amun at Karnak are adorned with a rich array of reliefs and inscriptions that offer insights into the religious, cultural, and historical aspects of ancient Egypt. These intricate carvings provide a visual narrative of the beliefs, rituals, and achievements of the pharaohs and their relationship with the gods. Here are some common themes and subjects depicted in the reliefs and inscriptions:
Religious Scenes: The reliefs often depict scenes of religious ceremonies, offerings, and rituals involving pharaohs, priests, and deities. These scenes showcase the close connection between the earthly rulers and the divine realm. Pharaohs are often shown making offerings to deities, participating in sacred rituals, and receiving blessings from gods.

Royal Achievements: The walls celebrate the military conquests and accomplishments of the pharaohs. Victorious battles, captured enemies, and triumphant processions are depicted, emphasizing the pharaoh's role as a powerful ruler chosen by the gods.

Divine Encounters: Some reliefs illustrate pharaohs in the presence of gods, receiving their guidance or approval. These scenes reinforce the concept of divine kingship and the idea that the pharaoh was the intermediary between the mortal world and the divine.

Hieroglyphic Inscriptions: Hieroglyphic inscriptions accompanying the reliefs provide detailed descriptions, names, and titles of the depicted individuals, gods, and events. These inscriptions offer valuable information about the historical context of the scenes and the individuals involved.

Mythological Stories: Some reliefs depict mythological stories and tales from Egyptian mythology. These stories often have symbolic meanings and can convey moral lessons or cosmic principles.

Offerings and Offerings Lists: Many reliefs feature offerings being presented to deities, such as food, incense, and other valuable items. These offerings were believed to sustain the gods and maintain cosmic balance.

Depictions of Deities: Various gods and goddesses of the Egyptian pantheon are prominently featured in the reliefs. These depictions help identify the gods being honored and provide insights into their iconography and attributes.

Cosmic Symbolism: The layout and design of the reliefs may also incorporate cosmic symbolism, representing the order of the universe and the interconnectedness of the earthly and divine realms.

Life and Afterlife: Some reliefs showcase scenes related to the pharaoh's journey through life and into the afterlife. These scenes often include depictions of the pharaoh's interactions with deities, symbolic representations of rebirth, and references to funerary rituals.

Hieratic Scale: The use of hieratic scale, where the size of figures is determined by their importance, is a common feature. Pharaohs are often depicted larger than other figures, emphasizing their significance.
The reliefs and inscriptions on the walls of the Great Hypostyle Hall not only serve as artistic masterpieces but also offer valuable insights into the religious beliefs, cultural practices, and historical events of ancient Egypt. They provide a vivid window into the worldview and aspirations of the civilization that created this awe-inspiring architectural marvel.
When is the best time to visit the Great Hypostyle Hall?
Visiting the Great Hypostyle Hall is an experience like no other. It is one of the most impressive sites in Egypt and a must-see for any traveler. But when is the best time to visit? The answer depends on what you want to get out of your trip.
If you are looking for a more relaxed experience, then the best time to visit the Great Hypostyle Hall is in the springtime. From March through May, temperatures are mild and comfortable, making it ideal for sightseeing. Additionally, this time of year sees fewer crowds, so you'll be able to enjoy the hall without feeling rushed or overwhelmed.
On the other hand, if you're looking for a more active experience, then visiting during the summer months might be better for you. From June through August, temperatures are hot and dry, making it perfect for outdoor activities like hiking and exploring nearby attractions. Plus, this time of year sees more tourists visiting Egypt so there will be plenty of people around to chat with and learn from.
No matter which season you choose to visit the Great Hypostyle Hall, it's important to plan ahead. Make sure to book your tickets in advance so that you can avoid long lines or sold-out shows. Additionally, research any special events or activities that might be happening during your stay so that you can make sure not to miss out on anything!
Finally, if possible try to plan your trip around one of Egypt's major festivals such as Ramadan or Eid al-Adha. During these times there will be plenty of cultural activities going on around town that will help make your visit even more memorable!
How much does it cost to visit the Great Hypostyle Hall?
To find accurate and current information about the cost to visit the Great Hypostyle Hall and the Karnak Temple, we recommend checking the official website of the Ministry of Tourism and Antiquities of Egypt or the official website of the Karnak Temple.
These sources will provide you with the most accurate and up-to-date information regarding ticket prices, opening hours, and any additional details you might need to plan your visit.
Additionally, you could also check with local travel agencies or tour operators for the latest information on entry fees.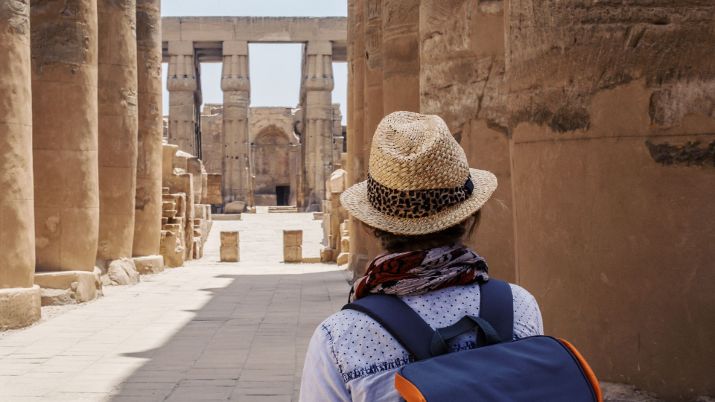 What is the best way to travel to the Great Hypostyle Hall?
There are several ways to travel to the Great Hypostyle Hall:
Flights: The nearest major airport is Luxor International Airport (LXR), which serves both domestic and international flights. You can fly into Luxor from Cairo or other major cities. From the airport, you can take a taxi or arrange for transportation to the Karnak Temple.

Train: Luxor is well-connected by train to various cities in Egypt, including Cairo. The train journey can be a scenic and comfortable option. Once you arrive at Luxor's train station, you can take a taxi or local transportation to the Karnak Temple.

River Cruises: Many tourists opt for Nile River cruises that stop at Luxor. These cruises offer a unique and picturesque way to reach the city and explore its historical sites, including the Karnak Temple.

Tour Buses and Guides: Many tour companies in Egypt offer guided tours to Luxor and the Karnak Temple. These tours often include transportation, guided visits, and sometimes even entry fees. This can be a convenient way to visit the site while also gaining insights from knowledgeable guides.

Local Transportation: Once you're in Luxor, you can use local transportation options such as taxis or buses to reach the Karnak Temple. Taxis are readily available and can be hired for the trip. Make sure to agree on the fare before starting the journey.

Walking and Biking: Depending on where you're staying in Luxor, you might also consider walking or renting a bike to reach the Karnak Temple if it's within a reasonable distance.