|
The Karnak Temple is one of Egypt's most iconic and impressive ancient sites. It is located on the east bank of the Nile River, near Luxor, and is considered one of the largest religious complexes ever built. The temple has been around for over 4,000 years, drawing thousands of visitors yearly.
What is the history of the Karnak Temple?
The Karnak Temple is an ancient Egyptian temple complex in Luxor, Egypt. It is one of the world's most impressive archaeological sites and is considered a masterpiece of ancient architecture. The temple complex was built over 2000 years, from the Middle Kingdom to the Ptolemaic period. It was dedicated to the Theban Triad, which included Amun, Mut, and Khonsu.
The earliest parts of the Karnak Temple date back to around 2055 BC during the Middle Kingdom period. During this time, Pharaoh Senusret I built a small temple dedicated to Amun-Re and his consort Mut. This temple was known as Ipet-isut ("Most Select of Places"). Over time, other pharaohs added their structures to the complex. During the New Kingdom period (1550-1070 BC), Pharaohs Ramses II and III added many structures, including pylons, obelisks, and hypostyle halls.
The most impressive part of Karnak Temple is its Hypostyle Hall. This hall consists of 134 massive columns arranged in 16 rows and reaching heights up to 24 meters (79 feet). The columns are decorated with intricate carvings depicting scenes from Egyptian mythology and religious rituals. Pharaoh Ramses II built the hall in 1250 BC as part of his grand plan for the Karnak Temple.
Karnak Temple also contains several temples dedicated to gods such as Ptah, Montu, and Khonsu. These temples were added by various pharaohs throughout history, including Amenhotep III (1417-1379 BC) and Tutankhamun (1336-1327 BC).
In addition to its religious significance, Karnak Temple has also been an important site for archaeological research since its discovery in 1817 by Jean-François Champollion. Archaeologists have uncovered many artifacts from different periods, including statues, stelae, reliefs, pottery shards, jewelry, and more. These artifacts provide valuable insights into ancient Egyptian culture and religion that would not be possible without them.
Karnak Temple remains an important symbol of ancient Egypt even today. It is visited by millions of tourists each year who come to marvel at its grandeur and learn more about its fascinating history. Its importance as a source of knowledge about ancient Egypt will continue for generations as archaeologists continue their work at this incredible site.
Where is the Karnak Temple based?
The Karnak Temple complex is located on Luxor's east bank in Upper Egypt near modern-day Luxor city. It lies approximately two kilometres northeast of Luxor's town centre. It covers an area roughly 1 kilometer long by 0.5 kilometers wide, making it one of Egypt's largest archaeological sites, with an area estimated at around 200 acres (80 hectares). The site consists mainly of three main temples: The Great Temple of Amun (also known as Ipet-isut), The Middle Kingdom Festival Hall (also known as Per-Hathor) and The Small Temple (also known as Khonsu). In addition to these three main temples, numerous smaller structures, such as obelisks and statues scattered throughout the complex making up an impressive sight that has been standing since ancient times.
How close is the Karnak Temple to the Luxor Temple?
If you were to measure it in terms of distance, they would be roughly three miles apart. However, if you were to measure it in terms of the time it takes to get from one temple to another by car or foot, then it would be less than three miles as there are no major roads that divide them. It would only take about fifteen minutes by car or thirty minutes by foot to get from one temple to another!
Why should travelers visit the Karnak Temple in Luxor?
Travelers should visit the Karnak Temple because it is a magnificent and awe-inspiring destination that offers an unforgettable experience. Located in Luxor, Egypt, this ancient temple complex was built over 4,000 years ago and is one of the most impressive sites in the world. It is a place of mystery and wonders that will leave travelers with awe and appreciation for its grandeur.
The Karnak Temple complex consists of several temples, chapels, shrines, obelisks, and other structures. The most famous of these structures is the Great Hypostyle Hall which Pharaoh Amenhotep III built in the 14th century BC. This hall features an incredible array of 134 columns arranged in 16 rows. The columns are decorated with intricate carvings depicting scenes from Egyptian mythology and images of gods and goddesses. The hall also features two large statues of Ramses II, which stand guard at either end.
The most impressive feature of the Karnak Temple complex is its sheer size. It covers an area of over 200 acres and includes numerous buildings, courtyards, gardens, avenues, and other structures. It is estimated that it took over 30 pharaohs to build this massive temple complex over 2,000 years!
Visitors to the Karnak Temple can explore many different areas, including the Sacred Lake, where ancient ceremonies were held; the Avenue of Sphinxes, which leads to the main entrance; and the Great Court, which is home to some of Egypt's most famous monuments including obelisks and statues dedicated to various gods and goddesses. Visitors can also explore smaller chapels, such as those devoted to Amun-Ra or Hathor.
In addition to exploring these fantastic monuments, visitors can participate in activities such as guided tours or camel rides around the temple grounds! Many vendors also sell souvenirs such as jewelry or papyrus paintings so visitors can take home a piece of this special place with them when they leave.
Are there any activities available at the Karnak Temple? If so, what are they?
At Karnak, visitors can explore the many temples and monuments that make up this wonderful site. The main temple complex consists of four main sections: the Great Temple of Amun-Ra, the Temple of Khonsu, The Sacred Lake, and The Avenue of Sphinxes. Within each section are numerous smaller temples and monuments that visitors can explore. There are also many other areas within the complex, such as courtyards, gardens, and a large open-air museum with artifacts from various periods in Egyptian history.
One of Karnak's most popular activities is taking a guided tour through the temple complex. These tours provide an in-depth look at all of the different sections within Karnak and an explanation of their significance throughout history. Visitors can also participate in special events like sound and light shows or lectures about ancient Egyptian culture and religion.
Another popular activity at Karnak is participating in one of its many festivals or events throughout the year. These events include music concerts, traditional dance performances, parades, and more. Visitors can also participate in workshops to learn about ancient Egyptian culture or how to make traditional crafts like jewelry or pottery.
Visitors to Karnak can also participate in less traditional activities such as camel rides or hot air balloon rides over Luxor's breathtaking landscape. For those looking for something more adventurous, there are even quad-biking tours through some of Luxor's desert areas!
Karnak is also home to several restaurants where visitors can enjoy traditional Egyptian cuisine while viewing Luxor's skyline from its terraces or outdoor seating areas. Many restaurants offer live entertainment, such as belly dancing shows or live music performances, which add to the atmosphere while you dine!
Finally, for those looking for something more relaxing, there are plenty of opportunities for strolls around Karnak's grounds during sunset or sunrise when it's quieter than during peak hours when crowds flock to this fantastic site!
When is the best time of year to visit the Karnak Temple?
The answer to this question depends on what you're looking for in your visit. If you're looking for warm weather and fewer crowds, spring or fall are usually the best times. The temperatures are milder during these seasons, so exploring the temple grounds is more comfortable. Plus, there are fewer visitors during this time of year, so taking in all the sights is easier without feeling overwhelmed.
However, winter might be a better choice if you want to experience a more traditional Egyptian atmosphere. During winter, festivals and celebrations often take place at Karnak Temple, making it a truly unique experience. The temple complex is also beautifully decorated with lights and decorations this time of year, making it even more magical than usual.
No matter when you decide to visit Karnak Temple, there are some essential things to remember. First, dress appropriately for the weather since temperatures can vary greatly depending on the season. Also, be aware that certain areas of the temple may be closed off due to renovations or other reasons; check ahead to take advantage of all key features. Finally, remember that summer can be sweltering and humid; if this isn't your idea of fun, avoid visiting during these months!
What type of travelers will enjoy visiting the Karnak Temple?
The answer is simple: everyone! Whether you're a first-time traveler or an experienced globetrotter, you'll find something to love about this great site. History buffs will appreciate its age and significance; it was built over 4,000 years ago and was once part of the ancient Egyptian capital city of Thebes. Art lovers will be in awe of its intricate carvings and sculptures, while architecture aficionados will marvel at its grand columns and obelisks. And if you're looking for a spiritual experience, you'll find plenty here - from the sacred pools to the mysterious hieroglyphics on the walls.
But that's not all - there's plenty for adventure seekers to enjoy here. The Karnak Temple has numerous secret chambers and hidden passageways perfect for exploring. You can even take a boat ride down the Nile River to get a unique perspective on this ancient site. And if you're looking for some relaxation, there's plenty of space to sit back and soak in the atmosphere - whether admiring the view from atop one of its massive pillars or simply taking in all the beauty around you.
How much does it cost to visit the Karnak Temple?
The answer depends on several factors, including the type of ticket you buy and whether or not you are eligible for discounts.
The entrance fee for the Karnak Temple is 80 Egyptian Pounds (EGP) per person, equivalent to about $5 USD. This fee covers access to the entire temple complex, including its many courtyards and monuments. If you want to take a guided tour of the temple, that will cost extra. Prices for guided tours vary depending on who you book with and how long you want the tour to last.
You may be eligible for discounted tickets if you are a student or a senior citizen. Students can get a discounted ticket for 50 EGP ($3 USD), while seniors can get discounted access for 40 EGP ($2 USD). You must show proof of your student or senior status to qualify for these discounts.
If you plan to visit multiple attractions in Luxor during your stay, it may be worth investing in a multi-site ticket bundle. These bundles allow visitors to access various sites at discounted prices. For example, purchasing a three-day pass that includes access to both the Karnak Temple and the Valley of the Kings will cost 200 EGP ($12 USD).
In addition to entrance fees, other costs are associated with visiting the Karnak Temple that should be considered when budgeting your trip. For example, there are fees for parking your vehicle near the temple complex as well as fees for taking photographs or videos inside the temple grounds (which must be requested from an official photographer). It's also important to note that food and drinks are not allowed inside the temple grounds, so visitors should plan accordingly if they want refreshments.
What time does the Karnak Temple open? Which days is it open?
Karnak temple opens every day at 8 am and closes at 5 pm except Friday when it opens at 11 am and closes at 4 pm instead - so make sure to plan your trip accordingly and avoid disappointment later down the line if you turn up expecting open only find closed doors instead!
What type of architecture is the Karnak Temple renowned for?
Karnak Temple, located in Luxor, Egypt, is renowned for its unique and impressive architecture. The temple was built by the ancient Egyptians over 1,400 years and comprised several structures and monuments. It is one of the largest temples in the world and is a testament to the skill and creativity of its builders.
The Karnak Temple complex consists of four main parts: the Great Temple of Amun, the Sacred Lake, the Festival Hall of Thutmose III, and the smaller temples. The Great Temple of Amun is the most impressive structure at Karnak. It was built during the reigns of many pharaohs from around 1500 BC to 1000 BC. The temple comprises numerous chambers, halls, courtyards, and sanctuaries dedicated to different gods and goddesses. The most famous part of this temple is its Hypostyle Hall which contains 134 massive columns arranged in 16 rows.
The Sacred Lake was built during the reigns of Amenhotep III (1390-1352 BC) and Ramses II (1279-1213 BC). This lake was used for religious ceremonies such as purification before entering a temple or tomb. It also served as a reservoir for water during times when there was a shortage in Luxor.
The Festival Hall of Thutmose III was built during his reign from 1479-1425 BC. This hall was used for royal festivals such as coronations or jubilees. It contains an impressive array of reliefs depicting scenes from these festivals and other essential events from Thutmose III's reign, such as his military campaigns against Nubia and Syria.
Finally, several smaller temples within Karnak were dedicated to various gods such as Ptah, Osiris, Khonsu, Isis, Hathor, Mut and Sekhmet, among others. These temples were often decorated with reliefs depicting multiple scenes related to their respective gods or goddesses.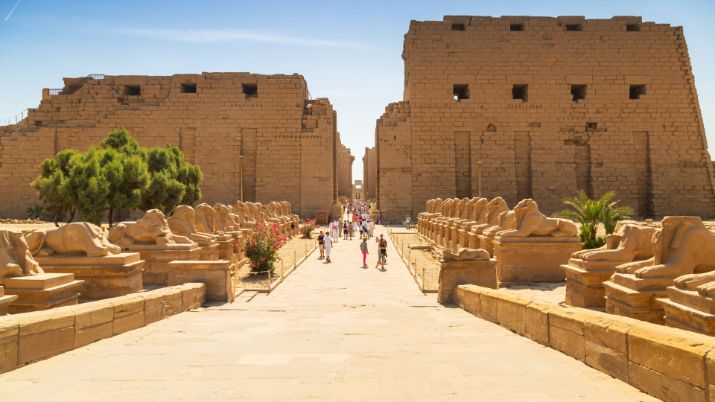 How safe is it to visit the Karnak Temple?
This is a question that many people ask before they plan their trip. The good news is that the Karnak Temple is generally considered safe for tourists.
The Egyptian government takes safety very seriously and has implemented several measures to ensure visitors are kept safe and secure at the temple. The temple complex is guarded by security personnel, and the area has CCTV cameras. Tourists must also register with the local police station before entering the temple grounds. This helps to ensure that any suspicious activity can be quickly identified and dealt with accordingly.
In addition, tourists should take extra precautions when visiting the Karnak Temple. It's essential to stay in groups and not wander off alone, as this could make you vulnerable to theft or other criminal activity. Visitors should also wear modest clothing and avoid carrying large amounts of cash or valuables, which could attract unwanted attention.
The Karnak Temple complex is a popular tourist destination, and there are usually plenty of other visitors around, so you should feel relatively safe while exploring its many attractions. However, it's still important to remain vigilant at all times and be aware of your surroundings so you don't risk becoming a victim of a crime or other dangerous situations.
What is the recommended dress code for visiting the Karnak Temple?
When visiting the Karnak Temple, it is recommended that visitors wear clothing that covers their shoulders and knees. This includes shirts and shorts or skirts that reach at least mid-thigh. In addition, visitors should avoid wearing clothing with offensive or inappropriate messages or images. It is also important to note that visitors should not wear any revealing clothing such as tank tops or short shorts.
In addition to wearing appropriate clothing, visitors should wear comfortable shoes. Shoes should provide good support and be suitable for walking on uneven surfaces. Sandals are acceptable, but flip-flops are not recommended as they can easily slip off when walking on uneven surfaces.
Visitors should also know that photography is prohibited inside the temple. This means that visitors should leave any cameras or other recording devices at home when visiting the temple. Visitors are allowed to take photographs outside of the temple but must do so respectfully and without disturbing other visitors or interfering with any activities in and around the temple grounds.
Finally, visitors must remember visiting a place of worship at the Karnak Temple. As such, they should behave appropriately in and around the temple grounds by respecting others, refraining from loud conversations or disruptive behavior, and avoiding running or playing games near the temple walls or structures.
What is the recommended level of fitness to visit the Karnak Temple?
Visiting the Karnak Temple does not require a high level of fitness. Still, it's recommended that travelers are in reasonably good shape as lots of walking is involved during tours around the complex. So if you have mobility problems, it's best to consult your doctor before making your trip.
What is the easiest way to get to the Karnak Temple?
The easiest way to get to the Karnak Temple is by taking a taxi from Luxor International Airport. Taxis are plentiful at the airport, and they are relatively inexpensive. The journey from the airport to the temple takes about 20 minutes and costs around 30 Egyptian pounds (about $4 USD). You can also take a bus from Luxor International Airport to Luxor City Center for about 5 Egyptian pounds (about $0.60 USD), then take another taxi from there to the temple for about 10 Egyptian pounds (about $1 USD).
If you're staying in Luxor City Center, you can take a taxi directly from your hotel or guesthouse to the temple for about 10-15 Egyptian pounds (about $1-2 USD). Alternatively, you can take a local bus from any of the city's main bus stops for around 1 Egyptian pound (about $0.12 USD). The journey takes approximately 20 minutes, depending on traffic.
For those who prefer to travel by train, a direct train service between Cairo and Luxor stops at Gurna station near Karnak Temple. The journey takes around 8 hours, and tickets cost about 200 Egyptian pounds (around $25 USD). From Gurna station, it's just a short walk or taxi ride to the temple complex.
Finally, suppose you're feeling adventurous and want to explore more of Egypt on your way to Karnak Temple. In that case, you could rent a car at Luxor International Airport or Luxor City Center. Driving in Egypt can be intimidating at first, but once you get used to it it's an enjoyable experience - make sure you know where you're going! Driving from Cairo to Karnak Temple takes around 10 hours, depending on traffic, and rental cars start at about 250 Egyptian pounds per day (around $30 USD).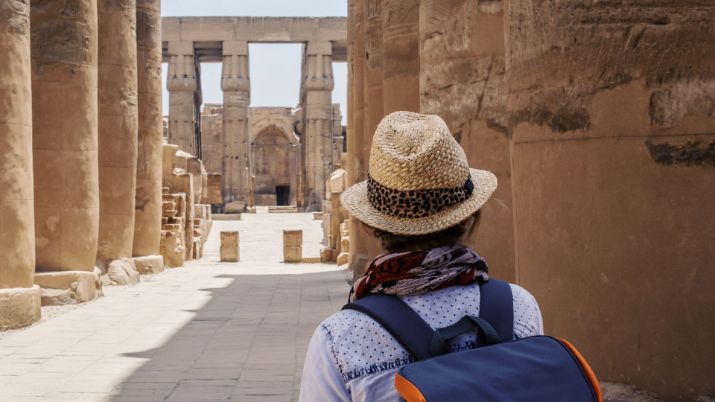 Frequently asked questions about the Karnak Temple by travelers
Are Karnak and Luxor temples the same?
Well, the answer is no. Although both temples are located in the same area and share many similarities, they are two different monuments with different functions. Karnak is an ancient complex of temples and shrines dedicated to Amun-Ra, while Luxor is a temple built by Amenhotep III in honor of the Theban Triad. Both temples have been around for thousands of years and offer a unique insight into the history of Egypt.
Is Karnak Temple bigger than the Angkor Wat Temple in Cambodia?
Although both are impressive in their own right, Karnak is larger than Angkor Wat! Spanning an incredible 100 acres, it's no wonder why Karnak has been a popular tourist destination for centuries. So if you're looking for an awe-inspiring experience, check out this majestic temple!
What was the temple of Karnak known for?
The temple of Karnak is one of Egypt's most iconic ancient sites, renowned for its grandeur and magnificence. Built over 2000 years ago, it was a place of great religious significance, where Pharaohs and gods were worshipped. This temple was also known for its vast size, with some of its structures measuring up to 100 feet in height. Its complex design included obelisks, columns, hypostyle halls and a sacred lake. Karnak is an awe-inspiring reminder of the power and influence of the ancient Egyptians.
Who are the gods of Karnak?
The gods of Karnak are an ancient pantheon of deities that have been worshipped in the Egyptian city of Thebes for thousands of years. The gods of Karnak were believed to be responsible for the protection and prosperity of the city and its people, and their worship was an integral part of life in ancient Egypt.
The most important god in the Karnak pantheon was Amun-Ra, who was considered to be the king of all gods. He was associated with the sun, and his cult center was located at the Temple of Amun at Karnak. Amun-Ra was believed to be a creator god who brought order out of chaos, and he was worshipped as a protector god who could bring fertility to crops and health to people.
The other major gods in the Karnak pantheon were Mut, Khonsu, Montu, Ptah, Osiris, Isis, Hathor, Sekhmet, Anubis, Thoth, Bastet and Sobek. Mut was a sky goddess who represented motherhood and fertility; Khonsu was a moon god associated with healing; Montu was a war god associated with strength; Ptah was a creator god associated with craftsmen; Osiris was an underworld god associated with death; Isis was a goddess associated with magic; Hathor was a goddess associated with love and beauty; Sekhmet was a lioness goddess associated with war; Anubis was an underworld god associated with funerals; Thoth was an ibis-headed god associated with wisdom; Bastet was a cat goddess associated with protection; and Sobek was a crocodile-headed god associated with water.
Each of these gods had their own temples at Karnak, where they were worshipped by priests and commoners alike. Offerings were made to them on special occasions, such as festivals or during times of crisis. The priests also performed rituals such as animal sacrifices or incantations believed to please or appease the gods. In addition to worshipping these gods individually, they were often grouped as part of larger rituals or ceremonies that honored multiple deities.
The gods of Karnak played an essential role in Egyptian culture for centuries until their worship began to decline during the Roman period, when Christianity began to spread throughout Egypt. Despite this decline in popularity, many aspects of these ancient deities remain today in modern Egyptian culture, such as their names being used for businesses or children's names being derived from them. Even though they are no longer actively worshipped today like they once were thousands of years ago in ancient Egypt, the gods of Karnak will forever remain part of history as one example of many examples throughout time demonstrating how religion has shaped societies around the world over centuries past.