|
The Khan el-Khalili Bazaar in Cairo is a bustling, vibrant market that has been around for centuries and is a must-see for anyone visiting the city. Located in the heart of Islamic Cairo, this colorful bazaar is filled with shops, stalls, restaurants, and cafes selling everything from spices to jewelry to souvenirs. It's a great place to find unique items and experience traditional Egyptian culture.
If you're looking for an Egypt Tour From New York, have a look at our tours above - we might have the right one for you.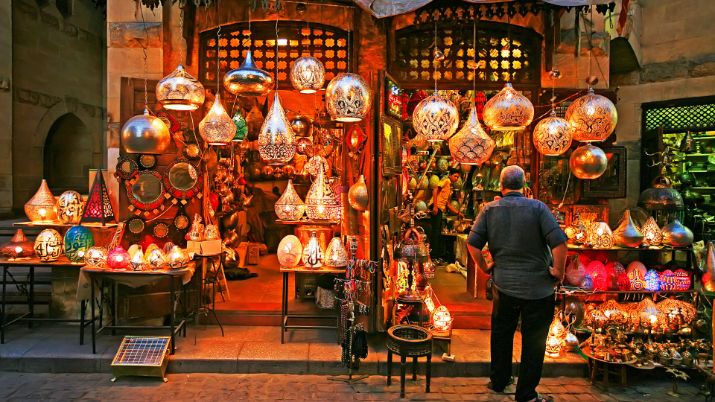 Bazaar history: How was the Khan el-Khalili Bazaar founded?
The Khan el-Khalili Bazaar was originally founded in 1382 by Emir Djaharks el-Khalili, an Egyptian military leader at the time. He wanted to create a trading center that would bring together merchants from all over Egypt and other parts of the world. The bazaar quickly became one of Cairo's leading hubs for commerce, with merchants selling everything from spices to jewelry to fabrics. Over time, it grew into one of the largest markets in the Middle East.
In 1511, Sultan Qansuh al-Ghawri expanded the bazaar even further by adding more shops and stalls and new features such as fountains and gardens. This expansion made it even more popular with traders from Egypt and beyond. Many wealthy merchants established shops in Khan el-Khalili Bazaar during this period. This allowed them to take advantage of its location near important trade routes between Europe and Asia.
In 1798, Napoleon Bonaparte invaded Egypt during his campaign against Britain and Ottoman Turkey. During this time, he ordered his troops to plunder Khan el-Khalili Bazaar for valuable goods such as gold coins and jewelry. This caused significant damage to many of the shops in the market, but it was eventually restored after Napoleon's defeat at Acre in 1799.
During this restoration period, many new features were added to Khan el-Khalili Bazaar, including several mosques built by Sultan Qansuh al-Ghawri during his reign in 1511. These mosques still stand today and are a major attraction for Cairo tourists. In addition to these mosques, several other buildings were added, including a library built by Muhammad Ali Pasha in 1818, which is now home to many rare books on Islamic art and culture.
Throughout its history, Khan el-Khalili Bazaar has been an important center for trade between Egypt and other countries worldwide. It has also served as an important cultural center where people can share stories about their lives or relax with friends over tea or coffee at one of its many cafes or restaurants in the market area. Today, it continues to be a popular destination for locals and tourists looking for unique souvenirs or just wanting to experience some traditional Egyptian culture first-hand!
Visiting the Khan el Khalili Bazaar: Why its located in Islamic Cairo
The answer lies in the city's long history. Islamic Cairo was founded by the Fatimid dynasty in 969 AD and was their capital until 1171 AD. During this time, the city was a major center of trade and commerce, with merchants worldwide coming to do business. The Khan el-Khalili Bazaar was established during this period to facilitate trade between merchants and buyers.
The bazaar has been through many changes over the centuries, but its location has remained relatively unchanged since it was first built. This is because of its strategic position in Islamic Cairo. The city was designed with two main roads that run through it - Sharia al-Muizz and Sharia al-Qalaa - which intersect at Khan el Khalili Bazaar. This intersection allowed merchants from different parts of Cairo to easily access the bazaar, making it an ideal spot for trading activities.
In addition to its strategic location, Khan el-Khalili Bazaar also offers many advantages for merchants who want to do business there. For starters, it's one of the few places in Egypt where haggling is still allowed - making it popular among locals and tourists alike. The bazaar also offers various goods at competitive prices, making it an attractive option for shoppers looking for bargains.
Finally, Khan el-Khalili Bazaar has become a tourist attraction due to its unique atmosphere and cultural significance. Visitors can experience traditional Egyptian culture by browsing stalls selling everything from spices to jewelry to antiques. There are also plenty of cafes and restaurants where visitors can enjoy local cuisine while taking in the sights and sounds of this bustling marketplace.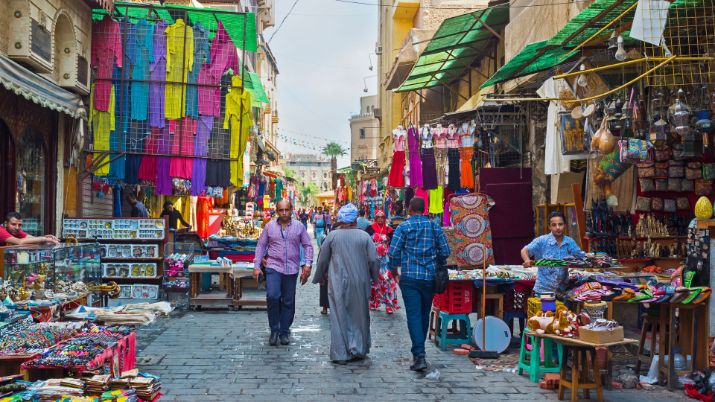 What Egyptian souvenirs can I find at the Khan el Khalili Market?
Whether you're looking for something small or large, there's something for everyone. From jewelry to pottery, here are some of the most popular items at the market.
One of the most iconic souvenirs from Egypt is jewelry. You can find beautiful necklaces, earrings, and rings made with semi-precious stones like turquoise and lapis lazuli in Khan el Khalili. The jewelry is usually made in traditional styles with intricate designs that will remind you of your time in Egypt.
Another popular item at the market is pottery. Many vendors sell hand-painted pottery in bright colors and interesting shapes. You can find vases, plates, bowls, mugs, and more that make great gifts or decorations for your home.
If you're looking for something unique, why not pick up a papyrus painting? These colorful works of art depict scenes from Ancient Egyptian mythology or everyday life in Egypt today. They make great conversation pieces and look beautiful when framed.
There are plenty of options for those who want something more practical. You can find lightweight cotton or linen fabric scarves that keep you cool during hot days in Cairo. There are also leather goods like bags and wallets that make great gifts for friends back home.
Finally, if you want to bring home a taste of Egypt, plenty of food items are available at the Khan el Khalili Market as well! You can buy spices like cumin and cardamom to make your Egyptian dishes at home or pick up some traditional sweets like baklava or konafa for a sweet treat after dinner.
The architecture of the Khan el-Khalili Bazaar
The Khan el-Khalili Bazaar in Old Cairo, Egypt, is known for its unique and impressive architecture that reflects the cultural and historical influences of the region. Here are some key features of the bazaar's architecture:
Islamic Architecture: The Khan el-Khalili Bazaar is located in Islamic Cairo, and much of its architecture reflects Islamic design principles. This includes using geometric patterns, intricate carvings, and decorative tile work.
Mamluk Architecture: The bazaar was originally built in the 14th century during the Mamluk period, and many of its buildings reflect the distinctive Mamluk architectural style. This includes the use of pointed arches, domes, and elaborate carvings.
Ottoman Influence: During the Ottoman period, which began in the 16th century, many of the buildings in the bazaar were renovated and expanded. Ottoman influence can be seen in the use of marble and the incorporation of Turkish design elements.
Timeworn Charm: Many buildings in the bazaar have stood for centuries and acquired a timeworn charm that adds to their beauty and character. The narrow alleyways and winding streets create a labyrinthine atmosphere that is both fascinating and enchanting.
Cultural Diversity: Over the centuries, the bazaar has been influenced by a range of cultures and architectural styles. This is reflected in the diversity of the buildings and the range of decorative motifs used in their construction.
Overall, the architecture of the Khan el-Khalili Bazaar is a testament to the rich history and cultural heritage of Egypt and the wider region. It remains one of the most popular tourist destinations in Cairo today.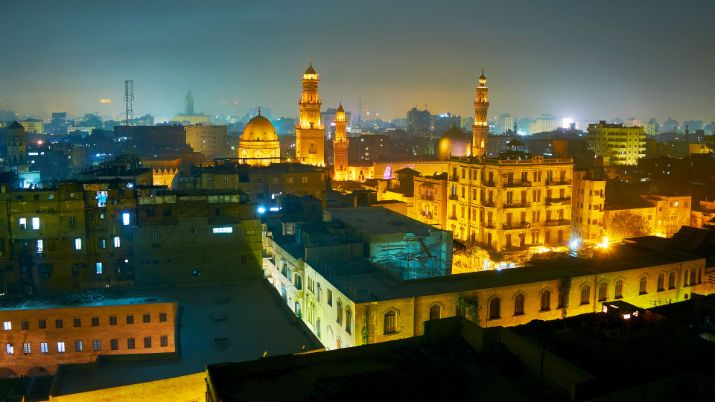 How to haggle - an important part of Egyptian culture & a much-needed survival skill for visiting Khan el Khalili
Haggling is a common practice in Egypt, particularly in markets like the Khan el-Khalili Bazaar, and it is expected that travelers will try to negotiate prices when shopping for goods or services. Here are some tips to help you haggle effectively in Egypt:
Start by knowing the local currency and exchange rate: It is essential to know the local currency and exchange rate so that you can have an idea of what the price of an item should be in your currency.
Be respectful: Haggling can be seen as a fun and friendly interaction between buyer and seller, but it is important always to be respectful and courteous.
Start with a lower offer: When you find something you want to buy, start by offering a lower price than what the seller is asking for. This will give you room to negotiate and reach a fair price.
Know the item's value: Before you start haggling, make sure you know the value of the item you want to buy. This will help you make an informed offer and avoid paying too much.
Be willing to walk away: If you are not happy with the price being offered, be prepared to walk away. This may encourage the seller to lower their cost or make a counter-offer.
Be patient: Haggling can take time, so be patient and take your time to negotiate a fair price.
Keep a friendly tone: Remember that haggling is not a hostile interaction but a friendly negotiation. Keep a pleasant tone and smile; you may be surprised at how much fun you can have haggling in Egypt!
When is the best time to visit the Khan al Khalili Bazaar?
The answer depends on what you're looking for in your experience. For those who want to avoid crowds, the best time to visit is early morning. The bazaar opens at 8 am; by 9 am, most shops are open and ready for business. This is also a great time to take pictures of the colorful stalls without having people in them.
If you're looking for a more authentic experience, then late afternoon or early evening is your best bet. The bazaar takes on an entirely different feel as the sun sets and the lights come on. The atmosphere becomes more relaxed as shoppers wander through the market stalls and vendors call out their wares. You can also find some great bargains during this time as shopkeepers are willing to negotiate prices as they try to get rid of their remaining stock before closing up shop for the night.
For those who want a bit of both worlds - an authentic experience with fewer crowds - then mid-morning or mid-afternoon are good times to visit. This is when most tourists have already gone home, but there's still plenty of activity in the bazaar as locals come out to shop and vendors try to attract customers with their wares.
No matter what time you choose to visit, there are some things you should keep in mind when exploring Khan al Khalili Bazaar: dress modestly (no shorts or tank tops), haggle over prices (it's expected!), watch your belongings (pickpockets do operate here), and don't be afraid to explore (you never know what treasures you may find!).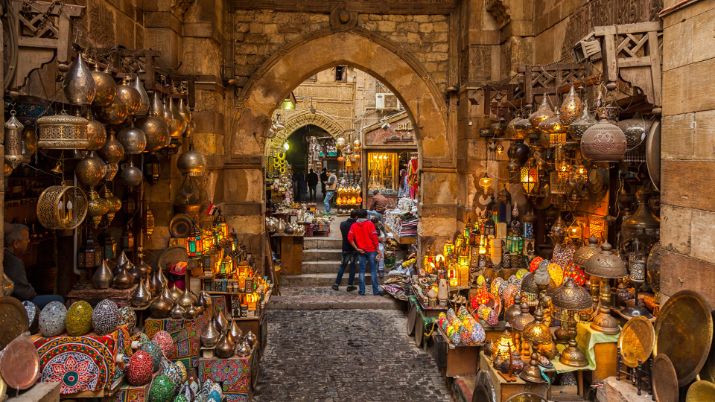 How safe is it to visit the Khan el-Khalili Bazaar?
The short answer is yes; visiting the Khan el-Khalili Bazaar is generally safe. The area is heavily policed and monitored by security cameras, so you can rest assured that you're in good hands. Plus, there are plenty of helpful locals around who are more than happy to point you in the right direction if you get lost.
That said, there are a few things to keep in mind when visiting the bazaar. First of all, pickpockets operate in the area, so keeping your possessions close and secure at all times is essential. It's also wise to avoid carrying large amounts of cash or wearing expensive jewelry, as these can be tempting targets for thieves.
It's also important to be aware of your surroundings at all times. While most people in the bazaar are friendly and welcoming, some may try to take advantage of tourists who need to learn their way around. Be wary of anyone who tries to offer unsolicited help or advice, and only agree to deals if you do your research first.
Always haggle with vendors over prices before purchasing when shopping at the bazaar. This is expected and part of the culture here - make sure not to get too carried away with bargaining, as prices can quickly become inflated if you're not careful!
Finally, beware of scams such as fake goods or services that some vendors or touts may offer in the area. These can range from fake antiques or jewelry sold at inflated prices to offers for guided tours that never materialize once payment has been made. If something seems too good to be true then it probably is!
What type of travelers will enjoy visiting the Khan el-Khalili Bazaar?
The Khan el-Khalili Bazaar is a paradise for those who love to shop. With its winding alleyways and hundreds of vendors, it's easy to get lost in the hustle and bustle of this vibrant marketplace. From traditional handicrafts to modern souvenirs, there's something for every budget and taste. Bargaining is expected here, so feel free to haggle with the vendors for a reasonable price.
Those interested in history will also enjoy visiting the Khan el-Khalili Bazaar. This ancient market has been around since 1382 and still retains much of its original charm. Wander through its narrow alleys and discover centuries-old mosques, monuments, and buildings that have been preserved over time. You can also find some of Cairo's most iconic landmarks here, such as Al-Azhar Mosque and Al Hussein Mosque.
The foodie traveler will also find plenty to love at the Khan el-Khalili Bazaar. With its abundance of street food stalls and cafes serving traditional Egyptian cuisine like koshari (rice, lentils, macaroni), falafel sandwiches, shawarma wraps, and more - it's a great place to sample some local flavors without breaking the bank!
Finally, those looking for a unique cultural experience should visit the Khan el-Khalili Bazaar. Here you can find locals dressed in traditional garments selling their wares while musicians play traditional songs in the background - it truly feels like stepping back in time! The vibrant atmosphere makes this market one of Cairo's must-see attractions for any traveler looking for an unforgettable experience.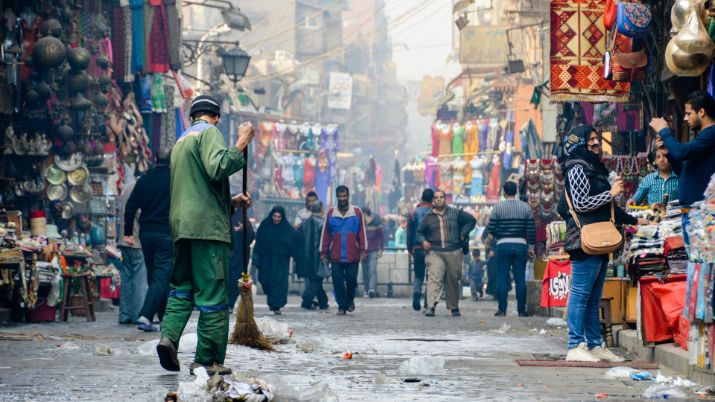 Do you need a private guide to explore the Khan el Khalili Bazaar?
With its winding alleys, crowded stalls, and exotic sights and smells, it's easy to get lost in the hustle and bustle of this ancient market. That's why it's a good idea to consider hiring a private guide to help you make the most of your visit.
A private guide can provide an insider's perspective on the bazaar's history, culture, and customs. They can help you navigate the labyrinth of shops and stalls, point out interesting artifacts or souvenirs you may have yet to notice, and even provide tips for bargaining with vendors. Plus, they can answer any questions about what you're seeing or experiencing.
Having a private guide also means you can handle the sheer size of the bazaar. Your guide will be able to take you directly to the places that interest you most while providing interesting facts and anecdotes along the way. This will make your visit more enjoyable and efficient since you will save time wandering through the market.
In addition to providing an insider's perspective on the bazaar's history, culture, and customs, a private guide can also help protect your safety by ensuring that you don't get taken advantage of by unscrupulous vendors or pickpockets. They will know which areas are safe for tourists to explore and which ones should be avoided at all costs. Plus, they'll be able to advise you on how much money is appropriate for specific items so that you don't end up overpaying for something or getting ripped off in a transaction.
Finally, having a private guide is more convenient than exploring on your own since they will know exactly where everything is located within the bazaar, so there's no need for guesswork or trial-and-error when it comes to finding what you're looking for. Plus, they can recommend where to eat or shop if something specific catches your eye during your visit.
What is the best way to travel to the Khan el Khalili Bazaar?
The Khan el-Khalili Bazaar is located in the heart of Cairo's historic Islamic quarter, and there are several ways to travel there, depending on your preferences and budget. Here are some options:
Taxi: Taking a taxi is a convenient and affordable way to travel to the bazaar. Taxis are widely available throughout Cairo and can be hailed on the street or through ride-hailing apps like Uber or Careem. Negotiating the fare with the driver before getting in the taxi is essential.
Public Transportation: The Cairo Metro is an efficient and affordable way to travel around the city, and several stations are located near the bazaar. The closest stations are Ataba and Hussein, both on Line 1. From there, you can take a short walk to the bazaar.
Tourist Bus: Many Egypt tour companies in Cairo offer guided tours, including visiting the Khan el-Khalili Bazaar. These tours typically include transportation to and from the bazaar and a guide to show you around.
Walking: If you stay in the area or enjoy walking, you can easily walk to the bazaar from nearby neighborhoods like Downtown Cairo or Garden City. This can be a great way to explore the city and take in the sights and sounds of Cairo along the way.
Ultimately, the best way to travel to the Khan el-Khalili Bazaar depends on your preferences and budget. Whatever method you choose, take the necessary safety precautions, such as avoiding walking alone at night and keeping your valuables secure.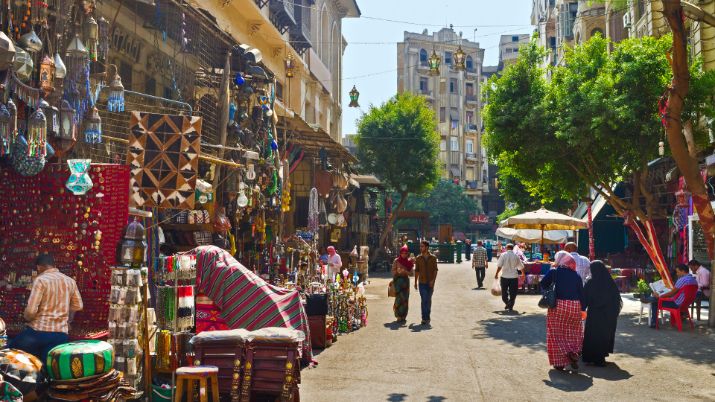 What is the recommended dress code for visiting the Khan el-Khalili Bazaar?
When visiting Khan el-Khalili Bazaar, it's best to dress modestly. This means avoiding clothing that is too revealing or tight-fitting. It's also important to cover your shoulders and knees, which is considered respectful in Egypt. Loose-fitting clothing such as long skirts or pants is ideal for both men and women.
It's also important to remember that the bazaar can get quite hot during summer. Lightweight fabrics such as cotton or linen are best for keeping cool while adhering to the dress code. Avoid wearing synthetic materials such as polyester or nylon, which can be uncomfortable in hot weather.
In addition to dressing modestly, it's important to be aware of your footwear when visiting Khan el-Khalili Bazaar. Closed-toe shoes are recommended as they provide more protection from dirt and debris on the ground and make navigating through crowded stalls and alleyways easier. Sandals or flip-flops may be comfortable, but they can be dangerous if you're not careful where you step!
Finally, remember that Khan el-Khalili Bazaar is a place of business, so it's best not to avoid wearing anything too flashy or eye-catching that could draw unwanted attention from vendors or other shoppers. Bright colors may look nice, but they could attract unwanted attention from vendors who might try to overcharge you for their wares!
How fit do you need to explore the Khan el Khalili Market?
To begin with, it's important to understand that the Khan el Khalili Market is quite large. The markets span several city blocks and contain hundreds of shops and stalls, so you'll be doing a lot of walking. That said, the streets are mostly flat, so walking is manageable. However, if you're not used to walking for long periods, then it can be tiring.
In addition to walking around the markets, you'll also need to be able to carry any purchases you make. The items for sale at the Khan el Khalili Market range from small trinkets to large pieces of furniture and artwork. If you plan on buying something large or heavy, you'll need some upper body strength to carry it around.
Furthermore, if you want to get the most out of your experience at the Khan el Khalili Market, it also helps to have some stamina. The market can be overwhelming due to its size and the sheer number of people visiting them daily. If you don't have enough energy, it can be difficult to stay focused and track where you're going.
Finally, having a good sense of balance is also helpful when exploring the Khan el Khalili Market. The streets can get quite crowded at times, so there is often a lot of pushing and shoving between shoppers as they try to make their way through the crowds. A good balance will help ensure you don't get knocked over by someone else's shopping cart or lose footing while navigating through tight spaces between stalls.
What are other attractions near the Khan el-Khalili Bazaar?
Here are some nearby attractions you might want to visit:
Al-Azhar Mosque: Located just a short walk from the bazaar, Al-Azhar Mosque is one of Cairo's oldest and most famous mosques. It was founded in the 10th century and is renowned for its beautiful architecture and historical significance.
Ibn Tulun Mosque: Another important mosque near the bazaar is the Ibn Tulun Mosque, which dates back to the 9th century. It is one of the oldest mosques in Egypt and features a distinctive minaret and beautiful interiors.
Cairo Citadel: The Cairo Citadel is a medieval fortress on a hill overlooking the city. It was built in the 12th century and is home to several museums and historic sites, including the Alabaster Mosque of Muhammad Ali.
Egyptian Museum: The Egyptian Museum is home to an extensive collection of ancient Egyptian artifacts, including the treasures of King Tutankhamun. It is in downtown Cairo, just a taxi ride from the bazaar.
Al-Muizz Street: Al-Muizz Street is a pedestrian-only street that runs through the heart of Islamic Cairo. It is home to many historic sites, including mosques, madrasas, and old merchant houses.
These are just a few of the many attractions located near the Khan el-Khalili Bazaar in Cairo. Whether you're interested in history, architecture, or shopping, there is something for everyone in this fascinating part of the city.