|
When planning your Greece tours, one destination that should undoubtedly be on your list is Milos, a captivating Greek island nestled in the heart of the Cyclades. With its stunning volcanic landscapes, pristine beaches, and a plethora of things to do, Milos offers an enchanting escape for travelers seeking the best of the Greek isles.
This comprehensive travel guide unveils the essence of Milos, highlighting its best beaches, boutique hotels, and the complete Milos experience that awaits every curious explorer.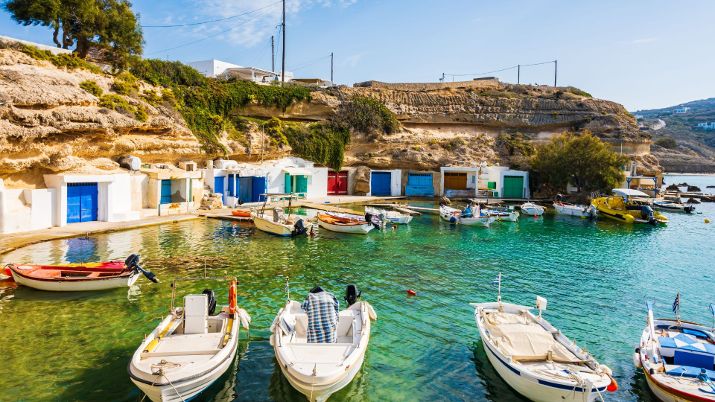 What is the history of Milos Island, and how has it contributed to the best of Milos?
Milos is a volcanic Greek island in the Aegean Sea, just north of the Sea of Crete. It is part of the Cyclades group of islands, known for its rich history, natural beauty, and unique geological features. The island has contributed significantly to various aspects of culture, history, and tourism. Here is an overview of the history of Milos Island and its contributions:
Ancient History: Milos has a rich ancient history, with evidence of human settlement dating back to the Neolithic era. The island was known in ancient times for its prosperous mining industry, particularly its significant production of obsidian, a naturally occurring volcanic glass used for making tools and weapons.

Classical Period: Milos was a significant city-state in the Classical and Hellenistic periods. It was famous for the statue of Aphrodite of Milos, better known as the Venus de Milo, a renowned ancient Greek statue now displayed in the Louvre Museum in Paris. This masterpiece of Hellenistic art is considered one of the greatest works of ancient Greek sculpture.

Byzantine and Ottoman Rule: Like many other Greek islands, Milos was part of the Byzantine Empire and later came under the rule of the Ottoman Empire. During this time, the island's economy relied mainly on agriculture, fishing, and trade.

Modern Era and Independence: Milos, like the rest of Greece, fought for independence during the Greek War of Independence in the early 19th century, leading to its liberation from Ottoman rule. The island has since become an integral part of modern Greece, contributing to the country's cultural and economic development.

Tourism and Culture: Milos has become a popular tourist destination, known for its stunning beaches, crystal-clear waters, and unique geological formations. The island's picturesque villages, traditional architecture, and local cuisine have attracted tourists from around the world. Milos has contributed to the promotion of Greek culture and hospitality, making it a significant part of the country's tourism industry.

Geological Significance: The island's volcanic history has led to the formation of breathtaking landscapes, including colorful rock formations, hot springs, and unique geological formations such as the famous Sarakiniko Beach, known for its lunar-like landscape. Milos has contributed to the scientific understanding of volcanic processes and has been a site of interest for geologists and researchers.
Overall, Milos Island's rich history, cultural heritage, and unique geological features have contributed significantly to the best of the island, making it a cherished destination for travelers and a source of pride for the Greek people.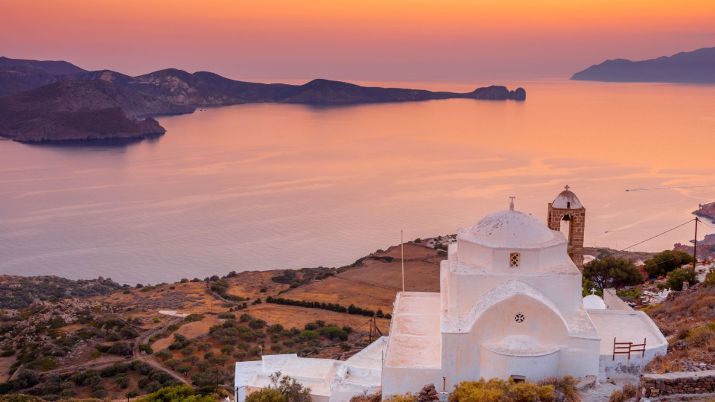 Where exactly is Milos Island located within the Cyclades, Greece?
Milos Island is situated in the southwestern part of the Cyclades group in the Aegean Sea, a part of the country of Greece. It is approximately 120 kilometers (75 miles) north of Crete and about 160 kilometers (99 miles) southeast of the Greek mainland. Milos is surrounded by several other islands in the Cyclades, including Sifnos to the northwest, Kimolos to the north, and Folegandros to the east. Its location within the Cyclades places it within a cluster of other popular Greek islands, making it accessible by ferry and boat from various neighboring islands and the mainland.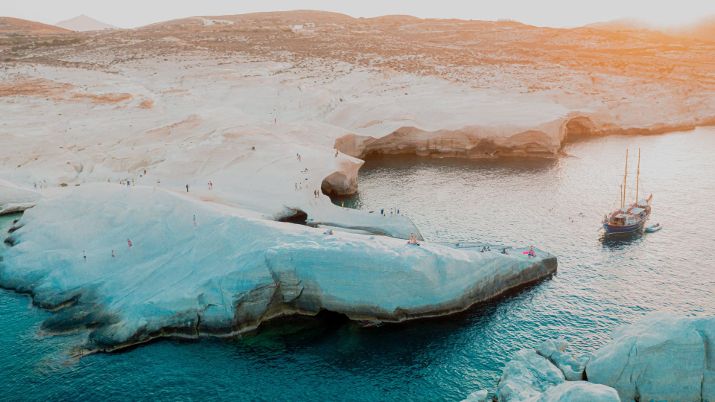 How can travelers access Milos Island from Pollonia and other key locations, following the travel guide to Milos?
Travelers can access Milos Island from various key locations in the Cyclades and the Greek mainland by using different modes of transportation. Pollonia is a charming fishing village on the island of Milos, and here are some ways to access it and follow a travel guide to Milos:
By Ferry:

From Athens (Piraeus): Most travelers first arrive in Athens, and from Piraeus, the main port of Athens, you can take a ferry to Milos. Ferries to Milos typically run daily, and the journey takes about 4-7 hours, depending on the type of ferry.
From Other Cycladic Islands: Milos is well-connected to other popular Cycladic islands like Santorini, Mykonos, Paros, and Naxos. You can take a ferry from these islands to Milos, making it a convenient way to island-hop in the Cyclades.
From Crete: There are also ferry connections from the island of Crete, with ferries departing from Heraklion and other ports. The journey duration may vary depending on the departure point in Crete.



By Air:

While Milos has an airport (Milos Island National Airport), it primarily serves domestic flights. You can fly to Milos from Athens International Airport (Eleftherios Venizelos), and the flight duration is approximately 30-40 minutes.~



From Pollonia to Other Parts of Milos:

Pollonia is located on the northeastern coast of Milos and is well-connected to other parts of the island.
There are local buses that run to various destinations on the island, and you can easily reach popular places like Adamas (the main port and town of Milos) and Plaka (the island's capital) from Pollonia.
Additionally, you can rent a car, scooter, or ATV in Pollonia to explore Milos at your own pace. Rental services are widely available on the island.



Travel Guides and Local Advice:

When visiting Milos, it's a good idea to obtain a local travel guide or use online resources to plan your stay. These guides will provide information on the island's attractions, best beaches, restaurants, and activities.
Don't hesitate to ask for advice and recommendations from locals or your accommodation providers. They can offer insights into less-known but beautiful spots on the island.
Milos is known for its stunning beaches, crystal-clear waters, and picturesque villages, making it a popular destination for travelers seeking a mix of natural beauty, history, and culture in the Cyclades. Following a travel guide and using these transportation options will help you make the most of your visit to Milos, including the charming village of Pollonia.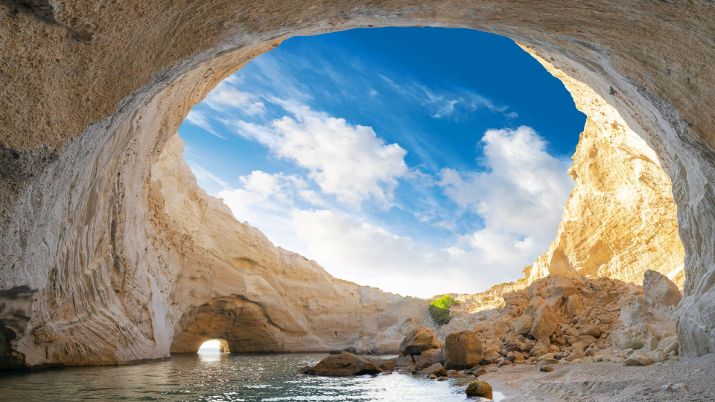 When is the best time to visit Milos Island to fully enjoy the best of Milos and its attractions and beaches?
The best time to visit Milos Island to fully enjoy its attractions and beaches is typically during the late spring to early autumn months. Here is a breakdown of the seasons and what they offer:
Late Spring (May-June): This is an excellent time to visit Milos as the weather is warm but not overly hot, and the island is less crowded compared to the peak summer months. The natural beauty of Milos is at its best during this time, with the landscapes lush and green after the spring rains.

Summer (July-August): These months constitute the peak tourist season in Milos. The weather is hot and perfect for enjoying the island's numerous beaches and engaging in water activities. However, the island can get crowded during this time, especially in popular areas such as Pollonia and Adamas. It's advisable to book accommodations and transportation well in advance if you plan to visit during the summer.

Early Autumn (September-October): The early autumn months are also an ideal time to visit Milos. The weather remains pleasant, the sea is still warm for swimming, and the tourist crowds start to thin out, making it a more peaceful time to explore the island. During this period, you can still enjoy the beaches and attractions without the summer rush.

Winter and Early Spring (November-April): While Milos can be visited during the winter months, it is less popular for tourists as some businesses and tourist facilities might be closed. The weather can be cool and rainy during these months, but it's a good time to experience the local life and culture of Milos away from the tourist crowds.
When planning your visit to Milos, consider your preferences for weather, crowd sizes, and activities. To fully enjoy the best of Milos and its attractions and beaches, it is recommended to visit during the late spring or early autumn when the weather is pleasant, and the island is not as crowded as during the peak summer months.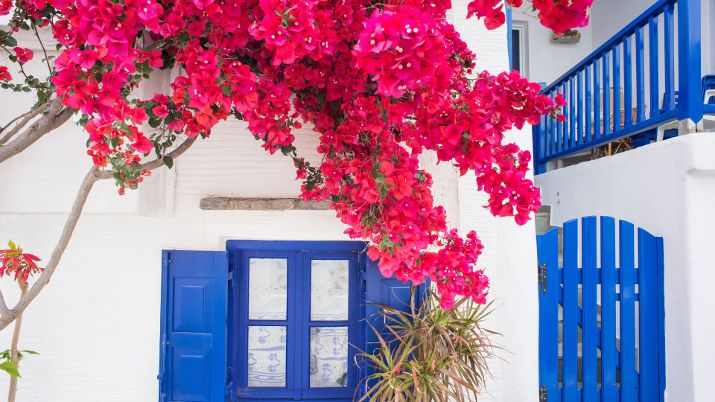 Who should visit Milos Island?
Milos Island is a diverse destination that offers something for various types of travelers. Here's a breakdown of the types of travelers who would enjoy visiting Milos Island:
Beach Lovers: Milos is renowned for its breathtaking beaches with crystal-clear waters and unique geological formations. Travelers who enjoy spending time by the sea, sunbathing, swimming, and exploring picturesque coves and bays will find an array of stunning beaches to choose from on the island.

Nature Enthusiasts: The island's diverse natural landscapes, including volcanic formations, colorful cliffs, and scenic coastal paths, make it a paradise for nature enthusiasts. Hikers and outdoor adventurers can explore the island's trails and paths, taking in the unique geological features and panoramic views.

History Buffs: Milos has a rich history that dates back to ancient times, with archaeological sites and museums showcasing the island's cultural heritage. History enthusiasts can explore the ancient ruins, historical sites, and museums to learn about the island's significant contributions to ancient Greek civilization.

Romantic Getaway Seekers: With its picturesque villages, stunning sunsets, and secluded beaches, Milos is an ideal destination for couples seeking a romantic getaway. The island's charming ambiance and serene atmosphere make it a perfect setting for couples looking to enjoy a relaxing and intimate vacation.

Food and Culture Explorers: Travelers interested in experiencing Greek cuisine and culture will find Milos a delightful destination. The island offers a range of traditional tavernas, restaurants, and local markets where visitors can sample authentic Greek dishes and immerse themselves in the island's cultural traditions.

Adventure Travelers: Milos offers various activities for adventure seekers, including water sports, scuba diving, and snorkeling. Exploring the island's sea caves, rock formations, and underwater landscapes provides an exciting and adventurous experience for those seeking outdoor thrills.

Photography Enthusiasts: The stunning landscapes, unique geological formations, and picturesque villages make Milos a paradise for photography enthusiasts. The island's vibrant colors, dramatic coastlines, and traditional architecture offer endless opportunities for capturing beautiful and memorable photographs.
Overall, Milos Island is suitable for a wide range of travelers, including those seeking relaxation, exploration, adventure, and cultural immersion. Its diverse offerings make it an appealing destination for anyone interested in experiencing the beauty, history, and culture of the Greek islands.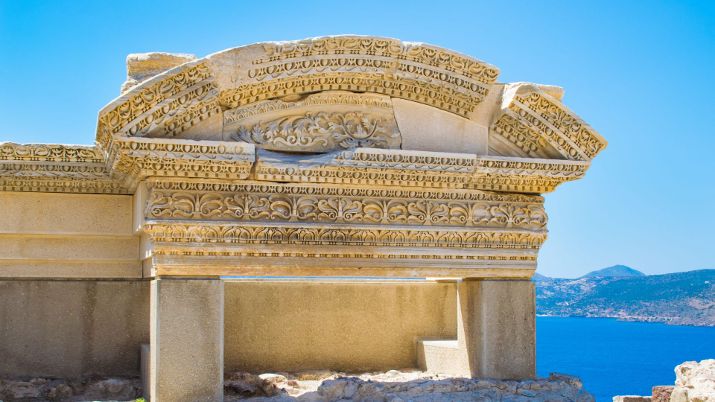 Why should you visit Milos Island?
There are numerous reasons why you should visit Milos Island. Some of the key attractions and features that make Milos a must-visit destination include:
Breathtaking Beaches: Milos is famous for its stunning and diverse beaches, ranging from white sandy shores to colorful pebbled coves. Visitors can enjoy a variety of beach experiences, from secluded and tranquil spots to more popular and lively beach areas.

Unique Geological Formations: The island's volcanic past has shaped its landscape, creating unique geological formations that are a sight to behold. From the lunar-like landscape of Sarakiniko Beach to the colorful cliffs of Kleftiko, Milos offers an otherworldly experience for visitors.

Historical Significance: Milos has a rich historical heritage, with archaeological sites, museums, and ancient ruins that highlight the island's importance in ancient Greek civilization. The famous statue of Aphrodite of Milos (Venus de Milo) is a significant representation of the island's cultural and historical significance.

Charming Villages: Milos is home to picturesque villages with traditional Cycladic architecture, narrow cobblestone streets, and quaint white-washed buildings adorned with colorful bougainvillea. Exploring the island's villages, such as Plaka, Pollonia, and Adamas, provides an authentic taste of local Greek life and culture.

Delicious Local Cuisine: Visitors can indulge in authentic Greek cuisine, including fresh seafood, traditional Greek dishes, and locally sourced ingredients. The island's tavernas and restaurants offer a wide range of culinary delights that showcase the flavors of the Aegean.

Outdoor Activities: Milos provides ample opportunities for outdoor activities, including hiking, snorkeling, scuba diving, and water sports. Adventurous travelers can explore the island's rugged coastline, underwater caves, and hiking trails, offering a diverse range of activities for nature lovers and thrill-seekers.

Relaxing Atmosphere: Despite its attractions and activities, Milos maintains a serene and laid-back atmosphere, making it an ideal destination for relaxation and rejuvenation. The island's tranquil ambiance, coupled with its natural beauty, offers a perfect setting for a peaceful and memorable vacation.
Whether you're a beach enthusiast, a history buff, a nature lover, or someone seeking an authentic Greek island experience, Milos Island has something to offer everyone. Its unique landscapes, rich history, and warm hospitality make it a compelling destination that should not be missed.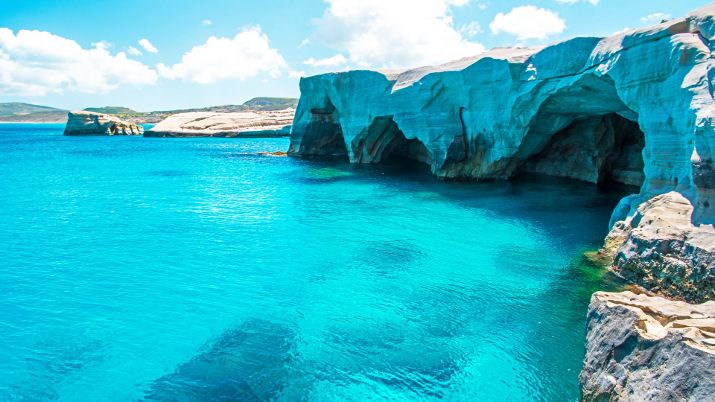 How much should one budget for a trip to Milos Island, considering accommodations and activities included in the best of Milos?
The budget for a trip to Milos Island can vary depending on various factors such as the duration of stay, accommodation preferences, dining choices, and planned activities. Considering a moderate budget for a comfortable and enjoyable trip to Milos, here is an approximate breakdown of expenses:
Accommodation: The cost of accommodation can vary depending on the type of lodging chosen. On average, a mid-range hotel or a well-rated guesthouse can cost between €60 to €150 per night. Luxury hotels or villas may cost more, ranging from €150 to €400 per night or even higher during peak seasons.

Meals: Dining costs can vary based on preferences and the type of restaurants visited. Budget travelers can expect to spend around €15 to €25 per person for a meal at a local taverna or casual eatery. For a mid-range dining experience at a restaurant, the cost can range from €25 to €50 per person. Of course, costs can be higher at upscale restaurants.

Activities and Sightseeing: Milos offers a range of activities and sightseeing options. Costs for activities such as boat tours, water sports, and guided tours can vary. Budgeting around €50 to €100 per person for various activities should provide a good estimate. Some beaches and attractions may have minimal or no entrance fees.

Transportation: Budget for transportation including local buses, taxis, or car rentals. Public transportation costs are generally affordable, with bus fares typically ranging from €2 to €5 for a single journey. Car rentals can cost around €30 to €70 per day, depending on the type of vehicle and rental duration.

Miscellaneous Expenses: Additional costs may include souvenirs, snacks, and miscellaneous expenses. Budgeting an extra €20 to €50 per day for miscellaneous expenses can provide some flexibility for unforeseen costs.
Considering the above estimations, a moderate budget for a week-long trip to Milos Island, including accommodation, meals, activities, transportation, and miscellaneous expenses, can range from €800 to €2500 per person. However, it is important to note that these are approximate estimates, and actual costs may vary based on individual preferences and travel choices. Researching specific accommodation and activity prices in advance and planning a budget accordingly can help ensure a memorable and enjoyable trip to Milos Island within your preferred spending range.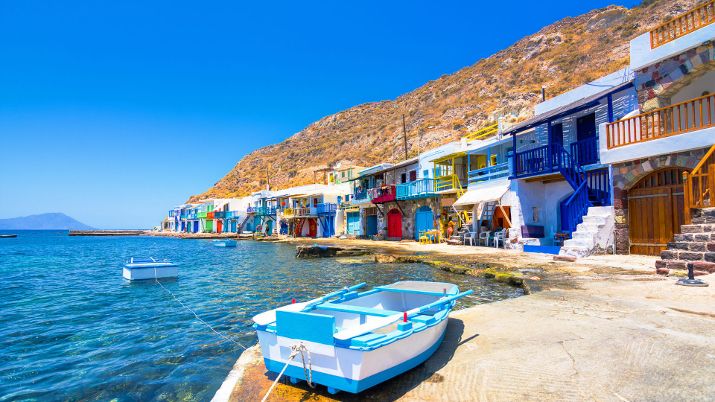 What dress code is appropriate for exploring the best beaches and hidden gems of Milos Island?
The dress code for exploring the best beaches and hidden gems of Milos Island is generally casual and relaxed, considering the warm Mediterranean climate and the focus on beach activities. Here are some clothing suggestions for your exploration:
Swimwear and Cover-ups: Since you'll likely be spending time at the beaches, it's essential to have appropriate swimwear. Pack swimsuits, swim trunks, or bikinis for your beach adventures. Additionally, bring cover-ups such as sarongs, beach dresses, or lightweight shirts for when you're not in the water.

Light and Breathable Clothing: Opt for light and breathable clothing made from natural fabrics like cotton or linen to stay cool in the warm weather. Pack comfortable T-shirts, tank tops, shorts, skirts, and dresses for daytime exploration.

Sun Protection: Since the sun can be strong, especially during the summer months, it's important to protect yourself. Bring a wide-brimmed hat, sunglasses, and sunscreen to shield yourself from the sun's rays.

Footwear: For beach exploration, bring comfortable sandals, flip-flops, or water shoes that can easily be slipped on and off. Consider packing a pair of sturdy and comfortable walking shoes if you plan to explore the island's trails or hike to some of the hidden gems.

Light Layers: Evenings can get cooler, so it's a good idea to carry a light sweater, cardigan, or a long-sleeved shirt for added warmth. This can be especially useful if you plan to stay at the beach until sunset.

Respectful Attire for Cultural Sites: If you plan to visit any religious or cultural sites on the island, it's advisable to have clothing that covers your shoulders and knees as a sign of respect.

Beach Accessories: Don't forget to pack a beach bag to carry essentials such as towels, water bottles, and snacks. A waterproof bag or case for your phone, camera, or any other electronic devices is also helpful to protect them from water and sand.
Overall, the dress code for exploring the beaches and hidden gems of Milos Island is centered around comfort, practicality, and sun protection. Dressing appropriately will ensure you can fully enjoy the natural beauty and attractions of the island while staying comfortable and prepared for various activities.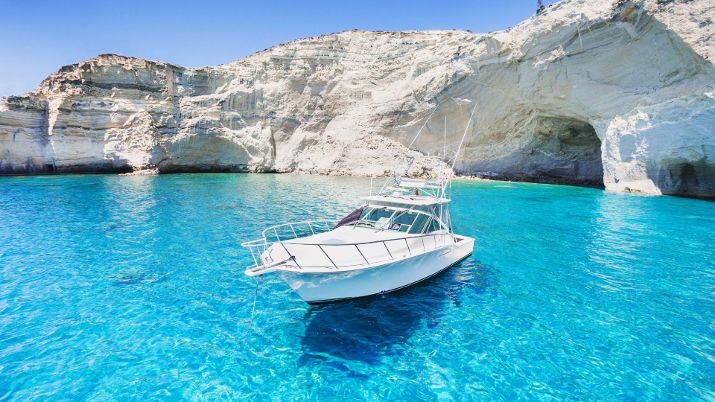 What are the recommended opening hours for the top attractions and beaches while exploring Milos, Greece?
While the opening hours for specific attractions and beaches in Milos, Greece, may vary, here are some general guidelines and recommended times for visiting the top attractions and beaches on the island:
Attractions and Museums: Most attractions, including museums, archaeological sites, and historical landmarks, typically operate during regular daytime hours, usually from 9:00 AM to 6:00 PM. However, it is recommended to check the specific opening hours of each attraction as they may vary based on the season and day of the week. Some attractions might have extended hours during the peak tourist season.

Beaches: Milos is renowned for its stunning beaches, many of which are accessible throughout the day. Beaches do not have official opening hours, and visitors can enjoy them from sunrise to sunset. However, for safety reasons, it's advisable to visit beaches during daylight hours and be mindful of any specific regulations or guidelines posted at each beach location.

Restaurants and Cafés: Restaurants and cafés in Milos usually open for lunch around noon and remain open until late in the evening, especially during the peak tourist season. Some restaurants may close during the afternoon and reopen for dinner service. It's advisable to check specific restaurant hours and make reservations in advance, especially for popular dining spots.

Local Shops and Markets: Local shops, markets, and supermarkets typically follow regular business hours, opening around 9:00 AM and closing around 9:00 PM. However, some smaller shops might close during the afternoon for a siesta and reopen later in the evening.

Boat Tours and Water Activities: Boat tours and water activities, such as snorkeling and scuba diving, often have scheduled departure times, which can vary depending on the provider and the specific tour. It's essential to check the tour schedules in advance and make reservations if required, especially during the peak tourist season.
It's important to note that the above timings are general guidelines, and it's advisable to check the specific operating hours of each attraction, restaurant, or tour provider before planning your itinerary. Checking the local tourism office, official websites, or contacting the establishments directly can help you plan your visit to Milos more effectively.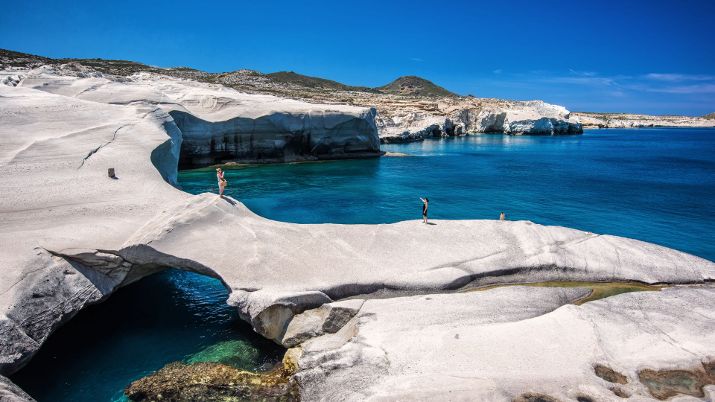 What are the top things to do in Milos, making the most of the best of Milos and its breathtaking offerings?
Milos, with its stunning landscapes, beautiful beaches, and rich cultural heritage, offers a range of top activities to make the most of the island's breathtaking offerings. Here are some of the top things to do in Milos:
Explore Sarakiniko Beach: Visit Sarakiniko Beach, known for its unique lunar landscape, white volcanic rock formations, and crystal-clear waters. Spend time exploring the striking geological formations and enjoy swimming in the turquoise sea.

Take a Boat Tour to Kleftiko: Embark on a boat tour to Kleftiko, a secluded area known for its impressive white cliffs, sea caves, and vibrant blue waters. Enjoy swimming, snorkeling, and exploring the enchanting caves and rock formations accessible only by sea.

Discover Plaka: Explore the charming capital of Milos, Plaka, with its traditional Cycladic architecture, narrow streets, and panoramic views of the Aegean Sea. Visit the Panagia Korfiatissa Church and enjoy the local shops, cafes, and restaurants offering authentic Greek cuisine and hospitality.

Relax at Firiplaka Beach: Unwind at Firiplaka Beach, renowned for its golden sands, clear waters, and serene atmosphere. Enjoy sunbathing, swimming, and water activities such as snorkeling and windsurfing while taking in the picturesque surroundings.

Visit the Ancient Theatre of Milos: Discover the Ancient Theatre of Milos, an ancient Greek theater dating back to the Hellenistic period. Admire the historic architecture and enjoy panoramic views of the island's landscape from this ancient site, offering a glimpse into Milos's rich historical heritage.

Explore the Catacombs of Milos: Visit the Catacombs of Milos, an ancient Christian burial site dating back to the early Christian period. Explore the underground network of tunnels and chambers, experiencing a unique blend of history and spirituality on the island.

Experience the Sunset at Plathiena Beach: Witness the breathtaking sunset at Plathiena Beach, known for its golden sands and stunning views. Relax on the beach, enjoy the warm hues of the sunset, and capture unforgettable moments amidst the natural beauty of Milos.

Indulge in Local Cuisine: Delight your taste buds with the local cuisine of Milos, including fresh seafood, traditional Greek dishes, and local specialties. Visit local tavernas and restaurants to savor authentic flavors and immerse yourself in the island's culinary delights.
By engaging in these top activities, you can make the most of the best of Milos and its awe-inspiring natural beauty, history, and culture, ensuring a memorable and fulfilling experience on this captivating Greek island.