|
The Saqqara Pyramid is an ancient monument located in Egypt, just south of Cairo. It is the oldest known pyramid in the world and one of the most impressive structures ever built by humans.
If you're looking for a 8 Day Egypt Tour, have a look at our tours above - we might have the right one for you.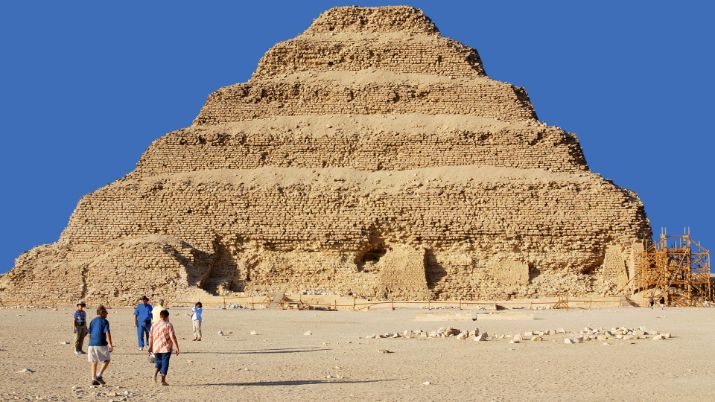 The history of the Saqqara Pyramid - the step pyramid of Djoser built by Imhotep
The pyramid was constructed around 2600 BC, during the Third Dynasty of Ancient Egypt, and is believed to have been commissioned by King Djoser.
The Saqqara Pyramid is a step pyramid consisting of terraces or steps that rise to a flat top. It stands at the height of around 200 feet and covers an area of around 11 acres. The structure was initially encased in white limestone blocks, which have since been removed or destroyed.
The Saqqara Pyramid was designed by Imhotep, an architect who served under King Djoser. Imhotep is considered one of the earliest known architects in history, and his design for the pyramid has been described as "ingenious" and "brilliant". He used a unique technique called "stacking" to create the stepped structure, which involved stacking smaller blocks on top of each other to create a larger structure.
The interior chambers of the Saqqara Pyramid are also quite impressive. The pyramid has six levels originally used for various purposes, such as storage and ritual ceremonies. The most impressive chamber is located at the very top level, which contains an altar where offerings were made to gods or pharaohs.
The Saqqara Pyramid has been studied extensively by archaeologists who have uncovered many interesting facts about its construction and purpose. For example, it has been discovered that there were two entrances to the pyramid, one on each side leading into different chambers within the structure. It has also been found that there were several false doors located throughout the pyramid, which were believed to be used for spiritual purposes, such as communicating with gods or spirits from beyond this world.
In addition to its historical significance, the Saqqara Pyramid has become a popular tourist attraction in Egypt due to its impressive size and beauty. Tourists can visit inside and outside the structure, giving them an up-close look at this ancient monument. Visitors can also explore nearby monuments such as tombs, temples and even mummies!
The Saqqara Pyramid is a testament to human ingenuity and engineering prowess from thousands of years ago. It is an awe-inspiring sight that continues to draw visitors worldwide who marvel at this remarkable architectural achievement from Ancient Egypt's past!
Where is the Saqqara Pyramid located?
The Saqqara Pyramid is located about 30 kilometers (19 miles) south of Cairo in the necropolis of Saqqara. The necropolis was a burial ground for over 3,000 years, containing many pyramids and tombs from different periods. The Saqqara Pyramid stands out among them due to its size and age. It is surrounded by other tombs and monuments from various dynasties, including the Step Pyramid complex, which consists of five smaller pyramids built around it by Imhotep, an architect who served under Djoser.
The Saqqara Pyramid has been a popular tourist attraction since its discovery in 1881 by French Egyptologist Auguste Mariette. Visitors can explore the site on foot or take a camel ride around the area to get a better view of the pyramid and its surroundings. Several museums nearby contain artifacts from ancient Egypt, including items found at Saqqara, such as statues, jewelry, pottery, tools, and more.
The Saqqara Pyramid has also been featured in many films over the years, including "The Mummy" (1999), "Stargate" (1994), "The Ten Commandments" (1956), and more recently "Assassin's Creed Origins" (2017). It has also been featured in several video games, such as "Age of Empires II: The Age of Kings" (1999) and "Tomb Raider: Legend" (2006).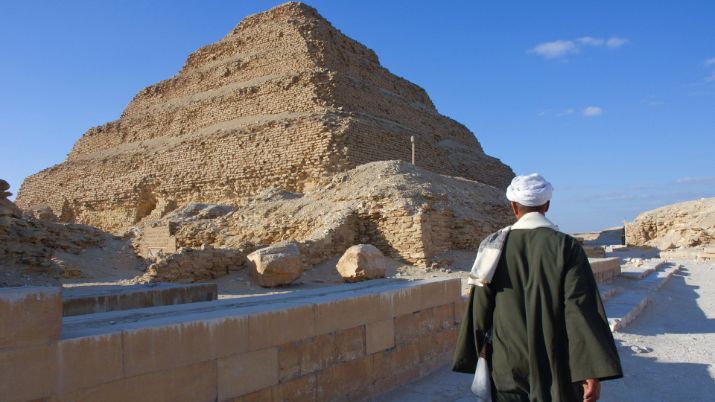 Why should travelers visit the tombs of Saqqara?
First, Saqqara is home to some of the oldest tombs in Egypt. The Step Pyramid dates back to 2630 BC and is one of the earliest examples of pyramid architecture. Imhotep built the pyramid for Pharaoh Djoser, and it stands as a testament to the ingenuity and skill of ancient Egyptian architects and engineers. Other tombs at Saqqara include those belonging to Pharaoh Teti, Pharaoh Merenre I, Pharaoh Pepi I, and Pharaoh Unas. These tombs are filled with hieroglyphics that tell stories about these ancient rulers and their lives.
Second, visitors can explore some of Egypt's most beautiful art and architecture at Saqqara. The tombs are decorated with intricate carvings and paintings that depict scenes from everyday life and religious ceremonies and rituals from thousands of years ago. Many of these works are still in excellent condition considering their age. Exploring these tombs gives visitors a unique insight into what life was like during ancient times in Egypt.
Third, visiting Saqqara allows travelers to learn about Egyptian history and culture firsthand from knowledgeable tour guides who can explain all about the different monuments at this site. Tour guides can also provide interesting information about how other civilizations have used this area over time, from early Egyptians who built temples here to modern-day researchers who continue studying this area today.
Finally, visiting Saqqara is an excellent way for travelers to experience some local culture in Egypt. Visitors can explore nearby villages to sample traditional Egyptian dishes or participate in local festivals celebrating various aspects of Egyptian culture, such as music or artistry. This allows travelers to learn more about this fascinating country and connect with its people on a deeper level than they would otherwise be able to do on their own.
When is the best time to visit the Saqqara Pyramid?
If you're looking for the best weather, spring and autumn are your best bet. The temperatures during these times are mild and comfortable, making it ideal for sightseeing. Plus, there are fewer crowds during these months, so that you can explore the pyramid peacefully.
But if you're looking for a unique experience, then winter might be your best option. During this time, the pyramid is often covered in snow, giving it a magical feel that can't be found any other time of year. Plus, there's no need to worry about the heat or crowds of tourists.
Of course, if you want to experience the pyramid in its full glory, summer is your best bet. This is when the pyramid is at its busiest, with tourists from all over the world coming to see it in its full glory. Plus, the temperatures are warm enough to make exploring comfortable and enjoyable.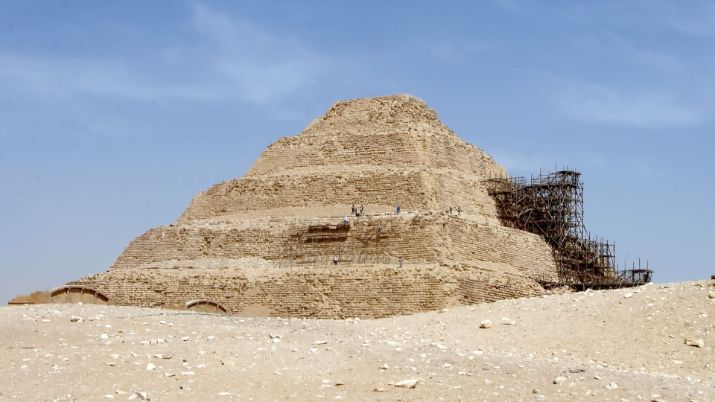 What types of travelers would enjoy visiting Saqqara Pyramid?
Travelers interested in history, culture, and architecture will find visiting Saqqara Pyramid a truly rewarding experience. The pyramid is located in the necropolis of Memphis, Egypt and is the oldest stone-built structure in the world. It was built during the Third Dynasty of Egypt around 2630 BC and is considered one of the most important monuments of ancient Egypt.
History buffs will be awestruck by this incredible pyramid's sheer size and age. It stands at the height of 204 feet and covers an area of 13 acres. It is believed to have been built as a tomb for Pharaoh Djoser, who ruled from 2667 BC to 2648 BC. The pyramid was designed by Imhotep, an architect, polymath, and physician during this period. He was also responsible for designing other important buildings in ancient Egypt, such as the Step Pyramid Complex at Saqqara and the Temple of Horus at Edfu.
Architecture aficionados will appreciate Saqqara Pyramid's unique design features. Its stepped structure consists of six tiers that decrease in size as they ascend towards its peak. The exterior walls are made from limestone blocks quarried from nearby hillsides and then transported to Saqqara for assembly. Inside the pyramid are several chambers used for various purposes, including storing food offerings for Pharaoh Djoser's afterlife journey into eternity.
Culture vultures will enjoy exploring Saqqara Pyramid's rich cultural significance and its many artifacts and hieroglyphics that can be found inside its walls. The pyramid contains statues depicting Pharaoh Djoser and his family members, such as his mother, wife, son, daughter-in-law, and granddaughter. Additionally, many hieroglyphic inscriptions on its walls tell stories about ancient Egyptian beliefs regarding death and afterlife journeys into eternity after death.
Finally, those who appreciate art will find much to admire at Saqqara Pyramid due to its intricate wall paintings, which depict scenes from ancient Egyptian mythology, such as gods battling monsters or pharaohs hunting wild animals in chariots pulled by horses or bulls. These paintings were created using pigments from minerals such as ochre or malachite mixed with animal fat or plant sap to give them vibrant colors, which remain vibrant today despite their age!
Are any activities available at Saqqara Pyramid, and if so, what are they?
If you love adventure and exciting experiences, check out the hot air balloon rides over the pyramids. This is a fantastic way to see the pyramids from above and gives you a unique perspective of the ancient structures. The views are breathtaking, and you'll feel like you are floating in the clouds as you glide above the pyramids.
Another fantastic activity in the area is taking a camel ride through the desert. You'll always remember this experience as you trek through the dunes and admire the beauty of the Sahara. It's also a great way to get up close and personal with local wildlife, like the desert fox or the majestic falcon.
Try quad biking if you want to get the blood pumping and have an action-packed day. Several companies offer quad bike rentals, and you can whiz through the desert and take in all the stunning views at your own pace. It's an exhilarating experience that's great for adrenaline junkies.
For those of you who like to take things a little slower, there are plenty of opportunities to relax and unwind in the area. You can stroll through the Saqqara gardens and enjoy the stunning landscapes and lush vegetation. There are also several spas and wellness centres where you can treat yourself to a massage or other pampering treatments.
If you're travelling with children, then fear not, there are plenty of activities for them too. Several family-friendly tours are designed to engage and entertain children and teach them about the history and culture of ancient Egypt. There's also an amusement park nearby that's a hit with kids of all ages, offering rides, games, and other fun activities.
Finally, if you're looking to experience authentic Egyptian culture and cuisine, then be sure to check out the local markets and restaurants in the area. Here you'll find many authentic dishes, like koshari, falafel, and ful medames, that will tantalize your taste buds and leave you wanting more. You can also find some amazing souvenirs and handicrafts in the markets, like traditional Egyptian textiles, pottery, and jewellery.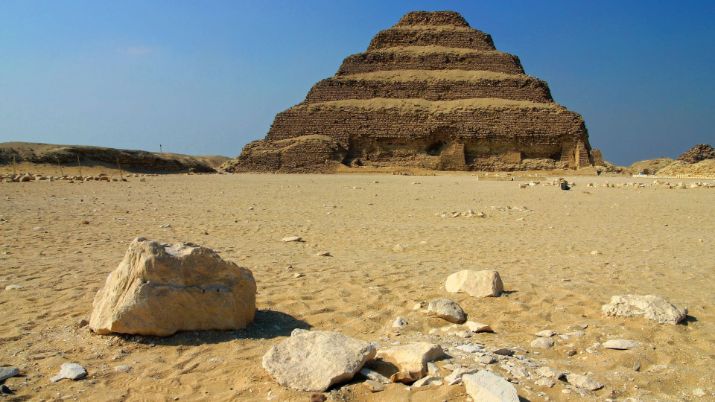 How much does it cost to visit the Saqqara Pyramid?
The cost of visiting the Saqqara Pyramid depends on a few factors. The first is whether you plan to visit independently or as part of a tour. If you plan to join a tour, prices can range from around $50 to more than $100 per person. These tours typically include transportation from Cairo, admission fees, and an English-speaking guide who can provide insight into the history and significance of the site.
If you plan to visit independently, you'll need to pay for your transportation and admission fees. The entrance fee for adults is around $15 USD per person, while children under 12 are admitted for free. You'll also need to factor in the cost of transportation from Cairo; this can range from around $10 USD for public transport to more than $100 USD if you hire a private driver or take a taxi.
In addition to admission fees and transportation costs, there are other expenses associated with visiting the Saqqara Pyramid that you should consider. For example, if you plan on taking photos or videos at the site, you'll need to purchase a photography permit which costs around $20 USD per person. You'll also want to bring plenty of water and snacks since there are no food vendors at the site. Finally, if you plan on staying overnight in Cairo before or after your visit, be sure to factor in lodging costs as well.
When is the Saqqara Pyramid open?
The answer to that question depends on the time of year you visit. The Saqqara Pyramid is open all year round, but sometimes it is more popular with visitors than others. During peak season, from October through April, the pyramid is open from 9 am to 5 pm every day, with extended hours on Fridays and Saturdays until 8 pm. During the low season, from May through September, the pyramid is open from 9 am to 4 pm every day except for Fridays and Saturdays, when it closes at 7 pm.
What safety precautions should visitors consider at Saqqara Pyramid?
Visitors to Saqqara Pyramid should take precautions to ensure their safety while exploring the site. Visitors should wear comfortable shoes with good traction and be careful not to slip or fall while climbing the pyramid. Visitors should also carry enough water to stay hydrated as the site can be quite hot and arid. People with respiratory issues should be cautious due to the sand and dust in the area.
It is essential to be vigilant of your surroundings at all times. While exploring the pyramid, avoid wandering off into areas without guards or visible paths, and stay close to the designated areas. Going off-track can lead to getting lost or hurt as you may accidentally step on an uneven surface, trip or fall. In addition, do not touch any artifacts or structures on the site, as they are fragile, and touching them can cause damage to them and also harm you.
what is the Recommended Level of Fitness for Visiting Saqqara Pyramid?
Visitors to Saqqara Pyramid should have a moderate fitness level as the site involves considerable walking, standing, and climbing. Visitors with mobility issues may need help to explore the pyramid and its surrounding temples. However, some areas are accessible to visitors with disabilities.
what is the Recommended dress code for Visiting Saqqara Pyramid?
When it comes to visiting the Saqqara Pyramid, it's essential to dress in a respectful and appropriate way for the occasion. Opt for loose-fitting clothing that covers the shoulders and knees, wear comfortable footwear, and choose lightweight, breathable materials that keep you cool in the desert heat. Feel free to add personal style to your outfit, but remember to keep it tasteful and appropriate. Following these simple guidelines will prepare you to visit this stunning cultural landmark.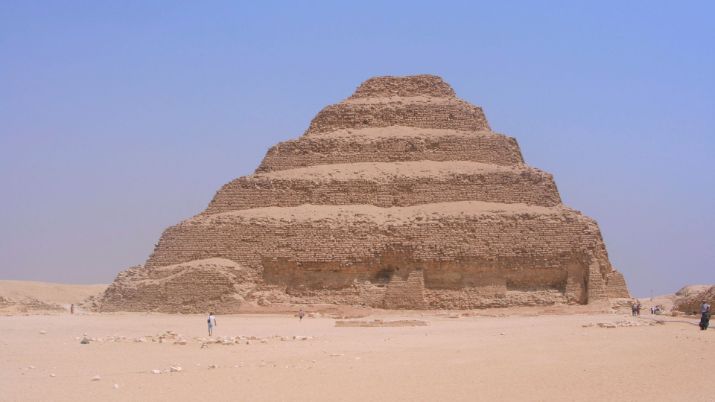 Frequently asked questions about the Saqqara Pyramid by travelers
Who is buried inside the Saqqara Pyramid?
While we may never know for certain, a few theories about who might have been interred within the pyramid's walls exist. One of the most compelling hypotheses suggests that the tomb may be the final resting place of a pharaoh, Djoser, who ruled Egypt during the 27th century BCE. Djoser is often credited with launching the tradition of building grand, pyramid-shaped tombs for the kings and queens of Egypt. The Saqqara Pyramid is widely considered one of his most impressive achievements.
If Djoser truly is buried within the Saqqara Pyramid, it would make sense that the tomb would be elaborate and well-constructed since pharaohs were believed to be divine beings and their burial sites were considered sacred spaces. The pyramid is a feat of engineering, consisting of six "steps" or levels that rise to around 200 feet. It's surrounded by a massive complex that includes temples, smaller pyramids, and courtyards, all of which would have played a role in the funerary rites accompanying Djoser's burial.
Of course, only some agree that Djoser is the most likely candidate for the Saqqara Pyramid's occupant. Some scholars have suggested that the tomb may have been intended for a high-ranking official or royal court member rather than a pharaoh. Alternatively, some believe the tomb may have been emptied at some point in history, either through robbery or intentional removal of the burial goods.
How many tombs are in the Saqqara Pyramid?
The pyramid is a pretty elaborate structure, and there are a lot of different chambers and corridors that go every which way. So, it's tough to say how many tombs there are inside. Some folks say there could be as many as 11 tombs inside the Saqqara Pyramid. But it's a tricky thing to say for sure. Some of the tombs could be hidden away or maybe even sealed off.
Is the Saqqara Pyramid close to the Pyramids at Giza?
So, to answer your question, the Saqqara Pyramid is far from the Pyramids at Giza. It's located more than 20 kilometers away! That might not sound too far, but it would have been a significant journey in ancient times. Of course, nowadays, with modern transportation, it's much easier to visit both sites and compare their similarities and differences.