|
Ait Benhaddou is a charming little village located in southeastern Morocco that has become a popular tourist destination in recent years. This quaint village is situated along the Ounila River in the High Atlas Mountains and is home to one of the most spectacular ksars in Morocco.
Today, the ksar of Ait Benhaddou is a UNESCO World Heritage Site and draws visitors from all over the world. It's compelling architectural style and intricate design are truly awe-inspiring. The Kasbah is comprised of six distinct fortresses that are connected by winding narrow streets and covered pathways. Each of the fortresses was built by a different family, and they all combine to create a stunningly unique and intimate atmosphere.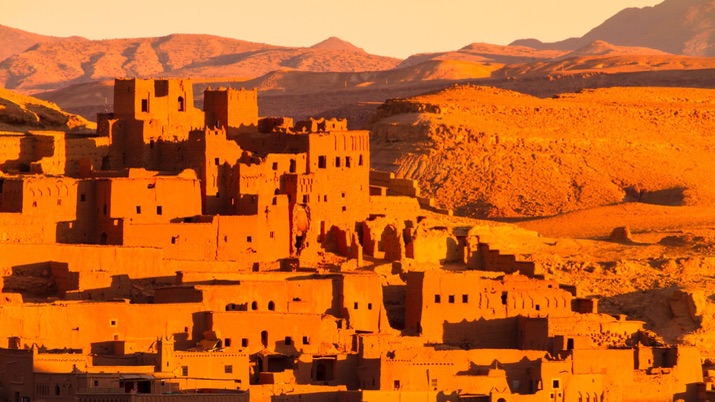 The history of the ksar of Ait Benhaddou
When it comes to great architectural feats, there are few as awe-inspiring as Ait Benhaddou. This ancient village, located in the foothills of the Atlas Mountains in Morocco, has a rich and fascinating history that dates back thousands of years.
One of the most striking features of Ait Benhaddou is its elaborate fortress, known as a ksar. This structure is made up of a series of interconnected buildings, many of which are adorned with intricate carvings and decorative elements. The ksar was originally built to protect the inhabitants of Ait Benhaddou from raiding parties and other threats, and it served this purpose admirably for centuries.
Over time, Ait Benhaddou became an important hub for trade and commerce, and its strategic location on the caravan routes between Sudan and Marrakech made it a valuable asset for merchants and traders. The village was also a center of culture and learning, with scholars and craftsmen from around the region congregating there to share their knowledge and skills.
Despite its many successes, Ait Benhaddou also faced many challenges over the years. The harsh climate and rugged terrain of the Atlas Mountains made life difficult for its inhabitants, and periodic droughts and other natural disasters took their toll on the land. Additionally, the village was often beset by hostile forces, including rival tribes and the occasional invading army.
Despite these setbacks, Ait Benhaddou persevered, thanks in large part to the skill and ingenuity of its people. Over the centuries, they developed innovative methods of agriculture and resource management that allowed them to thrive in even the harshest of conditions. They also created a vibrant and diverse cultural scene, with music, dance, poetry, and other artistic forms flourishing throughout the village.
Today, Ait Benhaddou is a popular tourist destination, attracting visitors worldwide with its ancient architecture, rich history, and stunning natural beauty. The ksar is particularly impressive, with its towering walls, ornate gates, and winding alleyways transporting visitors back in time to an era of knights and kings, battles and conquests.
Of course, it's not just the ksar that makes Ait Benhaddou so appealing. The village is also home to a number of other attractions, including the magnificent kasbahs (or fortified houses), which showcase some of the finest examples of Moroccan architecture from the 17th and 18th centuries. Nearby, visitors can also explore the breathtaking landscapes of the Atlas Mountains, with their soaring peaks, rugged canyons, and cascading waterfalls.
The architecture of Ait Ben haddou: Traditional Berber and Moroccan Design
Ait Benhaddou is a small village or ksar located in the Ounila Valley of southern Morocco. This village is famous for its unique architecture that reflects traditional Berber and Moroccan designs. The buildings in Ait Benhaddou are made of adobe, a mixture of mud and straw that can withstand harsh climatic conditions.
The buildings in Ait Benhaddou are a great example of the traditional Berber architecture that has been passed down from generation to generation. The Berbers are an indigenous group of people in North Africa who have their own language, customs, and architecture. They have a long history of building unique structures that are adapted to the harsh desert climate.
The buildings in Ait Benhaddou are mostly made of adobe, a material that is readily available in the area. The walls of the buildings are thick and have small windows to keep the interior cool during the hot summer months. The roofs are made of wood and covered with palm leaves or terra cotta tiles. This helps to keep the interior warm during the colder months.
One of the most interesting features of the buildings in Ait Benhaddou is their use of decorative motifs. These motifs are usually geometric patterns that are either carved into the walls or painted on. The motifs are often symbolic and have religious or cultural significance. Some of the most common motifs include stars, circles, triangles, and diamonds. These motifs are also used to decorate pottery, textiles, and other handicrafts.
The architecture of Ait Benhaddou also reflects the influence of Moroccan design. Morocco has a long history of trade and cultural exchange with other countries, which has influenced its architecture. Moroccan architecture is known for its intricate designs, vibrant colors, and attention to detail. This influence can be seen in the decorative motifs used in the buildings of Ait Benhaddou.
Another interesting feature of the architecture of Ait Benhaddou is the use of kasbah. Kasbah are fortified structures that were used by Berber tribes for defensive purposes. They were built in strategic locations to protect the tribe from attacks. The kasbah in Ait Benhaddou are particularly impressive because they are built into the cliffs. This makes them almost invisible from a distance and provides an added layer of protection.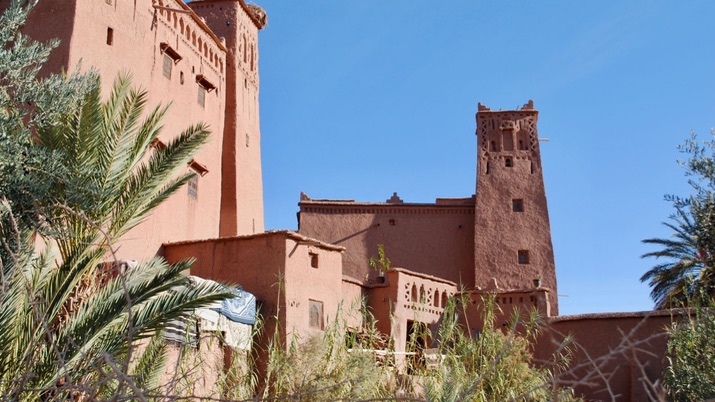 The best time to visit Aït Benhaddou: Seasonal tips and recommendations
If you're planning a trip to Ait Benhaddou, the first thing you need to consider is the best time to go. Morocco's climate is affected by its proximity to both the Sahara Desert and the Atlas Mountains, so the weather can be unpredictable. However, there are certain times of the year when the conditions are generally more favorable for visitors.
The high season in Ait Benhaddou runs from the beginning of June until the end of August. This is when the weather is at its hottest, with temperatures averaging around 30°C (86°F) during the day. If you're a fan of warm weather, this is the best time to plan your trip. However, you should be prepared for crowds and higher prices, as this is the busiest time of year for tourism in the region.
Another popular time to visit Ait Benhaddou is during the shoulder season, which runs from March to May and from September to November. During this time, the weather is still warm, but not quite as hot as it is during the summer months. There are also fewer tourists around, which means you'll have more space to explore the kasbah without fighting through crowds of people.
If you're not a fan of the heat, the best time to visit Ait Benhaddou is during the winter months, from December to February. The temperature can drop to around 10°C (50°F) during the day, but it's still usually sunny and dry. This is also a good time to experience more of the local culture, as there are fewer tourists around and you're more likely to encounter locals going about their daily business.
Whenever you choose to visit Ait Benhaddou, it's always a good idea to pack layers. Even during the summer months, it can get chilly at night in the desert, so make sure you bring a warm jacket or sweater. If you're visiting in the winter, you'll need to be more heavily prepared, with a warm coat and plenty of layers to stay warm.
Another thing to keep in mind when planning your trip to Ait Benhaddou is that the Kasbah is a UNESCO World Heritage Site, which means there are certain restrictions on what you can and can't do while you're there. For example, you're not allowed to smoke within the kasbah walls, and you can't climb on or touch any of the historic buildings.
To make the most of your visit, consider hiring a guide. They can help you navigate the maze-like streets of the kasbah, explain the history and culture of the area, and even take you on a camel ride through the desert. Guides can be found easily in the area, or you can arrange for one through your hotel or tour operator.
Finally, remember that Ait Benhaddou is a small village, and there aren't a lot of accommodation options. However, there are a few guesthouses and hotels in the area, so be sure to book well in advance to avoid disappointment. If you're looking for a more luxurious experience, there are also a few high-end resorts in the nearby towns of Ouarzazate and Skoura.
Embracing adventure: outdoor activities around the kasbah of Ait Benhaddou
One of the best ways to explore the stunning surroundings of Ait Benhaddou is by foot. Hiking is a popular activity in the area, with various paths and trails that take you through stunning vistas and landscapes. You could choose to trek the steep and rocky terrain of the Atlas Mountains, where you'll be rewarded with breathtaking views of the surrounding valleys. Alternatively, you could opt for a more relaxed hike around the village itself, where you'll get to soak up the stunning architecture of the ancient kasbahs and ksars.
If you're looking for a more thrilling adventure, then mountain biking is the way to go. The rugged terrain of the Atlas Mountains provides the perfect challenge for mountain bikers of all levels. From technical descents to steep climbs, you'll have plenty of opportunities to push yourself to the limit. Plus, with many tour companies offering guided mountain biking tours, you can explore the area with the benefit of an experienced guide.
Another way to explore Ait Benhaddou's stunning landscape is by camel riding. This ancient mode of transportation has been used by the nomads of Morocco for centuries, and it still remains a popular way to explore the area. With camel tours, you'll get the chance to experience the desert landscape from a whole new perspective. You can ride across stunning sand dunes and take in the vast expanse of the Sahara Desert. Plus, with many tour companies offering overnight camel treks, you can experience a truly immersive desert adventure.
If you're looking for a more adrenaline-fueled activity, then rock climbing is the way to go. Ait Benhaddou has some of the best rock climbing in Morocco, with a variety of routes that cater to climbers of all levels. Whether you're a seasoned pro or a beginner, you'll find plenty of challenging routes that will test your strength and endurance. Plus, with the stunning backdrop of the Atlas Mountains, you'll get to enjoy some truly unforgettable views.
In addition to these activities, Ait Benhaddou also offers plenty of opportunities for cultural immersion. The village is home to several ancient kasbahs and ksars, which are well-preserved examples of traditional Moroccan architecture. You can explore these historic sites and learn about the fascinating history and culture of the area. Additionally, you can visit the local souks (markets), where you'll find a bustling hive of activity and traditional Moroccan crafts.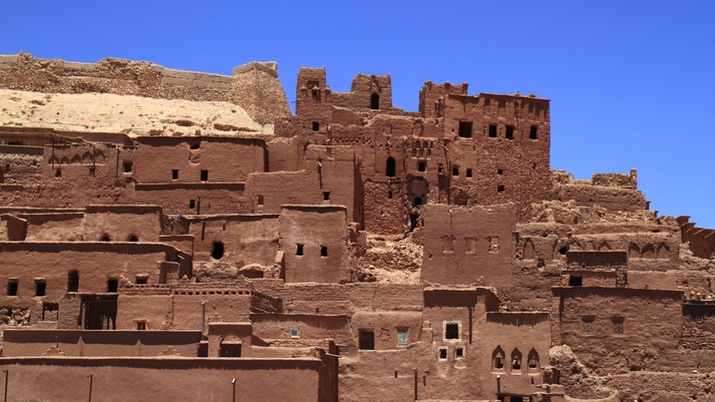 Travel guide: must-see attractions in Ait Benhaddou
The first thing that comes to mind when one hears the name Ait Benhaddou is its famous ksar, or fortified village. This ksar, also known as the Ait Benhaddou Kasbah, is a prime example of the traditional earthen architecture of southern Morocco. The ksar is made up of six kasbahs, which are fortified dwellings for local leaders and their families. The walls of the kasbahs are made of earthen materials, such as mud, straw, and wood, giving them a unique reddish hue that blends seamlessly into the surrounding landscape.
Walking through the narrow alleys of the Ksar is like taking a stroll through history. The ksar is said to have been built in the 17th century and has still managed to preserve its traditional Berber architecture and way of life. Ait Benhaddou was also a significant stop on the trans-Saharan trade route, which linked sub-Saharan Africa to the Mediterranean world. The ksar served as a commercial hub where traders and caravans would stop for food, water, and shelter.
Besides the ksar, Ait Benhaddou offers other exciting attractions that nature lovers and adventure seekers will surely appreciate. The Ounila River snakes through the valley, providing a picturesque backdrop to the ksar. Visitors can take a leisurely boat ride down the river to marvel at the stunning scenery. Trekking and hiking up to the top of the hill where the ksar stands is also an unforgettable experience. The panoramic view of the surrounding valley is indeed breathtaking, especially at sunrise or sunset.
If you're a fan of movies and television shows, Ait Benhaddou is also a famous filming location. The ksar has served as a backdrop for several Hollywood films such as Lawrence of Arabia, Gladiator, and The Mummy. More recently, Ait Benhaddou was also featured in Game of Thrones, where it doubled as the city of Yunkai. Visiting Ait Benhaddou is like walking through a real-life movie set!
In addition to its historical and natural attractions, Ait Benhaddou is known for its vibrant culture. The locals are mostly Berbers, an ethnic group indigenous to North Africa, and for many, the Berber way of life is still very much alive. Visitors can witness traditional Berber music and dance performances or visit a local market to purchase souvenirs and handmade crafts. The locals are warm and hospitable, and visitors are often invited to share a traditional Berber meal or cup of mint tea.
Safety tips: Stay safe while traveling to Ait Benhaddou
Traveling to Ait Benhaddou can be an exciting adventure full of new experiences and sights, but it's important to remember that safety should always be a top priority. Whether you're traveling alone or with a group, there are a few key tips to keep in mind while visiting this beautiful destination.
First and foremost, it's important to research the country and region before you go. Make sure to familiarize yourself with the local customs, laws, and potential dangers. Although Ait Benhaddou is a relatively safe area, it's still important to be aware of your surroundings and take precautions.
Once you arrive, it's essential to always be aware of your belongings. Keep your valuables and important documents in a secure place, such as a hotel safe or a locked suitcase. Avoid carrying large amounts of cash, and use a money belt to keep your money and passport safe.
If you're traveling with a group, it's important to establish a meeting place and a plan in case you get separated. Make sure everyone has a copy of the itinerary and emergency contact information. It's also a good idea to have a local SIM card with data and internet access in case of emergencies.
When out and about, it's important to stick to well-lit and populated areas. Avoid wearing flashy jewelry or clothing that might make you stand out as a tourist. Be cautious of individuals who approach you, especially in crowded areas or tourist hotspots.
If you're planning on driving while in Ait Benhaddou, make sure to familiarize yourself with local traffic laws and customs. Drive defensively and be prepared for unexpected obstacles or driving habits. If possible, avoid driving at night and stick to well-lit and populated areas.
In addition to personal safety, it's important to be mindful of your health while traveling. Make sure to stay hydrated, especially in hot and dry climates like Ait Benhaddou. Avoid drinking tap water and opt for bottled water instead. Carry insect repellent to protect against mosquitoes and other insects.
Cultural etiquette: Dos and don'ts to respect local traditions and customs of Ait Benhaddou
As visitors, it's our responsibility to show respect for the local traditions and customs in Ait Benhaddou. In this essay, we will explore some cultural etiquette dos and don'ts to ensure that we pay reverence to the local customs and show our appreciation for the warm hospitality of the people of Ait Benhaddou.
Dos:
Dressing Appropriately: When in Ait Benhaddou, it's essential to dress modestly, especially when visiting a mosque or other religious sites. Long-sleeved shirts and pants or skirts that cover one's knees are ideal. Women may also consider carrying a scarf to cover their hair when necessary.
Greeting: In Morocco: Greeting is an essential aspect of the culture. When meeting someone in Ait Benhaddou, it's customary to greet them with a warm "salam" (peace) or "salam alaikum" (peace be upon you). Greeting with a handshake is also common in formal settings, but avoid doing so with members of the opposite sex.
Taking off shoes: It's common for people in Ait Benhaddou to take off their shoes when entering someone's home or a mosque. As a visitor, it's polite to follow this custom.
Asking permission: Before taking pictures of a person or any property in Ait Benhaddou, it's always better to ask for permission. This shows respect for the culture and the people.
Eating with the right hand: In Ait Benhaddou and other parts of Morocco, people eat with their right hand only. Using the left hand is considered impolite. Therefore, it's crucial to follow this custom when eating in public or with locals.
Haggling: Haggling is a common practice in Ait Benhaddou's markets. However, it's essential to be respectful while doing so. The locals appreciate it when visitors try to haggle, but going too low with the price may be rude and insulting.
Don'ts:
Showing Too Much Skin: In Ait Benhaddou, showing too much skin is considered disrespectful, especially for women. Sleeveless shirts, short skirts, and shorts are not proper attire for this conservative culture.
Public Display of Affection: Public display of affection, even between married couples, is not a part of the culture in Ait Benhaddou. It's crucial to maintain modesty and refrain from any such expressions of affection in public.
Drinking Alcohol: Islam is the main religion in Morocco, and drinking alcohol is against religious customs. Therefore, it's better to avoid consuming alcohol in public as a sign of respect for their customs and beliefs.
Pointing with Feet: In Ait Benhaddou and other parts of Morocco, it's considered impolite to point with your feet or shoes. It's better to use hands for pointing at things or people.
Using Left Hand: As mentioned earlier, using the left hand while eating or shaking hands is frowned upon in Ait Benhaddou's culture. It's essential to keep this in mind while interacting with locals.
Wasting Food: Moroccans have a deep respect for food, and wasting food is considered disrespectful. It's better to take smaller portions and ask for more if needed, but don't leave behind any food on your plate.
FAQs about Ait Benhaddou in Morocco
How much time do you need to spend in Ait-Ben-Haddou?
Well, the answer really depends on what you're looking for. Are you simply interested in snapping a few photos and checking it off your list? Or do you want to delve deeper into the winding alleys and ornate buildings, learning about the people who once called this place home? No matter your preference, one thing is for sure: Ait-Ben-Haddou is a place that shouldn't be rushed. So take your time, soak up the atmosphere, and let the history of this incredible UNESCO World Heritage Site wash over you.
Why is Aït Benhaddou famous?
Ait-Ben-Haddou, a UNESCO World Heritage Site, is a stunning example of Moroccan architecture that has captured the attention of visitors from all over the world. Ironically, the deserted city is now the center of Morocco's booming tourism industry, and for good reason. Its intricate towers, clay walls, and winding alleys transport visitors to another time, and its stunning views are nothing short of breathtaking.
So why is Ait-Ben-Haddou so famous? For starters, it has been the backdrop for countless Hollywood blockbusters, including Gladiator, Prince of Persia, and Game of Thrones, just to name a few. Additionally, the city's history, with its strategic location along the Trans-Saharan trade route, has attracted scholars and historians for decades. From its humble beginnings as a small trading post to its status as a bustling city in the 17th century, Ait-Ben-Haddou has played a pivotal role in Moroccan history.
But it's not just the city's history and filmography that make it worth visiting; it's the overall experience. Strolling through the winding alleys, feeling the rough texture of the clay walls under your fingers, and taking in the sweeping views of the desert below, is a truly unforgettable experiences. So why not visit Ait-Ben-Haddou? You won't be disappointed!
How to visit Aït Benhaddou from Marrakesh?
There are a few different options for getting to Aït Benhaddou from Marrakech, so you'll need to decide which one works best for you.
Option 1: Rent a Car
Renting a car in Marrakech is fairly easy to do, and allows you the freedom to make stops along the way to Aït Benhaddou. The drive takes approximately 3-4 hours, depending on your speed and the number of stops you make. The route takes you over the stunning Tizi n'Tichka pass in the Atlas Mountains, so there are plenty of opportunities for scenic views. Once you reach Aït Benhaddou, there is a large parking area where you can leave your car and explore the village on foot.
Option 2: Take a Shared Taxi
If you're not comfortable with driving in Morocco or just want to save some money, taking a shared taxi is a good option. You can find shared taxis at the Marrakech CTM bus station, which is located in the city center. The journey takes around 4 hours and is a popular route, so there are plenty of taxis available. Once you arrive in Aït Benhaddou, you can explore the village on foot.
Option 3: Join a Guided Tour
If you don't want to worry about the logistics of getting to Aït Benhaddou yourself, joining a guided tour is a good option. There are many tour companies in Marrakech that offer day trips to Aït Benhaddou, often combined with other nearby attractions such as the Kasbah of Telouet or the Ounila Valley. A guided tour typically includes transportation, a knowledgeable guide, and sometimes lunch.
Can you stay in Aït Benhaddou?
So, can you stay in Aït Benhaddou? Absolutely! In fact, I highly recommend it. There are a few options available to you when it comes to accommodation, so let's take a closer look at what's on offer.
First up, you have the option to camp. Now, if you're the outdoorsy type or you just really want to immerse yourself in the landscape, then this is a great choice. There are various campsites located around the area and they offer a range of facilities depending on your needs. Some are basic and rustic, while others offer more luxury with things like hot showers and swimming pools.
If camping isn't your thing, don't worry! There are also guesthouses and hotels available to suit all budgets. Many of these are situated right in the heart of Aït Benhaddou itself, so you'll truly feel like you're living amongst the locals. The rooms are typically decorated in the traditional Moroccan style, with colorful patterns and ornate details. And, if you book in advance, you may be able to score a room with a balcony overlooking the river or the mountains.
But, let me say this: staying in Aït Benhaddou is not just about the accommodation, it's also about the experience. This is a place where you can truly disconnect from the bustle of modern life and immerse yourself in a unique cultural landscape. Take the time to explore the twisting alleyways and the towering Kasbahs. Stop for a mint tea and a chat with the locals, who will likely be more than happy to share their stories and traditions with you.