|
Aswan, located in southern Egypt, is a city full of rich history, ancient monuments, and stunning natural landscapes, making it a must-visit destination for travelers exploring Egypt. There are many ways to experience the beauty and culture of Aswan, from full-day tours to half-day tours, Nile cruises, sightseeing tours, and private tours.
This article will guide you through the best Aswan tours and excursions in 2023, highlighting popular destinations like Luxor and Abu Simbel and must-do activities like a felucca ride on the Nile and a Nubian village tour. We will also explore the history of Aswan, explain why travelers should experience Aswan tours, and provide information on the safety of exploring Aswan.
Whether you're a history buff, nature lover, or simply looking for an unforgettable adventure, Aswan has something for everyone, and we're here to help you plan the perfect trip.
If you're looking for an Egypt History Tour, have a look at our tours above - we might have the right one for you.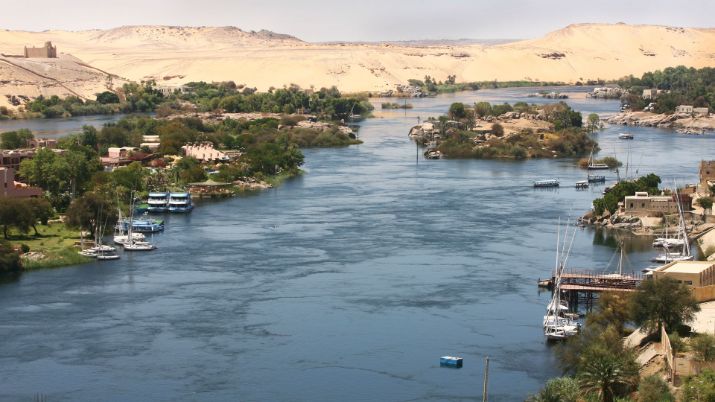 The history of Aswan City
Aswan, a city in Egypt, has a long and rich history that dates back to the ancient Egyptians. The city was first mentioned in the Old Kingdom of Egypt, around 2686 BC. It was then known as Swenet, meaning "trade" or "market". Aswan was an important trading center for the ancient Egyptians and was also used as a port for ships travelling up and down the Nile River.
In the Middle Kingdom of Egypt, Aswan became an important religious center. The gods, Isis and Horus, were worshipped in the city, and temples were built to honor them. During this period, Aswan also served as an important military outpost. It was here that Pharaohs would send their armies to protect their kingdom from invaders.
The city continued to grow in importance during the New Kingdom of Egypt. The Pharaohs of this period built several monuments in Aswan, such as the Temple of Isis at Philae and the High Dam at Kalabsha. These monuments are still standing today and are popular tourist attractions in Aswan.
During Roman times, Aswan became even more important as a trading center due to its strategic location on the Nile River. It also served as an important military base for Roman forces in Egypt. Several temples were built around Aswan in this period, including those dedicated to Apollo and Augustus Caesar.
In 641 AD, Aswan became part of Islamic rule when Arab forces conquered it under Amr ibn al-Asi. Under Islamic rule, many mosques were built in the city, including the Mosque of Amr ibn al-Asi, which still stands today and is one of the oldest mosques in Africa.
In 1822, Muhammad Ali Pasha took control of Aswan from Ottoman rule and began modernizing it with European influences, such as schools and hospitals. He also built many monuments, including a palace on Elephantine Island which is now open to visitors year-round.
Today, Aswan is still known for its cultural heritage, with many monuments from different periods still standing throughout the city, such as temples from ancient Egyptian times or mosques from Islamic rule. The High Dam at Kalabsha is one of its most famous landmarks, which helps provide electricity throughout Egypt while protecting against floods on the Nile River valley below it. Despite its long history, Aswan remains a vibrant city filled with culture and life that attracts visitors worldwide yearly!
Why travelers need to experience Aswan tours and excursions
First, Aswan is home to some of Egypt's most breathtaking historical sites. The most famous of these sites is the Great Temple of Abu Simbel, built by Pharaoh Ramses II in 1244 BC. This temple is an incredible feat of engineering and artistry and a must-see for anyone visiting Aswan. Other historical sites include Philae Temple, Elephantine Island, and the Unfinished Obelisk. These sites are incredibly beautiful and offer visitors a glimpse into Egypt's rich history.
In addition to its historical sites, Aswan offers travelers stunning views of the Nile River. The river winds through the city and offers visitors a chance to take in the beauty of nature from a unique perspective. Whether looking for a peaceful boat ride or an exciting adventure on one of the many river cruises available in Aswan, you'll surely find something that suits your interests.
Aswan also offers travelers plenty of opportunities to explore its vibrant culture and cuisine. From traditional Egyptian dishes like koshari and ful medames to more modern fare like shawarma and falafel, there's something for everyone in Aswan's restaurants and cafes. Additionally, visitors can explore local markets to buy handmade souvenirs or sample traditional snacks like baklava or kunafa.
Finally, travelers visiting Aswan should take advantage of its stunning natural beauty. The area around Aswan is home to some incredible landscapes with lush green fields, desert oases, dunes, palm trees and more! Plenty of outdoor activities are available here, such as camel rides through the desert or hot air balloon rides over the Nile River Valley - perfect for those looking for an unforgettable experience!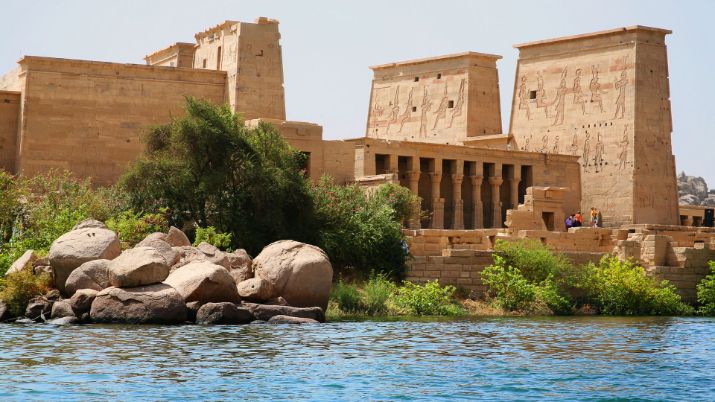 When is the best time for a day tour from Aswan?
The best time to visit Aswan depends on what you are looking for in your trip. If you are looking for hot weather and plenty of sunshine, then visiting during the summer months from June to August is ideal. During this period, temperatures can reach 40 degrees Celsius (104 Fahrenheit). The high temperatures make it perfect for swimming in the Nile or exploring nearby beaches.
However, visiting during spring or autumn would be better if you look for cooler temperatures and fewer crowds. During these months (March-May and September-November), temperatures range between 20-30 degrees Celsius (68-86 Fahrenheit). This makes it more comfortable for sightseeing and exploring some of Aswan's attractions, such as Philae Temple or Abu Simbel Temple.
If you want a unique experience, visiting during winter (December-February) could be an option. Although temperatures can drop below 10 degrees Celsius (50 Fahrenheit), this season offers a unique atmosphere with fewer tourists and more locals around. The winter also brings some festivals, such as Christmas celebrations in Coptic churches or New Year's celebrations in Luxor Temple.
No matter what season you visit Aswan, something special will always await you there! This magical city always has something new, from its beautiful sunsets over the Nile River to its bustling markets filled with souvenirs and traditional Egyptian food!
How safe is a day tour in Aswan?
The short answer is that Aswan is generally considered a safe place to visit. The Egyptian government has ensured that tourists are safe while visiting the area. The police force in Aswan has increased, and there are security checkpoints throughout the city. Additionally, more tourist-oriented activities are available in Aswan, such as river cruises, camel rides, and visits to ancient sites.
However, it is essential to remember that there are still some safety concerns when visiting Aswan. Tourists should be aware of their surroundings at all times and should avoid walking alone at night. Additionally, visitors should be mindful of pickpockets and other petty criminals who may target unsuspecting tourists. It is also important to remember that political tensions in Egypt can flare up quickly, so it's best to stay informed about current events before traveling.
Overall, most travelers report feeling safe during their trips to Aswan. The locals are friendly and welcoming towards visitors, and many hotels offer security services for their guests. Tourists should also take advantage of the many tour guides available in the city who can provide helpful advice about staying safe during their travels.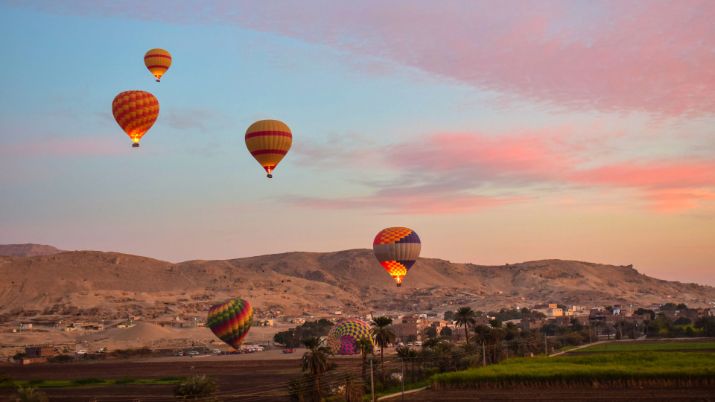 The best Aswan tour packages: Egypt tours, Nile cruises, sightseeing tours & private tours
Aswan day tours: Full-day tours vs half-day tours
Deciding between a full-day tour or a half-day tour of Aswan ultimately depends on your travel preferences, itinerary, and budget. Here are some things to consider when deciding between the two:
Itinerary: A full-day tour typically includes more destinations and activities, while a half-day tour is usually more focused on a single destination or activity. If you have limited time in Aswan and want to see as much as possible, a full-day tour may be better. However, a half-day tour may be better if you prefer to explore one attraction in more depth or have other plans for the day.
Budget: Full-day tours usually cost more than half-day tours due to the additional time and activities involved. A half-day tour may be more affordable if you're on a tight budget.
Physical endurance: A full-day tour can be more physically demanding, involving more walking, standing, and daily activities. A half-day tour may be more comfortable if you have mobility issues or prefer a more relaxed pace.
Overall, both full-day and half-day tours of Aswan offer unique and unforgettable experiences. Consider your preferences and itinerary to determine which option fits your travel plans best.
A day trip to Luxor: Nile cruises from Aswan to Luxor
It's hard to describe what it's like to experience a Nile Cruise from Aswan to Luxor. When you board the ship, you're transported to a different world. The views are breathtaking, the air is warm and inviting, and the atmosphere is relaxed and peaceful. You can't help but feel at ease as you float down the river, taking in all of its beauty.
The journey begins in Aswan, where you can explore the ancient temples of Abu Simbel and take in the stunning views of Lake Nasser. As you cruise along, you'll pass by many small villages along the banks of the river that have been there for centuries. You'll also see some of Egypt's most famous landmarks, including the Luxor Temple and Karnak Temple.
The next stop is Edfu, where you can visit the Temple of Horus and take a camel ride around town. After Edfu, your ship will make its way towards Kom Ombo, where you can explore the temple dedicated to Sobek and Haroeris. Then it's on to Esna, where you can visit Esna Lock and witness boats being pulled upriver by donkeys!
Finally, your ship will dock at Luxor, where you can explore the Valley of Kings or take a hot air balloon ride over Thebes. No matter what activities you choose during your cruise, one thing is certain: it will be an unforgettable experience!
On board your Nile Cruise ship, plenty of activities keep everyone entertained. Whether playing cards with friends or lounging by the pool with a good book, there is something for everyone on board. Plenty of delicious meals are served throughout each day that will tantalize your taste buds!
What truly makes this experience so unique is that it allows travelers to connect with nature while exploring some of Egypt's most iconic sites at their own pace. There is no rush or pressure; just time for reflection as you drift down one of the world's oldest rivers surrounded by breathtaking landscapes and ancient monuments that have stood for thousands of years!
A Nile Cruise from Aswan to Luxor is an experience like no other - one that will stay with you forever! Whether it's your first or tenth time visiting Egypt's majestic river - this journey will leave an indelible impression on your heart and soul!
A felucca ride on the Nile in Aswan
A felucca ride on the Nile River in Aswan is a truly unforgettable experience. A felucca is a traditional wooden sailing boat, and it's the perfect way to explore the stunning scenery of Egypt's longest river.
Aswan is located in the south of Egypt, and it's known for its ancient monuments and temples and its stunning views of the Nile River. The city is also home to some of the best felucca rides in Egypt, allowing visitors to explore the river in style.
The felucca ride starts at Aswan's harbor, where you can board your boat and embark on your journey. The boats are usually manned by two crew members who are experienced sailors and know their way around the river. As you sail along, you can take in all the sights of the Nile River, including its beautiful sandy beaches, lush vegetation, and ancient monuments.
The most popular route for a felucca ride on the Nile River is from Aswan to Luxor. This route takes you past Egypt's most famous sites, such as Luxor Temple and Karnak Temple. You will also see some of Egypt's most iconic landmarks, such as Philae Temple and Abu Simbel Temple. Along the way, you can stop at various points for swimming or snorkeling in the crystal clear waters of the Nile River.
The best time for a felucca ride on the Nile River is during sunset, when you can watch as the sun sets over Egypt's majestic landscape. During this time, you can also enjoy a delicious dinner prepared by your crew while watching one of nature's most beautiful spectacles unfold before you.
A felucca ride on the Nile River in Aswan is an experience that will stay with you forever. You get to explore one of Egypt's most iconic rivers and take in all its beauty while enjoying a unique sailing experience with knowledgeable sailors who will ensure your journey is safe and enjoyable!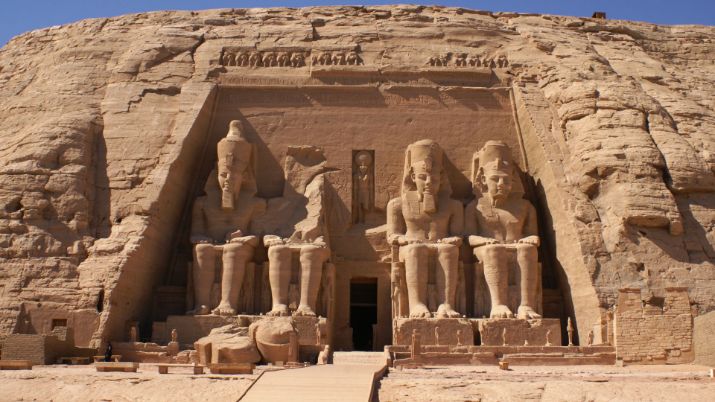 Abu Simbel tour
Traveling to Egypt is a fantastic experience, and one of the best ways to make the most of it is by going on an Abu Simbel tour. Abu Simbel is a complex of two temples located in southern Egypt, near the border with Sudan. Pharaoh Ramses II built it in the 13th century BC to memorialize himself and his queen Nefertari. The two temples are carved out of solid rock and are considered one of Egypt's most impressive monuments.
The first thing that makes an Abu Simbel tour special is its location. Located near the banks of Lake Nasser, it's surrounded by stunning desert scenery that's sure to take your breath away. The temples themselves are also awe-inspiring, with their intricate carvings and towering columns reaching up towards the sky. Taking a tour here will allow you to explore this incredible site up close and personal and really appreciate its beauty and grandeur.
On top of that, an Abu Simbel tour provides travelers with a unique opportunity to learn about ancient Egyptian history and culture. As you wander through the temple complex, your guide will be able to provide you with fascinating information about its construction and purpose, as well as stories about Pharaoh Ramses II himself. You'll also learn more about ancient Egyptian religious beliefs and practices, giving insight into how people lived during this period.
Another great thing about taking an Abu Simbel tour is that it also allows travellers to explore other nearby sites. The area around Abu Simbel is home to many other ancient ruins, including those from the New Kingdom period, such as Kalabsha Temple and Beit el-Wali Temple. A tour here will also give you access to stunning natural sights such as Wadi el-Seboua Oasis or Jebel Barkal Mountain Range.
Finally, taking an Abu Simbel tour can be a great way for travelers to get off the beaten path and explore some lesser-known sites in Egypt that they might have yet to access otherwise. This can be especially true if you opt for a private tour or one organized by a local guide who knows all the hidden gems in the area that tourists usually need access to!
The best Aswan day walking tours: A Nubian village tour
A Nubian village tour in Aswan is an excellent way for travelers to immerse themselves in this fascinating culture and learn about its history and traditions.
Nubians have lived in Egypt for centuries and are known for their vibrant culture and unique customs. They are a proud people who have maintained their traditions despite centuries of foreign rule and domination. On a Nubian village tour in Aswan, travelers will meet local people, learn about their customs, and experience their hospitality firsthand.
The tour begins with a visit to a traditional Nubian village where travelers can observe everyday life as it has been carried out for generations. The villagers are friendly and welcoming, so visitors can expect to be greeted with open arms. They will also get the chance to see some of the traditional crafts that are still practiced today such as pottery making, basket weaving, and jewelry making.
At the center of every Nubian village is its mosque, which serves as a place of worship and a gathering place for community events. On a Nubian village tour in Aswan, visitors will visit one of these mosques and learn about its importance within the community. They will also get to observe prayer times which offer an insight into how faith plays a vital role in daily life here.
The tour then moves on to explore some of the stunning natural scenery surrounding Aswan, such as Lake Nasser, one of the largest man-made lakes in the world, or Wadi El-Gemal National Park, which offers breathtaking views across its desert landscape. Travelers can even participate in activities such as camel riding or sandboarding if they wish!
The highlight of any Nubian village tour in Aswan is undoubtedly getting close to local wildlife, such as crocodiles or hippos at Lake Nasser or visiting one of many bird sanctuaries around the area where visitors can spot some rare species, such as pink flamingos or white pelicans.
Finally, every trip would be complete with sampling some delicious local cuisine! On a Nubian village tour in Aswan, visitors can expect to try dishes such as ful medames (a type of bean stew), koshari (a dish made from lentils), or kofta (a type of meatball). All these dishes are served with freshly baked bread, making them even more enjoyable!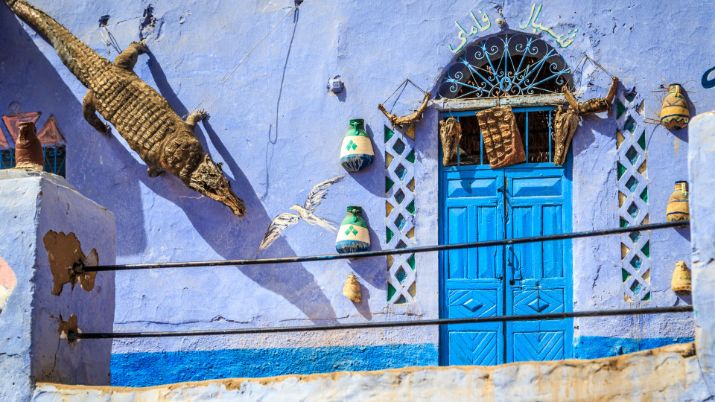 Frequently asked questions about Aswan tours by travelers
How many days are enough in Aswan?
The number of days you should spend in Aswan depends on your interests and travel itinerary. Aswan is a small city, but it is full of unique cultural experiences and ancient landmarks that make it a worthwhile destination.
If you're short on time, you can see the highlights of Aswan in just one or two days. This would give you enough time to visit the iconic Philae Temple, cruise the Nile River, and explore the Nubian villages. If you're interested in history and archaeology, consider visiting the Abu Simbel temples, about three hours from Aswan, an additional day or two.
However, if you have more time and want to experience Aswan more relaxed, you could spend three to four days in the city. This would give you ample time to explore the markets, visit lesser-known landmarks like the Tombs of the Nobles, and take a felucca ride on the Nile.
Ultimately, the ideal time to spend in Aswan depends on your interests and travel style. Whether you have one day or one week, there is plenty to see and do in this fascinating city.
Is it better to go Luxor to Aswan or Aswan to Luxor?
Both directions, Luxor to Aswan and Aswan to Luxor, offer unique experiences and opportunities to see different sights along the Nile River. Which direction is better for you depends on your travel preferences and itinerary. Here are some factors to consider:
Historical sites: If you're interested in ancient Egyptian history and architecture, Luxor is home to some of the most famous sites, including the Valley of the Kings, Karnak Temple, and Luxor Temple. You can stop at these sites if you're traveling from Luxor to Aswan. However, traveling from Aswan to Luxor, you can visit Abu Simbel, one of Egypt's most impressive archaeological sites, about three hours from Aswan.
Scenery: The scenery along the Nile River is stunning in both directions, but some differences exist. If you're traveling from Luxor to Aswan, you'll pass through lush green landscapes and fertile farmland. If you're traveling from Aswan to Luxor, you'll pass through the desert landscape and the iconic Kom Ombo Temple.
Travel time: Travel time from Luxor to Aswan or vice versa depends on the mode of transportation. If you're taking a Nile River cruise, the travel time is similar in both directions, typically taking two or three days. However, if you're taking a bus or private car, the travel time can vary depending on the route and traffic.
Ultimately, your direction from Luxor to Aswan or Aswan to Luxor depends on your travel plans and interests. Both directions offer unique experiences and opportunities to see different sights, so it's worth considering your itinerary and preferences before making a decision.
How far is Aswan from Luxor?
The distance between the two cities is approximately 230 kilometers (143 miles) by road.
The most common mode of transportation between Aswan and Luxor is by Nile River cruise, which typically takes two to three days, depending on the itinerary and stops along the way. This popular travel method allows visitors to see several ancient sites along the Nile River, including Edfu Temple, Kom Ombo Temple, and the Valley of the Kings.
Alternatively, you can travel between Aswan and Luxor by car, bus, or taxi. The journey by road takes about three to four hours, depending on the mode of transportation and traffic conditions. Private car transfers and taxis are available for hire, but it's essential to make arrangements with a reputable company or driver to ensure safety and comfort during the journey.
How long is a Nile Cruise from Luxor to Aswan?
A Nile River cruise from Luxor to Aswan or vice versa typically takes two to three days, depending on the itinerary and the stops along the way.
Most Nile cruises offer a three-day, two-night itinerary, which includes visits to several ancient sites along the Nile River, including the Karnak Temple, Luxor Temple, Valley of the Kings, and Hatshepsut Temple in Luxor. As the cruise heads south towards Aswan, visitors will also stop at the Kom Ombo Temple and the Edfu Temple before reaching Aswan.
Some Nile cruises also offer a longer itinerary that can take up to four or five days, allowing more time to explore the ancient sites along the Nile River, including a visit to Abu Simbel, which is about three hours from Aswan.
The length of the Nile River cruise may also vary depending on the type of cruise and the specific itinerary. It's important to research different options and choose a reputable cruise company that offers a comfortable and enjoyable experience.